With the Secondary Schools Football League (SSFL) Premier Division title within paws' reach, the Westmoorings Tigers this evening let two points slip away at home where they battled to an entertaining 3-3 draw with third-placed Presentation College (San Fernando).
Surprisingly, Naparima College also failed to grab three points at Maraval Road in St Clair, where they squandered a two-goal lead to draw 2-2 with Queen's Royal College (QRC).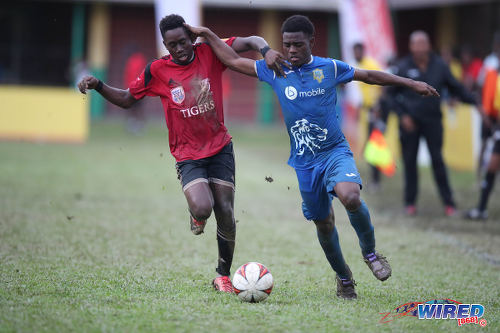 It means that, on Saturday, St Anthony's and "Naps" enter their final round locked on 30 points each but with the former team enjoying a five-goal advantage in the goal differential column.
Naparima, who host relegation-threatened Trinity College Moka at Lewis Street in San Fernando, must win and hope that St Anthony's draw or lose the "Battle of the Saints" against St Mary's College at Serpentine Road in St Clair.
Should both St Anthony's and Naparima draw or lose, it will create a window of opportunity for the "Pres Lions" to pinch the title next week when they complete their rescheduled fixtures.

In today's other fixtures, St Benedict's College took an important stride towards safety with a 2-1 win over Fatima College, the three points thus earned taking them four points clear of the drop zone.
Signal Hill Secondary are now in Last Chance Saloon after they were spanked 4-0 by Shiva Boys Hindu College at the Morne Diablo Recreation Ground in Penal.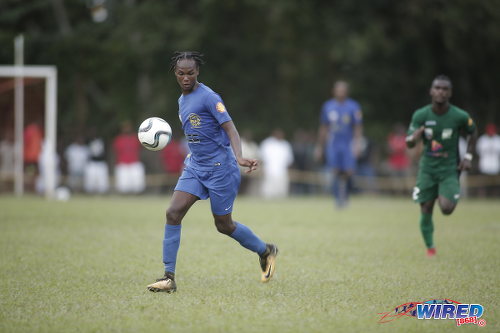 Signal Hill have two games remaining—both at home—against Fatima and Trinity College Moka. They must win both to have any chance of avoiding relegation.
According to the current standings, already relegated are Speyside, who will join the suspended Fyzabad Secondary in the lower reaches of the schools' competition next year. The Tobagonians' only hope now is a positive outcome to a protest against Shiva Boys—for the improper registration of lanky midfielder Kierron Mason—which might gift them three points and give them a fighting chance.
This morning, St Anthony's benefited from the Mason factor when the SSFL Disciplinary Committee awarded the Tigers three points for their clash with Shiva Boys earlier this month, a game which had finished 2-2 on the field.
Their triumph in the SSFL boardroom did not go down well with some Pres supporters who discussed the flood of Premier Division protests before kick-off.
"This is not about football anymore," commented one disgruntled Presentation fan. "People are dissecting the rules and regulations to their benefit."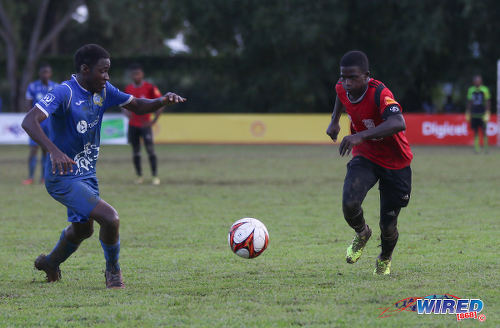 Presentation coach Shawn Cooper suggested that some weight could be taken off the SSFL executives' shoulders by starting the League at least one week later and hiring an independent team of persons to oversee registration.
"The independent committee must scrutinise [the registration of players] with a fine teeth comb and make sure everything is okay," Cooper told Wired868.  "If they have any problems, they then contact the schools and not allow them to play because it will cause protests […]. Remember it's a schools' league so you want to teach people and not penalise people. Things are in place but some people know there is a window of opportunity to do certain things and they do what they have to do."
Once referee Keilon Bacchus had blown the opening whistle, though, spectators at Westmoorings were completely engrossed by the on-the-field as the Lions and Tigers staged a battle for the ages.
Almost routinely, St Anthony's conceded an early goal before clawing themselves into a 2-1 lead by half-time.
"They does like a challenge," explained one proud St Anthony's supporter. "They don't like easy thing."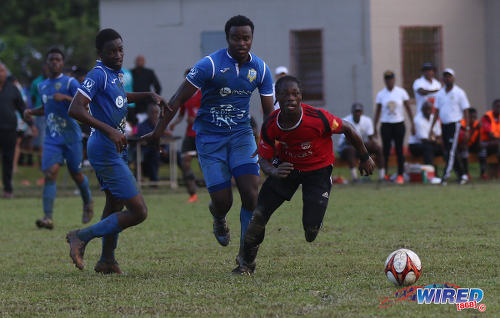 It certainly looked straightforward when Presentation midfielder Darnell Hospedales headed a Jordan Riley corner kick past opposing goalkeeper Oba Augustin to put the visitors ahead in the second minute.
From the sidelines, Cooper urged Hospedales and company to keep calm and vigilant but that was easier said than done. In the blink of an eye, St Anthony's were 2-1 up after well-taken goals by Haile Beckles and Jodel Brown.
Riley equalised in the 59th minute with an extraordinary item direct from a corner kick.
But in the 62nd minute, Beckles, a menace for defenders with his off-the-ball running and grit, looked to have given the Tigers the necessary impetus to collect all three points. He prodded home for a 3-2 lead after an incisive run and low cross from Tyrese "Boy Boy" Bailey.
Cooper had a couple tricks up his sleeve, though, unleashing substitutes Nathaniel Dyer and Jaiye Sheppard to devastating effect.
Sheppard got the leveller in the 84th minute but much of the credit should go to Dyer whose determined play and cross from the left flan set it up. Riley knocked down the cross to give the Tobago-born Sheppard a straightforward finish.
In the end, both teams walked away with a share of the spoils but it could have been so very different.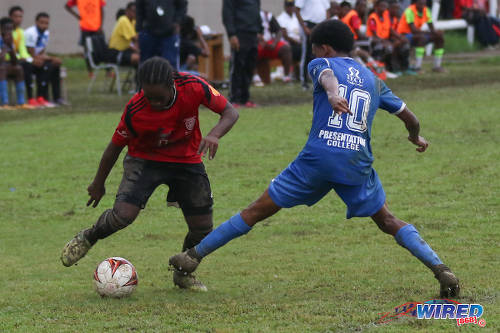 "I have to give the boys credit because it was a commendable effort," St Anthony's coach Ronald Daniel told Wired868. "I think the game was ours for the taking. I would have preferred to have the three points but that's how it goes and I cannot change it."
Daniel suggested that his charges should have been up by at least two goals at half-time, the Tigers having backed the Lions into a corner after Hospedales' early header left them playing catch-up. St Anthony's were looking slick in their short combination game and, as per usual, the former National Under-17 quartet of Tyrese Bailey, Che Benny, Jaydon Prowell and Brown were in the thick of things.
On another day, Benny might have bagged a hat-trick. Today, he found Pres skipper Jabari Gray in inspired form, the 19-year-old pulling off some spectacular saves in the course of the contest. And the tricky Bailey, who was substituted in the second half after creating St Anthony's third, gave opposing left-back Juaval Roberts a day to forget.
While St Anthony's were moving like a well-oiled machine in the first half, the visitors came into their own in the second half. Central midfielders Hospedales and Jerrin Jackie especially enabled the Pres outfit to assert itself, providing much more muscle than they had in the first period.
Dyer and Sheppard later added spice to the Pres attack, punching holes in a tiring St Anthony's defence. And although in the final minute of stoppage time, Augustin produced a fingertip save to stop Hospedales from putting the icing on top the Pres cake, Cooper was pleased that his team had been able to leave Westmoorings with a point.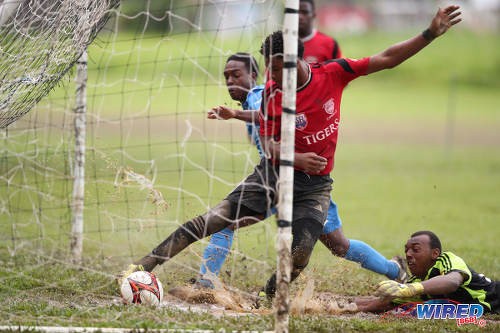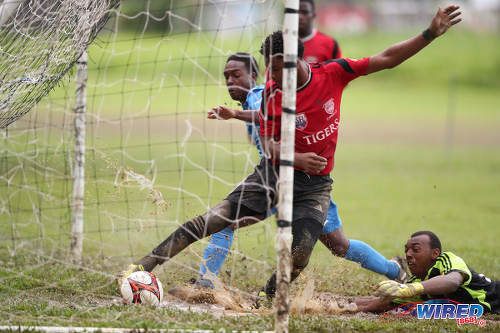 "We know that the league is not in our hands again," he told Wired868. "I think we withstood the pressure of St Anthony's who have been scoring tons of goals on their opponents…
"I can't ask for more from the guys because I think they gave it their all. They did their best in the circumstances today and I appreciate the effort they made."
But aware that the Lions still have a very slim chance of winning the Premier Division title, Cooper vowed that his team is going to fight until the last ball is kicked.
The next SSFL ball is scheduled to be kicked in three days' time when, thanks in part to some Shiva cock-ups, St Anthony's and Naps simultaneously shoot for SSFL glory.
Daniel will be hoping that, when his Saints go marching into St Mary's Serpentine Road territory on Saturday, they will dance out with the Premier Division crown.
(Teams)
St Anthony's College (4-3-3): 22.Oba Augustin (GK); 6.Khiesa Granger, 4.Nkosi Salandy, 5.Jesse Williams, 27.Derron John [captain]; 23.Sowande Prieto (2.Jordan Barclay 85), 9.Che Benny, 8.Jodel Brown (13.Quinn Frederick 89); 11.Haile Beckles, 19.Jaydon Prowell, 10.Tyrese Bailey (7.Krishon Alexander 63) .
Unused Substitutes: 1.Jabari Brice (GK), 17.Omari Wiltshire, 21.Jameiq Pierre, 30.Shurland Augustine.
Coach: Ronald Daniel
Presentation College San F'do (4-3-3): 22.Jabari Gray (GK) [captain]; 17.Omari Cobham (11.Nathaniel Dyer 72), 2.Shirwin Noel, 21.Matthew Joseph, 3.Juaval Roberts; 12.Jerrin Jackie, 7.Omri Baird, 27.Darnell Hospedales; 16.Mylz Barrington, 20.Shakeem Julien (9.Jaiye Sheppard 78), 10.Jordan Riley.
Unused Substitutes: Ishmael Salaam (GK), 6.Ackeel Jacob, 8.Terrell Williams, 13.Christoph John, 18.Jaden Joseph.
Coach: Shawn Cooper
Referee: Keilon Bacchus
Wired868 Man-of-the-Match: Haile Beckles (St Anthony's College)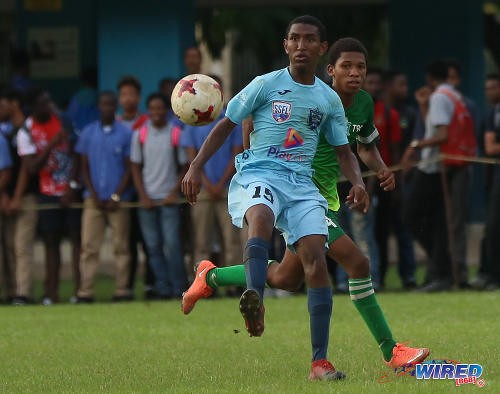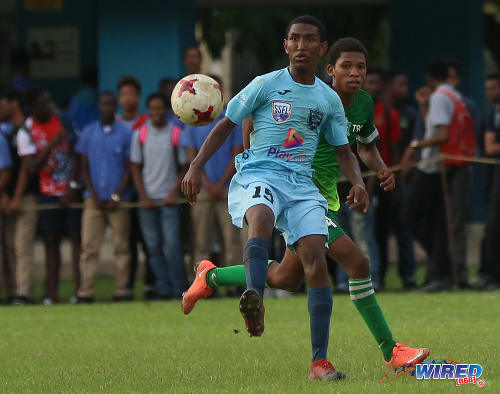 SSFL results
(Wednesday 25 October)
St Anthony's College 3 (Haile Beckles 10, 61, Jodel Brown 17), Presentation College 3 (Darnell Hospedales 2, Jordan Riley 59, Jaiye Sheppard 83) at St Anthony's;
QRC 2 (John-Paul Rochford, Marc Robinson), Naparima College 2 (Judah St Louis [2]) at QRC;
Trinity College Moka 0, Carapichaima East 0 at Moka;
Fatima College 1 (Joshua Araujo-Wilson 34), St Benedict's College 2 (Jabari Jones 65, Keon Boney 90) at Fatima;
Shiva Boys HC 4 (Junior Asson 34, 55, 56, Tyrell Baptiste 69), Signal Hill 0 at Morne Diablo;
Trinity College East 1 (Kishon Hackshaw), St Mary's College 1 (Terran Winner) at Serpentine Road, St Clair;
San Juan North 4 (Isaiah Chase, Renaldo Boyce, Sherwin Williams, Tigana O'Brien), St Augustine Secondary 2 at San Juan;
Speyside High are on a bye.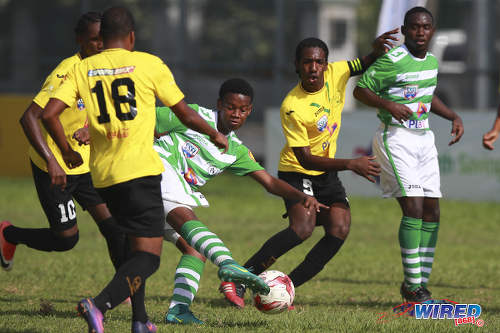 Upcoming fixtures
(Saturday 28 October)
Presentation College v St Augustine Secondary, 3.40pm, Guaracara Park;
St Mary's College v St Anthony's College, 3.40pm, St Mary's;
Naparima College v Trinity College Moka, 3.40pm, Lewis Street;
St Benedict's College v Trinity College East, 3.40pm, Barrackpore;
Carapichaima East v Shiva Boys HC, 3.40pm, Carapichaima;
Signal Hill v Fatima College, 3.40pm, Signal Hill;
San Juan North v Speyside High, 3.40pm, San Juan;
QRC are on a bye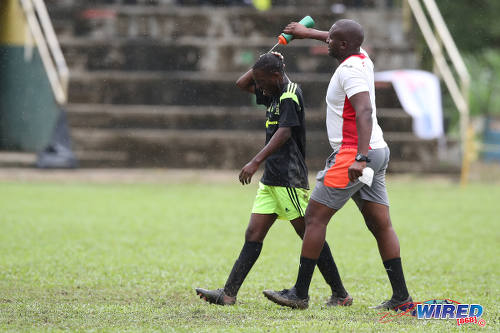 Rescheduled matches
(Monday 30 October)
Trinity College East v Fatima College, 3.40pm, Trincity;
St Augustine Secondary v Trinity College Moka, 3.40pm, St Augustine;
Shiva Boys HC v St Mary's College, 3.40pm, Morne Diablo;
(Thursday 2 November)
Signal Hill v Trinity College Moka, 3.40pm, Signal Hill;
Presentation College v Trinity College East, 3.40pm, Mannie Ramjohn Stadium;
(Saturday 4 November)
Fatima College v Presentation College, 3.40pm, Fatima;
St Benedict's College v Shiva Boys HC, 3.40pm, Barrackpore.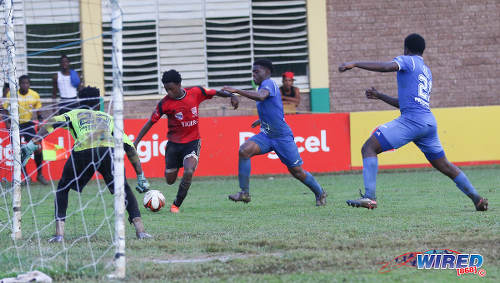 SSFL Standings
(Played-Won-Drew-Lost-Goals For-Goals Against-Points)
St Anthony's       13-9-3-1-42-20-30
Naparima            13-9-3-1-30-13-30
Presentation        11-7-2-2-25-14-23
Shiva Boys HC    11-7-1-3-28-14-22
San Juan N          13-5-6-2-29-15–21
Fatima                 11-6-0-5-15-15-18
Trinity East          11-5-2-4-20-12-17
St Mary's             12-4-4-4-27-26-16
Carapichaima E 13-4-3-5-19-20-15
QRC                    14-4-3-7-23-30-15
St Augustine       12-4-1-7-24-28-13
St Benedict's      12-3-3-6-18-26-12
Signal Hill           12-2-2-8-11-25-8
Trinity Moka       11-2-2-7-13-30-8
Speyside High    13-2-1-10-7–43–7