Naparima College dropped two precious points today in a southern derby at Lewis Street, San Fernando as St Benedict's College clawed their way back from a two goal deficit to hold the title contenders 3-3 in an exciting SSFL Premier Division match-up.
Only goal difference keeps St Benedict's from the relegation zone at present but newly installed St Benedict's head coach Reynold Carrington suggested his team's resolve today might fuel belief that would be invaluable for the second half of their season.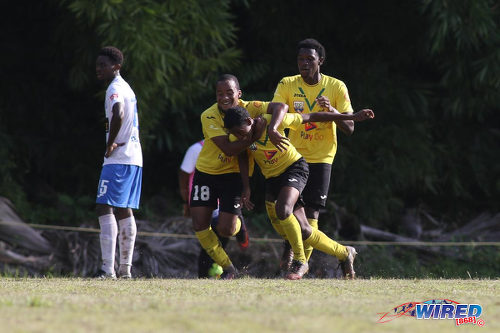 "I must commend them for the fight that they showed in the second half to be able to level the game," Carrington told Wired868. "They just need belief [to avoid relegation]."
Naparima stay in third place despite the slip up but the identity of the two teams at the top of the standings has changed.
Shiva Boys Hindu College's mid-season crisis continued at Trincity today as the leaders and defending champions scored first with a stylish Judah Garcia item yet were stunned 3-1 by Trinity College East.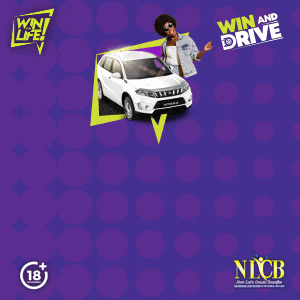 By the final whistle, Shiva Boys had one goalkeeper injured, Denzil Smith, and his back-up, De-Jon Blondell, suspended after picking up a red card as a substitute while midfield ace Tyrel "Pappy" Emmanuel also limped off the field midway through the second half.
And the hosts took full advantage of their opponent's disarray as Kordell Sween and Tyrese Williams both scored memorable long range items before attacker Kishon Hackshaw rubbed it in with a late penalty.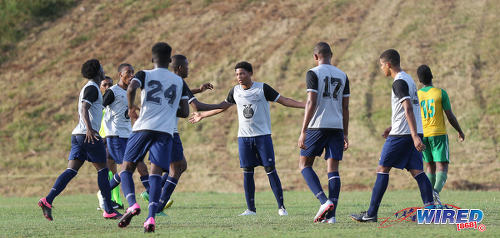 Trinity East climbed one spot to seventh as a result while Shiva Boys slipped three places to fourth.
Presentation College (San Fernando) were not messing about in Tobago as they whipped table proppers Speyside High 3-0 to move two points clear at the top of the table while St Anthony's College leapfrogged two spots to second after a Che Benny hattrick sparked a 6-2 hammering of Trinity College Moka.
Only goal difference separates St Anthony's and Naparima at present and coach Angus Eve might have expected a better outcome against a struggling Benedict's outfit.
Instead, it was Benedict's who drew first blood, as ace striker Jaycee Paras poached the ball off an opposing defender to give the visitors an early lead in the ninth minute. It was Paras' fourth goal this season.
Naparima did not have long to wait before they were back on equal footing, though, as Ronaldo McIntosh levelled in the 17th minute. His equaliser sparked a spell of intense pressure for Naps with midfield conductor Judah St Louis pulling the strings.
St Louis' midfield partner, Jeron Pantor, provided the breakthrough as he unleashed a rasping drive from the edge of the area in the 27th minute to put the hosts ahead.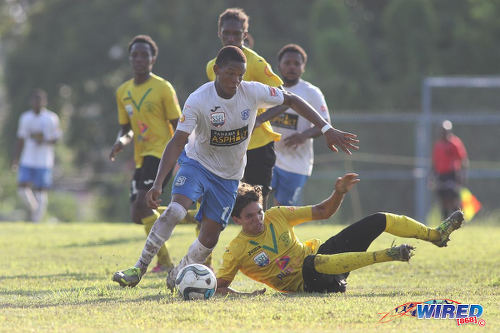 Pantor's strike had venom and curl and would live long in the memory of the spectators. Yet captain Rondell Payne upstaged him with a classy goal of his own in the 38th minute.
Payne expertly intercepted a pass and began a rampage through the middle of the park before playing a clever give and go with St Louis. With two defenders narrowing the angle on his right foot, he chopped back onto his left before curling the ball beyond Benedict's goalkeeper Leonard Richardson.
The Naps supporters were revelling at the pomp of their team while their counterparts hung their heads at the frailty of their own players.
Keon Boney was one of many St Benedict's players to pull up on the muddy surface. And, as he departed down the tunnel just before the end of the first half, Naps were firmly in the driver's seat with a healthy 3-1 advantage.
Carrington needed a response from his team quickly and it duly came in the 48th minute—albeit fortuitously.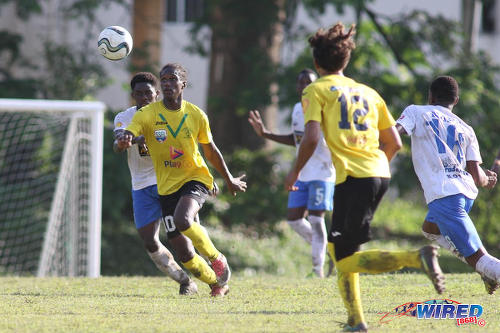 Paras clipped a ball into the middle of the six yard box and Naparima centre back Tyrique Andrews reacted sluggishly, allowing the ball to slice off his thigh and trickle beyondhis own custodian to give the visitors a lifeline.
"They go see now! Dat is one. Come on Benedict's!" shouted one supporter.
That goal put wind in St Benedict's sails and they rained down on the Naps goal with Paras, in particular, feasting on Andrews' shaken confidence.
The talented attacker darted beyond Andrews time and again, with every touch met by loud cheers from his supporters.
In the 65th minute, they finally had an equaliser to cheer. Left back Mickel Ravello, who was selected on the SSFL's 2016 Team of the Season, whipped a ball into the box for striker Reuel Tyson; and, surrounded by at least four Naparima players, Tyson twisted and turned for what seemed like an eternity before burying his shot into the corner of the net.
They were well worth their equaliser and, rather than rest on their laurels, Benedict's opted to push on for a winner.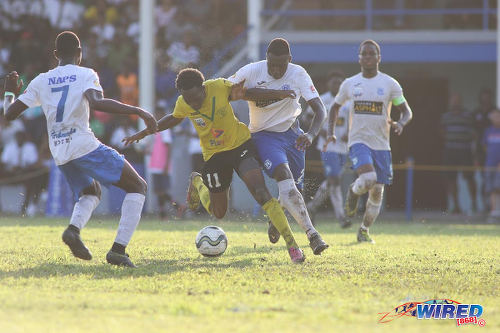 What followed was pulsating end to end action as both teams tried to land a knockout blow at Lewis Street.
But neither side could secure the three points and Carrington might have been relieved by two goal line interventions from Ravello and a brilliant late double save by Richardson during a penalty box melee.
St Benedict's have now earned six points from their last five matches after opening the season with three consecutive defeats under former head coach Leonson Lewis. "Most of the games we've played so far, once the players showed the belief, they always performed well," said Carrington. "When they doubt themselves, the game always becomes harder…"
Carrington said that Lewis, his former teammate at W Connection, helped him to settle in the job quickly.
"We both spoke and he shared ideas and things that he would've done with them in the past," said Carrington, "and some of the players that I would be able to pay attention to…
"So far, they are responding well and hopefully we can go from strength to strength."
Teams
Naparima College (4-2-3-1): 1.Levi Fernandez (GK); 15.Shadeon Arthur (17. Shoaib Khan), 5.Rondell Payne (captain), 2.Tyrique Andrews, 8.Kodel Frontin; 9. Rushawn Murphy, 13.Jeron Pantor; 16.Decklan Marcelle, 6.Judah St Louis (11.Nikel Rawlins), 20.Kareem Blake Williams (7.Isa Bramble); 18.Ronaldo Mc Intosh.
Unused Substitutions: 30.Enrique Changiah, 4.Asukile Christopher, 23.Kern Cedeno, 26.Seon Shippley.
Coach: Angus Eve
St Benedict's College (4-4-2): 22.Leonard Richardson (GK); 19.Micah Blackman, 5.Daquon Foster (captain), 6.Darnell Charles (4.Kent Hamilton) 12.Mickel Ravello; 18.Kristoff Burkett (32.Caleb Gaspar), 23.Tarik Eastman, 20.Keon Boney (21.Jabari Jones), 10.Kyjuan Sampson; 11.Reuel Tyson, 9.Jaycee Paras.
Unused Substitutions: 1.Shakir Merrique (GK), 3.Merlik Campbell, 8.Justin Chu Foon, 16.Detori Boucher.
Coach: Reynold Carrington
Man of the Match: Jaycee Paras (St Benedict's College)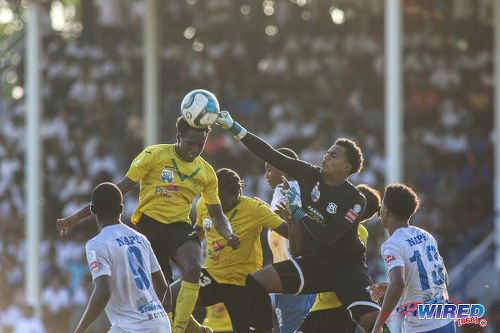 SSFL Premier Division results
(Wednesday 4 October)
Naparima College 3 (Ronaldo McIntosh 17, Jeron Pantor 27, Rondell Payne 38), St Benedict's College 3 (Jaycee Paras 6, Tyrique Andrews OG 48, Reuel Tyson 65) at Lewis Street;
Shiva Boys HC 1 (Judah Garcia), Trinity College East 3 (Kordell Sween, Tyrese Williams, Kishon Hackshaw pen) at Trincity;
San Juan North 3 (Brandon Semper 2, Nathaniel Perouse 30, Elair Brewster 87), Fatima College 0 at San Juan;
Speyside High 0, Presentation College 3 (Jaiye Sheppard [2], Darnell Hospedales) at Speyside;
Trinity College Moka 2 (Kesean St Rose 20, Saleem Henry 81), St Anthony's College 6 (Che Benny 7, 65, 75, Haile Beckles 14, Jaydon Powell 57, Tyrese Bailey 68) at Moka;
Carapichaima East 0, Signal Hill 2 (Akiel Holdford 19, Omarley James 68) at Carapichaima;
QRC 1, St Augustine Secondary 3 at QRC;
Fyzabad Secondary v St Mary's College, DNP, Fyzabad.
SSFL Standings
(Played-Won-Drew-Lost-Goals For-Goals Against-Points)
Presentation        8-6-1-1-20-8-19
St Anthony's        8-5-2-1-29-12-17
Naparima             8-5-2-1-18-10-17
Shiva Boys HC    8-5-1-2-19-8-16
St Augustine        8-5-1-2-20-13-16
San Juan N          8-3-5-0-19-6–14
Trinity East          8-4-1-3-15-9-13
Fatima                 8-4-0-4-7-11-12
Carapichaima E  8-3-1-4-11-13-10
Fyzabad Sec       7-3-0-4-10-14-9
St Mary's             7-2-2-3-13-16-8
Signal Hill            8-2-1-5-7-13-7
St Benedict's       8-1-3-4-12-18-6
Trinity Moka        8-2-0-6-8-24-6
QRC                     8-1-2-5-9-19-5
Speyside High     8-1-0-7-4–27–3