When the final whistle sounded in the hard-fought 1-1 draw at the Trinity College East football ground in Trincity this afternoon, the home fans must have been sick of the sight of Signal Hill Secondary's Akil Frank.
The skipper of the visiting team did not create havoc during the 90 minutes but there was a certain level of discomfort both on and off the pitch whenever the wide forward latched on to the ball and set his sights on goal.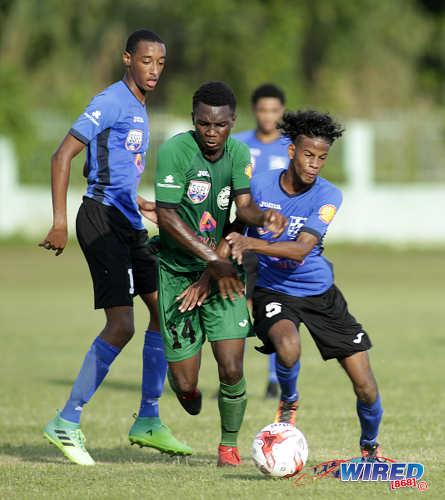 Frank, who featured for Signal Hill last season, earned his stripes in what was always going to be a tough opener for the team hailing from the Sister Isle. He was always involved in the Signal Hill attack and, unsurprisingly, had a hand in their goal, which came halfway through the first half.
In the 25th minute, the dynamic skipper teed up a free kick. The ball ping-ponged its way between two hapless Trinity defenders before finding its way into the path of Omarley James. The centre-forward didn't even have to break his stride before he found the back of the net.
The goal was hardly an indication of the way the contest had so far gone as Trinity, under the care of the experienced Michael Grayson since the beginning of last season, had been rapping on the door from the opening whistle.

A mere minute into the match, star forward Nickel Orr almost put the "Blue Hawks" ahead, racing on to an accurate through-ball. But confronted by Signal Hill defender Jabarry Francis, he merely managed to hit the side-netting.
In the early stages, it was the hosts who made the running, keeping hold of the ball and searching for the penetrating pass to release their livewire forwards. Winston Guiseppi picked out Kishon Hackshaw with a precise through-ball which Signal Hill custodian Joshua James had to race a full 30 yards from his goalline to clear.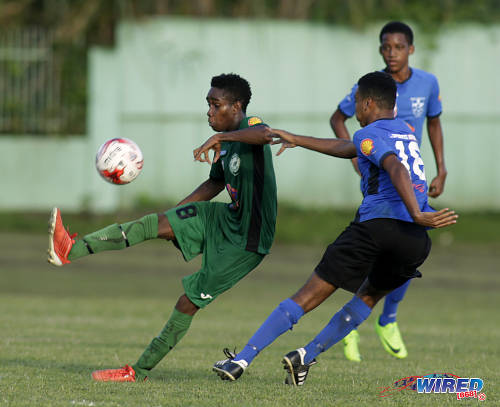 However, the visitors had had the first shot on target when Akiel Holford almost capitalised on a blunder by Liu Chin by smashing an awkward left-footer goalwards. An alert Emmanuel John in the Trinity goal had to stretch well to his left to tip it away for a corner. It was a sign of things to come later on for the Blue Hawks custodian.
Orr and Hackshaw combined in the 21st minute, the former slipping a ball through for Hackshaw who was disappointed to hear the referee's whistle sound. Offside.
Trinity were definitely looking the better of the teams, moving the ball around on the green carpet with a certain ease. But as much as the Hawks huffed and puffed, the Signal Hill house remained standing. Almost inevitably, against the run of play, the hosts were finally made to pay for their slack defensive work.
A hush enveloped the ground as James' deflected shot, a virtual carbon copy of Holford's earlier effort, nestled in the back of the net.
It didn't take long, however, for Trinity to get back on terms—through a familiar source. Just four minutes after the home side conceded the lead, Orr ran almost the entire length of the field on a one-man counterattack as a wasted Signal Hill corner left him in possession. Turning his marker Jabarry Francis the wrong way twice on the way to goal, he buried a low left-footer past James' near post. A jubilant Orr raced all the way back to the Trinity bench with his mates to dance a jig in front of the stands.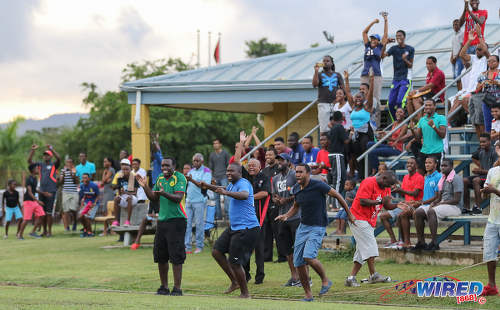 "This game better than the Pro League, boy!" commented a fan who was recording the spectacle.
Grayson's troops might have been looking forward with anticipation to the second period. Signal Hill coach Nigel De Souza had other ideas.
"In the first half, we were playing a little too wide on top," he explained, "so we closed in a little bit and tactically we changed the formation a little bit and we got a little bit more possesion and we able to play more combinations on top."
As a result, the six-time National Intercol winners pressed their hosts more for the entire second half, with Frank switching flanks and making a name for himself from the right side this time, leaving Daniel Lake for dead on more than one occasion.
Trinity were still a threat, especially on the break, but their attack lacked the same punch as before. Orr suffered what looked to be a shin injury and he was eventually substituted in the 68th minute while Hackshaw, who had impressed with his dribbling ability in the first half, wilted under the attention of Jokiah Leacock, Giovani Sebro and half-time substitute, Jabari George.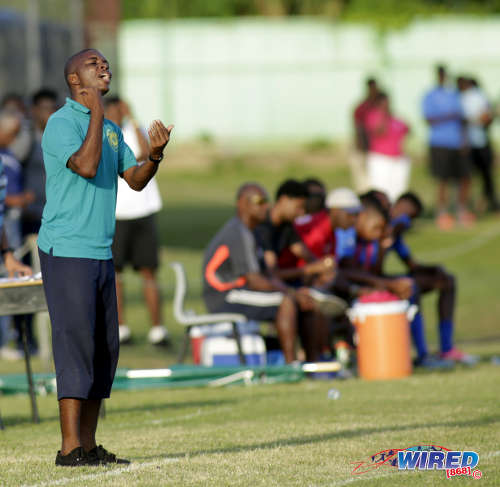 Frank had one last trick up his sleeve and were it not for John's reflexes, it might well have won the match for Signal Hill. The visiting skipper turned his marker in the 83rd minute and made room for a firm right-footer that the Trinity keeper flew through the air to push out for a corner. A minute earlier, he had the almost found the top corner with a free kick from the left side.
De Souza was very pleased with his team's performance.
"It was tough; first game and they had a little jitters," he said. "All in all to go back home with one [point] in the first game was not too bad."
"We have some weaknesses we need to fix but, all in all, good performance. We have something to start with; we got a point."
Contented, Grayson felt that his team had done well given the higher standard than they had met with in the Championship Division.
"For some fellas, it's their first experience [in the Premier League] from last year," he said. "Once we get this first game out the way, I think we'll be alright. We still have a couple people to call on and that would make some competition with these fellas here."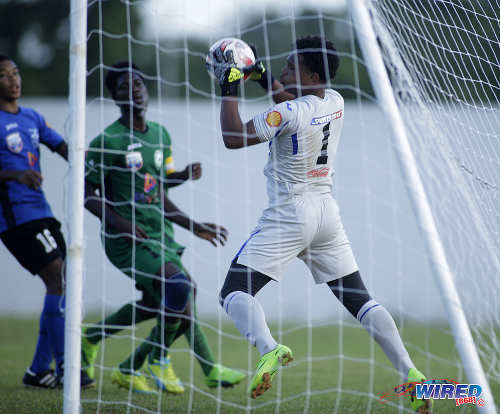 De Souza and his charges will host St Augustine on Wednesday and, if today's performance is a yardstick, the "Green Machine" will have work to do in the Sister Isle.
(Teams)
Trinity College East (4-3-3): 1.Emmanuel John (GK); 16.Liu Chin, 6.Rakim Cabie, 17.Christian Ransome, 8.Daniel Lake; 3.Kerdell Sween, 15.Romario Williams (C), 5.Winston Guiseppi; 4.Randy Jackson (19.Jarved Elcock HT), 10. Nickel Orr (21.Tyrese Williams 68), 29.Kishon Hackshaw.
Unused Substitutes: 2.Stefan Hoyte, 11.Jaden McKree, 12.Daniel Ahmad, 18.Adriyel Clarke, 22.Khalil Olvier (GK)
Coach: Michael Grayson
Signal Hill (4-3-3): 1.Joshua James (GK); 15.Darion Stewart (20.Jabari George HT), 13.Giovani Sebro, 6.Jokiah Leacock, 22.Jabarry Francis; 14.Nicholas Alfred, 8.Jalanie James, 7.Akiel Holford; 9.Ronaldo Samuel (4.Jabari McMillian 70), 11 Omarley James, 10.Akil Frank (C).
Unused Substitutes: 25.Duvaughn Daniel (GK), 12.Jerimie Quashie, 2.Keelan Clement, 5.Tareek Richards, 18.Keishin Small.
Coach: Nigel De Souza
Man of the Match: Akil Frank (Signal Hill)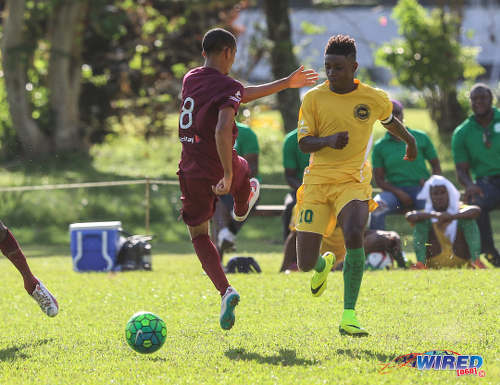 SSFL 2017 Results
(Friday 8 September)
Carapichaima East 2 (Kevon Williams 27, Elijah King 59), Fatima College 0 at Ato Boldon Stadium;
Shiva Boys HC 2 (Junior Asson 14, Jude Phillip 83), Naparima College 1 (Rushawn Murphy 77) at Ato Boldon Stadium.
(Saturday 9 September)
St Benedict's College 1 (Keon Boney 5), St Anthony's College 4 (Yezen Rampaul 19, Haile Beccles 49, Tyrese Bailey 60, Jodell Brown 71) at Barrackpore;
Speyside High 2 (Shaffie McKenzie 7, Kerri McDonald 62), QRC 0 at Speyside;
Fyzabad Secondary 3 (Sharkeel Louison 10, Natinni Jones 53, Maurice Dick 62), Trinity College Moka 1 (Saleem Henry 61 pen) at Fyzabad;
Trinity College East 1 (Nickell Orr 29), Signal Hill 1 (Omarley James 25) at Trincity;
Presentation College (S'do) 2 (Jordan Riley 2, Darnell Hospedales 57), San Juan North 2 (Renaldo Boyce 16, Brandon Semper 41) at Guaracara Park;
St Mary's College v St Augustine Sec, 3.40pm, St Mary's; (Postponed owing to flooding)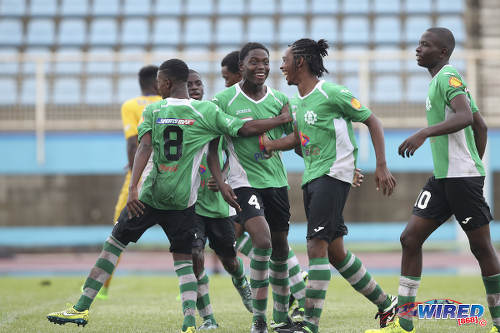 Upcoming Fixtures
(Wednesday 13 September)
San Juan North v St Mary's College, 3.40pm, San Juan;
QRC v Trinity College Moka, 3.40pm, QRC;
Speyside High v Shiva Boys HC, 3.40pm, Speyside;
Signal Hill v St Augustine, 3.40pm, Signal Hill;
Fyzabad Secondary v Fatima College, 3.40pm, Fyzabad;
St Anthony's College v Carapichaima East, 3.40pm, St Anthony's;
Naparima College v Trinity College East, 3.40pm, Lewis Street;
St Benedict's College v Presentation College, 4pm, Mannie Ramjohn Stadium.