"Every little thing's gonna be alright," Brenty M sang, quoting Bob Marley in an attempt to put the minds of the anxious Trinbago fans around us at rest.
"But this is a big thing," some wit behind us retorted, "so that eh happening tonight."
Under normal circumstances, the exchange might have provoked loud guffaws; last night, with Trinbago Knight Riders deep in the doodoo at 40-odd for four, it provoked loud steups all around. No one could see the funny side.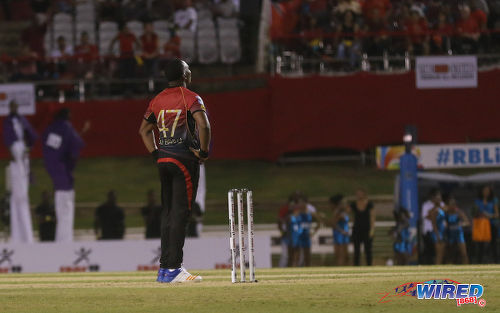 The tone for this CPL qualifier between Trinbago Knight Riders and St Kitts and Nevis Patriots at the Brian Lara Cricket Academy in Tarouba had been set, it seemed to me, by the pre-match announcement.
I interpreted it as saying that: "There is no getting out, there is no emergency plan. Crapaud smoke allyuh pipe tonight!"

The announcer was presumably seeing a Gayle storm in the forecast and was trying to prepare the expectant home crowd for it. Or it could be that he was letting the TKR die-hards know that another savage Evin Lewis onslaught was on the cards.
It was a widely held but not popular view.
"If Gayle and Lewis get off," said Ray, standing outside the North Stand waiting for God knows whom, "we dead!"
"Anybody who say deh eh fraid dem two," a lady standing not far from him chimed in, "deh lie!"
"If we have to chase anything over 180," Ray offered, his eyes saying that he liked both the speech and the speaker, "I doh think we have a chance."
Then lowering his voice and doing his best Machel Montano impression, he asked, "Yuh here with friends or yuh alone?"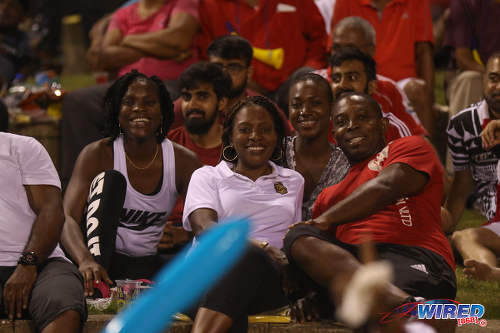 The answer must have been in the affirmative because Ray was sitting only a few rows away from me in an all-male lime when an old man predicted how the game would start.
"First ball Gayle will hit a six," he said, arms swinging widely to indicate that the ball would be going over long-off.
"Second ball Evin will hit a six," he went on, completely ignoring the complete absence of cricketing knowledge which his starements betrayed.
"And third ball," he went on, "klataxs! We getting Gayle wicket."
"And Evin!" I put in my two cents. "Same time!"
That provoked one of several explosions of laughter in the first half of the night; it was one of those nights when there was much to be happy about–if you were a Knight Riders fan, only in the first half.
The night started well, eh. After Ronsford Beaton hit Gayle flush on the pads in his first over and the Zimbabwean umpire failed to raise his finger, we heard all about how his mother had made him.
Then, when TKR new man Dan Christian took an absolute blinder near the long-off boundary to send Lewis packing, the same young lady with the false eyelashes called out to him to tell him that she "never eat ah white meat yet" and ask if he had plans for "after we win."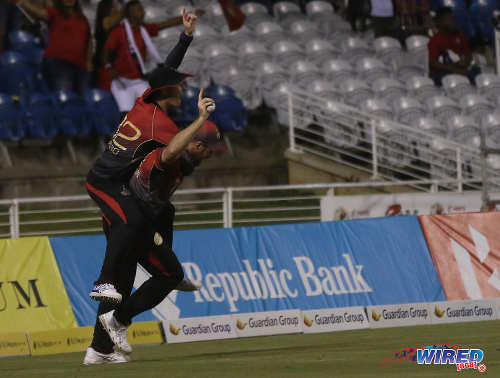 By the end of the Patriots' innings, the "Universe Boss" Gayle had batted out the entire 20 overs for just over 50 runs and his team's total stood at "only 149." The TKR captain DJ Bravo had captured four scalps for 38 runs in his four overs and the whole Brian Lara, well, the whole North Stand where I was sitting never doubted for a moment that "we in the final Saturday."
"Only 150 to get in 20 overs?" Brent commented disdainfully. "Ah wonder who Patriots playing Thursday?"
When Trinidad and Tobago Football Association (TTFA) President David John-Williams put in an appearance at the halfway stage, the Biggest Party in Sport became the Biggest Shit Talk Party in Sport.
"Eh eh," Eyelashes started the ball rolling, "wha he doing here? Bailiff take he TV or he cyar bear to watch the Shithong Warriors?"
The discussion included comparisons of the Brian Lara Stadium and the Ato Boldon Stadium, the TTFA and the TTCB, the WICB and FIFA and the Soca Warriors and the Trinbago Knight Riders. Suffice it to say that it was a good thing that John-Williams was too far away to hear any of it; I feel sure his face would have been red, white and black.
The mood swung dramatically after the interval.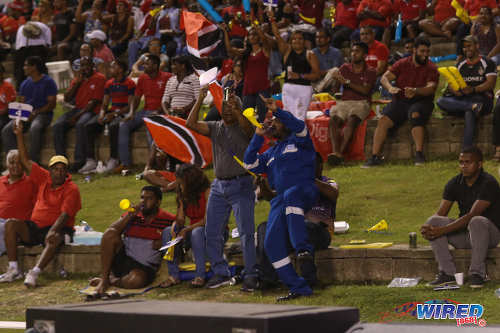 With TKR reeling at 42 for 4 after eight overs, Sunil Narine and William Perkins gone early early and Denesh Ramdin and Colin Munro following them back to the dugout before long, there were hundreds of long faces back in the Tarouba facility.
"Half the side down, oui!" shouted a subdued Brenty. "Ah feel ah might have to come back to watch we play Thursday."
One of the fellahs in Ray's lime tried to rally the troops by pointing out that all was not lost.
"Darren still dey unno, he said. "Remember what he do Badree in St Kitts?
Who tell he say dat? Before I could say Badreeehplayingtonight, Bravo took off for a non-existent single and never had a chance of getting back into his crease on time.
"Blasted goat mouth!" exclaimed Eyelashes, grabbing her handbag. "Anyhow, dem doing shit and I have a date."
And with that, at 59 for 6 in the 13th over, she dusted off her tight jeans, straightened her blouse and departed, flinging the Marley line sarcastically over her shoulder at nobody in particular.
"To hell with Bob Marley, yes," I thought to myself, closing my notebook. "Is Celine Dion, oui. Second chances."