"We go chase down dem runs in 14 overs," an eager Carib Stand patron told Wired868, his smile so wide there might have been saliva spilling into his ears.
"Fourteen?" another fan within earshot sneered. "Yuh mad or what? We winning in ten!"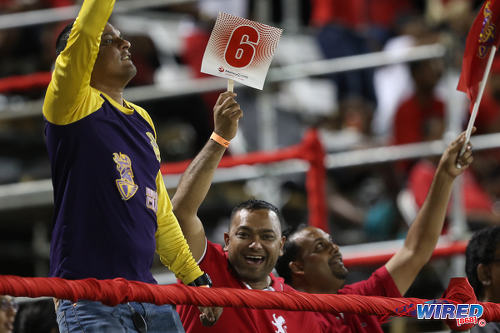 I was struck by the complete identification with the Trinbago Knight Riders players, not simply because franchise cricket had changed long-standing, automatic loyalties but also because, generally in Trinidad and Tobago, "they" only becomes "we" when victory is certain.
"We does win," as Wired868 famously once wrote, "dey does lose."
But 118 for 9 is hardly a mountain to climb and, anyway, TKR had got there—and beyond! —with ridiculous ease in Gros Islet so, in Trini heads, I suppose, victory was certain.

In the end, they were right but only in the end!
At the Oval, I found only one Stars supporter—or one willing to be identified as such in hostile territory—who shouted to Stars skipper Darren Sammy, "Ah, boy, save yuh side!" On this night, everybody was a knight, everybody had high hopes for the home side but nobody was reaching for the Stars.
Known for his late-order flurries, Sammy managed to amass 25 runs, even clouting opposing skipper DJ Bravo for a mammoth six that seemed to threaten nearby aviation before landing safely atop the Learie Constantine Stand.
But I think Sammy can consider himself lucky to have left the Queen's Park Oval with his head intact; had the pull he fired at Kevon Cooper's beamer while ducking not made contact, some of his brains might also have landed safely atop the Learie Constantine Stand.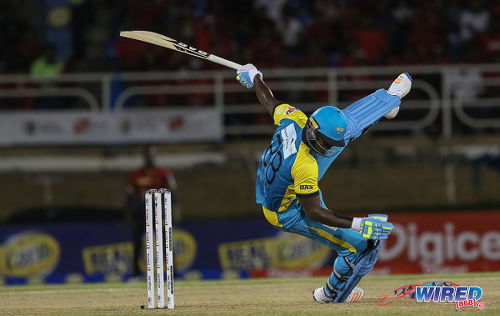 Which reminds me that the Grim Reaper was in attendance last night. He was most conspicuous in the Carib Stand, where there was also an attendant whose face had been painted as a skeletal mask and who informed Wired868, bizarrely, that the name of his character was 'Trini to de bone.' Was he there to oversee the rapid demise of the Knight Riders batting line-up, I wondered.
But neither the Grim Reaper nor 'Bones' walked away with the 'Hero Fan of the Match' award; that honour went to Jason Mohammed—not the West Indies and T&T cricketer or any relation of his—who portrayed a tribal chief.
"Ah hope ah seeing all ah allyuh in Couva next month," a female spectator fired at a couple of the costumed characters as she made her way back to her Carib Stand seat, her hands full of greasy paper (bake and shark?).
Presumably, the reference was to the upcoming World Cup qualifier against Honduras, which the Trinidad and Tobago Football Association (TTFA) has moved from town to the Ato Boldon Stadium because, according to them, not enough people seem interested in the Warriors' progress to guarantee a sold-out crowd at the Hasely Crawford.
More proof that we does win, dem does lose.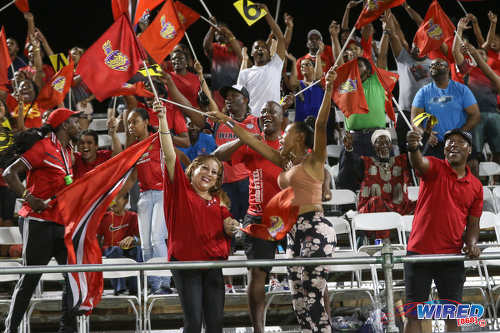 But win, lose or draw, Trinis know how to party and celebrate their team, especially when we on top; the party is less lively when, out in the middle, they struggling to reach their target.
With T&T stuttering at 75 for six, the tassa music suddenly lost some of its tempo, the slower beat reflecting the mood around the ground.
Lanky off-spinner Shane Shillingford had dismantled the top order with figures of four for 22. But he had not had the best of starts as one of the two New Zealanders who had half-killed the Stars bowlers last week looked as if he wanted to finish the job on this night.
"Shillingford does still play cricket?" one spectator asked loudly as he prepared to start his first over. "Watch how McCullum go beat his a—."
So said, so done. Shillingford to Brendon McCullum.
Whap! Six over midwicket.
Shillingford to McCullum again.
Whatap! A second six, over extra-cover this time!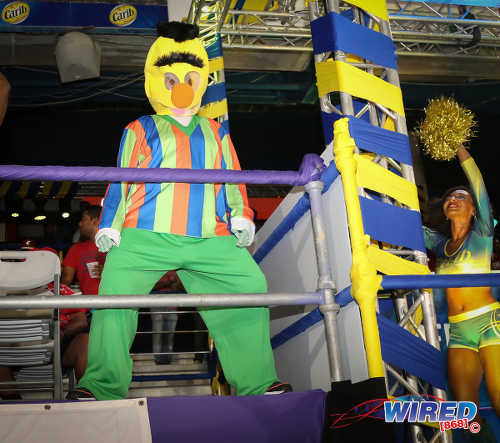 The Kiwi's cameo sent the blue devils in the Republic Bank dugout into a frenzy, revelling as though it was J'ouvert morning. That came to a screeching halt when, off Shillingford's fourth ball, McCullum fell to an excellent catch by his countryman, Jesse Ryder.
"If I knew the game was coming on TV, I would have stayed home," a gentleman beside me said, his brow fiercely furrowed. "I prefer to take stress in the comfort of my own home."
Another Kiwi, Colin Munro, soon joined McCullum in the Knight Riders dugout. And Shillingford made himself Public Enemy Number One by dismissing Darren Bravo and Denesh Ramdin in quick succession, after Andre Fletcher had somehow dropped the younger Bravo on nought.
Bacchanal in the Oval.
"Is a darm good ting he could only bowl 24 balls, oui," my neighbour offered, his head almost touching my shoulder as he tried unabashedly to see what I was scribbling.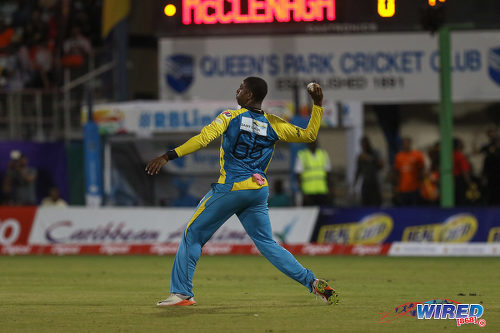 "Like dem go lose the frigging match in true," came the rejoinder from somewhere behind me. But there were only long faces so I couldn't tell just who had put his thoughts into words.
At 52 for five and Ramdin on his way back to the pavilion, I wished I could see "Ten overs'" face. But I was pretty certain it wasn't any different from the glum, long ones that surrounded me.
I swear I heard the loudest steups I have ever heard when New Zealand left-arm pacer Mitchell McClenaghan lit up TKR skipper DJ Bravo's stumps with a beauty of a delivery. The stunned Oval was so quiet it wouldn't surprise me if people in Stollmeyer heard the steups as well.
But Javon Searles and Pakistani wonder-boy Shadab Khan brought the smiles back to Trini faces, milking Sammy's bowlers and occasionally finding the boundary when a bad ball arrived. Every run was greeted with rapturous cheering and applause until finally Searles dabbed McClenaghan down to third man to seal TKR's second win over the Stars in the space of four days.
We Trinis win, dem St Lucians lorse!