1990: A JAMAAT CHILD REMEMBERS—Part 2
Today marks the 27th anniversary of, in the splendid words of David Rudder, the night of the day when the prophets died" because "a man opened a door and showed us our other side."
To mark the occasion, Wired868 exclusively presents the second installment of a chapter of Memoirs of a Jamaat Child, an unpublished work of non-fiction. Its author is Otancia Noel who, having spent her formative years on the Compound in Mucurapo in the decade leading up to 27 July 1990, knows the Jamaat-al-Muslimeen and its personalities intimately.
Part One was carried on Monday.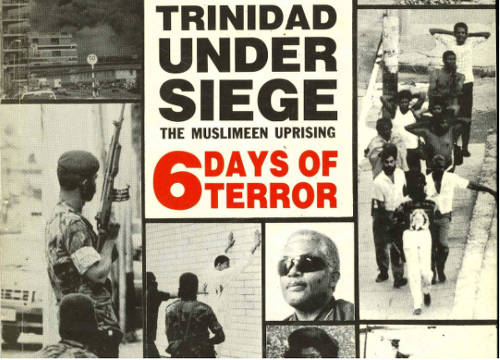 Memory Number Four is very unflattering; it involves a show of naked power meant to humiliate. And scare. I got most of that story second-hand, after-the-fact. But I heard the slap—many of us heard it—and knew instinctively that it was a declaration of war.
Bro (not his real name) was a senior member of the community who, like S, once held high office, wazir of security, I believe it was. It would be a major understatement to say that he had a mind of him own, not a quality calculated to endear you to a leader who demanded blind loyalty.
He is clear that, for the Jamaat, "the judge's decision to release us was a pyrrhic victory."
"It would have been better for all of us if they had shoot us after the coup," he told me, "because our purity would have been intact and the people would have been stronger on the outside and we would have been remembered in a different way, as a strong community."
Bro claims that he was in the original handful of men who set up the Jamaat in the mid-1970s, the Imam being one of them. He explained that, before 1990, the Jamaat was a genuine anti-crime organisation, removing the drugs from the streets and burning them.
"I wanted to implement programmes to give the youths alternatives, for example, setting up poultry shops and other small businesses, so that they would be able to resist the lure of the drugs."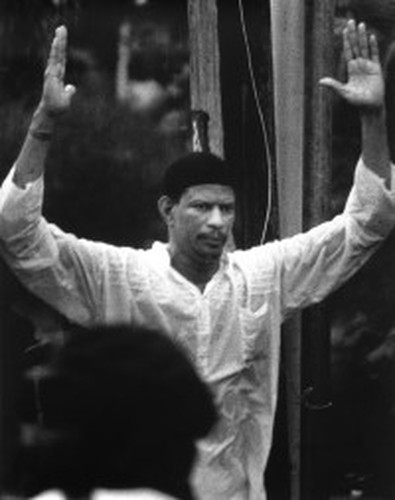 He also remembered their being repeatedly told about growing numbers of young girls leaving for school and not coming back home. Their investigations uncovered a ring of maxi-taxi drivers and conductors who were taking these girls to houses, stripping them naked and keeping them for days. Quietly, they busted that racket.
But 1990 changed all that. Growing up in a house of tradesmen, he had never been in favour of ten days labour. It kills independence, he insisted, and is really for people who are somehow disabled and can't give a fair day's work for a fair day's pay.
So when, after the coup, the Jamaat got involved in ten days, he opposed it. Resolutely. Uncompromisingly. With every bone, every fibre, every sinew in his body. He told all who would listen that it was a plan to weaken the organisation.  He said everybody needed to be like Yusuf, who had come out of prison ideologically stronger than when he went in.
As a group, he said, they had all come out spiritually strong, with a purity that came from regular fasting for two whole years.  He had fasted, he said, for 90 days straight, fasted and prayed and fasted some more, praying down to witr until Allah blessed him and made him a urp (ultra religious person). And realising that he and others like him were serious and strong, he claimed, the government decided to undermine them with ten days.
Blinded by lust and greed and the thirst for power, he asserts, with an eloquent shake of his head, the leadership never had any doubt that ten days was the way to go.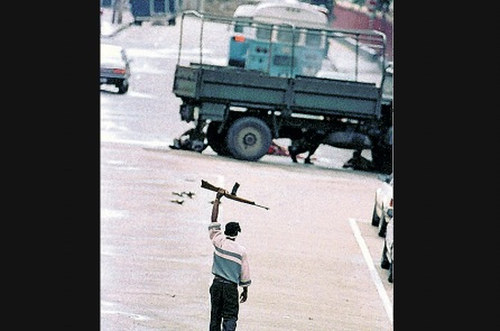 He remembers the day a young man came to him and said he had put down his name in the mosque for ten days months earlier and turned up for work week after week but he had only got one pay. So he had made some inquiries and been told that his name was not coming down and so he was not getting any cheques. He went down to the office and discovered that his name was in fact coming down and, according to the official records,  he was in fact collecting cheques.
This enterprising young man was not the only one in his situation; it was a widespread thing. And it came to a head one Friday afternoon. Two big bag of cheques were being put to the flames and Bro dared to raise a question, to challenge the authority of anyone to burn other people's cheques.
The Imam slapped him, slapped him so hard his head made a 90­o turn. It gave new meaning to the term "first-hand." Years later, I still hear the echo of that slap ringing in my ears.
S. sometimes took the Imam's children for a Sunday drive or to buy ice cream or some other such goodies. We owned no car at the time and, like spectators outside Buckingham Palace, we would all be lined up while our father shepherded the royal children into the royal car. The Imam would always be the last to emerge. He would pat us all on the head with a quiet "Youngster" and then, leaving us all standing there with envy in our eyes and in our hearts, he would settle into the front passenger seat and buckle up before being whisked away for some coveted Sunday treat.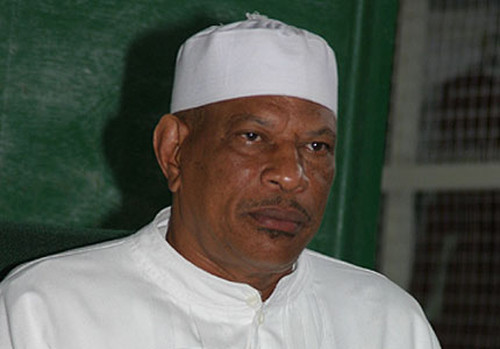 Call it charisma, call it charm, call it corruption, you had to admit that the Imam had some special quality that endeared him to his flock.  Even those who don't particularly like or don't agree with his methods have to concede that you can't fault him when it comes to family, where taking care of his own is concerned.  He always led from the front and, some might say, using Malcolm X's phrase, by any means necessary.
But you couldn't accuse him of being selfless.
I remember when the son of a Jamaat family had earned himself a scholarship to the USA after leading his college to victory in the 1998 Secondary Schools' Intercol football championship and his parents had to find money to finance his trip. His mother suggested to his father that he approach Brother F, the man in charge of the Arab conference at the Hilton, whose organization had expressed an interest in assisting the Jamaat with funding for specific needs such as education and housing. But the father did not put in the request because the Imam told him to hold his hand.
"When I get money from the conference," the Imam had told him, "I will give you whatever you need."
The mother waited a few days. Nothing.
"Mister," she warned, "my son not missing out on this opportunity. If you don't ask, I will."
He knew that she meant it; it was one of the rare occasions when he went against the Imam's wishes.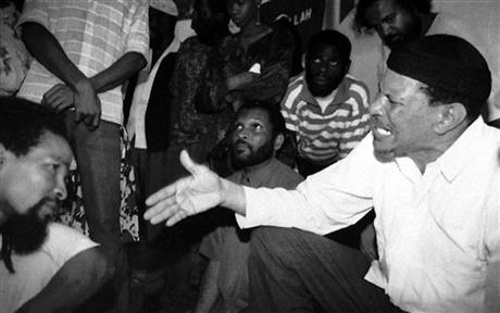 "Yasin was real vex," the mother told me many years later. "He put my husband in the doghouse for a long time. But I didn't care; my son was on a plane."
Today, the son is a certified soccer coach after graduating from a university in Ohio. He told me in casual conversation one day that he was sure Yasin was proud of his achievement but he would have preferred that the money had come directly from him.
I think my own mother was trying to make the same point or something like it when she complained to S one day that the Imam  "have so much and you just running behind this man and leaving your family undone and without."
"Money and money things are sometimes things that should be left alone," S responded, cryptically. I was having a discussion with Umi one day when she provided the clue that enabled me to make sense of that statement. S was saying that one should always ascertain the source of funds, the means by which the owners come by their money before deciding to share in their wealth. He who comes for justice, legal people say, must come with clean hands; ditto, my parents felt, he who wants to be respected by his peers.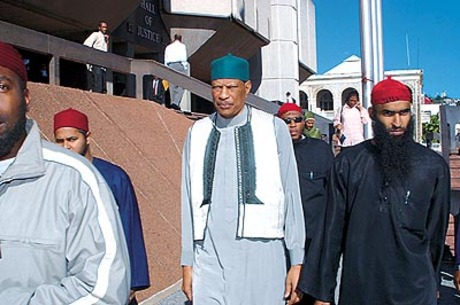 Respect is important but it's another r-word that arguably played the biggest part in our lives at the Jamaat. I think religion, or the failure to understand religion, has a big effect on the direction many societies—and many individuals—take; there's no disputing that the Jamaat-al-Muslimeen would have been, would be nothing without it.
I guessed, I observed, I asked questions. I kept my ears and eyes open and my mouth shut a lot of the time. I realized that many of the people with whom we shared the compound were from depressed areas or had had hard lives or questionable backgrounds. I arrived at the conclusion that the idea of family life and unity was the main attraction for all or most of the young, mainly illiterate—but with plenty street smarts—men that came to the Compound.
As for those who already had a family and a supposed sense of purpose and self, I really cannot understand to this day what force on Earth drove them to join this cause. Perhaps, what I should ask is not so much what made them join the cause as what made them stay with it even after they realized things were not the same as they had originally been and were meant to be; perhaps, like the man in the old Beatles song, "A Day in the Life," they had not noticed that the lights had changed…
In fairness to all concerned, the idea of living together as a community with meaningful goals and aspirations for bettering oneself and the society at large was the primary goal of the Jamaat when it was formed. But as things went along, ideas and agendas were misrepresented, misinterpreted and misunderstood. People changed, times changed and, along the way, some things had a negative impact on the original ideology and philosophy. Many people have become disenchanted and disillusioned and many agree that we have to wait on a new breeze, a fresh breeze to blow.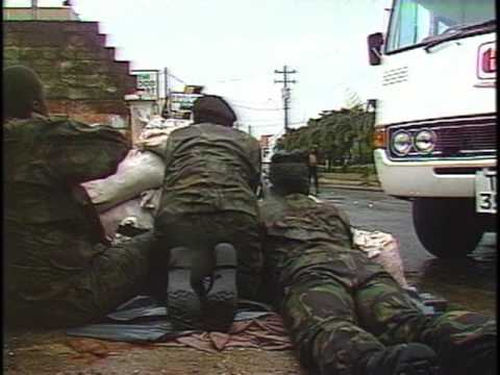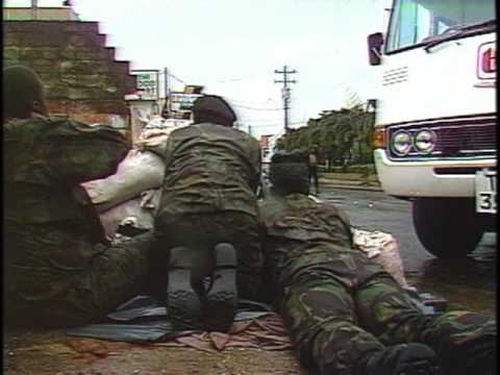 But I remember when the Jamaat was the place to be—or not to be, depending on your perspective. When the money was flowing (albeit into one pocket) and the business, big, big business, was growing even bigger. Young, black men continued to pay their tithes and their dues, the Imam lived very nicely and everything was great. There were times when things got a little out of hand but that's okay; Movietowne is no place to go and lime anyway, especially when you have strayed far from the protection…
And everyone ought to have known to lock their windows and wear bullet-proof vests while they prayed.
Nowadays, I see the knock-on effect.
And I remember…
Editor's Note: Click HERE to read Part One entitled "Jim Jones without the suicide; portrait of a powerful imam."