Defending champions FC Santa Rosa notched their second straight win of the Trinidad and Tobago Super League (TTSL) season as they defeated Tobago's Bethel United by a 2-0 margin before an appreciative crowd at the Arima Velodrome yesterday.
Great efforts have been made by Super League holders Santa Rosa and TT Pro League club North East Stars to return football to the famed Velodrome. And it was only Friday evening that the Velodrome was deemed unsatisfactory to host a Pro League match between home team Stars and three-time defending Pro League victors Central FC, after the visitors complained about the lighting and the field markings at the venue prior to kick off.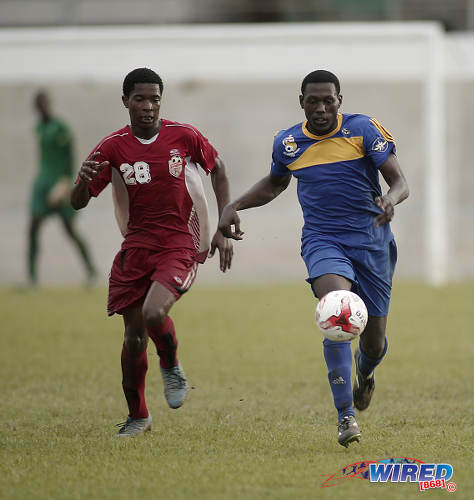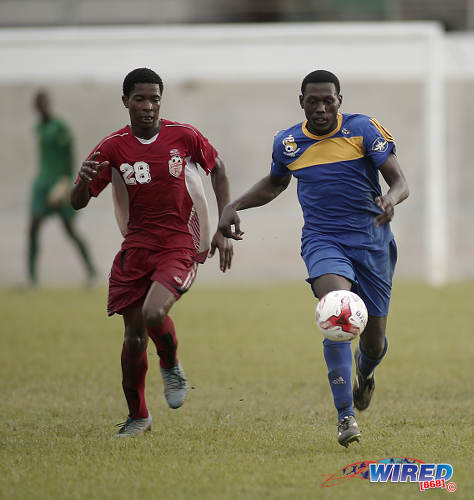 Yesterday however, without any adjustments to the field markings, Rosa and Bethel's 4pm duel went off without a hitch.
Despite being defending champions, the "Big Cannons" would not have expected a cakewalk against Bethel, who dumped Rosa out of the Super League knockout competition last season en route to clinching the knockout crowns themselves.
The visitors, aided by the giant presence of former Trinidad and Tobago national youth and senior team defender Makan Hislop, gave a fairly decent showing in the first half as they tested the Santa Rosa defence with a barrage of long balls. However, the Tobagonians were less threatening in the second half once the hosts took away their 'route one' access.

According to Santa Rosa coach Keith Look Loy, things aligned perfectly with the playbook.
"For the entire match they played with three central defenders and in the first half I thought [we would allow them to play the long balls]," Look Loy told Wired868. "What we didn't want in the second half was for them to play long balls with the wind and with the slope. So I asked our forwards to press in on their centre backs and we significantly reduced the long balls they were playing."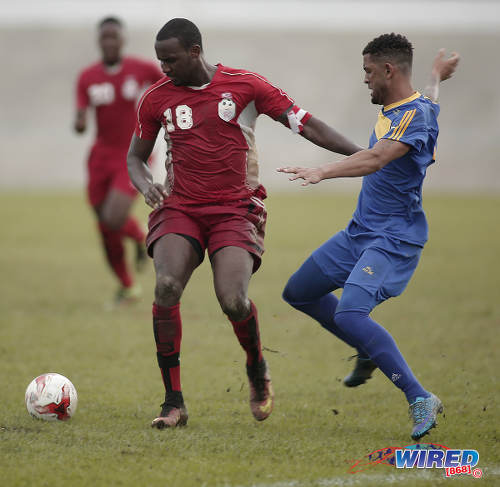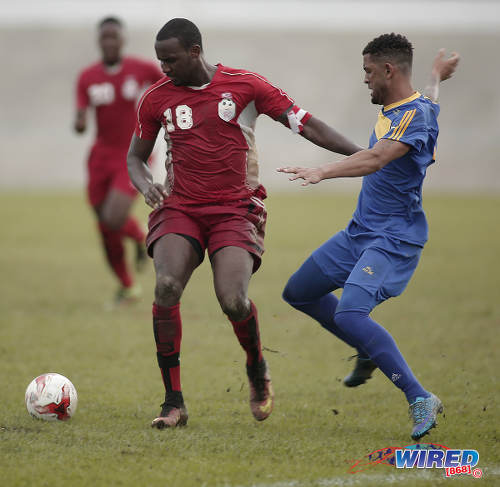 Rosa did not have it all their own way in Arima yesterday though, as Bethel's Akiel Holdford fashioned a couple decent chances in the first half and was generally one of the brighter sparks for the visitors on a bleak afternoon.
Holdford, who turned out for Signal Hill in the 2016 Secondary Schools Football League (SSFL) alongside three of his Bethel teammates, nearly squeezed his team into the lead in the fourth minute when he tried to punish stranded Rosa goalkeeper Kitwanna Manning.
Thankfully for Manning, defender Marc Leslie was there to clean up the mess. Just two minutes later, Holdford again prompted concerns for Manning as the attacker struck a meaty volley just over bar following a miscued clearance by Leslie's central defensive partner, Alfie James.
The enthusiastic Holdford deserved an 'A' for effort yesterday, and his 'spanner' on Rosa's Durwin Ross on the near sideline would have taken him to the top of the class if not for a typically tigerish tackle by the recovering Vincentian.
Ross, who rarely shows up on the stat sheet, was voted Rosa's MVP last season for his combative midfield play. And yesterday he reminded Holdford that he was not the easiest player to get around.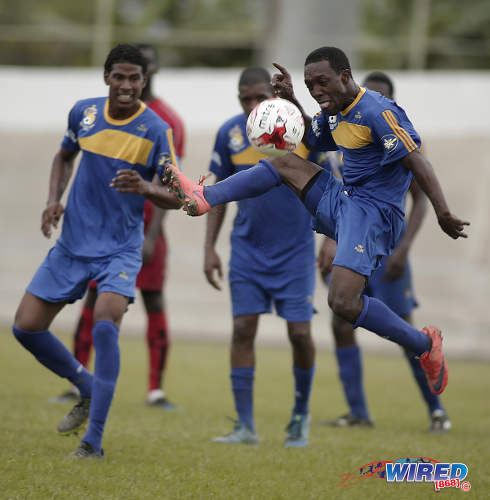 While Holdford and his teammates were trying to shrug off the likes of Ross on one end, Santa Rosa attackers Mikheil Peters and Keron Clarke were doing their best to run the Bethel defenders ragged at the other.
Peters, a much sought after attacker in the Super League, got himself into dangerous positions down Rosa's right in the first half and twice forced goalkeeper Joel Sampson into sharp saves.
In the 13th minute, Peters brought the Velodrome to life as he spanked a right-footed effort on frame. Meanwhile, the bustling forward saw his powerful close range shot turned back by Sampson near the half hour mark after working a neat exchange with substitute Jesse Rampersad.
Cracks were beginning to show on the left side of the Bethel defence and the hosts were determined to exploit that leak. Clarke and right-back Joel Duffal both had near misses during flowing moves while Peters was denied by a last-gasp tackle by Bethel's Oral Williams in the 41st minute.
Rosa broke the deadlock from the resulting corner kick though, as Clarke headed a teasing Saleem Henry cross past Sampson for the opener.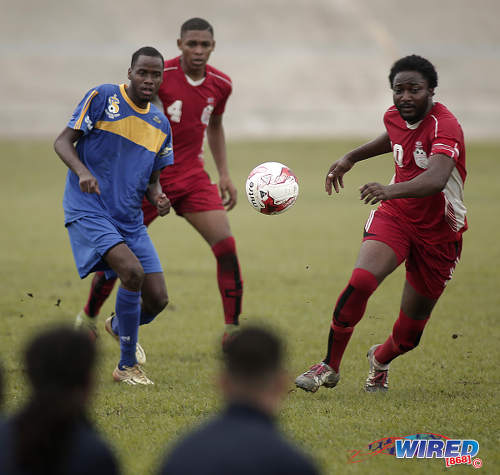 The Big Cannons conceded the fewest goals in the Super League's top flight last season and Bethel surely knew that mustering a comeback on enemy territory would be an uphill task.
"Our philosophy is if we get the first goal in a match, chances are the opposition has lost because we are going to defend well," Look Loy told Wired868. "If we get the first goal we figure we are halfway home."
With such a miserly defence, it must be some luxury to be able to call on your top scorer from among the substitutes.
Rosa's Rashad Griffith, who scored 19 goals last season, was summoned from the bench on the hour mark and it took the speedy forward all of five minutes to get on the score sheet, as he finished neatly from close range after an unselfish pass from Clarke.
The goal was not without controversy as Griffith appeared to get away with a foul, midway in the Bethel half of the field, during the buildup, only for referee Rashby McPhie to wave play on.
On the face of it, Griffith's item was an insurance policy. But Manning might tell you it was wholly unnecessary as his goalmouth saw very little action in the second half.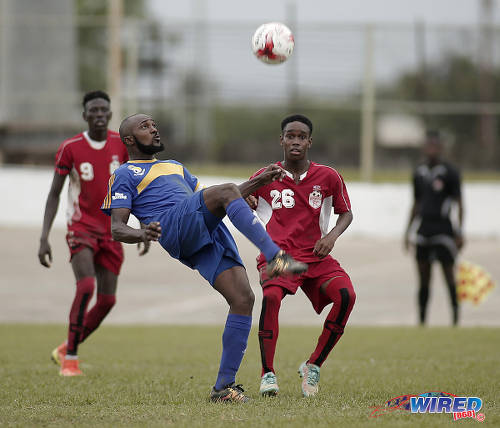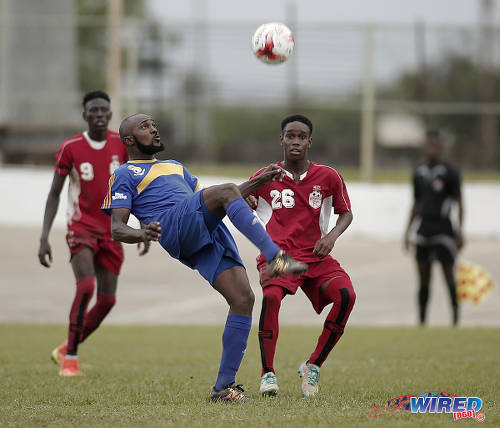 In the game's aftermath, Hislop put his team's defeat down to inexperience and a lack of composure in the final third, as he felt his teammates did not capitalise when they got into promising positions.
Truthfully speaking, Bethel coach Urington Samuel may have to reserve more time for crossing  practice in his upcoming sessions as his players sent at least five crosses—including a corner—behind Manning's goal.
Hislop, who spoke at length about the development of Tobago's young players, strongly believes that the sister isle needs some method of standardisation to better integrate its players into the national team pool.
"Tobago has always been blessed with raw talent. In my time playing in the professional league in Trinidad, every single team had a Tobagonian player on it as a standout," Hislop told Wired868. "And I've always had a big grudge against that because the opportunity for Tobagonians to do something on a national scale is so hard.
"For them to do anything they have to come to Trinidad. And that's a big step when you take in travel, accommodation and meals. Meanwhile, a Trinidadian just has to go on the Bus Route and he is in training.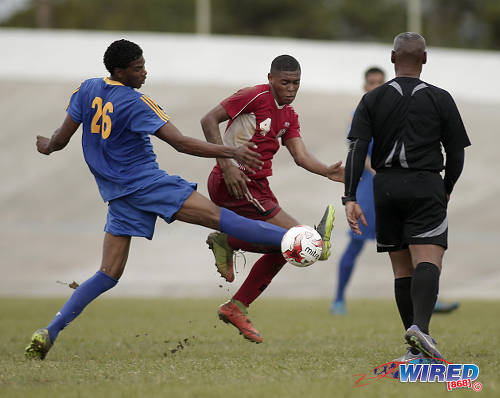 "I would really like to see a standard, whereby every year I could say for sure that ten or even five Tobagonians will have a look in on the national team… When you have screenings in Trinidad you hear about 40 Trinidadians and three Tobagonians. The odds are heavily stacked against a Tobagonian excelling and, because of that [and] the psychology of a young person, they don't see a professional contract in Trinidad being a reality to them."
Bethel would hope to give a better example of what Trinidad football fans are missing out on next Sunday when they host WASA FC from 6pm at the Mt Gomery Recreation Ground. Meanwhile Santa Rosa will attempt to maintain their 100 percent record away to QPCC from 4pm at the St Mary's College Grounds on Serpentine Road, St Clair.
(Teams)
FC Santa Rosa (4-2-3-1): 22.Kitwana Manning (GK); 3.Joel Duffal, 5.Alfie James, 23.Marc Leslie, 2.Quilon Dick; 21.Durwin Ross, 20.Jesse Reyes; 12.Mikheil Peters (27.Kevon Cornwall 68), 10.Keston Jones (26.Jesse Rampersad 23), 14.Saleem Henry (7.Rashad Griffith 60); 11.Keron Clarke (captain).
Unused Substitutes: 1.Tevin Boswell (GK), 6.Ricardo Cornwall, 17.Brian Sequea, 25.Deon Capriata.
Coach: Keith Look Loy
Bethel United (3-4-2-1): 1.Joel Sampson (GK); 18.Makan Hislop, 3.Oral Williams, 5.Shaquiele Gardiner; 4.Daniel Craig, 12.Oshan Geogre, 10.Rohan Sebro (captain), 9.Teejay Cadiz; 26.Jalanie James, 28.Akiel Holdford; 11.Densyl James.
Unused Substitutes: 13.Azimodeen Leith, 21.Terelle Collins, 22.Chevi Mcmillan, 23.Kenneil Roberts.
Coach: Urington Samuel
Referee: Rashby McPhie
Wired868 Man of the Match: Keron Clarke (Santa Rosa)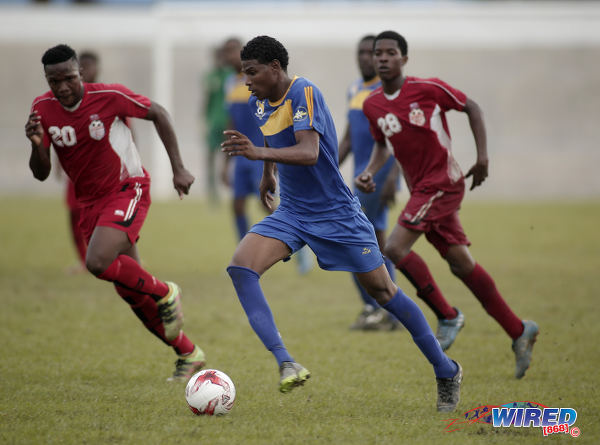 TTSL One Results
(Sunday 18 June)
QPCC 1 (Kevaughn John 59), Club Sando Moruga 0 at QRC Grounds;
Siparia Spurs 2 (Andy London 52, Dwayne Edwards 89), Guaya United 4 (Kendes Garcia 10, Kevin Jagdeosingh 40, 59, Carlon Hughes 63) at Fyzabad Petrotrin Sports Club Ground;
FC Santa Rosa 2 (Keron Clarke 42, Rashad Griffith 65), Bethel United 0 at Arima Velodrome;
Police FC 0, Defence Force 2 (Josimar Belgrave 15, 73) at St James Barracks (Inside field);
WASA FC 0, Cunupia FC 1 (Michael Darko 30) at WASA, St Joseph;
UTT 4 (Isaiah Mejias 31 [p], 34, Theon James 55, Dillon Bartholomew 85), 1976 Phoenix FC 2 (Jabarry Francis 18, Dominique 46) at UTT, O'Meara;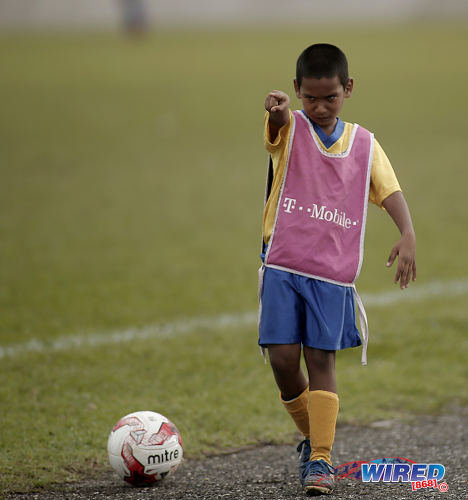 Upcoming TTSL Fixtures 
(Sunday 25 June)
Club Sando Moruga vs Siparia Spurs, Grand Chemin Recreation Ground, Moruga, 4pm;
QPCC vs FC Santa Rosa, St Mary's College Grounds, 4pm;
Guaya United vs Police FC, Guayaguayare Recreation Ground, 4.30pm;
Bethel United vs WASA FC, Mt Gomery Recreation Ground, 6.30pm;
Defence Force vs UTT, Defence Force Sports Field, Chaguaramas, 4pm;
Cunupia FC vs 1976 Phoenix FC, Ato Boldon Stadium, Couva, 3.30pm.