The Cabinet was reshuffled on Monday afternoon at the Ato Boldon Stadium but, as some commentators have been predicting all along, it made little difference.
And the presence of National Security Minister Edmund Dillon might have been enough to stop a highly anticipated head-to-head between the national women's coach and the former national captain whom she gave her marching orders recently. But it was not enough to prevent the mutiny that took place in the tunnel mere moments before the start of the star-studded FIFA-sanctioned glamour match.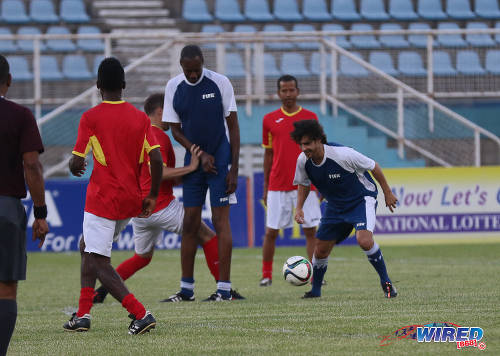 FIFA President Gianni Infantino, TTFA President David John-Williams and a host of former football stars faced off against National Security Minister Edmund Dillon, Sports Minister Darryl Smith and Deputy Speaker of the House Esmond Forde and the result was an embarrassing 6-0 trouncing for the politicians and—with apologies to Basdeo Panday—pseudo-politicians.
In his first official visit to T&T since being appointed FIFA President last year, Infantino led the FIFA/TTFA outfit from the front. Apart from braving the scorching heat to march out at the head of the troops in their blue strips with white trim, it was he who scored the first of the handful of goals—and then one!—they put past the hapless parliamentarians.
The appearance of the teams on the field of play was preceded by the thunderous voice of President John-Williams making a protest that brought all and sundry to a halt.

His state of shock, it seems, was induced by the sight of National U-17 head coach Russell "Little Magician" Latapy outfitted in the red of the parliamentary opposition. If 37-year-old former Valencia CF and Argentina icon Pablo Aimar and 41-year-old former Aston Villa and NY Red Bulls marksman Juan Pablo Angel, the two FIFA big guns Infantino had brought with him had been real guns, well, you never know…
As it turned out, Williams was content to demand an investigation into the matter. Tyrone Marcus, the Sport Ministry's sharp legal officer, leapt to his team's defence, eloquently pointing out that Latapy's transfer had been very much above board despite the transaction having taken place in the relative darkness of a tunnel. Tough luck, Mr President.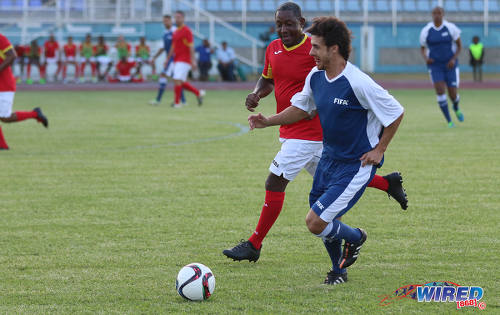 Wired868 could not confirm that Latapy was hoping to convince national coach Dennis Lawrence that he still has what it takes to suit up in red in June.
Dillon, a retired major general, is used to heavy artillery but his side had no answer to Aimar and Angel who, ably assisted by the 2006 Soca Warriors trio of Carlos Edwards, Stern John and Lawrence, dominated the game from start to finish.
Unfazed by their pre-match setback, the FIFA/TTFA "galácticos" stepped into the sunlight determined, organized and assured. A lip reader would have been able to determine whether the intense discussion between Aimar and Angel in the centre circle was an attempt to work out which would be allowed to score more goals than the other.
There was no such discussion among the members on the Government/SPORTT side. They looked a rag-tag bunch, red but not ready. They looked like a team in need of a few days' rest. Confused, disorganized and unable to decide who was playing where before or even after the ref blew the whistle, they didn't give the impression they could get it together enough even with the divine assistance on which they were clearly depending.
Once Aimar played the ball out to Edwards, the Rolls Royce of Trinbago football, the result was not in doubt. The 38-year-old Edwards occupied his customary right-back role with Angel on the left wing, Aimar deployed in his favoured number 10 position and T&T record goal-scorer, Stern, partnering President Infantino at the top of the attack.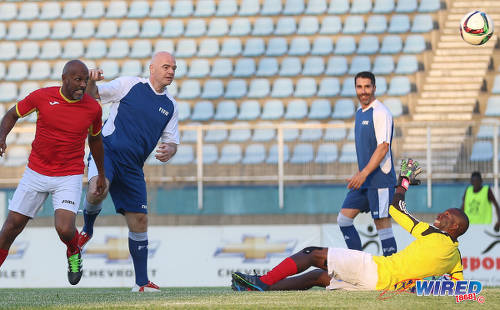 It didn't take too long for the men in blue to fire the first warning shot either. Angel burst down the left like a man 20 years younger and crossed to Aimar, who flicked a header on to the advancing Infantino.
Infantino's reflexes, however, were not as sharp as his wit and the chance went begging. But you didn't have to Leo Beenhakker or Pep Guardiola to see that it was only a matter of time before the "galácticos" would score.
Infantino did soon after, thanks to his illustrious imported pair. They combined down the left flank and, despite some wasteful finishing and good goalkeeping, Infantino saw his shot loop into the net.
Moments later, Edward delivered a peach of a cross, which Angel gently cushioned before slotting the ball into the bottom corner.
The response on the Government/SPORTT bench was to begin warming up with militarized precision. It is debatable whether this was spontaneous or the result of a demand by Minister Dillon for the respect he had demanded in central Trinidad the week before.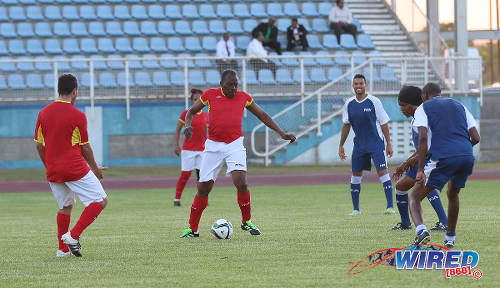 Enter Latapy to show glimpses of the touches that had left Williams aghast when he suddenly switched sides. He cleverly chipped the ball into the path of another ageless wonder, Leonson Lewis.  The 50-year-old Lewis cut back onto his left and unleashed a cannon of a shot that seemed destined for the far corner.
In no mood to be upstaged by his elders, however, custodian Clayton Ince stretched out his long arm to parry the effort wide.
The disappointment might have knocked the stuffing out of Lewis, who was soon replaced by entertainment and Scorch hotshot, Kwesi "Hoppie" Hopkinson.
Minister Smith soon joined Lewis on the bench. Though Smith regularly reminds any willing listener about his football exploits in his college years, those times looked to have been light years ago on Monday as Aimar danced around him time and time again.
One suspects that the Minister's physio had to put in more than a little overtime yesterday.
A huge cheer went up when, at the opposite end, president replaced president. Infantino was visibly pleased to depart for the welcome luxury of the shade on the bench, leaving the field to his host, John-Williams. To his credit, DJW was ready and able.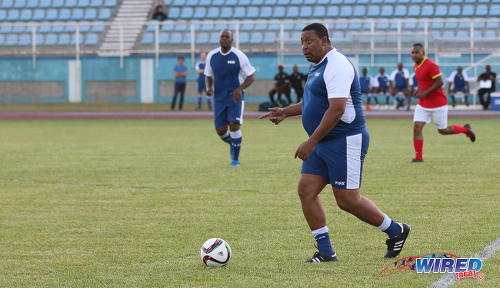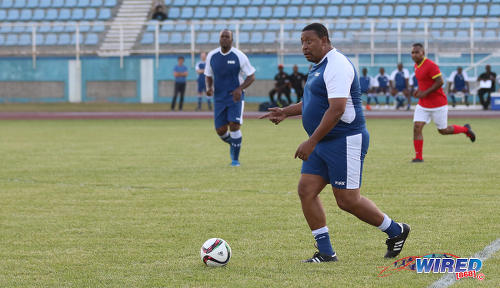 He pierced the Government/SPORTT defence with a calculated through-ball which Angel collected without breaking his stride. Dropping his shoulder and cutting around the hapless Darryl Stewart in goal, he bedazzled the custodian with some fancy footwork and tapped in for number three.
Radio personality Jason "JW" Williams had his fill of the fancy palancing. Getting off the bench, he stripped off his bib and marched towards the touchline, signalling a substitution. His teammates on the field, however, had other ideas; none was willing to trade places with him. Eyes blazing, he was forced to walk back to the bench.
"Watch him, watch him!" an amused spectator commented, "JW sour dere, ya know. No sweat for you."
On the stroke of halftime, Stern stole possession in a dangerous area and set up Angel for him to complete one of the easiest hat-tricks of his career.
At the half came the Cabinet reshuffle—to no avail.  The introduction of SPORTT Executive Facilities Manager Anthony Blake and Trinidad and Tobago Super League General Secretary Camara David was expected to make a difference. But in the second half, FIFA/TTFA was jammin still!
Lawrence, promoted to midfield, remained unimpressed, preaching possession with purpose to put his side in complete control.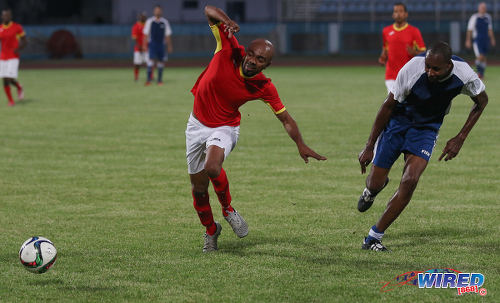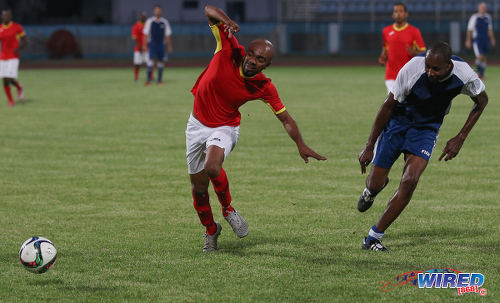 FIFA/TTFA, which featured TTFA General Secretary Justin Latapy-George, TTFA National Senior Team Manager Richard Piper, T&T National U20 coach Brian Williams, current National Senior Women's captain Tasha St Louis, former referee Wayne Caesar and former National Senior Women's head coach Marlon Charles, added two more goals late in the second half to add further gloss to their polished performance.
And they might have added another when David mowed down La Liga winner Aimar at the top of the box. The recent FIFA International Masters Alumni confessed to Wired868 with a cheeky grin how much he had treasured the moment when he cut the former international down to size.
With TT Pro League CEO Dexter Skeene, Sports and Games CEO Omar Hadeed, National Senior Men's Hockey Team captain Darren Cowie, Minister Smith's Advisor Garvin Warrick and former National Senior Women's captain Maylee Attin-Johnson also in their ranks, the Government/SPORTT outfit might have felt they hadn't lived up to expectations.
But judging from the comments as Wired868 eavesdropped our way out of the venue, the biggest disappointment seemed to be that National Senior Women's head coach Carolina Morace had declined to lace up her boots for the FIFA/TTFA team.
Mighty Morace versus Maylee in the mood for mischief might have made for much, much more merriment.