"Nothing comes easy and you have to work hard for what you want to achieve. I do not want to be working for someone all the days of my life. Eventually I want to work for myself doing something that I love, which is pertaining to music."
Determined, confident and outgoing, Savina Hector is an upcoming soca artiste whose 2017 hit "Country Gyal" got positive feedback on the airwaves this Carnival.
The 27-year-old spoke to Wired868 about her dreams as a singer and the challenges that come with it: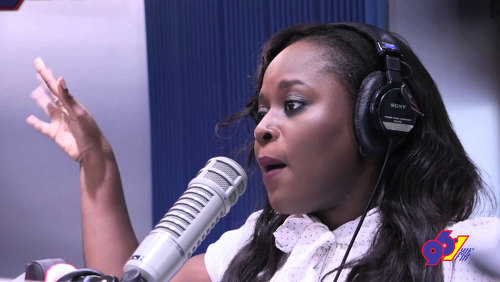 Where do you live?
I live in Aripero Village, Rousillac with my mother, brother and sister.
Are you employed?
Yes, I am an administrative assistant and I am also an upcoming soca artiste.
What is your sobriquet or stage name as a soca artiste?
I go by the names Savi Sav and Country Gyal?
How did you decide on those names?
The name Savi Sav came from my friends and cousins as they all had nicknames. My full name is Savina Hector and for short most persons call me Savi. Country Gyal came about when I went to perform and I was always asked where I was from. And when I said Aripero, persons will ask me where that was. When I told them that Aripero was deep South, they started calling me, 'Country Gyal'.
At what age did you start singing?
I started singing at the age of four in primary school, where I sang calypso. I continued singing at secondary school in the choir, Sanfest competitions and other music competitions. The music was always a part of me. I look up to different artistes in the industry and I recreate their songs.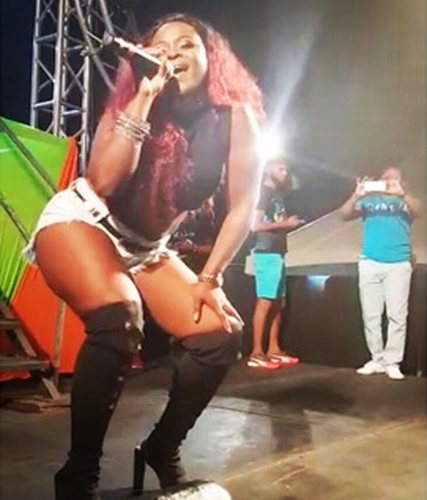 Which artistes do you look up to?
To name a few: Machel Montano, Calypso Rose, Voice, Patrice Roberts, Beyonce, Chris Brown…
How did you decide that you wanted to become a soca artiste?
From being in the studio at Precision Productions in Palmiste, San Fernando. I work with the Badjohn Republic Team who has worked with Machel Montano, Kes, Nadia Batson, Voice, Lyrikal and many more. I met a lot of local celebrities there and I did background vocals for some. After being in the studio and doing vocals, I was inspired to be an artiste myself. I look forward to collaborating with some of them soon.
How do you balance work and your musical dreams?
Nothing comes easy and you have to work hard for what you want to achieve. I do not want to be working for someone all the days of my life. Eventually I want to work for myself doing something that I love, which is pertaining to music. I do get tired. I don't have the energy to go to the gym everyday as I did in the past. I go twice or three times for the week.
What is your daily work routine?
I get up at 5:30 am as I have to prepare breakfast and lunch for work. I work from 7:00am to 5:30 pm. After work, I either go to the gym or in the studio at Precision Productions. I love working with the team. They have a lot of patience with me as they recognize my drive and hunger to succeed in the music industry. They are positive and I love having positivity in my life.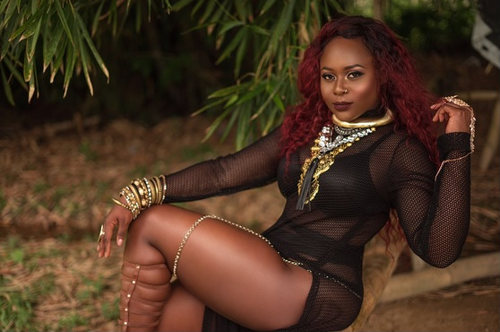 With your hectic schedule, do you have time for your family?
For the Carnival season, I did not have much time for them but they understand and respect what I do. I do not have any children and I am not rushing to have any children at the moment. I would like to accomplish my dream and be at a point financially where I can provide for my children.
If I do have children, I will have the support from my mother and siblings. I may have to take time off [but] other artistes like Destra, Fay-Ann and Beyonce have done it without taking a break. My family are very supportive. Mummy really loves this song.
Who writes your music?
Keegan Taylor and I both wrote Country Gyal. He came up with the concept as he and Kyle Phillips created the Kuchela Riddim and they said that it was time that persons got to know who Country Gyal is since I went by that name.
Where have you performed for the season?
I have performed at Illusions Blocko in Palmiste, Out in South, Makamillion's Birthday Bash at LIV Nightclub, Vas Lounge, Bmobile's Eye Slam Concert Series in LIV and recently at some house parties. I am very surprised with the feedback, especially with this song. Everyone calls me Country Gyal now.
How much do you charge to perform?
I don't have a price at the moment. Whatever they choose to pay me I will be grateful to accept.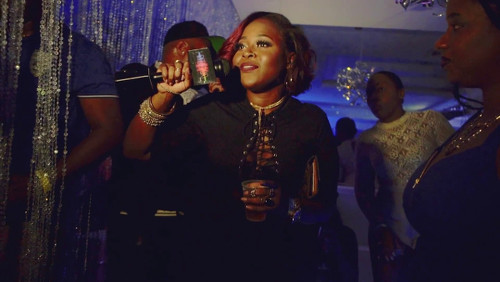 What do you enjoy doing in your free time?
I enjoy the outdoors, going to the beach, hiking, river limes and enjoying nature. I also enjoy listening to different genres of music and spending time in the studio.
What challenges have you had thus far as an artiste?
The most difficult thing thus far has been getting my song to be played in fetes. At first it was difficult to get my song played on the radio stations. I did radio interviews to market and introduce my songs to the stations and my song can be heard on 100.5FM, 96.1FM, 96.7FM and 99.1FM.
What advice do you have for an upcoming artiste?
Do it because you love to do it and not for the money and for the publicity. I do it because I love it and I am using my God-given talent.
What is next for Savi Sav?
I am working on a music video for Country Gyal and I am going to release two songs after Carnival.