The Women Soca Warriors couldn't give Trinidad and Tobago fans the result they needed to put their post-Mexico hangover behind them. But they did entertain in a hard-fought 3-1 defeat to Venezuela last night at the Ato Boldon Stadium.
A two-goal salvo from the South Americans within the space of five minutes in the first half proved decisive but it did not tell the whole story of what was an improved showing from Carolina Morace's team.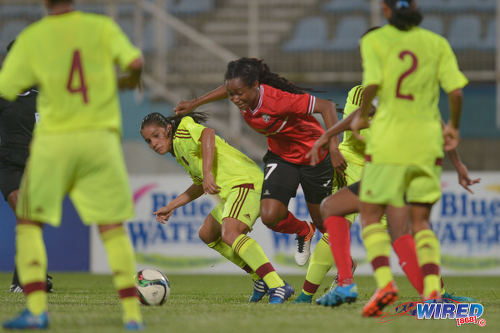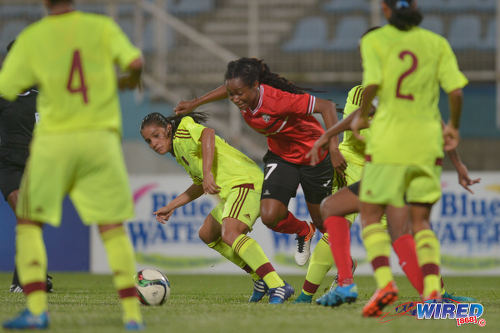 T&T were intense for the entire 90 minutes and were arguably good enough for a draw. However, a lapse in concentration saw them concede the opening goal and luck simply was not on their side for the other two Venezuelan goals.
Venezuelan captain Paola Villamizar opened the scoring with a neat finish in the 23rd minute, followed by a deflected effort from Milagros Mendoza. Tasha St Louis reduced the deficit from the spot on the half-hour and seemed to have levelled the scores from a free kick before the South Americans settled the result with a soft third from Tahicelis Marcano in the 69th minute.
For Morace, the performance was an improvement from Sunday's 0-0 draw but she says more fine-tuning is necessary for the team preparing for the 2019 Women's World Cup in France.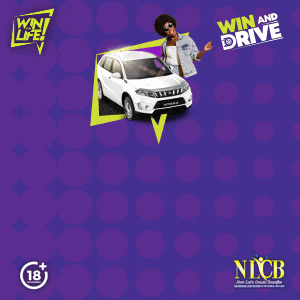 "First of all, I think that today we played better than Sunday," she told the media. "I saw much better movement in the game… Unfortunately, we lost too many goals [because of] technical mistakes and this is where we have to work a lot."
National forward Mariah Shade, who featured in the inaugural Women's Premier League in 2015 and went on to play in France, agreed with her coach about the improved showing.
"Today was important for us to come out in the second game and give a better showing and I think we did exactly that," she said. "We didn't get the result we wanted [but] we improved a lot from the last game and we can take a lot of positive things moving forward."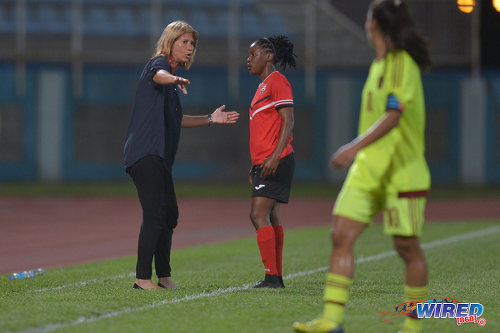 As if intent on making up for Sunday scoreless contest, Morace's squad brought intensity to the match in the early stages. They made it clear they knew the way forward as demonstrated by Patrice Superville's well-weighted long ball from defence to pick out Shade. If opposing net-minder Micheel Rengifo had not been on her game, the locals might have gone one up.
The Josefina Infantino-led Venezuela outfit did not take long to respond to the statement of intent and their livewire play-maker Joemar Guarecuco had a sighter from distance that sailed over Kimika Forbes' bar. It was, one might say, a shot across the home teams bow.
Morace set her team out to play a loose 4-3-3 formation with Dernelle Mascall sitting at the base of the midfield and the all-running Ranae Ward driving forward from the middle time and again. At its focal point, the T&T attack had skipper Tasha St Louis, flanked on the left by Shade and by Shanelle Henry on the right. Henry was particularly busy in the opening exchanges, finding her way behind the Venezuelan left side to send dangerous crosses into the area.
"Last game everybody was a bit more shy, more worried," Morace told Wired868. "We had the ball to move forward and instead we did not and that is a mistake that we have to fix. [Tonight] I saw some movement."
Despite enjoying less of the possession in the early exchanges, the South Americans looked the more dangerous going forward and Marcano capitalised on a wayward short free kick from Liana Hinds to gain possession. However, she wasted the advantage with an air-mailed shot.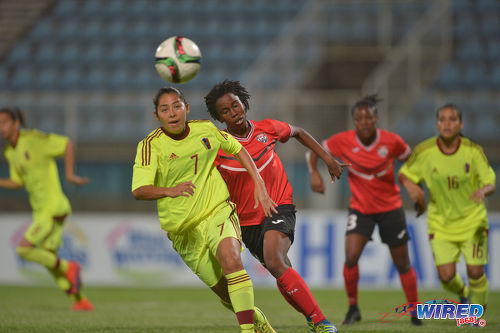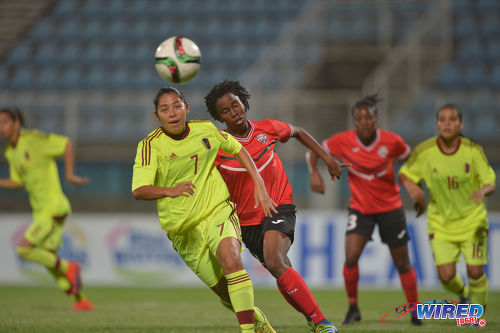 Marcano would soon have another go at Forbes when Villamizar blew past Superville on the T&T right flank and cut a dangerous ball back around the penalty spot. Disappointingly for her team, the midfielder tamely side-footed her shot into Forbes' waiting arms.
The warnings went unheeded, however, and the visitors eventually found the back of the net in the 23rd minute. Villamizar raced on to a through-ball from the middle and beating an onrushing Forbes with a neat side-footer into the far corner.
Only a minute earlier, Karyn Forbes had had a goal disallowed for offside at the other end. But things only got worse for T&T.
Five minutes later, the deficit doubled. Guarecuco weaved her way through space in the middle of the defence to find the racing full-back Petra Cabrera on the flank. Her cross found Mendoza lurking in the penalty area and she benefitted from a touch of fortune with her shot. A lunging Superville could only deflect the strike high into the net past the wrong-footed Forbes.
At 0-2 down, the Women Warriors were in danger of seeing the game slip away from them but Henry's guile at the other end gave them a quick lifeline. The mercurial forward pirouetted twice in the area and Yeiny Rosal eventually obliged her with a mistimed tackle.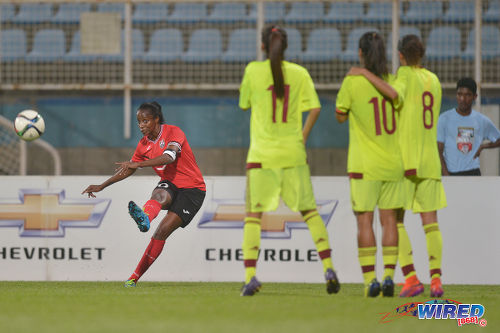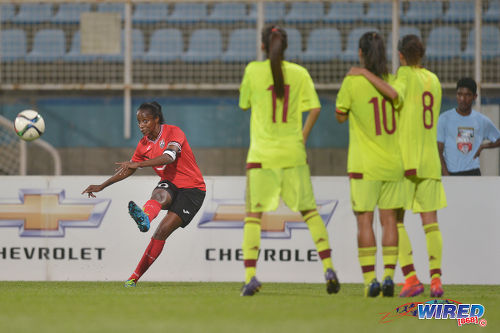 The roughly 1,500 partisan spectators roared their disapproval as referee Cecile Hinds delayed the blast of the whistle before, on the advice of her assistant Julianne McDougall, finally pointing to the spot. St Louis dispatched the penalty firmly into the top corner with her left foot. Game on!
Shortly before the break, St Louis almost brought the house down with a free kick—right-footed this time—that seemed to have crossed the goalline before Rengifo collected it. The loud jeers from the stands did not move Hinds this time.
At the half, Morace must have instructed Shade and Henry to switch flanks and the Women Warriors lost their cohesion in the second half. For the visitors, Infante brought on Nayle Quintero at right full-back—presumably with instructions to keep a close eye on Henry. She got less than a sniff all half.
The home defence too stepped up their game although Venezuela kept the ball better in the second period. Both Arin King and Anastacia Prescott kept Guarecuco under manners although she did manage to grow in stature as the match went on.
At the other end, Shade in particular looked dangerous on the right flank and St Louis almost found her on the hour with a long, searching ball into the area which the visiting custodian had to pluck out of the air.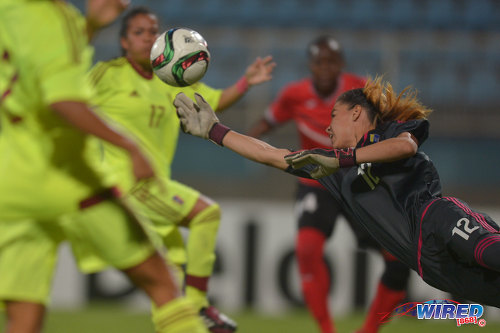 Just when it seemed that T&T were getting closer to the equaliser, the visitors scored an arguably undeserved third. Marcano finally got on the score sheet with the easiest of chances, finishing off a simple square pass from her captain.
Some fans felt the referee should have blown for an earlier foul and there was a sniff of offside about the goal. But Hinds had already made clear who was in charge and T&T had 21 minutes to erase a two-goal deficit.
Morace's side kept running and came close in stoppage time when Mascall's lung-bursting run and through pass found the dangerous St Louis. Rengifo had to rush courageously off her line to deflect the shot for a corner. Moments later, Mascall was at it again, hitting her left-footer with venom after a similar run but it sailed harmlessly overbars, carrying T&T's hopes with it.
A fitter national women's team is still a work in progress, according to Morace, who announced her intention to work on the team structure, starting with fitness.
"Before you become a football player, you have to be an athlete; that is the modern football player." she said. "You have to be fast and you have to have good technique (as well); it's both aspects that we have to work on."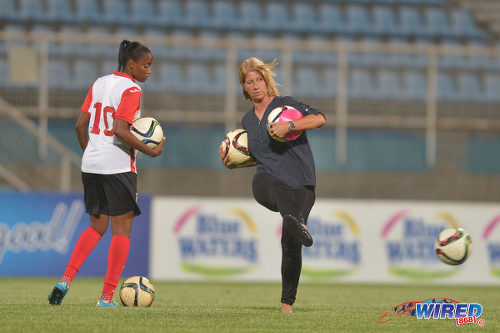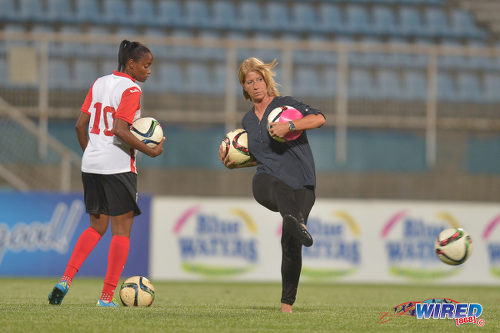 The Italian used just 15 players over the two matches although that was not solely down to fitness. Morace explained that veteran defender Ayanna Russell was still recovering from childbirth. However, she said there were five under-20 players within the squad who were not yet ready.
Defender Annalis Cummings, who was given a tier one retainer contract—believed to be worth TT$8,000 per month—last week, also needed to do more to earn playing time.
"She improved her football but she needs more time to be ready," said Morace.
Despite the setbacks—and the recent controversy which has ruled key players Akheela Mollon, Maylee Attin-Johnson and Kennya "Yaya" Cordner out of the Venezuela series—Shade described the mood in the camp as upbeat.
"I think the most positive thing for me and also for my teammates is the fact that we were actually happy and smiling together as a family because it never really happened like that before," Shade said.
"It's just a positive vibe so that's something positive we can all take from the camp," she ended. "I know the girls are focused on their effort and fitness… That's going to make the game easier."
(Teams)
Trinidad and Tobago (4-3-3): 1.Kimika Forbes (GK); 8.Patrice Superville, 3.Anastasia Prescott, 5.Arin King (15.Chevonne John 74), 11.Liana Hinds (20.Lauryn Hutchinson 61); 14.Karyn Forbes (6.Nia Walcott 74), 7.Dernelle Mascall, 12.Ranae Ward; 9.Mariah Shade, 10.Tasha St Louis (captain), 13.Shanelle Henry.
Unused substitutes: 21.Shalette Alexander (GK), 2.Ayanna Russell, 4.Crystal Mollineaux, 16.Ke'die Johnson, 17.Annalis Cummings, 18.Kelsey Henry, 19.Laurelle Theodore.
Coach: Carolina Morace
Venezuela (4-4-2): 12.Micheel Rengifo (GK); 2.Petra Cabrera (5. Nayle Quintero 46), 4.Barbara Serrano, 17.Yeiny Rosal (18.Hilaris Villasana 34), 6.Rafanny Mendoza; 7.Milagros Mendoza, 8.Tachicelis Marcano; 16.Maikerlin Astudillo, 19.Vimarest Diaz; 10.Paola Villamizar (captain), 11.Joemar Guarecuco.
Unused substitutes: 1.Oriana Palacios (GK), 20. Paola Camacho, 21.Diosely Mendoza.
Coach: Josefina Infante
Referee: Cecile Hinds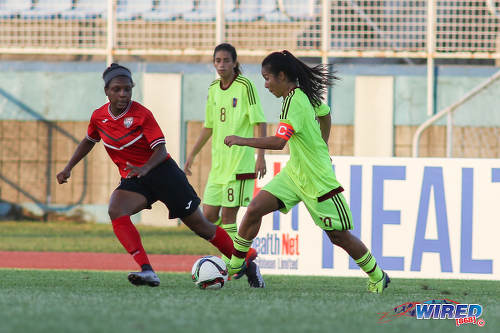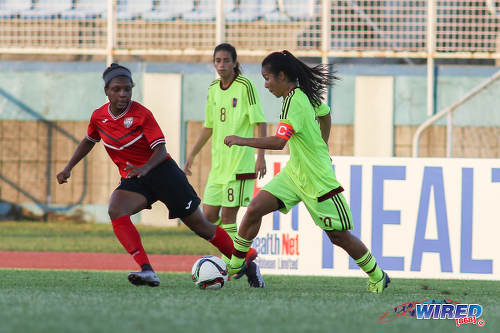 Friendly international
(Wednesday 29 March 2017)
Trinidad and Tobago 1 (Tasha St Louis 31 pen), Venezuela 3 (Paolo Villamizar 23, Milagros Mendoza 28, Tahicelos Marcano 69) at Ato Boldon Stadium, Couva.