Carolina Morace's tenure as Trinidad and Tobago Women's National Senior Team coach began with a committed but uninspired performance today as the Women Soca Warriors played to a goalless draw with Venezuela in a friendly international at the Ato Boldon Stadium in Couva.
Substitute Laurelle Theodore had an excellent chance to snatch a result in the 80th minute but shot disappointingly wide after being sent clear through the opposition defence. But Venezuela had the better of the match and pinned the host team in their own half of the field for much of the closing 30 minutes.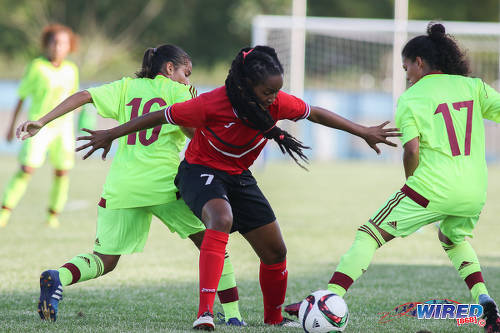 Morace pointed out that Trinidad and Tobago lost 2-0 in their last meeting with Venezuela, three years ago, so she chalked this afternoon's showing as an improved result. But that was just half the story.
For starters, the Women Warriors had stand-in coach Jason Spence running the bench for that 2-0 loss on 8 July 2014 while the newly appointed Randy Waldrum sat in the stands. And Trinidad and Tobago rested several key players—including then captain Maylee Attin-Johnson and attacker Tasha St Louis—after whipping Venezuela 5-0, just two days earlier.
St Louis wore the captain's armband today as Attin-Johnson missed out due to an internal suspension along with attacker Kennya "Yaya" Cordner while winger Ahkeela Mollon also withdrew her services weeks ago after issues with Morace's technical staff.

Inevitably, after a limp offensive showing, Morace was asked about the fate of the trio. Is her door open to the talented former internationals? Would she consider mediation with the players?
"I don't have any comment on that," said Morace.
The Italian preferred to talk about her present roster.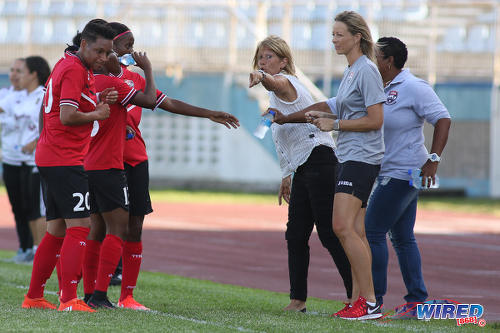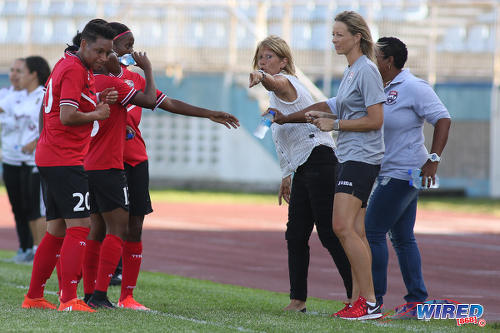 "The difference between a group and a team is the rules," she told Wired868. "The needs of the team is on top of everything; it comes first. Individual needs come second.
"This group understood that and it is exactly as it has to be… This week was a pleasure to see them off the field because they were friends, they worked together and also today I could see that they encourage each other."
There are also, as Morace pointed out, several North America-based players who are still to return and should add depth to the current player pool. And, with more than a year to go before the France 2019 Women's World Cup qualifying phase gets started, these are early days.
"We need to improve everything," said Morace. "But I think we need five or six months to be ready."
Today, the Woman Warriors still had eight players from the squad that got to the CONCACAF semifinals in February 2016 under then coach Richard Hood. But there was little to get the sparse crowd of roughly 1,000 patrons off their seats.
Skipper St Louis provoked some "aaahs" as she turned opposing midfielder Maikerlin Astudillo inside out, near the centre circle in the 10th minute. And she forced Venezuela defender Petra Cabrera into an awkward tackle, four minutes later, as the two tried to get on the end of a low cross from Trinidad and Tobago winger Mariah Shade.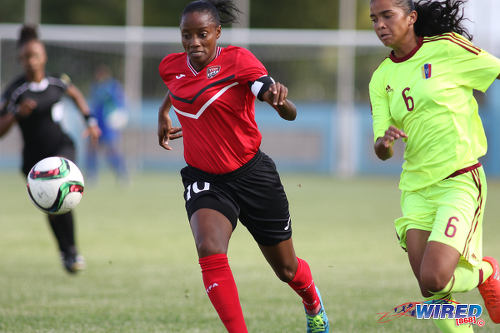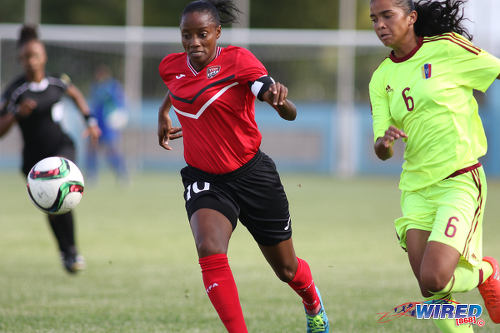 But, by then, Venezuela captain Paola Villamizar had already made it clear who was running the show. Skilful, composed and technically sound, Villamizar was at the heart of everything memorable from the South American squad. And, in the 29th minute, she produced a slick move between Trinidad and Tobago veterans Lauryn Hutchinson and Dernelle Mascall that drew warm applause from even the most partisan onlookers.
Venezuela's shooting did not match the quality of their approach play though and was often high and wide. So, for all their possession, Trinidad and Tobago goalkeeper Kimika Forbes got little more than catching practice at the back.
Cabrera came closest as her effort on the turn skimmed the top of the bar before going over in the 57th minute, off a Villamizar cross.
While, in the 73rd minute, Venezuela midfielder Tahicelis Marcano hit wide of an open goal from 22 yards, after a Forbes clearance deflected into her path.
To be fair to Marcano, her shot was rushed. Trinidad and Tobago central defender Arin King, ably assisted by Anastasia Prescott, made sure that the Venezuela frontline did not have it all their own way. And, on the flank, Patrice Superville was virtually unbeatable for the hosts at right back.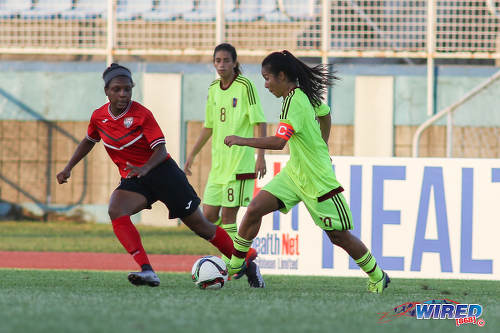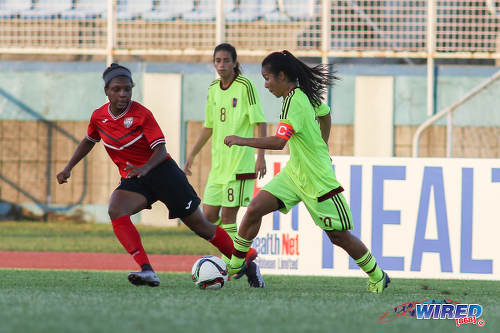 Trinidad and Tobago might have grabbed an improbable win too as, within seconds of her entrance, Theodore found herself clear through on goal. But she failed to keep her nerve and did not even force a save from Venezuela custodian Micheel Rengifo.
Morace was satisfied with the showing but promised a lot more from her troops in the future, once she gets them up to speed—she pointed to too many backward passes and a lack of aggression from her midfield. The former Canada World Cup coach suggested that the Warriors were about 70 percent there.
"What I asked for was more movement on the wing," said Morace. "But of course if you want to play on the wing with the overlap and the movement of the forward and the overlap of the internal midfielder and the wing back, we need to have good condition.
"We know that we are not in the best physical condition but we are growing."
Morace was non-committal on the fate of Attin-Johnson, Cordner and Mollon. For now, she suggested that the harmony and ethos of her squad is an asset.
"We are not the best team in the world," she said. "We have to work on other strengths which we can have."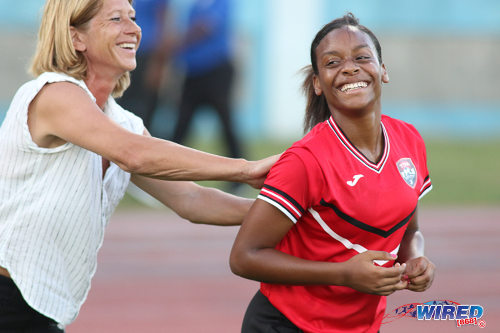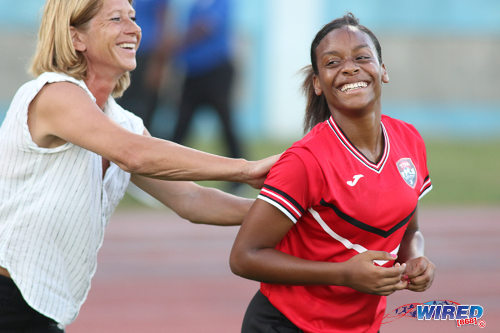 The Women Warriors will get a second chance to show off those strengths on Wednesday night when they meet Venezuela again at the same venue from 7pm.
(Teams)
Trinidad and Tobago (4-3-3): 1.Kimika Forbes (GK); 8.Patrice Superville, 3.Anastasia Prescott, 5.Arin King, 20.Lauryn Hutchinson (15.Chevonne John 46); 12.Ranae Ward (19.Laurelle Theodore 79), 7.Dernelle Mascall (6.Nia Walcott 46), 14.Karyn Forbes; 13.Shenelle Henry, 10.Tasha St Louis (captain), 9.Mariah Shade.
Unused substitutes: 21.Shalette Alexander (GK), 2.Ayana Russell, 4.Crystal Mollineaux, 11.Liana Hinds, 16.Ke'die Johnson, 17.Annalis Cummings, 18.Kelsey Henry.
Coach: Carolina Morace
Venezuela (4-4-2): 12.Micheel Rengifo (GK); 17.Yeiny Rosal (20.Paola Camacho 60), 6.Rafanny Mendoza, 2.Petra Cabrera, 4.Barbara Serrano; 10.Paola Villamizar (captain), 8.Tahicelis Marcano, 16.Maikerlin Astudillo, 7.Milagros Mendoza; 11.Joemar Guarecuco (5.Nayle Quintero 90), 19.Vimarest Diaz (18.Hilaris Villasana 52).
Unused substitutes: 1.Oriana Palacios (GK), 13.Andrea De Oliveria, 21.Diosely Mendoza.
Coach: Josefina Infante
Referee: Crystal Sobers