"His head took us to the World Cup in 2006," said Trinidad and Tobago Football Association (TTFA) president David John-Williams, "now he is charged with using that same head in a different way to take us to Russia 2018."
So began the era of new Trinidad and Tobago National Senior Team head coach Dennis Lawrence at a press conference yesterday morning at the TTFA's headquarters in the Hasely Crawford Stadium, Port of Spain.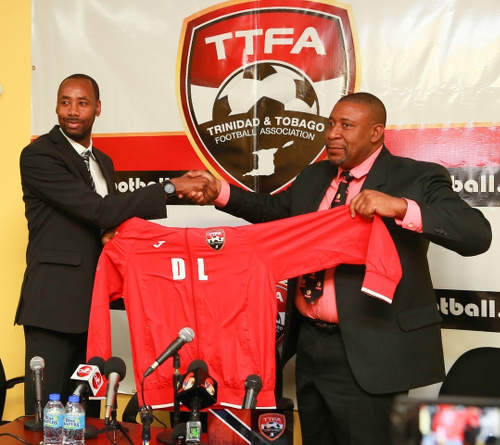 "I have known Dennis for quite a while, we have had a very close relationship," said John-Williams. "Let me put it on the table one time, he once played for W Connection…"
Lawrence, whose headed goal against Bahrain clinched Trinidad and Tobago's place at the Germany 2006 World Cup, never actually represented W Connection in a competitive match and only wore their colours at an invitational tournament in 2000.
But the wisecrack from the TTFA president—whose role as Connection co-founder and owner has been a source of concern for football stakeholders—was delivered with flawless precision and set the tone for a cosy affair.

Unlike Tom Saintfiet's maiden press conference last month, there was no exaggerated bluster from the football president or unnecessary preening by the new coach.
"I am absolutely honoured and delighted," said Lawrence, "to be chosen by the Trinidad and Tobago Football Federation…"
John-Williams interjected with a chuckle: "Association… Federation is a bad word."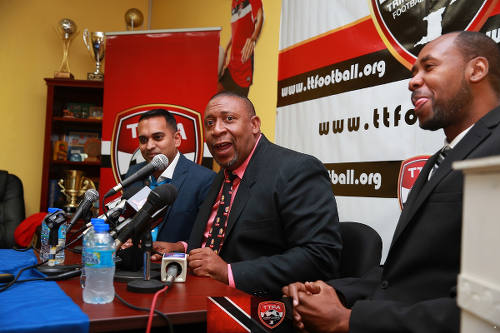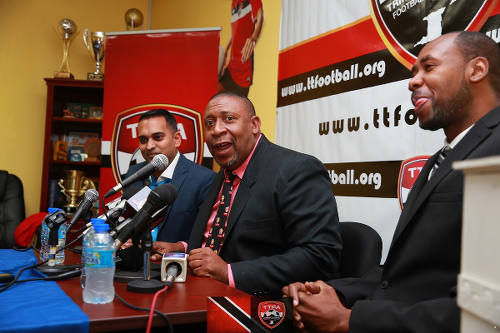 Lawrence was not the TTFA president's first choice, of course. Or the technical committee's for that matter. That was W Connection head coach Stuart Charles-Fevrier.
And, notably, half of the TTFA technical committee—chairman Dexter Skeene, vice-chairman Alvin Henderson and ordinary member Errol Lovell—resigned almost immediately after the board of directors overturned their recommendation to appoint Lawrence, who the advisory body had also ranked below former Central FC and San Juan Jabloteh coach Terry Fenwick.
All the same, Lawrence can surely count on the goodwill earned by his decade long career as an international footballer. At six foot seven, he looked like a giraffe in a football boots at first glance. But he had decent feet, a good football brain and was as brave and dedicated as they came.
After the instability of Saintfiet's brief yet tumultuous reign, the Soca Warriors would probably be comforted by his warm tones in the dressing room and the initial response from the players was encouraging.
More than anything, though, Lawrence has always been a guy who embraces the status quo—he was among the first players to withdraw from action against the TTFA over the 2006 World Cup bonus offer—and, noticeably, he appeared to be singing from the same hymn sheet as his football president.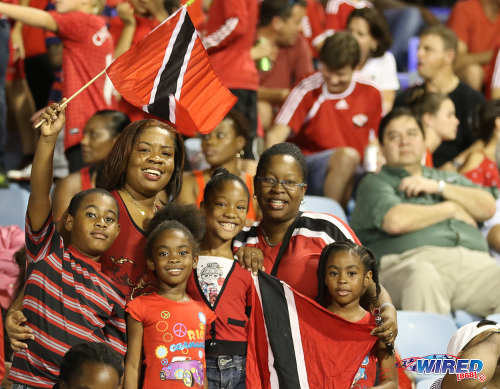 Twice, John-Williams was moved to thump the table in support of his coach's oratory. And neither occasion was in any way related to the promise of getting to the Russia 2018 World Cup or winning matches.
John-Williams' first display of support came when Lawrence suggested that his international players should not be motivated by money.
"To play for Trinidad and Tobago is a privilege and a honour," said Lawrence. "[…] The first time I ever got a penny to play football was when I signed for Wrexham. All throughout my career, I played football for the love of the game. And I think the players need to understand that football is a passion.
"Trinidad and Tobago is our country. We are here to represent Trinidad and Tobago… There are going to be a group of 25, 30 players who will have an opportunity to represent this beautiful nation, so they need to embrace that."
Lawrence was, arguably, being economical with the truth of his professional career though. He was not a paid footballer in Trinidad and Tobago. But then it was football that got him into Defence Force, which has always been one of the most stable jobs possible for a local player.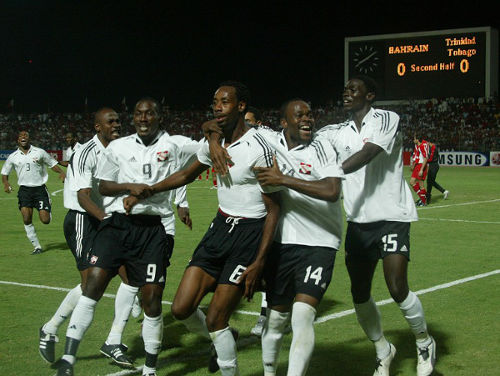 Ironically, John-Williams later admitted that his football body still has not paid the 22 players who represented Trinidad and Tobago over the Christmas holidays in Nicaragua and then in the Gold Cup play offs earlier this month.
Typically, the debt was met with a breezy response from the football president who did not even offer a deadline for when the Soca Warriors would be paid.
"The players have not been paid as yet," said John-Williams, "but they will be paid in the coming weeks."
Lawrence also cheered up his football president when he refused to reveal the length of his contract.
"The length of my contract is the length of my citizenship. I am here and I am committed to Trinidad and Tobago, if it takes the rest of my life…"
Lawrence gave away little else when pressed further.
"I think the length of the contract is not important to me. What is important to me is trying to prepare the team for the next game, which is against Panama. The length of the contract is irrelevant and I think it is something that is personal between myself and the Federation."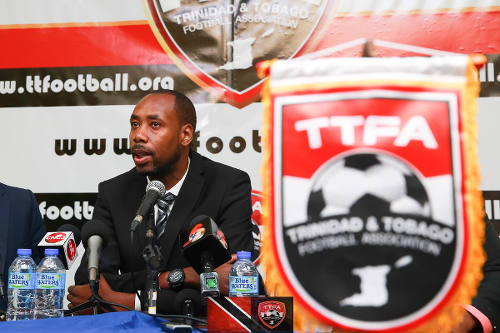 The first part was surely untrue. Lawrence, according to his agent Mike Berry, initially refused to take the job until he had the desired job security. Now that he is happy, though, it is nobody else's business.
"I am here to work with the media," said Lawrence, "and I will like to let the media know that I will not conduct my business through the media."
Lawrence allowed John-Williams to make the biggest announcement of the press conference, which was the signing of his assistant coach, Sol Campbell, a former England and Arsenal legend.
"Through the hard work of the president," said Lawrence, "I think it is only fair that he makes the announcement…"
Campbell subsequently told CNC3 that he would arrive in Trinidad to start work on 10 March, which is likely to be weeks after Lawrence's first training session with the local-based squad.
While, the new Warriors coach deferred to his president on his assistant coach, he made it clear that the future of former national captain and his World Cup 2006 teammate Kenwyne Jones would be his call.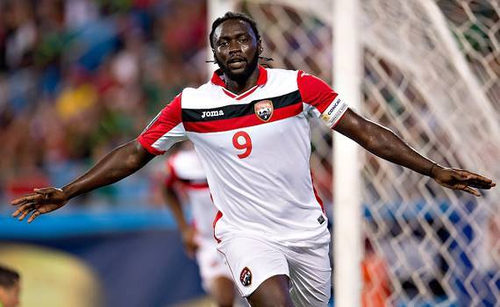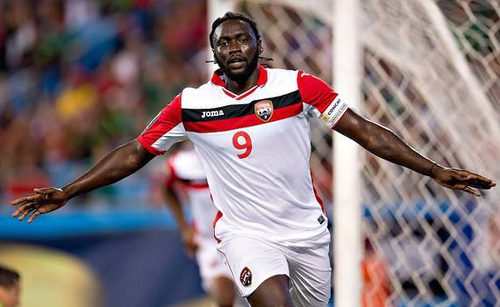 "Kenwyne is a player that I know very well. I played with Kenwyne, I spoke to Kenwyne. I have got a relationship with Kenwyne.

"Kenwyne gave yeoman service to Trinidad and Tobago football… Football players will have ups and downs in their careers. I need to support the player and encourage the player to get back to where he can be."
John-Williams, whose own relationship with Jones is known to be strained, looked straight ahead and blinked repeatedly.
Lawrence hinted too at a better working relationship with Pro League clubs than his predecessor. Of course, Saintfiet's problems seemed to revolve around one team, Central FC—who the Belgian compared unfavourably with Bangladesh—but it did not help his cause that they were the defending Caribbean and Pro League champions and obviously possessed some of the nation's top players.
Lawrence was more statesmanlike.
"I have got to be respectful to the players' football clubs," said Lawrence. "They are all in competition at the moment. So I plan to sit down with them and find out when it will be appropriate to have the players available."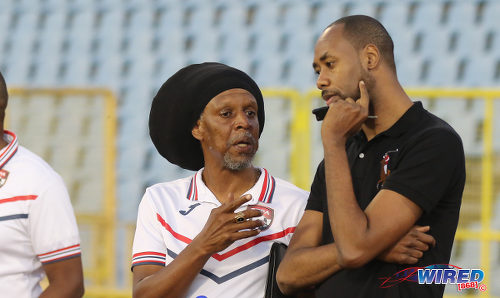 Okay, let's get down to brass tacks… Saintfiet was told to either muster four points from two games against Panama or Mexico in March or get lost.
So what does Lawrence need to achieve?
"There is only one promise I can make. I am here as a very proud and passionate Trinidad and Tobago citizen. I am a son of the soil and I promise to give everything to make sure we prepare our best for not just today but the future."
Can you give us a bit more detail, coach?
"First and foremost [my job] is to prepare the players, mentally, physically and tactically, for the task at hand. And the task at hand is the next game which is Panama. This is the only focus that we can have. I am here to try to unite a country and encourage the fans to support the players…"
Well, what would success be for you as national coach?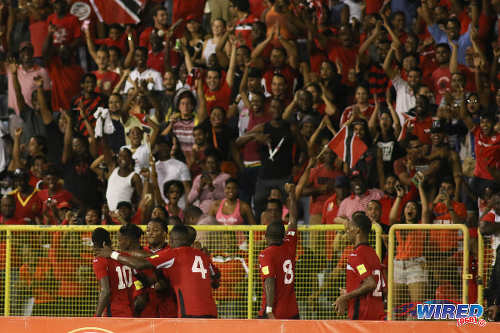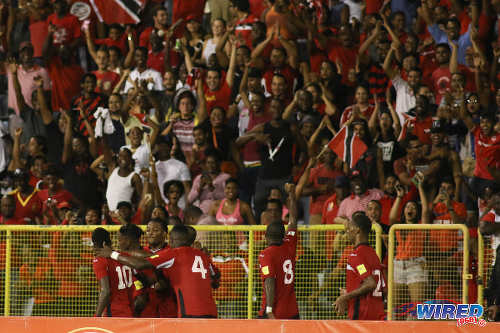 "Success for me is longevity in terms of our development. But, as I said before, first and foremost, we have the Russia campaign in front of us and we need to make sure that the players are prepared and we are ready for this challenge and ready for these games…
"The players must demonstrate to the public that when we take to the pitch on the 24th of March; the public can see a team fighting for our country, fighting for our flag and fighting to get a victory."
Anything more tangible than that coach? Maybe even the Caribbean Cup?
"I think the intelligent people in the room will understand that the last time we won the Caribbean Cup, I was still playing, which was 2001… It is time to put a foundation in place where we can now propel ourselves; where we can dominate the Caribbean again.
"That is where my aim is. But the prominent thing in front of us now is Russia."
In short, there was no question that could get past his long legs. And nothing short of waterboarding seemed capable of forcing anything more than a cliched response.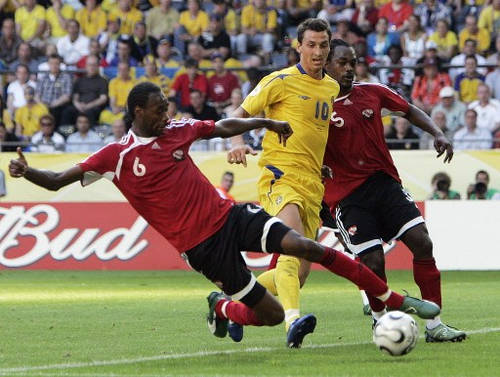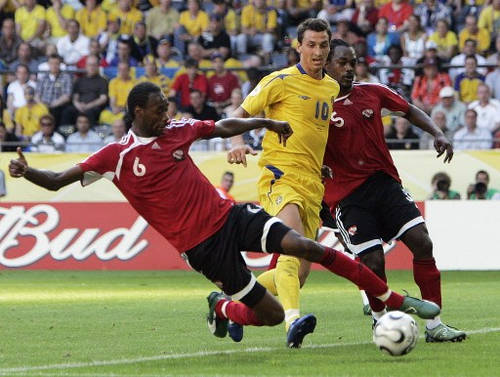 Of course, Lawrence comes from an environment of 24/7 football stations and would have seen hundreds of press conference in his time. His mentor, Roberto Martinez, was savaged by the English media for being cheery to the point of naive about his Everton football club, just before he was sacked for a dismal run of matches.
It was Lawrence's last coaching job as Martinez could only offer him the position of scout at the Belgium National Senior Team. And "Tallest" seems to be happy to err on the side of the caution, as far as the media goes.
It is a default position that would suit John-Williams and his current TTFA board down to the bone.
The resignations of Skeene, Henderson and Lovell—who slunk away with nary a word after being involved in three controversial decisions: the sacking of Stephen Hart and the appointments of Saintfiet and Lawrence—would be a prime example.
Of course, the most important aspect of Lawrence's job from here on, ought not to be his relationship with the football president or the media but with the players.
And, despite offering little sympathy for their financial considerations, Lawrence spoke about his future players with respect and enthusiasm. He suggested that his six years at Wigan Athletic and Everton, as well as his career as an international player, prepared him for just this moment.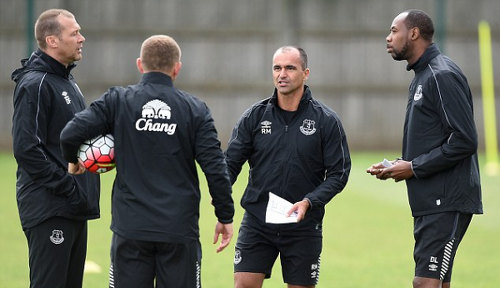 "It has been a long journey for myself with regards the preparation for this appointment—a journey that was started a long while aback… I'd like to thank Roberto Martinez and Graeme Martinez, which is the staff that invited me onboard at the Wigan Athletic coaching set up and allowed me to be part of an incredible team and to develop myself…
"I want the players to understand that it is important to enjoy this challenge because this is the challenge that will change Trinidad and Tobago football from here on in."
When asked about his ability to instil discipline in the Warriors' dressing room, Lawrence pointed to his four and a half year career in the Army as well as his own spotless record as an international player.
But, unlike his predecessor, he was far too professional to risk straining his relationship with the players so as to show off for the cameras.
"We need to work with the players because the players are young players," said Lawrence. "And when you deal with human beings, there will always be errors but it is about how you deal with the errors… There will be clear guidelines about what I expect…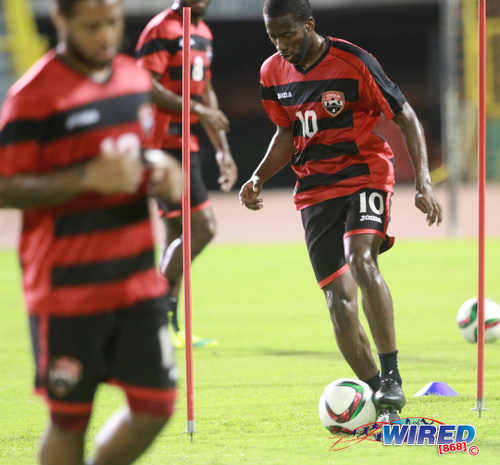 "I believe in the players' ability. I wouldn't take this job if I didn't have belief… At this moment in time, my belief is if we come together and all pull in one direction […] then everything is possible.
"And of course, the most important thing is we need a bit of luck and we need good guidance from the Man up above."
By measure of his towering frame, Lawrence is probably closer to the Man up above than most.
And, with that, Trinidad and Tobago football was into the Tallest era.