DIRECTV W Connection went five points clear atop the 2016/17 TT Pro League standings last night following a 1-nil win over eight placed St Ann's Rangers at the Hasely Crawford Stadium.
Pint-sized Surinamese international Dimitrie Apai continued his rich vein of form as he scored his ninth league goal of the season in the 21st minute of play to put some daylight between Connection and their bitter rivals Central FC at the top of the standings.
Apai's item also took him to the top of the Pro League scoring charts alongside Defence Force sharpshooter Devorn Jorsling and Ma Pau Stars attacker Jerrel Britto.
Connection have played two more games than the two-time defending Pro league champions though, and they will be hoping for some favours from the law upholders, as Central's two outstanding games are against Defence Force and Police respectively.
Today, the "Couva Sharks" will look to cut Connection's lead down to two points when they tackle the seventh-placed policemen from 3:30pm at the Larry Gomes Stadium in Malabar.
Last night, Connection's youthful opposition were dogged and resilient in defence, but they could not have matched the firepower which the "Savonetta Boys" had within their ranks. Rangers have been a breath of fresh air thus far in the Pro League season and, with his team 10 points from the base of the table, coach Anthony Streete looks well on his way to obtaining his goal of finishing above the cellar position.
"I'm just going game by game," Streete told Wired868, after his team's opening day victory over Defence Force. "For four or five seasons, we have been bottom of the table and we [are] just trying not to come last this year."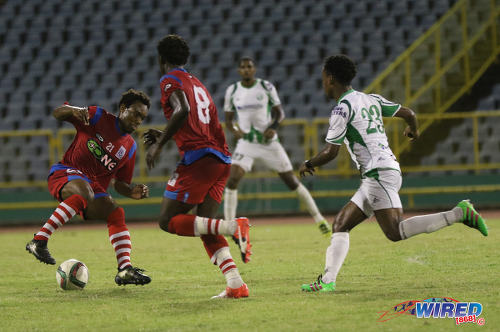 Streete has not been afraid to throw the youngsters into the deep end this season, and he started seven players under the age of 21 against the league leaders last night. Four of those seven—Josh Toussaint, Micah Lansiquot, Kathon St Hillaire and Rushawn Murphy—are National Under-20 players while 15 year-old utility player Jesse Williams is a National Under-17 player.
Connection know a thing or two about youth development themselves, having groomed a number of talented players over the years. And the Pro League powerhouse was intent on showing the upstarts who the boss was.
Apai gave Rangers a taste of what was to come in only the second minute, as he headed over bar from close range. Meanwhile, the speedy duo of Aikim Andrews and Neil Benjamin Jr were working smartly in tandem down the right flank.
Ironically, Connection's 21st minute item came from the left side as Apai tapped into an empty net after left-back Kurt Frederick lashed a low cross into the area. There were suspicions of offside, and Apai himself had a glance at assistant referee Caleb Wales before his low-keyed celebrations with his teammates.
The goal stood, although the Rangers players let Wales and referee Gyasi McDonald know exactly how they felt.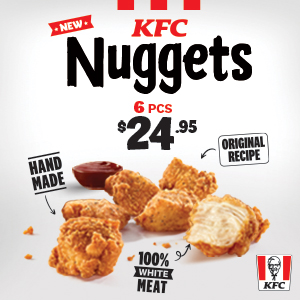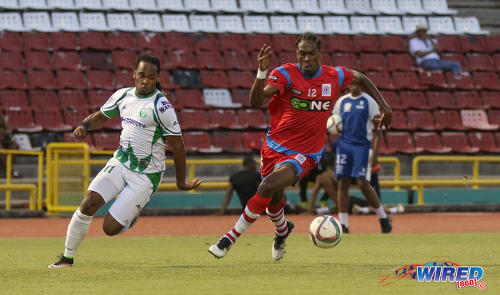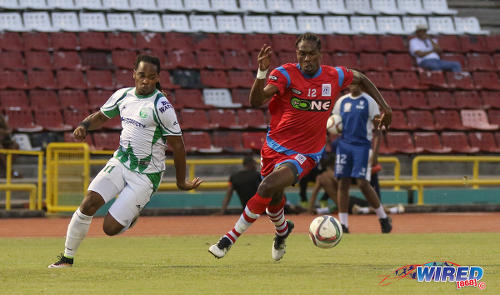 Despite the deficit, Rangers maintained their two banks of four and relied on the guile of Lansiquot and Toussaint on the break. However, their transition from defence to attack did not see many bodies pushing forward and Connection's defenders were able to snuff out the danger more often than not.
The second half saw more of the same, as Rangers packed bodies behind the ball and hoped to strike on the counter. At one point, all of Connection's players—bar goalkeeper Julani Archibald—were in the Rangers half.
Maybe that's exactly what Streete wanted, as Toussaint curled a right-footed shot just wide of Archibald's right upright near the hour mark in one of his team's rare attacks. Apai would have been relieved at Toussaint's miss as the wily attacker should have bagged a hat-trick by then.
God alone knows what went through Apai's mind in the 79th minute then, as he took some paint off of goalkeeper Christopher Biggette's goal frame with a rasping right-footed shot from outside the area after cutting in from the left.
Coach Stuart Charles-Fevrier and his coaching staff were able to rest easy though, as Connection avoided any hiccups in the latter stages of the game to walk away with a vital three points.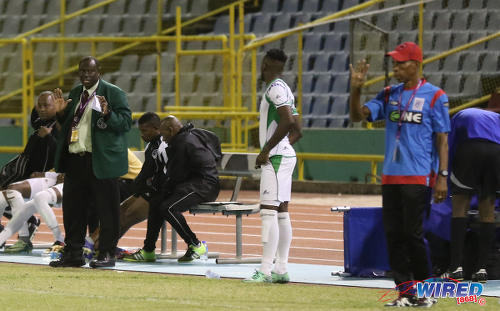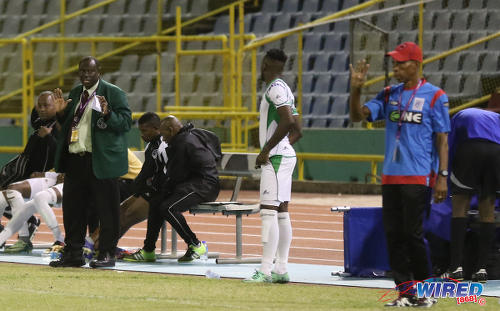 The second game of the evening's double header was a tenser affair, as Morvant Caledonia United and Defence Force battled to a keenly-contested 1-1 draw.
Caledonia's Dylon King—who is a January transfer from St Ann's Rangers after a career that saw him start with the "Eastern Stallions" before initially decamping for Police FC—and ex-Trinidad and Tobago international defender Akile Edwards scored either side of halftime to give their teams a share of the spoils.
But on another night, the Pro League's all-time leading goal scorer and joint top scorer this term, Jorsling, would have been the star of the show.
The ex-Caledonia man is not as sharp as he once was—although one could argue that his game was never built around speed. But his hold up play is second to none in the Pro League, and his left foot is still one of the most accurate going around.
Last night, the burly sharpshooter showed what his left boot could do from set pieces, but one dreads that he has been watching too many Paul Pogba free kicks recently. Not once, but twice did Jorsling rock the crossbar from 25-yard free kicks in the encounter.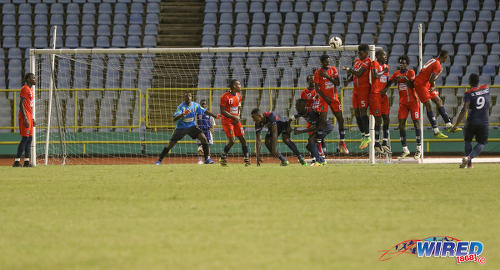 First, he heard some "Oohs" and "Ahhs" from the crowd with his 31st minute effort, and then he had to watch in despair in the 53rd minute as Soca Warriors custodian Marvin Phillip produced a brilliant fingertip save to push his effort on to the woodwork.
Apart from Jorsling's apparent love affair with the Hasely Crawford crossbars, there was some good action between Caledonia and the Army/Coast Guard combination from open play too.
King gave Caledonia the lead in the 26th minute with a brute of a shot into the top corner, while Phillip was kept busy at the other end by the likes of midfielders Jerwyn Balthazar and Hashim Arcia.
The lanky Arcia seemed to come to life in the second half as he and Jorsling worked countless wall passes on the edge of the area in a bid to unlock the Stallions' defence.
The Caledonia defence was opened up just after the hour mark, as Edwards pounced on a rare mistake by Phillip to head into an empty net following a Jorsling cross.
After seemingly weathering the Army storm, which included the introduction of ex-Point Fortin Civic striker Jamille Boatswain, coach Rajesh Latchoo's team nearly saw the sunshine as King fired just wide from an acute angle in the first minute of second half stoppage time.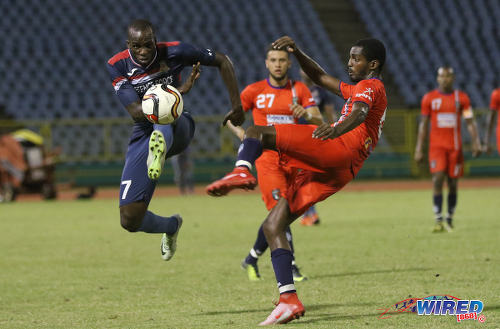 The lively Caledonia attacker celebrated his birthday yesterday and the finish to the game was almost fitting for a King.
But in the end, Dylon and the other 21 players on the pitch had to settle for a share of the scraps.
Elsewhere, Ma Pau Stars battled from two goals down to earn a 2-2 draw at the Larry Gomes Stadium against Club Sando.
Meanwhile, Point Fortin Civic snatched their first win of the season in their 15th try, as they defeated third-placed San Juan Jabloteh by a 4-2 margin at Mahaica Oval. The Civic faithful had a pair of Presentation College (San Fernando) students to thank too, as midfielder Darnell Hospedales bagged a hat-trick while attacker Nion Lammy added another item for the struggling southerners.
Talk about bringing boys to do a man's job!
(Teams)
St Ann's Rangers (4-4-1-1): 22.Christopher Biggette (GK); 24.Jesse Williams, 28.Shakiyl Phillip, 12.Samuel Delice, 16.Richard Williams; 26.Kathon St Hillaire, 8.Jameel Antoine, 31.Rushawn Murphy, 10.Devon Modeste (captain); 23.Micah Lansiquot; 21.Josh Toussaint.
Unused Substitutes: 1.Cleon John (GK), 7.Sedale McLean, 11.Kazim McDonald, 14.Kyle Bartholomew, 29.Keshawn Hutchinson, 32.Marvin Lee, 33.Osaze Springer.
Coach: Anthony Streete
W Connection (4-2-1-3): 18.Julani Archibald (GK); 17.Aikim Andrews, 3.Gerard Williams (captain), 27.Jelani Peters, 2.Kurt Frederick; 23.Kevon Goddard, 8.Briel Thomas; 14.Andre Toussaint; 11.Neil Benjamin Jr (35.Jesus Perez 89), 20.Jamal Charles (26.Shaquille Bertrand 72), 10.Dimitrie Apai.
Unused Substitutes: 1.Terrence Lewis (GK), 4.Maurice Ford, 30.Shaquille John, 37.Daniel Diaz, 46.Anfernee Frederick.
Coach: Stuart Charles-Fevrier
Referee: Gyasi McDonald
Wired868 Man of the Match: Dimitrie Apai (W Connection)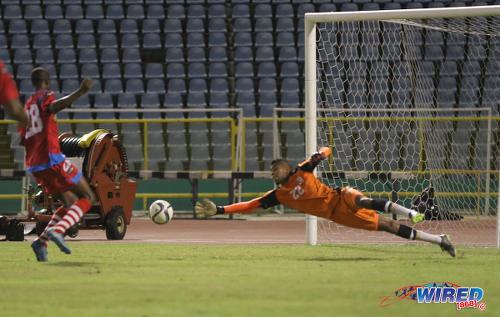 Pro League Results
(Tuesday 17 January 2017)
St Ann's Rangers 0, W Connection 1 (Dimitrie Apai 21) at Hasely Crawford Stadium;
Defence Force 1 (Akile Edwards 61), Morvant Caledonia 1 (Dylon King 26) at Hasely Crawford Stadium;
Ma Pau Stars 2 (Jerrel Britto 78, Nicholas Thomas 85), Club Sando 2 (Akeem Humphrey 55, Kemuel Rivers 65) at Larry Gomes Stadium;
Point Fortin Civic 4 (Darnell Hospedales 3, 17, 89, Nion Lammy 39), San Juan Jabloteh 2 (Elijah Manners 50, Nathan Lewis 68) at Mahaica Oval.
Upcoming Fixture
(Wednesday 18 January)
Police FC vs Central FC, 3.30pm, Larry Gomes Stadium.