Trinidad and Tobago football fans witnessed a seven-goal thriller at the Ato Boldon Stadium in Couva last night. But unfortunately for the players and their coach Tom Saintfiet, the hosts were on the wrong end of a 4-3 scoreline and will not make it to the 2017 CONCACAF Gold Cup as a result.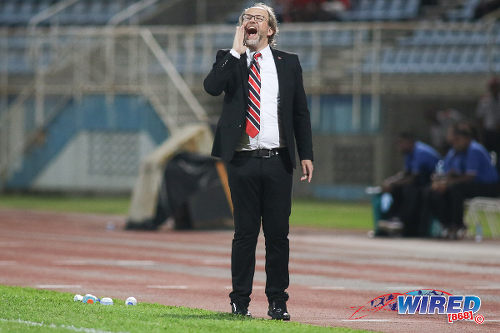 "Yeah it's a very disappointing result. I thought that we had started with the right motivation and spirit and tactical approach to the game," said Trinidad and Tobago coach Tom Saintfiet, at the post game conference. "And after one minute we scored the opening goal. We were leading twice. We scored two goals and we showed some aggression and we created more opportunities than in the games before.
"I think the team showed that they [could] play as a team. They showed the public that they wanted to win and they had fighting spirit."
An uphill task faced the Trinidad and Tobago team before kickoff, as they had to beat Haiti by two clear goals to progress from the three-team group, which also included Suriname. Haiti are no pushovers though as the Soca Warriors' mixed fortunes against them in recent times demonstrates.
Just last year, the Haitians edged the Soca Warriors to a place in the Copa America Centenario following a tense playoff match in Panama. Haiti attacker Kervens Belfort delivered the knockout punch then, on 8 January 2016. And last night, the determined striker returned—exactly one year later—to break the hosts' hearts with two headed items.

Saintfiet's team conceded all four goals from set piece situations yesterday, and the Belgian coach was far from pleased with his team's defending.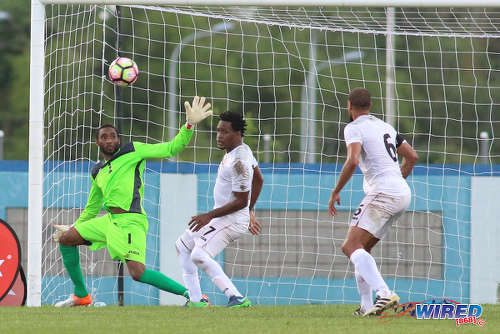 "So they scored out of three corners and one free kick. And I think two of the four goals from Haiti are not acceptable. And that killed us.
"If you concede four goals then you can't be satisfied [with the defending]. If I say that I was satisfied then I would need new glasses. It's unacceptable first of all to concede four goals […] No I am no satisfied."
The proceedings started perfectly for Saintfiet and his team though, as birthday boy Shahdon Winchester scored within the first 50 seconds to give the hosts belief. However, the Warriors were not able to get a second item in a frenetic 15-minute spell in which referee Ricangel De Leca gave controversial free kicks to both teams in the space of five minutes.
Saintfiet found Haiti's first item to be a particularly difficult pill to swallow, as he claimed their opponents did not give the ball back after an injury to Trinidad and Tobago captain Carlos Edwards.
"I have to say the first goal was a little bit of lack of fair play. We kicked the ball out for the injury of Carlos [Edwards]—it was Aikim Andrews who kicked the ball out—and they don't play it back to us.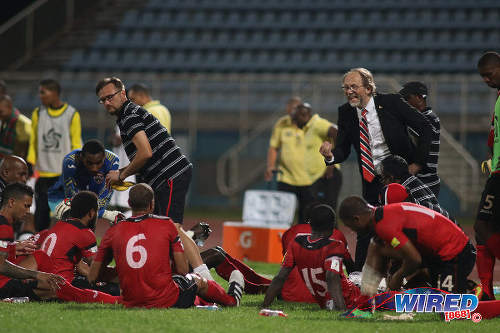 "Okay maybe we don't have to expect it but we thought it was a fair play match. They got a free kick after that and scored."
In truth, Haiti's first goal seemed to have more to do with a strange refereeing decision coupled with dozy defending, as De Leca gave a free kick for a soft foul by Trinidad and Tobago defender Maurice Ford on Belfort. And, while Ford debated the call, Haiti scored through a quick free kick.
By the end of the first half, the score was 2-2 with the Warriors also benefitting from a dubious refereeing decision. But Haiti coach Josaphat Jean Claude said he never doubted that his team could better any goal tally the hosts managed.
"Their defence is very heavy—we told the players that we saw in the first game they were very heavy at the back," said Jean Claude, through a translator. "I was very confident and I told the players if they [scored] two we will give them three and I was confident that if they scored three we could score four. And so on and so on.
"I am very proud because this is my first tournament as a head coach of the senior team because I used to coach the youth team for the Olympics. This is the first time I'm coaching the senior team and I am quite happy to be on to the next round."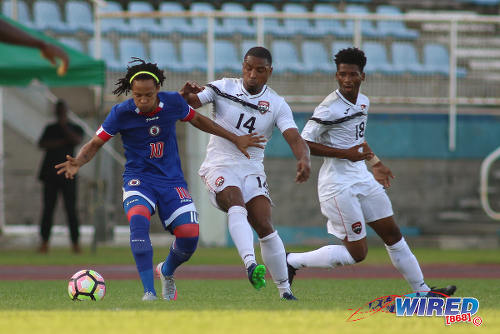 The second half threw up quite the conundrum for Saintfiet and his players as the likelihood of winning by two clear goals looked less plausible as the minutes ticked away.
Saintfiet sent on Cornell Glen and Trevin Caesar to give his team an extra attacking impetus. But the calculated Haitians appeared more dangerous and Trinidad and Tobago defenders Radanfah Abu Bakr and Ford and goalkeeper Adrian Foncette made some key blocks.
And, by the final 10 minutes, the Warriors were playing for a draw, which would give them a chance to get the two goal winning margin in extra time.
The hosts needed to maintain the stalemate to give themselves 30 more minutes in extra time.
"I know how ridiculous it sounds but if we won 4-2 in extra time we would have been through and if we won 3-2 in 90 minutes we would have been out," said Saintfiet. "It's crazy to tell the players: please don't score a goal now."
The extra time was not as prosperous as Saintfiet had hoped it would be, as Haiti added two more items while the hosts got a solitary strike from Winchester. The Mexico-based forward notched his maiden international hat-trick but his birthday was sullied by the outcome of the match.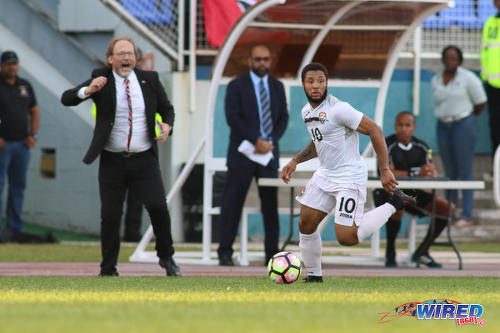 Coach Saintfiet thinks that he is now able to differentiate between the players who are ready for the international level and those who are not. And, with qualification for the Russia 2018 World Cup still at stake, he claimed to be optimistic that he will get more time to put his plans into action.
Saintfiet compared his challenges with those faced by Dutchman Leo Beenhakker, a former Real Madrid and Netherlands coach who took Trinidad and Tobago to the 2006 World Cup.
"I cannot say that I feel pressured [about losing my job at this time]. I do my job just like I do every day. I cannot judge what other people think in their mind. I know that from day one people had their opinion about me and like I said it was more about the people than about me.
"I think my work on the pitch must tell if I have a future here. And knowing that I had one week before I started my first training camp and Leo Beenhakker had three months. I think in that context it would be very realistic that I'm here for the Panama and Mexico games…
"[Beenhakker] had three months time before his first match and he played two friendlies against a club team from here and a club team from Peru. He lost and drew [those matches].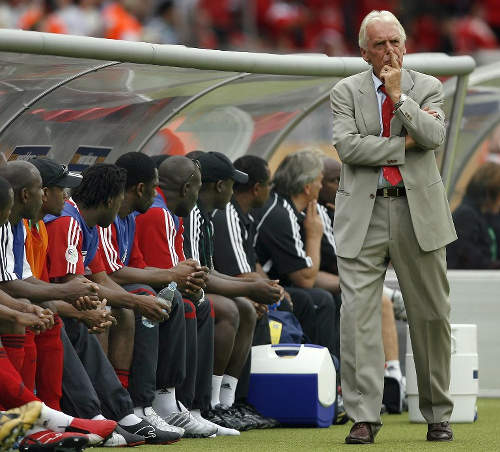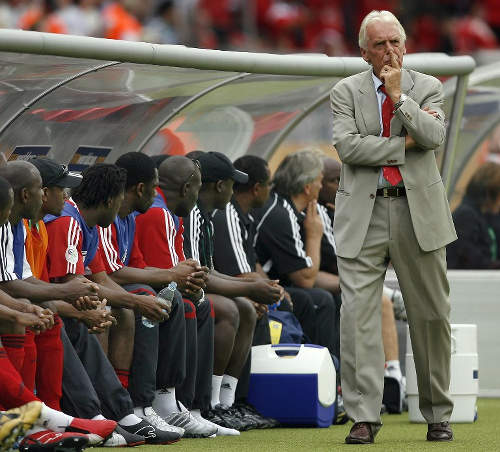 "His first qualifier was a FIFA [match day] where he had all of his squad. In his first three matches he lost two out of three. In his first five matches he lost three out of five. And he is the best coach in the history of Trinidad and Tobago, the man who had three months time before he played his first qualifier.
"I had two weeks time before I played my first qualifier and I did not have the squad which I originally selected. Because I hear some people saying 'select this' and 'select that' but I selected them. But for different reasons not everyone could not come."
In truth, Beenhakker held his first training session in Port of Spain on 6 April 2006 and played his first competitive game against Panama on 4 June 2005—after two friendly wins over Bermuda in May.
And Saintfiet must have gotten his calculations skewed somewhere along the lines as Beenhakker's first five games as Trinidad and Tobago coach were: Bermuda (win), Bermuda (win), Panama (win), Mexico (loss) and Honduras (draw).
While Beenhakker's first five competitive fixtures were: Panama (win), Mexico (loss), Honduras (draw), Panama (draw) and Colombia (loss).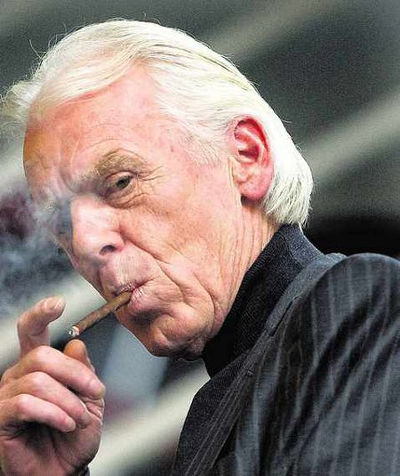 Saintfiet has already had a few run-ins with some of his more experienced players. And the coach took the opportunity to remind the media and the public of the players who were absent for the Gold Cup playoffs.
"I came here a week before the games started and I had to have selections. So I was seeing some matches and I was counting on advice. We had no FIFA dates so we invited [players]. People forget that.
"We invited Khaleem Hyland, we invited Jomal Williams, we invited Levi Garcia, John Bostock, we invited Molino, Joevin Jones, Cordell Cato and Mekeil Williams. So we invited a lot of players who were not available for several reasons.
"Some were not released because it was not a FIFA [match day] or they were not personally ready to perform for the team. But this has consequences if you have a lot of good players missing for such important games."
And as far as Seattle Sounders utility player Joevin Jones goes, Saintfiet insisted that he personally invited the talented player to his New Year's Day camp on December 22. However, Jones claimed that he had not yet received clearance from his club to join the Warriors' camp and only got the green light at the last hour.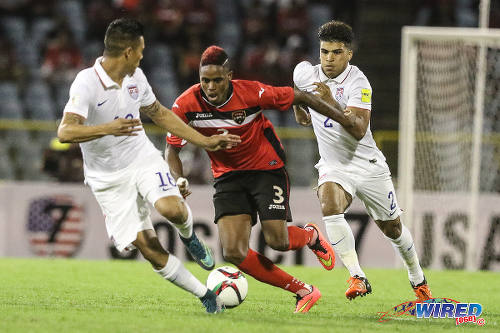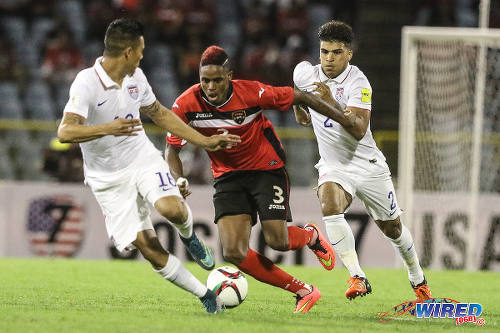 The gifted MLS player, who is Trinidad and Tobago leading scorer in the 2018 World Cup qualifying campaign, insisted that he was committed to representing his country—as always—and accused Saintfiet of trying to tarnish his name.
Another MLS player, Mekeil Williams, might be even more bemused at being named among the players who were unavailable, since he trained with Saintfiet and was dropped!
Still, Saintfiet said he is prepared to let bygones be bygones and insisted that no player will be written off for selection in the future. He also pointed to a few positives with his current crop of players.
"On the other side, I saw in the two weeks' time that I worked with the team, the boys growing, working very hard," said Saintfiet. "And I think even the local people discovered some local players who they never expected to play on this level. So I have some good experiences of working with the boys and for sure some of the players proved that in the future they have to be in the squad or part of the squad."
Again, Saintfiet might have overstated his case. From the 19 players he used against Suriname and Haiti, only forward Akeem Roach—who played for a total of 78 minutes—and defender Maurice Ford had not been capped before by his predecessors Stephen Hart and Hutson Charles.
Should Saintfiet retain his post for the two World Cup qualifiers in March against Panama and Mexico, he intends to spend more time with the local-based players once the TT Pro League season is concluded.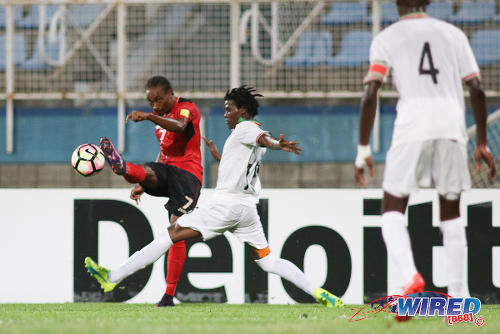 "I think we have to use the time smartly. We can train a lot with the local-based players or players without contracts. And I'm ready to work on a daily basis the moment the [TT Pro] League stops. And hopefully we can play some friendly matches with these guys to help prepare them.
"But we know that that the professional players in MLS and Europe will not be released for non-FIFA matches."
On 7 December 2016, Trinidad and Tobago Football Association (TTFA) president David John-Williams told Saintfiet that he could be unemployed by the end of March if he did not get the required results against Panama and Mexico.
But will Trinidad and Tobago's results in the Gold Cup playoffs affect his job security?
"I believe people who judge about me know my work and are not influenced by public opinion," said Saintfiet. "They can see how I train. They can see my tactical approach. They see my work and they don't consider the Facebook [posts] or what people are writing…
"But again, Inshallah."