Cornell Glen and Carlyle Mitchell grabbed a goal each in their first starts under new Trinidad and Tobago National Senior Team coach Tom Saintfiet, as the Belgian tasted his first triumph at the helm of the Soca Warriors with a 3-1 win away to Nicaragua.
And winger Aikim Andrews, who missed the first game of the two match tour, came off the bench to volley in the third as the Warriors got their new era underway.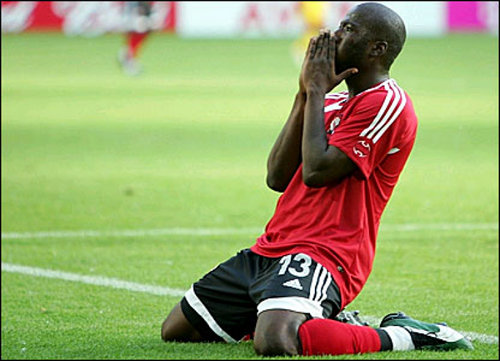 "As a coach, you want to win every match and I was very disappointed after the first match that we lost 2-1," Saintfiet told the TTFA Media. "I felt the players deserve more for the effort. So it was very important I think in my mind and in the players mind to get a good result before we travel back.
"It was the last game of 2016 and if we could win this match we would be in a stronger psychological mood to start the competition against Suriname and Haiti."
Trinidad and Tobago lost 2-1 in Managua on Tuesday—their first loss ever against Nicaragua—and trailed again tonight. But the visitors displayed character to claw their way back in the game and there was only going to be one winner once Mitchell put the two island republic ahead in the 52nd minute.
Mitchell, a striker-cum-central defender, had a hand in both goals up to that point. But it would be hard to deny Glen the headlines, as the 35-year-old former World Cup 2006 attacker proved his worth after three years in international exile.
Remarkably, Glen's last international goal was seven years ago when he scored the winner in a 1-0 World Cup 2010 qualifier against El Salvador. He barely managed 10 caps since as he was used sparingly by Russell Latapy, discarded early by co-coaches Hutson Charles and Jamaal Shabazz as well as Stephen Hart and ignored completely by Otto Pfister.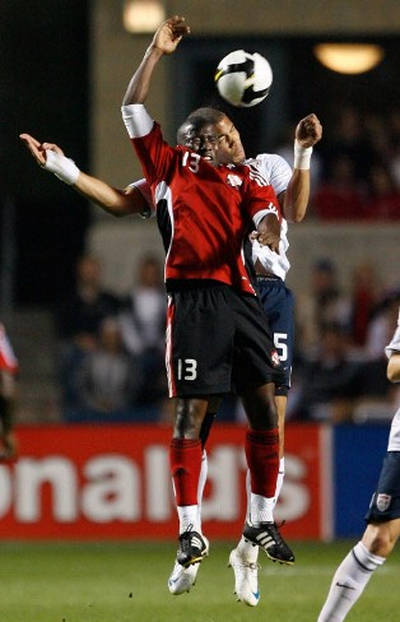 Blunt and outspoken, Glen has never been a coach's pet. But, with Trinidad and Tobago's youthful frontmen still incapable of taking the torch, Glen remains a useful asset—particularly once Saintfiet snubbed former captain Kenwyne Jones, who led the Warriors in goals over the last three years.
Glen and Mitchell were two of four changes in Saintfiet's starting team tonight with Kevan George coming into central midfield while Tyrone Charles started on the left flank.
George, as usual, will not get the headlines but his tenacious presence was key to strengthening Trinidad and Tobago's defensive resolve and creating a platform to launch those counter attacks that Saintfiet favours.
"Today the guys who came in like Kevan George, Carlyle Mitchell, Tyrone Charles and Cornell Glen did fantastic," said Saintfiet, "but it's not only them, it's a whole team performance. Even after the changes I have to think of players like Aikim Andrews and other players who performed well…
"Sure today some players showed that they deserved to be on the national team. I think some were a little bit out of selection for a long period and they wanted to prove something and I hope in the coming weeks they can continue that."
Yet, it was Nicaragua who struck first.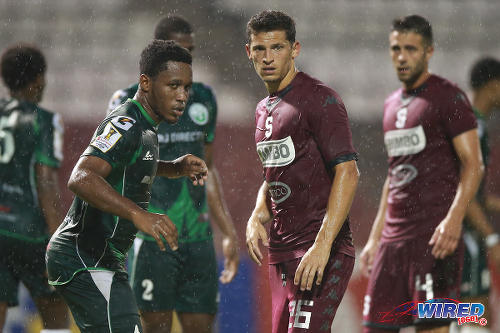 An ankle injury kept first choice left back Aubrey David out of the squad and Saintfiet rejigged the line-up by pushing Maurice Ford to the left side of the defence while Mitchell slotted in alongside Radanfah Abu Bakr.
Ford can take heart from the fact that other Trinidad and Tobago internationals also struggled at full back before going on to have solid careers. But this was reminiscent of Cyd Gray in Costa Rica (2001) and Brent Sancho in Panama (2005), as the former National Under-20 defender was repeatedly tied in knots by the Nicaraguan attackers.
Jaime Moreno, Nicaragua's 21-year-old Venezuela-born attacker who debuted tonight, was Ford's main torturer and, in the 24th minute, he slipped past the W Connection defender for at least the fourth time before squaring for Daniel Cadena to bury past opposing goalkeeper Adrian Foncette for the opener.
It was Cadena's second goal for Nicaragua and both came against Trinidad and Tobago, as the Iceland-based attacker lashed home a wonder goal on Tuesday.
But any notion that the hosts were easing towards another comfortable victory was dashed in the 37th minute, as Mitchell, who stayed up after a set piece, flicked a diagonal ball over the top for Glen to equalise.
Glen, who now plays professionally in India, appeared to lose his balance but his finish was clever as he volleyed downwards with the ball hitting the earth and looping over the comprehensively beaten Nicaraguan custodian.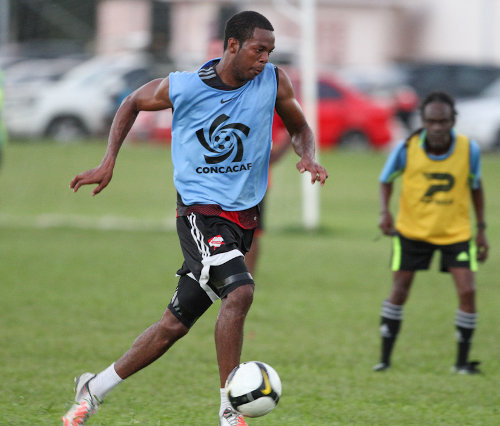 Glen and Mitchell combined again in the 52nd minute as the Warriors went ahead. The former player, who was a handful for the Nicaraguan defence whole night, won a free kick midway in opposing territory and Mitchell, who now earns his living in the Republic of Korea, superbly headed in Hughtun Hector's cross. It was Mitchell's second international goal in 33 matches.
Mitchell played his part in Trinidad and Tobago's third as well, as he grappled with three opposing defenders in the opposing penalty area and went over appealing for a penalty kick.
A hooked clearance from a Nicaraguan defender only made it as far as the edge of the area when Andrews controlled on his chest before blasting a brilliant volley into the far corner.
Incidentally, Andrews debuted against Nicaragua in October 2015 but failed to keep his place in the senior squad. He would hope tonight was the start of a new beginning.
It certainly was for Saintfiet who might ensure that his Wikipedia page is updated soon.
The story could have been sweeter still as Jomal Williams and Daniel Cyrus—the latter again used in central midfield—both had excellent late scoring opportunities but failed to hit the target.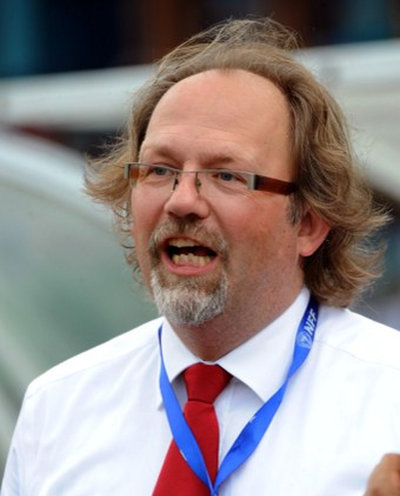 "It think it was a very clear good performance not only tactically but also physically and mentally where we proved today that we could win this match and the result will help us naturally in the near future," said Saintfiet. "I think [the Nicaragua friendlies were] very important and I am very happy that the association could organise these matches in a short period of time.
"People sometimes people forget that I am only two and half, three weeks in Trinidad and that I saw only a few league matches and I had not a lot of time to select and to find the right players for the coming weeks. So this two-week training camp plus these two friendly matches helped me a lot to know which players are ready, which system is best and how we can be prepared for Suriname and Haiti.
"I am a very happy coach that we use these days between Christmas and New Years to prepare our team because we have made a lot of steps forward."
At the final whistle, Trinidad and Tobago snapped a four game losing streak that stretched back to Hart's last three outings as coach. The Warriors will resume training tomorrow in preparation for next week's 2017 CONCACAF Gold Cup playoff fixtures against Suriname and Haiti on 4 and 8 January respectively.
(Team)
Trinidad and Tobago (4-2-3-1): 22.Adrian Foncette (GK); 11.Carlos Edwards (captain) (4.Curtis Gonzales 70), 12.Carlyle Mitchell, 6.Radanfah Abu Bakr, 17.Maurice Ford; 19.Kevan George, 15.Hughtun Hector (16.Alvin Jones 73); 8.Nathan Lewis (18.Aikim Andrews 54), 14.Hashim Arcia (5.Daneil Cyrus 81), 7.Tyrone Charles (23.Jomal Williams 81); 13.Cornell Glen (10.Shahdon Winchester 75).
Unused substitutes: Glenroy Samuel (GK), 2.Aubrey David, 9.Akeem Roach, 20.Trevin Caesar.
Coach: Tom Saintfiet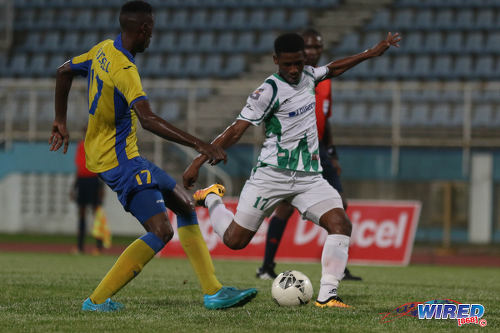 Friendly international
(Fri 30 December)
Nicaragua 1 (Daniel Cadena 25), Trinidad and Tobago 3 (Cornell Glen 37, Carlyle Mitchell 52, Aikim Andrews 69) at Managua.