Presentation College (San Fernando) defender Kori Cupid turned out to be Queen's Royal College's most influential player in the 2016 season. But he is no god of love for San Juan North Secondary.
Two months after the final 2016 Secondary Schools Football League (SSFL) Premier Division match was played, San Juan North and QRC have switched places in the relegation zone due to a rule violation by a third school, Presentation.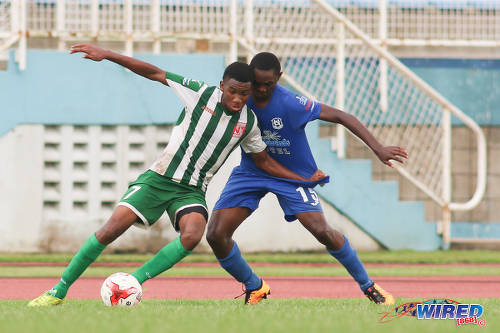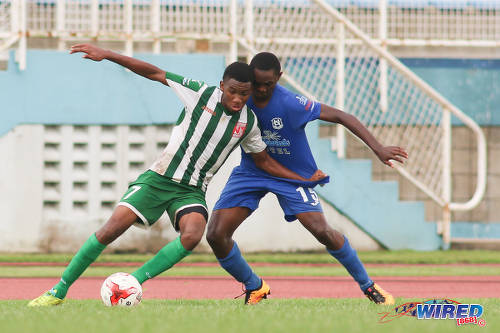 The SSFL's Credential and Disciplinary Committees ruled yesterday that Cupid was ineligible to represent Presentation this season since he wrote his SEA examinations in 2008 and not 2009, as incorrectly stated on his form.
Therefore, the Sixth Form student, who is also a Trinidad and Tobago National Under-20 Team player, had exhausted the eight year window in which he is allowed to play in the SSFL.
The matter was raised by Presentation's South Zone rivals, Naparima College, and the 'Pres Lions' did not protest the final decision.
As a result, Presentation's wins over Fatima College, East Mucurapo Secondary and QRC were all overturned with the three aforementioned schools awarded 3-0 wins in the protest room. Naparima's 2-0 win over Presentation on 28 September was also adjusted to 3-0.
The adjustment to the points total of the relevant schools sees QRC climb to 12th place—just one point outside the relegation zone—while San Juan North, the 2016 National Intercol champions, slip to 14th place in the 15-team standings. The bottom three schools are relegation to their respective zonal divisions.
And, just like that, the "Royalians" were awarded to right to participate in the 2017 Premier Division competition.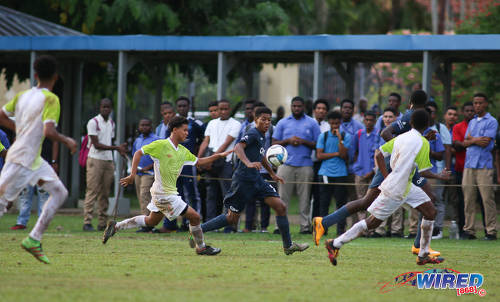 There might be more upheaval in the standings for the New Year, though, as East Mucurapo are also before the Disciplinary and Credential Committees over the use of Lower Six Form student Abdus Ramcharan.
According to the SSFL ruling: "The Committees, including the Appeals upheld the decision that Abdus only having three subjects in [Lower Six] (contrary to League Rules) is not eligible to represent his school as a player in the League. Therefore the game was awarded to St Benedict's with three points and three goals."
That decision in itself does not significantly alter the standings, as East Mucurapo and St Benedict's College would still remain in 10th and 11th place respectively.
However, Ramcharan was allegedly used for East Mucurapo in wins over Fatima and Fyzabad Secondary as well as in draws against QRC and Trinity College. Notably, all four games in question were after East Mucurapo's game against St Benedict's as the school continued to use Ramcharan in their survival race.
"The manager had heard about a protest but I didn't understand why [St Benedict's were protesting]," East Mucurapo coach Dale Saunders told Wired868. "It was only after the league was finished that we were [officially] told [about the Ramcharan protest]."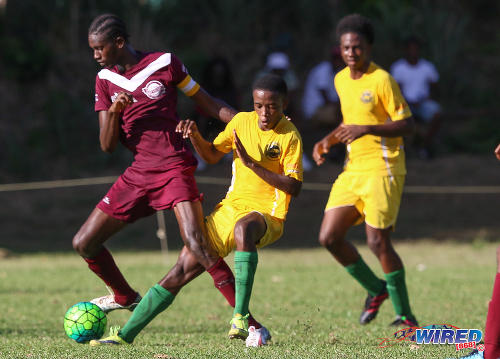 Elliot insisted, though, that East Mucurapo were properly informed as soon as St Benedict's lodged their protest.
Should East Mucurapo be stripped of those points, they will finish bottom of the Premier Division standings and be relegated. And Fatima, who were last at the end of the season, would also be saved in the boardroom due to rule violations by the two schools in the hot seat.
Unlike Presentation, East Mucurapo are fighting their case to the end and their matter will now go to arbitration.
SSFL assistant secretary Gerald Elliot said the East Mucurapo ruling, which will decide the fate of their Mucurapo Road neighbours, Fatima, may be resolved until well into 2017. At present, the schools body is setting up an arbitration panel.
"East Mucurapo are taking us down a road and we are trying to be patient," said Elliot. "Once the arbitration is finalised and once it goes in favour of the League, further penalties will be taken."
If found guilty, East Mucurapo will be relegated. However, Presentation, the 2016 South Zone Intercol champions, survived as their position dipped from second to fourth.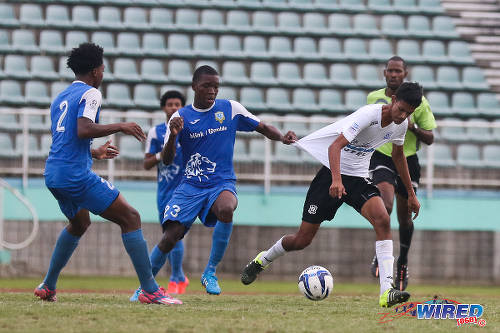 Should Presentation have been expelled, as suggested by 'Naps' coach Angus Eve?
Presentation coach Shawn Cooper said an inadvertent error was made five years ago when Cupid transferred in from Trinity College (Moka) and insisted they did not deliberate seek out an unfair advantage.
Elliot suggested that the SSFL's probe came to the same conclusion.
"When we investigated, we realise that the present [administrators at Presentation] were not involved [in Cupid's transfer]," Elliot told Wired868, "and to deny the whole school, I think, would have been unfair to the school."
San Juan North might have a thing or two to say about fairness, though.
In an earlier interview, just before the National Intercol final, San Juan North coach Jerry Moe vented his frustration at the boardroom scenario facing his team.
"[If we do get relegated] then a can of worms will be opened because somebody should have put a stop [to the player's participation] there," said Moe. "[…] You can't penalise San Juan for something like that. The [SSFL] administration is doing their job so that is not San Juan's responsibility…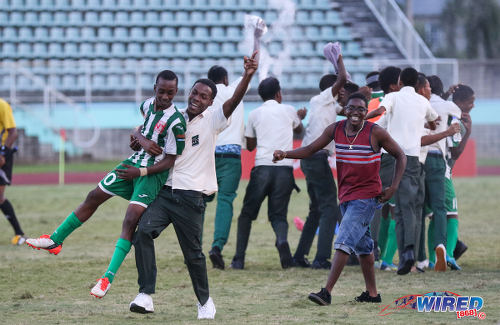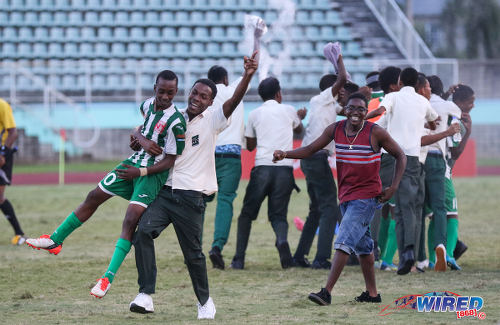 "I think from a management standpoint a lot of things were swept under the carpet. I think they could have done a lot better in terms of managing it. In order for a player to play he has to get a pass. In order for him to get a pass he has to be registered.
"That means whoever [needed] to make sure the player has all the accreditations [dropped the ball]…"
Unfortunately for San Juan North, Elliot said the SSFL cannot now consider creating a special clause to save their Premier Division status. Safety or relegation decides on the standings and, in the end, the boys from Bourg Mulatresse did not have enough points.
"We are going by the points table," said Elliot. "It is just unfortunate but it is something we saw happen already. The year when Mucurapo won the [National] Intercol title, they were relegated. So it is not a strange phenomenon."
East Mucurapo's relegation in 2014 occurred on the playing field, though. San Juan North's demotion happened in the protest rooms.
Still, Elliot said the SSFL is looking into changes that would safeguard against similar occurrences in the future.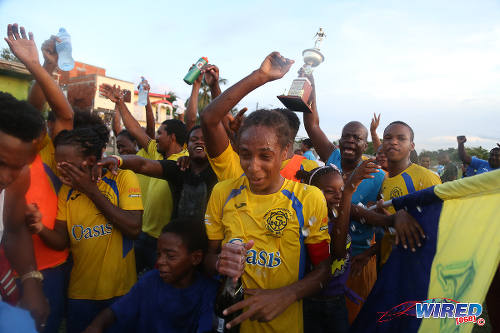 The problems, he suggested, usually come with transferred players who are registered on the eve of the opening fixture or after the season has already started. Elliot said the schools body is considering a firmer line with teams that overburden the registration process.
"The League feels it needs to reiterate the registration must come in at a particular time so the Credentials Committee can look at it. If you are not ready by [the start of the season] and your players are not fully registered, you will lose games [until you are].

"This will be especially for the schools who are always drafting players and then find themselves having to wait for the Ministry [of Education] to approve these players. They have under-14 and under-16 players in their schools, so develop them and use them until your transfers come in.

"Remember the majority of people involved [on the SSFL committees] are teachers… So making the time to ensure that certain things are done [can be difficult once the school term starts]."
For now, QRC will be toasting the god of love, as they live to fight another season. Cupid probably is not as popular in San Juan.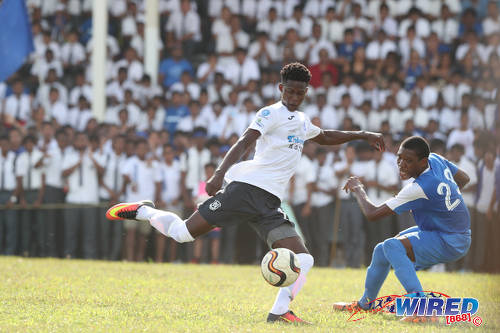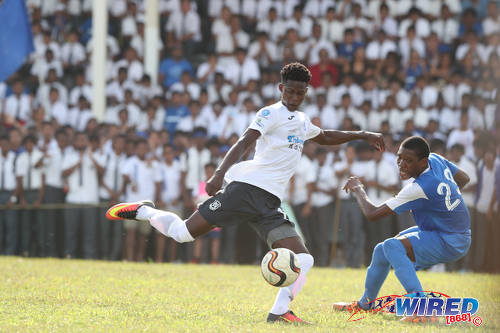 (The revolution of the 2016 SSFL standings)
[
At the end of the season
]
Previous 2016 SSFL Premier Division standings 
(Tabulated as Played-Won-Drew-Lost-Goals For-Goals Against-Points)
Shiva Boys HC    14-12-1-1-35-12-37
Presentation SF 14-10-2-2-32-11-32
Naparima             14-10-2-2-27-12-32
St Anthony's       14-9-1-4-38-21-28
St Augustine       14-5-5-4-15-12-20
Signal Hill           14-6-2-6-16-15-20
Fyzabad Sec       14-6-2-6-26-25-20
St Mary's             14-5-5-4-14-25-20
Trinity Moka      14-5-3-6-7-17-18
East Mucurapo 14-4-3-7-13-19-15
St Benedict's      14-3-3-8-7-21-12
San Juan North 14-3-2-9-21-24-11
QRC                         14-2-4-8-8-20-10
Pleasantville       14-2-4-8-12-26-10
Fatima College  14-2-3-9-15-27-9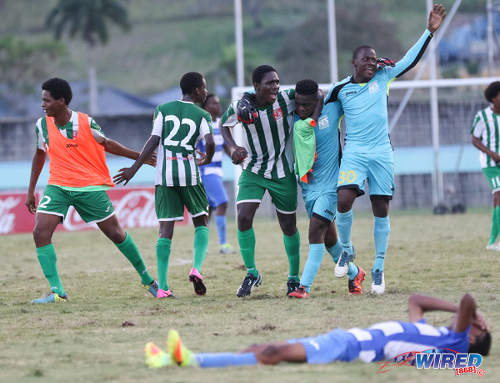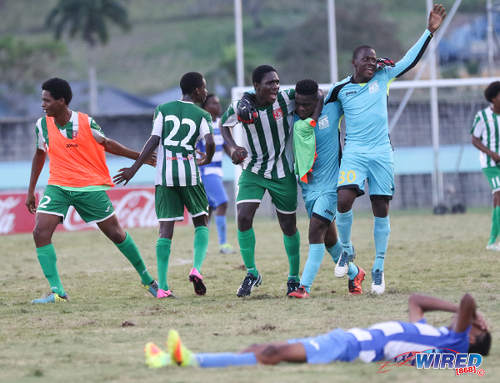 [
After the St Benedict's and Presentation rulings
]
Current 2016 SSFL Premier Division standings
(Tabulated as Played-Won-Drew-Lost-Goals For-Goals Against-Points)
Shiva Boys HC    14-12-1-1-35-12-37
Naparima             14-10-2-2-28-12-32 (+1)
St Anthony's        14-9-1-4-38-21-28 (+1)
Presentation SF 14-7-2-5-27-20-23 (-2)
St Augustine        14-5-5-4-15-12-20
Signal Hill            14-6-2-6-16-15-20
Fyzabad Sec         14-6-2-6-26-25-20
St Mary's               14-5-5-4-14-25-20
Trinity Moka       14-5-3-6-8-18-18
East Mucurapo  14-4-3-7-15-19-15
St Benedict's      14-4-3-7-10-18-15
QRC                        14-3-4-7-11-19-13 (+1)
Fatima College  14-3-3-8-18-25-12 (+2)
San Juan North 14-3-2-9-21-24-11 (-2)
Pleasantville      14-2-4-8-12-26-10 (-1)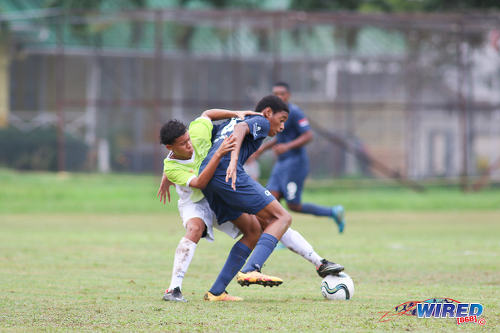 [
If East Mucurapo are punished for every possible use of Abdus Ramcharan
]
Projected 2016 SSFL Premier Division standings
(Tabulated as Played-Won-Drew-Lost-Goals For-Goals Against-Points)
Shiva Boys HC    14-12-1-1-35-12-37
Naparima             14-10-2-2-28-12-32
St Anthony's        14-9-1-4-38-21-28
Presentation SF 14-7-2-5-27-20-23
Fyzabad Sec         14-7-2-5-28-23-23 (+2)
St Augustine        14-5-5-4-15-12-20 (-1)
Signal Hill            14-6-2-6-16-15-20 (-1)
St Mary's              14-5-5-4-14-25-20
Trinity Moka      14-6-2-6-10-17-20
Fatima College   14-4-3-7-21-24-15 (+3)
QRC                         14-4-3-7-14-19-15 (+1)
St Benedict's       14-4-3-7-10-18-15 (-1)
San Juan North 14-3-2-9-21-24-11 (+1)
Pleasantville       14-2-4-8-12-26-10 (+1)
East Mucurapo  14-2-1-11-11-29-7 (-5)