Police FC put in an energetic performance to batter their fellow servicemen on the Defence Force 2-0 at the Ato Boldon Stadium yesterday in a thrilling Trinidad & Tobago Pro League showdown that was littered with sharp tackles and goal scoring chances.
Led by a trademark Todd Ryan free-kick and a diving header from Elijah Belgrave, the "Lawmen" now move up to sixth on the table and one point better than their challengers.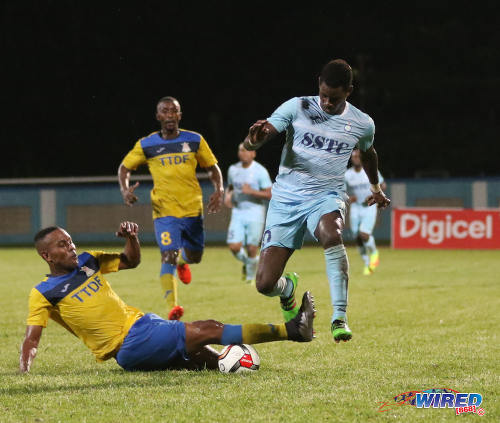 The game started frenetically enough, when one minute in, Police had already one-upped their opponents—or so they believed until Referee Cecile Hinds struck off the goal citing an infringement in the penalty box.
Undeterred, Police kept up the pace as Jibri Mc David forced Defence goalie Andre Marchan to tip the ball over the crossbar, deflecting a long range effort; Kareem Freitas kept the pressure on, leading Police in some direct and intense—if unfruitful—play.
The Tetron Boys fired back though, and showed some intent of their own but the usually deadly Devorn Jorsling couldn't seem to find his target.

Their closest opportunity came when Jerwyn Balthazar whipped in an inviting cross, catching the Police in a rare unguarded moment. An unmarked Jorsling stretched out his boot but was only able to prod the ball wide of the post. He would be left ruing that missed opportunity.
Police, however, managed to earn a free kick just outside of the box. It was perfectly placed for a deadball specialist—kind of like Police team captain Ryan. Ryan curled the ball over the wall expertly into the corner to give his rampaging team an early lead.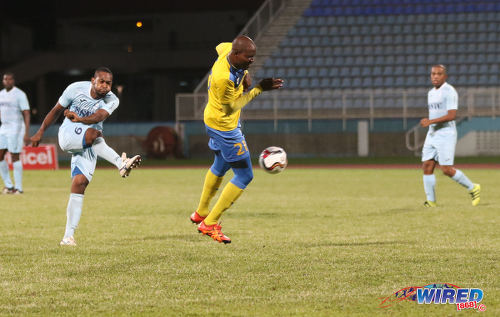 Defence goalkeeper Marchan was still collecting himself from that goal when Elijah Belgrave collected a delightful cross from Freitas and attacked with full force, stealing beyond his marker with a diving header to knock Defence Force further down the hole they were unable to dig themselves out of.
Defence Force can still be grateful to Marchan who, despite letting in two goals, still managed to keep out at least three others.
For all the excitement of that game, the match up between Courts Morvant Caledonia United and Ma Pau Stars was frustratingly tame. This was the first game of the double header and fans who came late were probably grateful to discover they didn't miss much besides the lack of thrills.
Caledonia continued their winless streak—now at seven—as they fell 1-0 to Mau Pau Stars after Jerrel Britto popped up late to score the solitary goal in a pedestrian affair.
The game featured at least three Soca Warriors from the famous 2006 FIFA World Cup squad, so one would have hoped for some action, but only Jason Scotland produced the spark that ignited a brief flare of excitement as he set up the play to allow Britto to tap home.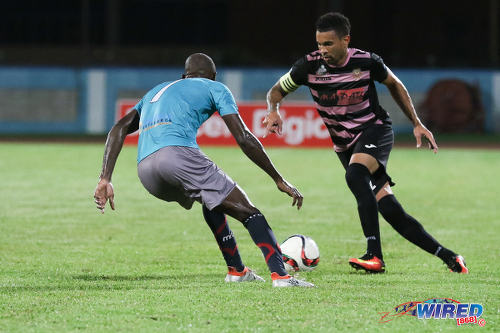 The game started with some pep when in the fifth minute, Britto squared the ball to the ball Baptiste but the ball flashed inches wide.
Both teams were intent on playing patient football with their fullbacks largely restricted to patrolling their own territory, making the battle for midfield prominence tense. Unfortunately for Morvant Caledonia, only skipper Akim Armstrong looked battle ready and able to create anything, ultimately unsuccessfully, for the designated away team.
The second half teetered along just like the first—epitomized by a lack of spark, and with balls simply being played into blind channels.
The most interesting play of the night, however, came when Ma Pau curiously substitued Neil Mitchell with… Neil Mitchell. Soon after that deja vu substitution, another substitute Ma Pau made the right decision to bring on veteran Scotland, who was ready to show off the tricks up his sleeve.
Immediately he made an impact, charging at the goal on a counter, dropping his shoulder, bamboozling a backpeddling defender, and then slipping an intelligent pass into the path of Britto.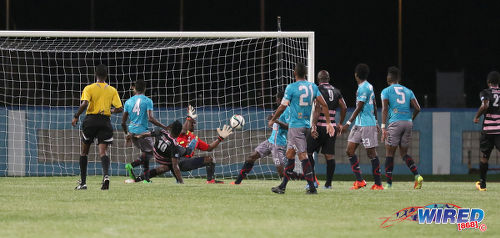 Britto dawdled and looked like he might lose it but regrettably for the Morvant faithful, he squeezed the ball beyond Marvin Phillip to get that elusive goal. He might have even had a double, had Phillip not gotten some assistance from the post.
The hard fought win put Mau Pau into fourth position, trailing current league leaders Central FC by 6 points.
(Teams)
Mau Pau Stars (4-4-1-1): 22.Glenroy Samuel (GK); 25.Kervyn Navarro, 5.Taryk Sampson, 19.Glenton Wolfe, 2.Carlos Edwards (C); 17.Hayden Tinto, 11.Elton John, 6.Neil Mitchell (21.Neil Mitchell), 7.Kerry Daniel (16.Kereem Eastman); 10.Jerrel Britto; 4.Kerry Baptiste (9.Jason Scotland).
Unused Substitutes: 1.Shane Mattis (GK), 8.Adrian Noel, 12. Sayid Freitas, 14.Chike Sullivan.
Coach: Ross Russell
Morvant Caledonia United (4-3-3): 1.Marvin Phillip (GK); 4.Ordell Flemming, 5.Seon Thomas, 6.Taje Commissiong, 12.Kareem Joseph(22.Jameel Neptune); 18.Maestro Mensah, 21.Densil Theobald, 14.Keron Bethelmy (23.Lester Joseph); 7.Kordell Samuel, 10. Sheldon Holder, 17. Akim Armstrong (captain) (16.Amos Ramsay).
Unused Substitutes: 30.Stephon Seepersad (GK), 2.Kevin Layne, 8. Anthony Charles, 11.Dominic Douglas.
Coach: Rajesh Latchoo
Referee: Kevin Smart
Man of the Match: Jerrel Britto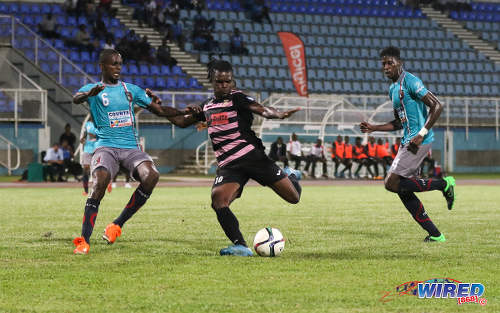 Pro League results
(Tuesday 22 November)
Ma Pau Stars 1 (Jerrel Britto 84), Morvant Caledonia United 0 at Ato Boldon Stadium;
Defence Force 0, Police FC 2 (Todd Ryan 38, Elijah Belgrave 42) at Ato Boldon Stadium;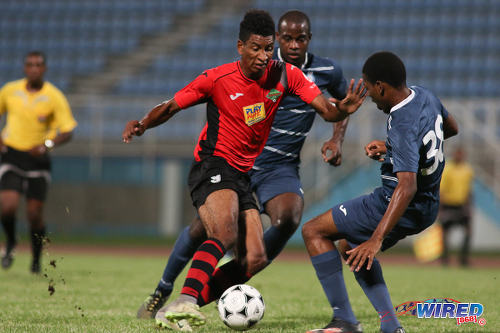 Upcoming Pro League fixtures
(Friday 25 November)
San Juan Jabloteh vs W Connection, 6pm, Santa Cruz Recreation Ground;
(Tuesday 29 November)
Club Sando vs Point Fortin Civic, 6pm, Ato Boldon Stadium;
Central FC vs St Ann's Rangers, 8pm, Ato Boldon Stadium;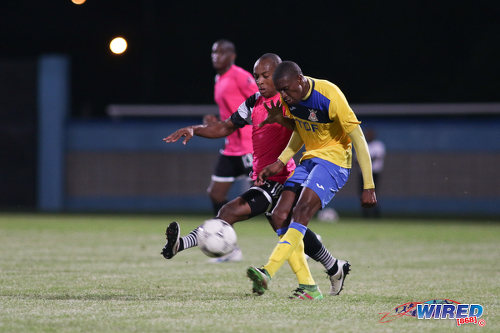 First Citizens Cup semifinals
(Sunday 27 November)
Morvant Caledonia Utd v Defence Force, 4pm, Ato Boldon Stadium;
Police FC v Ma Pau Stars, 6pm, Ato Boldon Stadium.