Trinidad and Tobago National Senior Team star Kevin Molino has apologised for his "recent decisions" and, indirectly, threw himself at the mercy of head coach Stephen Hart in a dramatic about-turn following his latest indiscretion on international duty, two weeks ago.
Last Wednesday, Molino vowed to take a year off from international football after Soca Warriors coach Stephen Hart dropped the Orlando City midfielder for a Caribbean Cup qualifier away to Martinique for a breach of discipline.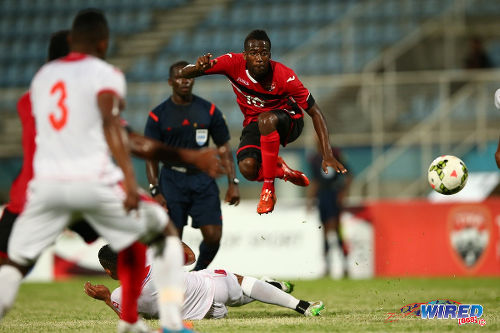 Molino was accused of breaking camp to party at the Vas Lounge nightclub on Rust Street on 7 October in between Caribbean Cup outings against the Dominican Republic and Martinique. It was the second time in a month that the two-time World Youth Cup player was accused of sneaking out of the team hotel to party while on international duty.
Incidentally, Molino apologised for the first incident at the time yet quickly repeated the transgression.
Initially, Molino refused to admit guilt on the second occasion and insisted on seeing photographic evidence while he subsequently vowed to quit the Warriors. However, just 24 hours after team captain Kenwyne Jones urged him to "apologise properly" so the team could move forward, the 26-year-old MLS maestro decided to do just that.

Last week, he vowed to go on a one-year self-imposed exile via SnapChat. Today, he reversed his decision on Instagram:
"Playing the beautiful game is all that matters to me, especially for my country. It's what I've dreamt of all my life. My recent decisions do not reflect that, and for this I'm sorry.
"I am also aware of the effects my choices have had on my teammates, fans & friends. And I apologize for this as well. My childhood dream is still alive and I'm 100% committed to representing the red, black & white if I am lucky enough to be selected again."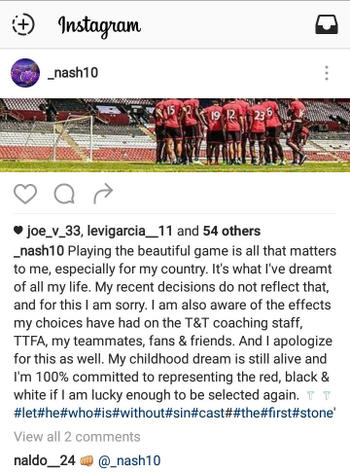 Molino signed off in hashtags, presumably directed at his critics over the past week: "Let he who is without sin cast the first stone."
The ball is now in Hart's court and Molino might have been helped by the Trinidad and Tobago Football Association's (TTFA) initial sluggishness in dealing with the issue.
More than a week after Molino was axed for the crucial Gold Cup qualifier against Martinique, the TTFA is yet to take an official position on the matter or support Hart's handling of it. It meant that the Warriors ace was able to soften his initial stance before a ruling from the local football body.
TTFA president David John-Williams confirmed that he spoke informally to both parties on the matter. At present, Hart is out of the country.
"Coach Hart sent a report and we are to meet on this and another matter on his return," John-Williams told Wired868. "I actually just spoke to Molino telling him I saw his apology and I commended him and asked what is prompting such behaviour. He was a bit cagey but accepted responsibility."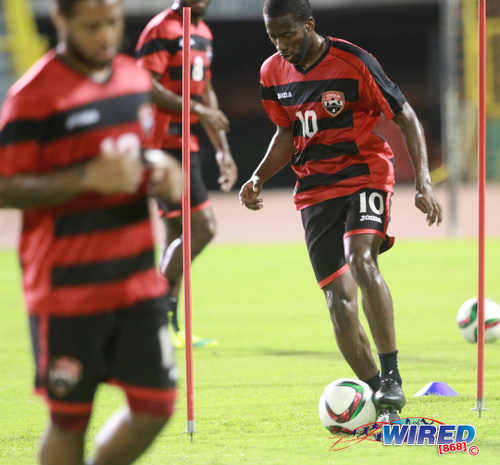 Hart told the TTFA Media it was important that Molino accepted responsibility for his actions, although he stopped short of stating definitively whether he was satisfied with the apology and if there would be further disciplinary action against the player.
"It is important that he accepts responsibility for his actions," said Hart. "Kevin's attitude towards training and playing was never in question. His work ethic in this respect is commendable.
"He made some poor decisions and it is important that he accepts responsibility for his actions. Wearing the national team shirt is an honour. Yes! More so it is a great responsibility."
Ironically, the situation was reversed last month when Hart fined Molino, along with Joevin Jones and Mekeil Williams, for breaking camp but played them in World Cup qualifiers against Guatemala and the United States.
John-Williams suggested then that the punishment was light and contemplated further disciplinary action against the players. However, now that Hart has dropped Molino, the TTFA president did not publicly applaud his coach and instead commended the player for apologising.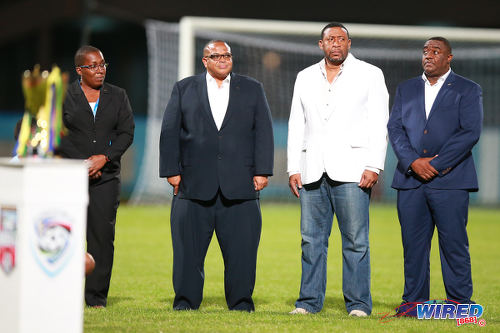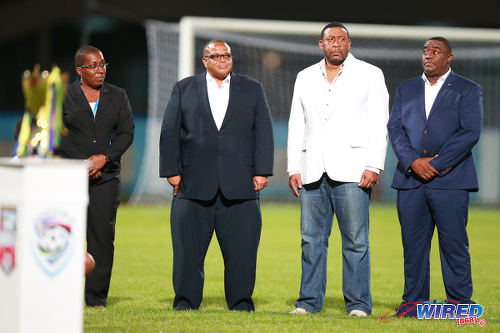 Although John-Williams and Hart have spoken warmly about their professional relationship in public, doubts linger as to whether the current Warriors coach—who was on CONCACAF's Coach of the Year shortlist for two of his three years on the job—enjoys the full support of his boss.
Jones made it clear that the players supported Hart, although he insisted too that Molino remains "a great addition to the squad".
"We all want Kevin to put everything behind him—apologise properly to coach, staff and players and, by extension, Trinidad and Tobago—and move forward together as a unit.
"He has been and will always be a great addition to the squad. But when it comes down to it, this is about representing yourself and Trinidad and Tobago, and nobody is ever bigger than the game…
"Moving into The Hex, the players [and myself] sincerely believe that coach Hart at the helm will give the team the best chance to qualify for Russia 2018… This is the best team we've had in a while and there's no doubt that we cannot go forward without him."