Today is the 26th anniversary of that fateful day when, thanks to Yasin Abu Bakr and the other 114 insurrectionists, Trinidad and Tobago discovered, in the splendid words of David Rudder's "Hosay," "Uzi diplomacy (and) SLR love."
To mark the occasion, Wired868 presents an extract from Memoirs of a Jamaat Child, an unpublished work of non-fiction. Its author is Otancia Noel who, having spent her formative years on the Compound in Mucurapo in the decade leading up to 27 July 1990, knows the Jamaat-al-Muslimeen intimately.
***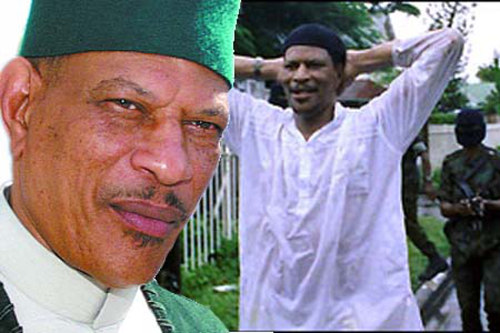 The family actually moved back to South after the 27 July events but we were already in Point for the holidays when the coup took place. Coming home after living the town life was not a nice experience, I did not enjoy the "escort" provided by the police jeep that followed me to school every day and waited for me outside the gate. And there were the police officers who visited us at least three times a week. Not to mention all those fingers that were pointed at us once people found out who we were.
And I was even less pleased when what seemed like the entire army and police force raided my grandmother's home. It was an unforgettable experience; it made my grandfather have a heart attack. Literally.
We were on the estate, in our backyard, which was a mini-forest.
"Look the bush moving," my brother said, pointing. I looked, already certain that the daily dose of river water he always had was fogging his brain.
"Look, allyuh!" he repeated and you could hear the urgency in his voice. "The bush moving. No joke. I not lying."
I stopped and motioned to my siblings to do the same. He was right. All around us, the bush was indeed moving.
"Run!" I hissed. And Usain Bolt and Ato Boldon would have envied our reaction time as we all took off towards the bridge. A swarm of locusts awaited us at the back of my grandmother's house, locusts, we would soon discover, who had had nothing to eat for a couple of days. We were marched into the house with our hands in the air to find officers still turning the place upside down.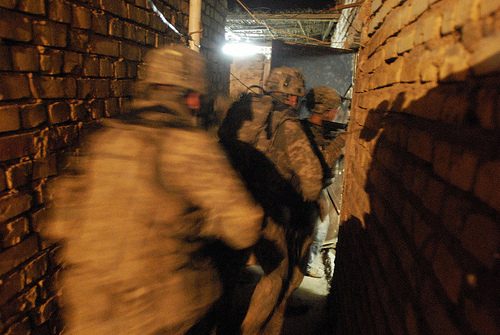 "Where Leon?" they asked repeatedly, guns raised threateningly as if to suggest unrestrained use should there be no answer to the urgent questions. "Where Sadiq? Where Ar-Razi?"
It was, of course, absurd. This was happening a full week after the attempted coup had ended with the arrest of more than 100 Jamaat members. Who could believe that the country's intelligence services had not yet realized or had not yet communicated to the Trinidad and Tobago Police Service the fact that Leon Wells and Sadiq Ar-Razi were one and the same person? And that he, along with the other 113 Muslimeen members, was already securely incarcerated wherever the insurrectionists were being held?
But the soldiers and police were genuinely in the dark about this phenomenon since they kept on asking about Leon's/Sadiq's/Ar-Razi's whereabouts from the time they arrived till much later. It really took them a while to absorb this idea and figure out that he was not there but that he was imprisoned. It's hard not to conclude that the government/the Ministry of National Security had no clear idea about the identity of all the individuals whom they had behind bars.
The officers had come rushing into the house through the back and front while we were still in the backyard, blissfully unaware of their presence. Within minutes, a detachment of them emerged again, escorting the one criminal they had so far nabbed with all the pomp and fanfare reserved for the capture of a terrorist who had just killed a hundred hostages.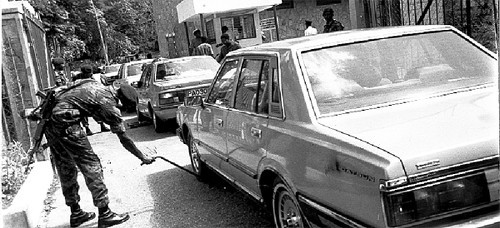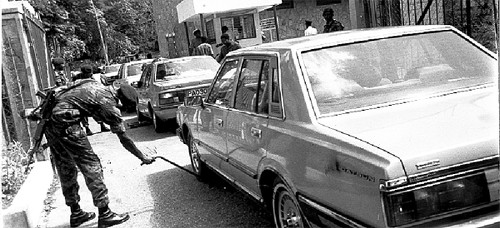 Those who were blocking the view of the head honcho moved aside to allow him to get a good look at their prisoner.
"Peggy?" the clearly surprised commanding officer asked my mother. "Peggy? That is you?"
She looked him right in the eye but said nothing.
"Stand down!" he commanded. "Stand down!" The look on his face was an equal mixture of amazement and embarrassment.
It was not long before Baghdad had turned into Disneyland. Once they had rounded us all up and ensured that the coast was clear, the troops descended on the fruit trees, shinnied up them and cleaned them of everything that was edible. Oranges, portugals, pommeracs, grapefruits and mangoes simply disappeared into their hungry bellies.
All the while, my grandmother, in no way cowed by the presence of half the TTPS and quarter of the army on her property, made no attempt to control or conceal her anger at the unwarranted intrusion. Fuming about the damage they were doing to her plants, she let them have it back, belly front and side.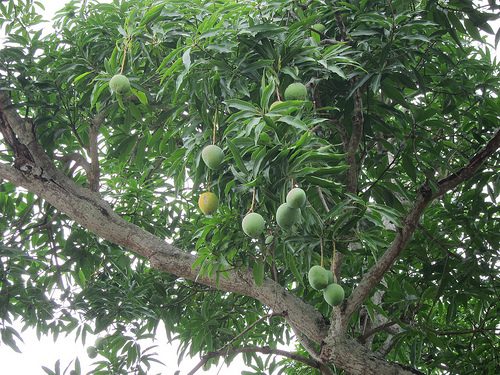 "I doh know why allyuh running through my house with allyuh nasty boots," she told them, "as if allyuh eh have nutten better to do than to harass two old people and a woman and some chirren."
"It eh have no damn Muslimeen here," she shouted. "Leon done blasted lock up wheyever he lock up! He not here!"
My grandfather happened to be over the river near the animal pen when the soldiers arrived. Nearly two dozen of them trained their guns on him and ordered him to come with them. They surrounded him and marched him across the bridge with his hands in the air. He made it as far as halfway across before he collapsed to the ground with his hands still held above his head.
I remember thinking that it was somehow unreal, reminiscent of something you see in slow motion on a television screen. Fortunately for him, for us and, I guess, for them, they had brought along some medical personnel who placed him on a stretcher and took him into the house where they revived him. He was as white as midday clouds and crying uncontrollably as if all the tension of the last few days had just sailed into emotional port.
One or two of the medics started to look a little remorseful and one of them even seemed to be blinking away a tear or two. Another hugged my grandfather the way you hug a baby, saying, "Don't worry, Pops. It alright. Everything cool."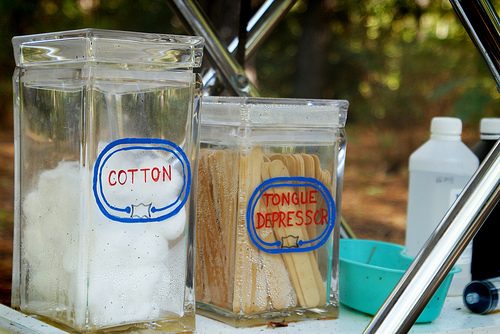 Grandma was neither alright nor cool; she was livid.
"Allyuh want to kill mih husband?" she thundered. "He heart cyar take this kinda thing! If allyuh kill he allyuh have to frigging well kill me too!"
When one of the soldiers seemed to be getting a little upset at what Grandma was saying, a young officer who would later be following me around the kitchen looking like he wanted more than the food I was trying to prepare, told him to relax.
"Oh gosh," he said, "go and pick some pommerac or something, nah! She is ah old lady. What yuh expect?"
I was 15 going on 16 and wearing a pair of three-quarter tights and a shortish jersey. In those days, I wore neither hijab nor jilbab and my long, wild hair was uncovered.
"What is your name?" the young officer asked me.
I told him.
"Thanks," he said aloud, before adding for my ears only, "You married yet, maybe to any one of them boys who inside?"
I said I was not.
"You is a real sweet chinee," he went on. "So call me if you have any problem."
He took a pen out of his top pocket and scribbled a name and number on a piece of paper he tore out of a notepad he had in his hand.
"We go be coming to check on allyuh again." And with that, my personal Rambo turned his back on me and strode out of my life.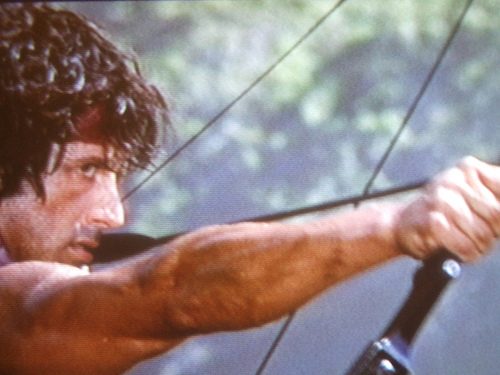 There were other glum-faced Rambos and Schwarzeneggers who did not seem to be entirely pleased at the way things had turned out. They would have relished some more of the crawling through the bushes action and might have been looking forward to some real, live target practice, with me and my siblings as the targets. I swear that if I had seen their faces prior to our doing our Ato Boldon impersonation, I would have thought twice before firing my "Run" gun.
"Dirk?"
Umi might have said "Dick?" but whichever it was she got the name right. The commanding officer was a blast from the past, an old schoolmate of my mother's. Not only had they recognized each other but each had been able accurately to bring the other's name back to mind. It led to a long confab between the two, Dick/Dirk caught between the devil of his foreknowledge of the putative criminal and the deep blue sea of his professional obligation.
"I have to take her down," he eventually explained to my grandmother, "but don't worry, she's perfectly safe with me."
It would be two or three days before Umi would come back home and tell us that the officer's orders were to "bring them all in." However, he had persuaded his principals that that was completely unnecessary. The two or three days had been spent in the discomfort of the Point Fortin Police Station while her claims of complete innocence of any foreknowledge of the coup or anything to do with it were verified.