Suspicions that CONCACAF and UEFA have lent to their support to one of three candidates in the Caribbean Football Union (CFU) election race might harden after presidential candidate David John-Williams released his manifesto, which suggested that his proposed Caribbean Professional Football League (CPFL) is an integral part of his bid and it is his intention to sign a MOU with UEFA, once elected.
The CPFL competition, which was projected to start in 2018, featured prominently in three separate sections of John-Williams' CFU manifesto in which he sought to distinguish himself from incumbent president Gordon Derrick and challenger Hillaren Frederick before the 23 July 2016 election in Miami.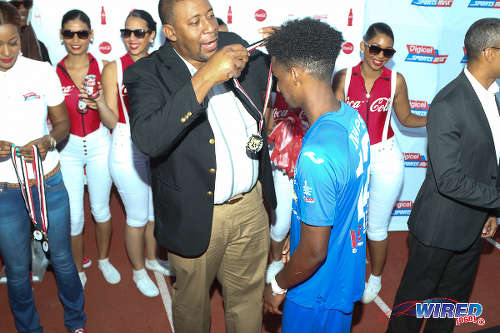 The CPFL, according to John-Williams' eye-raising projections, should provide "guaranteed income and prize money" of US$28.3 million to its 14 clubs over an initial three year period.
CONCACAF president Victor Montagliani pledged to help fund John-Williams' two day CPFL workshop, which was held in Port of Spain on 17 and 18 June and featured 17 Caribbean delegates. The presidential candidate also claimed to have financial support from UEFA and suggested that the European football body could certify coaches and lift the standard of regional refereeing and football administration.
On the back of that CPFL meeting, John-Williams, who also owns local professional club W Connection, officially launched his CFU presidential campaign a week later.

The Trinidad and Tobago football official's formal European ties go back to 27 January 2016 when he pledged his support for then UEFA general secretary and current FIFA president Gianni Infantino—without consultation with the TTFA board of directors.
There were allegations then that Infantino might repay the favour by helping John-Williams' Caribbean ambitions, although the Trinidadian is just seven months into a controversial term as local football president.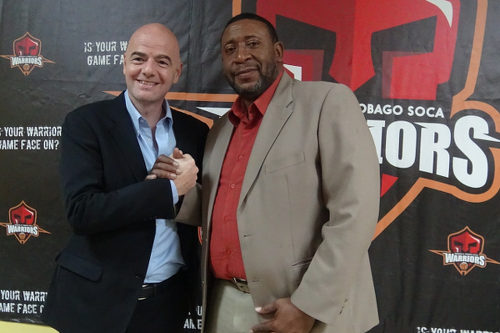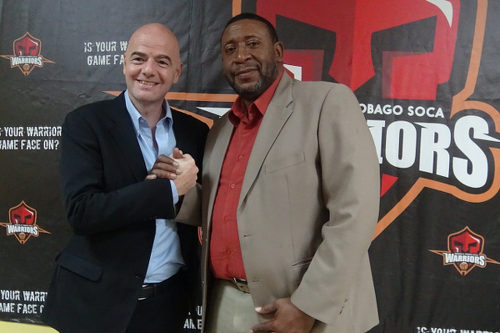 The TTFA president was also accused by Derrick of helping Montagliani split Caribbean votes, so as to ensure that the Canadian administrator was elected as CONCACAF president on 12 May 2016.
Derrick has accused senior football officials, including FIFA vice-president Sunil Gulati, of systematically trying to weaken the Caribbean and suggested that John-Williams was part of that plan.
FIFA controversially barred Derrick, who is also the current general secretary of the Antigua and Barbuda Football Association (ABFA), from contesting the CONCACAF presidency on ethical grounds. The Antiguan has since appealed to CAS.
Derrick claimed he was not invited to the CPFL workshop and complained to Montagliani that CONCACAF's decision to fund a Caribbean project which excluded the CFU president was disrespectful at best.
"CONCACAF will continue to support football activities of any Member Association upon request," Montagliani retorted, "assuming the request is reasonable, financially sustainable and within our authority… In fact, supporting this effort is what we are supposed to do."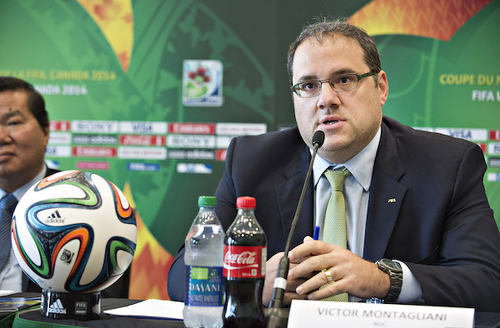 While John-Williams was able to offer airline and ground travel, two nights accommodation at the Marriott and meals to Caribbean football officials, the CFU—which is still trying to escape the financial carnage of Jack Warner's legacy—does not even have the funds to hold its congress in the Caribbean.
In John-Williams' CFU manifesto, he vowed to:
Develop, conduct, and sustain the financial affairs of the CFU to the highest professional and ethical standards;

Improve the credibility and image of The Caribbean Football Union through inclusive and collaborative leadership and transparency;

[Deliver] good governance [and] a robust adherence to the updated statues;


[Ensure] the immediate appointments for the necessary sub-committees [and] the proper and efficient functioning of these committees [so as to restore] stakeholder and corporate confidence in the CFU.
Yet, ironically, John-Williams appeared to breach the Trinidad and Tobago's football statutes in his CFU launch.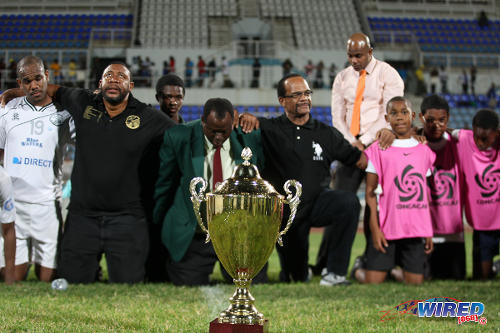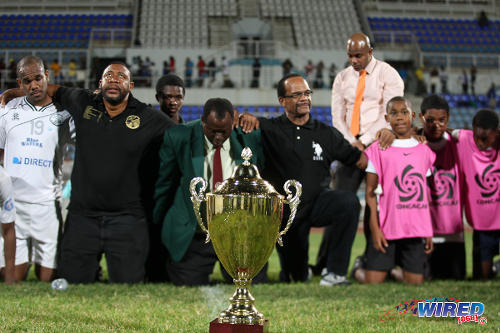 He invoiced the local football body for expenses related to his CPFL meeting in Port of Spain and, in a radio show on I95.5FM last Thursday, admitted to using TTFA funds to pay several bills without the permission of the TTFA board of directors.
He countered that he would repay the debt once CONCACAF and UEFA reimbursed him. But it appeared to be a clear violation of the local football constitution.
Article 20.2 states: "The board of directors is the executive body [of the TTFA]."
And Article 36 (p) insists that only the board of directors "shall have the power to mortgage, pledge or otherwise create a security over any property of the TTFA, provided that: the security has been concluded in order to satisfy an urgent contractual obligation of the TTFA; the security does not surpass the amount of $1,000,000 (TTD)."
To date, John-Williams still has not officially informed the local board about the CPFL meeting, although he gave his presentation to the Caribbean delegates in front of a TTFA banner.
At the TTFA president's side for his address was Morvant Caledonia United co-founder and compatriot Jamaal Shabazz who, bizarrely, wore a TTFA jacket, jersey and track pants although, at present, he is the Guyana National Senior Team head coach.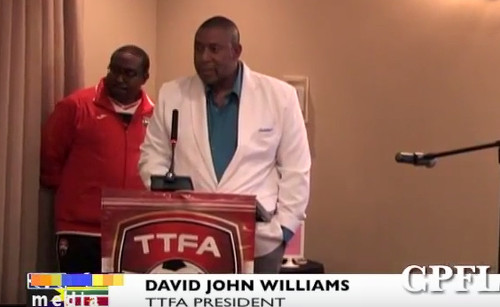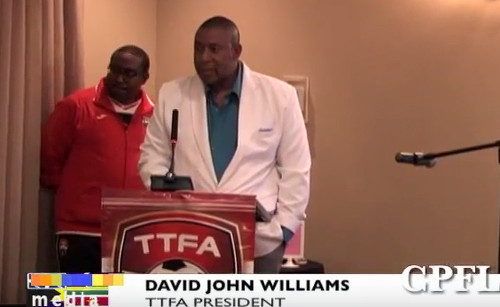 John-Williams, who also wowed local football delegates with a glossy manifesto before the controversial and possibly illegitimate TTFA election on 29 November 2015, said his focus as CFU president will be:
Engagement: To ensure the development of the game at all levels with special emphasis on increasing the number of boys and girls getting the opportunity to play this '"beautiful game" at a professional level in the Caribbean;

Expansion: To increase opportunities in the region to play professionally by the implementation of the Caribbean Professional Football League in the shortest possible time;

Education: To facilitate persons in successfully fulfilling a professional career in the
game be it at playing, administrating, coaching, refereeing or any other area of football;

Excellence: To improve the standard of football infrastructure, and administration in all CFU member countries to an international level; and to also develop, conduct, and
sustain the financial affairs of the CFU to the highest professional and ethical standards.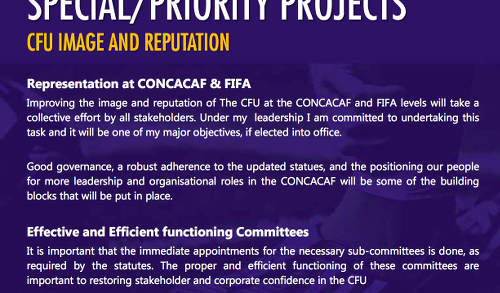 John-Williams, who promised to hire a full-time CFU technical director and technical department once elected, also vowed to:
Improve the credibility and image of The Caribbean Football Union through inclusive and collaborative leadership and transparency;
Redefine The CFU's vision, mission and core values;
Lobby and incorporate leading football bodies such as UEFA, in assisting member countries improve their level of and number of certified coaches as well as the standard of refereeing and football administration. It is my intent to as soon as possible after being elected to sign an MOU with UEFA in this regard.
Conduct the activities of the CFU at all levels in a manner that is consistent with the highest ethical and moral standards."
An organisational chart suggested that John-Williams, as CFU president, will be the second rung on the food chain and subservient to the Caribbean's board of directors, which will "frame and make policy" for the regional game.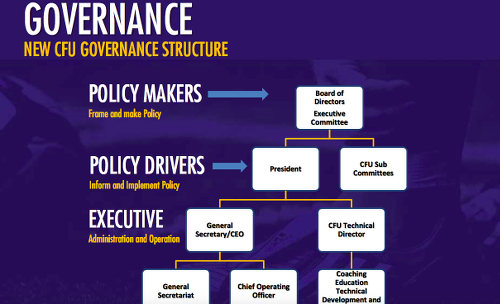 It is a promise that he has not kept in Trinidad and Tobago.
Last Thursday, John-Williams and TTFA vice-president Joanne Salazar suggested that they would seek an amendment to the local constitution, so as to give the executive committee—president and three vice-presidents—the power to make decisions without need to consult the other nine members of their board of directors.