Central FC and former Naparima College striker Nicholas Dillon bagged five goals last night as Trinidad and Tobago dismantled the Turks and Caicos 11-0 in the Caribbean Football Union (CFU) Under-20 Championships action at the Ato Boldon Stadium in Couva.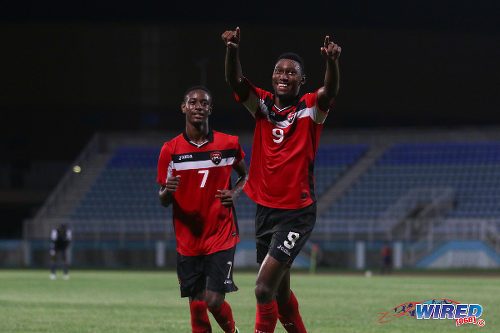 On Wednesday evening, the young Soca Warriors found great difficulty outplaying a pressing Guadeloupe outfit. But last night the boys in red, white and black were given ample room to play and they made the visitors pay dearly: 11 times to be exact.
From the onset, Turks and Caicos showed a lack of attacking ambition as they packed all but one player in their half of the pitch. The speedy Wilkins Sylvins was tasked with attacking all on his lonesome, and despite his best efforts to harass T&T defenders Kierron Mason and Taryk Sampson, the Turks' backs were always against the wall.
Goalkeeper Jabari Brice and midfielder Morgan Bruce-De Rouche were inserted into the T&T lineup for Jadel Poon-Lewis and the combative Shane Sandy. Brice virtually became one of the 2,000 supporters in Couva last night, but the British based Bruce-De Rouche was heavily involved in the hosts early midfield play.
"No disrespect to the Turks and Caicos, we saw them play and we knew that we could have gone at them a little more offensively," Warriors coach Brian Williams told Wired868. "We inserted little more offensive players which worked out well for us. I removed Sandy and played two attacking midfielders."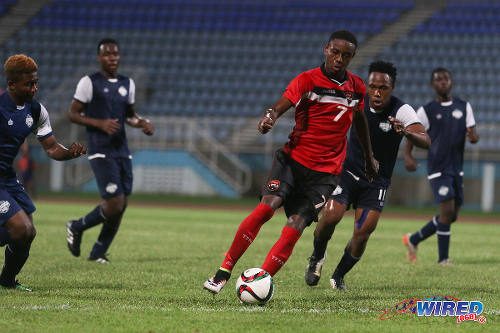 Bruce-De Rouche was instrumental in T&T's first goal in the 11th minute as he threaded a lovely ball to Wednesday night's hero, Jarred Dass. And although Dass was unable to get the ball under his spell, Dillon was on the spot to slot in the opening item.
The lead was doubled just four minutes later as attacker Isaiah Hudson was able to beat Gilbert Tilus with consummate ease at his first post.
The visitors had everyone bar Sylvins behind the ball, but their pressure on the ball was next to nil as they allowed Bruce-De Rouche, Kareem Riley and T&T skipper Jabari Mitchell to dominate proceedings in the middle of the park. The Turks and Caicos team belatedly applied pressure when the home team was nearing their penalty area.
Wing-backs Noah Powder and Kori Cupid were virtually playing as wingers in the first half, and Powder was able to assist an unmarked Dillon for his second item in the 29th minute after floating up a cross from the left flank.
At Tuesday's press conference to launch the CFU tournament, Turks and Caicos coach Dane Ritchie warned: "T and T don't expect to run away with it."
Painfully for Ritchie, the home team did a lot more than run away with last night's encounter, as they slammed a further eight goals past the helpless Tilus in the second half.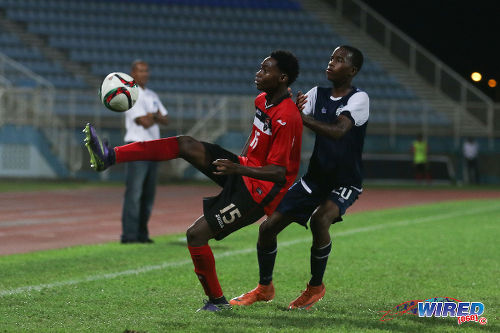 "At half time, coach told us not to be relaxed and he asked us to go out there and kill off the team," Dillon told TTFA Media.
Dillon and his peers were very obedient last night as they racked up three goals inside the first five minutes of the second half. Mason headed in from a Mitchell corner less than a minute after the resumption, while Dillon notched his hat-trick after a nice feed from Hudson in the 49th minute.
A minute later, Powder then scored what was arguably the goal of the night as he arrowed a vicious volley into the far corner from just outside the area.
"The goalkeeper opted to leave [it] alone," one spectator remarked.
The rampant Warriors were in full fury and their opponents looked like they couldn't wait for the final whistle. The Turks lost their outlet ball too, as Sylvins was no longer up to the challenge of chasing down loose balls.
The T&T team really expressed themselves in the final stages of the game, and some slick passes and fancy flicks came out of the lockers. In the process Dillon scored his quintuplet, Hudson grabbed his second of the night, while Bruce-De Rouche and substitute Micah Lanisqout scored a goal apiece.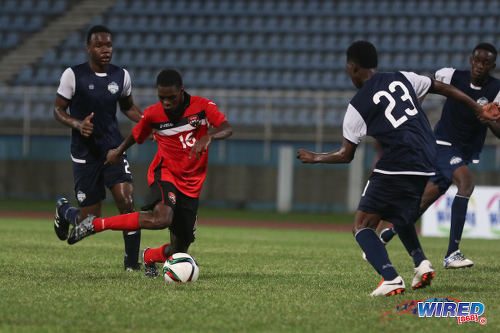 But the loudest cheer of the night came when Tilus somehow managed to stop a powerful point-blank blast by Dillon two minutes from time; Dillon had long won that battle though.
Williams said after:
Obviously our attention was to score as many goals as possible and keep the nil. In our game preparation we were looking at five-plus goals and it was a big boost to our team spirit as we got eleven goals. There's always room for improvement but scoring eleven goals in a football game at any level is a good achievement so I was very happy about the boys' performance.
Despite last night's 11-nil thumping, Williams and his staff are keen on ensuring that their players stay grounded for the top-of-the-table clash with St Lucia tomorrow:
All members of staff have a military background which is a plus for us because they ensure that the guys are always disciplined and focused. Sunday is a new page, Wednesday and Friday are already gone. We are focused on St Lucia […] I know St Lucia is always a very competitive team. And we know they will be working hard because they need three points to top the group.
Williams' team is almost guaranteed a spot in the next qualifying round, as the three best runners-up will accompany the four group winners in Curacao in October. But despite T&T's +12 goal differential, the former Strike Squad defender is going full throttle for the top group spot.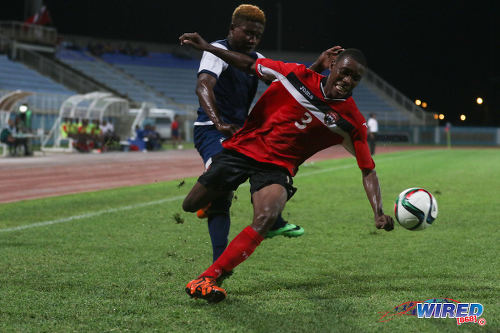 "We obviously want to maintain our good run in the tournament which will mean getting nine points with the no goals scored against us," Williams said.
In yesterday's first encounter, St Lucia got the better of Guadeloupe by a 1-nil margin thanks to a 47th minute item by their skipper Ryi Maryat.
St Lucia will hope to stun their hosts tomorrow when his team face the Trini lads from 6:30pm, while Guadeloupe and Turks and Caicos will try to finish the tournament on a high when they square off with each other from 4pm in evening's first fixture.
(Teams)
Trinidad and Tobago (4-1-4-1): 20.Jabari Brice (GK); 3.Kori Cupid, 5.Taryk Sampson (18.Jacob Sooklal 66), 4.Kierron Mason, 6.Noah Powder; 11.Kareem Riley; 7.Isaiah Hudson, 10.Jabari Mitchell (16.Micah Lansiquot 60), 19.Morgan Bruce-De Rouche, 8.Jarred Dass (15.Kathon St Hillaire 46); 9.Nicholas Dillon.
Unused Substitutes: 1.Jadel Poon-Lewis (GK), 2.Andrew Rullow, 12.Shane Sandy, 13.Isaiah Garcia, 14.Yohannes Richardson, 17.Rushawn Murphy.
Coach: Brian Williams
Turks and Caicos (4-4-1-1): 1.Gilbert Tilus (GK); 15.Adner Davilmar, 22.Jeff Balfour (captain), 19.Jepthe Francois, 23.James Lee Louis; 20.Ras Diamond, 21.Makenson Cadet, 11.Herby Magny, 14.Shinaider Charles (9.Ismael Louis 55); 18.Jose Elcius; 10.Wilkins Sylvins (7.Mordochee Inelus 69).
Unused Substitutes: 12.Wilnardo Ceneria, 16.Windy Joseph.
Coach: Dane Ritchie
Referee: Veralton Nembhard (Jamaica)
Man of the Match: Nicholas Dillon (Trinidad and Tobago)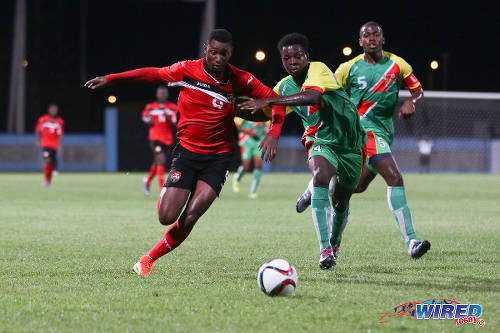 CFU Under-20 Championships Group 2
(Friday 17 June)
St Lucia 1 (Ryi Maryat 47), Guadeloupe 0 at Ato Boldon Stadium;
Trinidad and Tobago 11 (Nicholas Dillon 11, 29, 49, 61, 64, Isaiah Hudson 15, 58, Kierron Mason 46, Noah Powder 50, Micah Lansiquot 72, Morgan Bruce De-Rouche 83), Turks and Caicos 0 at Ato Boldon Stadium.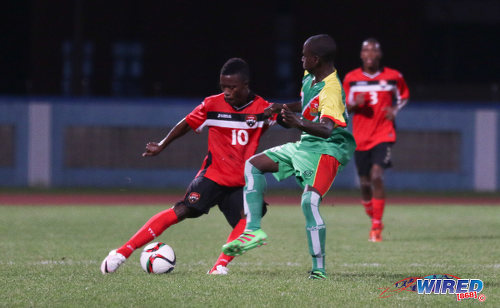 Upcoming fixtures
(Sunday June 19)
Guadeloupe vs Turks and Caicos, 4pm,
Trinidad and Tobago vs St Lucia, 6:30pm.