It was a battle of north versus south on the opening day of the 2016 Lucozade Sport Goal Shield at the Ato Boldon Stadium in Couva yesterday. And, by the time the dust settled, the Morvant Caledonia United and St Ann's Rangers players could have sang: "Ah want them south man and them to know…."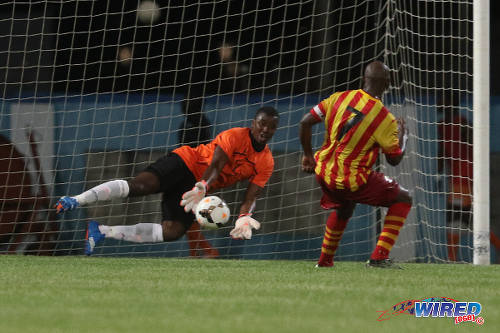 Yesterday's double header served as the qualifying round for the Lucozade Shield quarterfinals, and offered the Pro League's bottom four clubs the chance to brighten up their seasons.
Caledonia and Rangers seized the initiative as they came away with 3-1 and 1-nil victories over Point Fortin Civic and Club Sando respectively.
Rangers will now face Lucozade Shield defending champions and Pro League table-toppers Bankers Insurance Central FC from 6 pm at the same Couva venue on Friday. Caledonia will head to Port of Spain when they tackle Defence Force from 4 pm at the Hasely Crawford Stadium on Saturday.
In yesterday's opening match between Caledonia and Civic, the flow of the game was akin to a drama film, which teased for most of its duration before squeezing in the high-octane scenes at the climax.

'Cale' were already leading by a deserved 1-0 margin, through a first half item by defender-turn-attacker Robert Primus, when all the real action commenced in the 70th minute.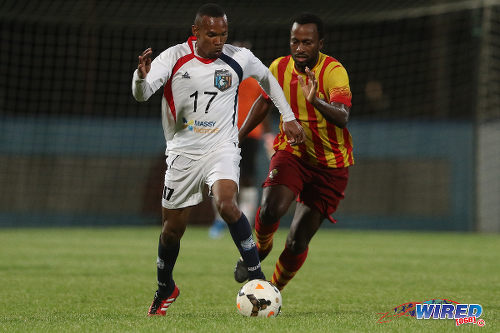 While Caledonia were wasteful at one end, Civic were steadily gaining momentum and posing an increasing threat to "Eastern Stallions" custodian and former Civic goalkeeper Marvin Phillip. And the Point Fortin team were rewarded for their persistence when midfielder Kelvin Modeste was clumsily bundled over in the penalty area by opposing defender Ranaldo Bailey.
Civic skipper Nickcolson Thomas, who rocked the crossbar with a swerving free kick just moments before, stepped up to the penalty spot to try his luck against Phillip from an even closer distance.
But Thomas was far from lucky, as the "Soca Warriors" goalkeeper nonchalantly wrapped up his penalty with a sprawling dive low to his left.
Phillip was not done there either, as his long clearance up field promptly initiated a Caledonia counter attack.
Civic centre back Kern Pierre inadvertently nodded the ball straight into Primus' path and the alert utility player squared for his unmarked skipper, Kareem "Tiny" Joseph, to tap home and double the Stallions' advantage.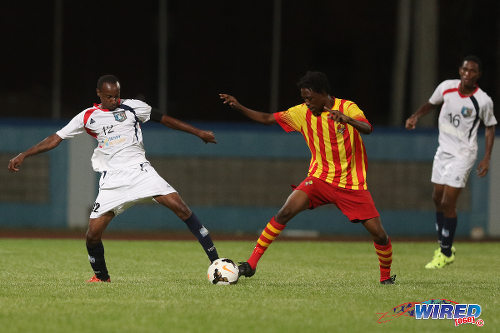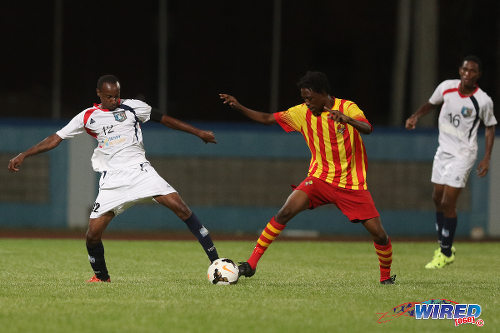 The drama had only just begun though. Civic pulled themselves back within a goal, two minutes later, as Modeste also a converted a tap after a studious build up in and around the Caledonia penalty area.
But Caledonia had the final word in the 78th minute, as they expertly exploited a stretched Civic backline.
The diminutive Guyanese attacker Pernell Schultz cut in from the right and found Tiny, who skilfully scooped the ball towards Jameel Neptune. And the Trinidad and Tobago National Futsal player cooly slotted past Civic custodian Akini Adams.
In truth, were it not for Adams, Caledonia would have enjoyed a more handsome margin of victory, as the lanky goalkeeper spectacularly stopped long range efforts by Neptune and midfielder Akim Armstrong in the first half.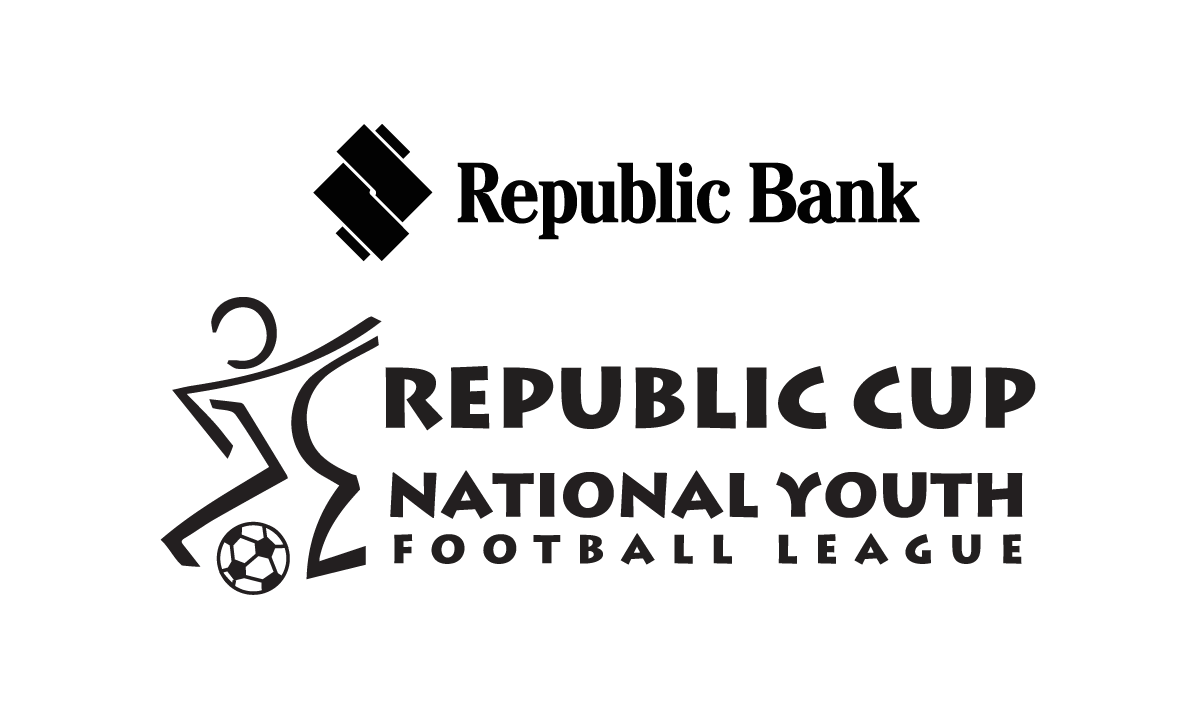 There was a fair bit of drama in the second match between Rangers and Club Sando as well. Referee Kevin Smart waved off penalty shouts from both teams—one appeal saw Johan Peltier booked for stimulation—while the woodwork was struck three times.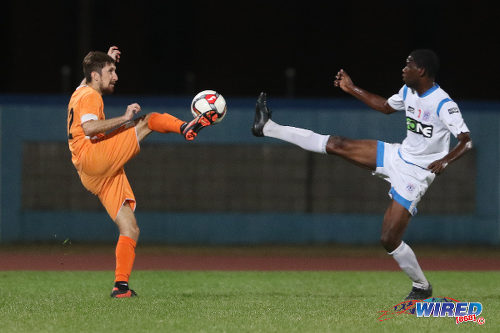 Rangers always looked more likely to break the deadlock in the breakneck end-to-end action but Peltier and his strike partner Kadeem Hutchinson were wasteful in front of goal. While Sando defender Coneal Thomas came close to an own goal with a mistimed clearance in the 14th minute clearance, which bounced back safely into play after kissing the crossbar.
The energetic first half gave way to a more pedestrian pace after the interval, and kicks from the penalty spot seemed increasingly likely as the game wore on. But not before a few more players showed their affection for the Ato Boldon Stadium's woodwork.
In the 67th minute, Sando striker Devon Modeste nearly pulled a rabbit out of the hat, as he took a lofted pass by Akeem Humphrey on his chest before smashing an overhead kick into the base of Rangers custodian Christopher Biggette's right hand upright.
Peltier then followed suit in the 82nd minute, as he somehow turned a Sedale McLean cross onto the post from six yards out with the goal at his mercy.
But, five minutes later, Peltier finally found the nylon, as he smartly headed an in-swinging Keron Cornwall corner into the top corner.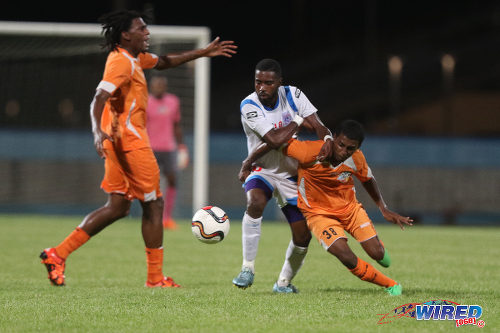 Coach Angus Eve's Rangers will hope to continue their late show on Friday when they face the ravenous "Couva Sharks" at the same venue.
(Teams)
Point Fortin Civic (4-2-3-1): 52.Akini Adams (GK); 3.Kurfi Pierre (20.Jamille Boatswain 74), 7.Nickolson Thomas (captain), 27.Kern Peters, 18.Shaquille Stewart; 32.Jamal John, 16.Kelvin Modeste; 8.Akeem Redhead (10.Bevon Bass 80), 29.Sylvester Teesdale, 17.Kestwin Goolie (11.Tigana Sparks 83); 24.Juma Clarence.
Unused Substitutes: 1.Miles Goodman (GK), 4.Nicholas Thomas, 26.Troy Moses, 33.Daniel Smith.
Coach: Leroy De Leon
Morvant Caledonia United (4-1-3-2): 1.Marvin Phillip (GK); 16.Antonio Joseph, 3.Ranaldo Bailey (12.Ordell Flemming 72), 18.Leslie Russell (11.Abdallah Phillips 84), 22.Jameel Neptune; 17.Akim Armstrong; 12.Kareem "Tiny" Joseph (captain), 5.Maestro Mensah, 6.Alexis Ambrose; 19.Robert Primus (15.Otev Lawrence 75), 28.Pernell Schultz.
Unused Substitutes: 34.Stephon Seepersad (GK), 8.Anthony Charles, 20.Jamaal Harvey, 29.Kareem Knights.
Coach: Jerry Moe
Referee: Dennis Changiah
Man of the Match: Robert Primus (Morvant Caledonia United)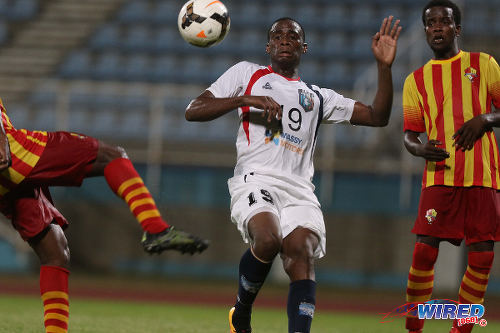 Lucozade Sport Goal Shield Qualifying Round 
(Tuesday April 5)
Morvant Caledonia United 3 (Robert Primus 42, Kareem Joseph 71, Jameel Neptune 78), Point Fortin Civic 1 (Kelvin Modeste 73) at Ato Boldon Stadium;
Club Sando 0, St Ann's Rangers 1 (Johan Peltier 87), Ato Boldon Stadium;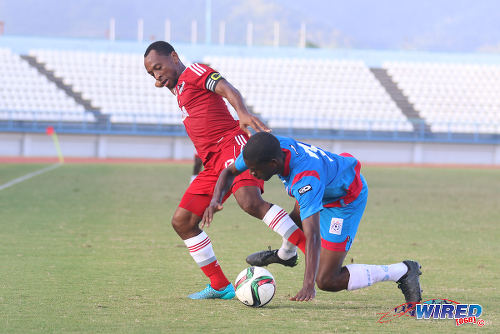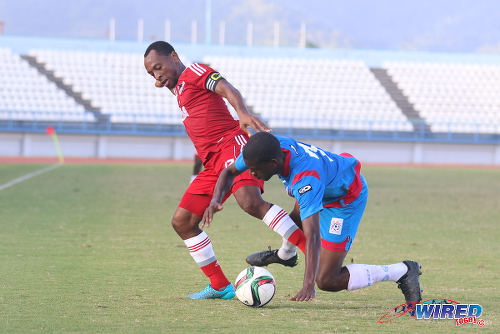 Upcoming fixtures
Quarterfinal Round
(Friday April 8)
Central FC vs St Ann's Rangers, 6 pm, Ato Boldon Stadium;
W Connection vs North East Stars, 8 pm, Ato Boldon Stadium;
(Saturday April 9)
Defence Force vs Morvant Caledonia United, 4 pm, Hasely Crawford Stadium;
San Juan Jabloteh vs Police FC, 6 pm, Hasely Crawford Stadium.