Play Whe San Juan Jabloteh's new midfield signing, Marvin Oliver, was cheered on at virtually every touch of the ball while the Barataria community responded warmly to the first TT Pro League affair at the Barataria Recreation Ground.
But it was a baby step, in more ways than one, as Jabloteh edged Point Fortin Civic 1-0 yesterday evening.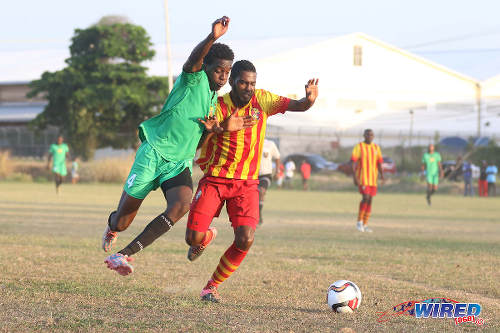 The result stretched Jabloteh's gap over fifth place Police FC to five points—the "Lawmen" face sixth place Japs North East Stars from 4 pm today at the Larry Gomes Stadium in Malabar—while, more importantly, it closed the gap to second place Defence Force to seven points. And Jabloteh have a game in hand.
Only the Pro League's top two teams advance to the CONCACAF Champions League's qualifying rounds. And Jabloteh coach Keith Jeffrey is anxious to steer the one-time heavyweights back to the confederation's showcase club tournament.
"(Our last nine league matches are like nine finals and we want to win all nine to place at least second," Jeffrey told Wired868. "We really want to do the (CONCACAF) club championships.
"Jabloteh's history has always been to be a part of the club championships… I think it is time we get back there."
It would be an exaggeration to say Jabloteh showed Champions League form yesterday. Just as it would be pushing it to say Barataria residents came out in their numbers to see the Pro League contest.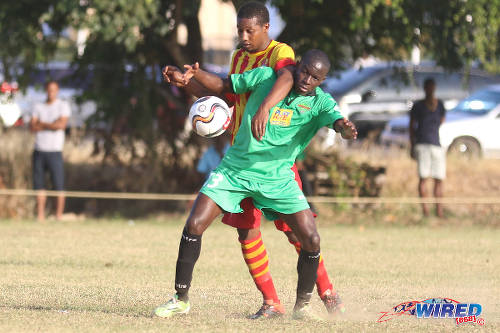 "If it was in the stadium, there might have been 12 people," said Jeffrey. "We had over 100 or so (observers). It will grow. People were already asking when is the next game in the community and we said 'next week Saturday'.
"I think the message will pass that Barataria is the ground where they are playing Pro League games. I think (yesterday's game) was a success."
In truth, the 200 odd spectators who witnessed yesterday's affair were probably identical in number to those who might have watched the game at the Hasely Crawford or Ato Boldon Stadium—although it was, largely, a different crowd.
But, rather than being spread around a 22,000 or 12,000 seater stadium, they were all visible and in closer quarters yesterday.
There are pluses to the Barataria ground that might catch on too. Parking space is available, there are lots of open spaces for children to run around and the ground is far enough from the road to force patrons to pay for entry: once it is properly fenced and a stand is built, of course.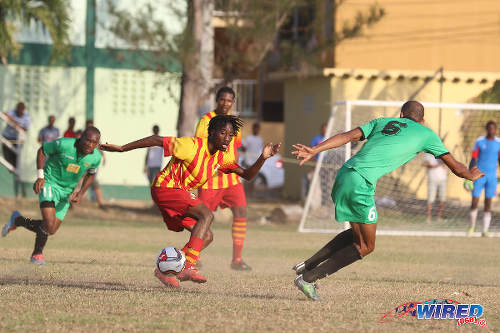 Most of all, the atmosphere was jovial and interactive.
Midway through the first half, Jabloteh left back Akeem "Battery" Benjamin went down clutching his midsection after a clash with an opponent.
In the stadium, Benjamin may have been 100 feet away from the closest supporter. Yesterday, the fans were five feet away and the defender could not help but hear their reaction.
"Battery, the man barely touch you!" one fan shouted, in between incredulous laughter.
"Nah man, I get lash," Benjamin responded. But he was struggling to stifle a mischievous smile.
Players' concentration will be tested on a ground in which supporters are often even closer to them, physically, than their coaches.
Oliver must have enjoyed it though. The Abasali brothers, who represent at least 90 percent of the exuberant "Central FC choir", came out to support their former captain and applauded his every contribution.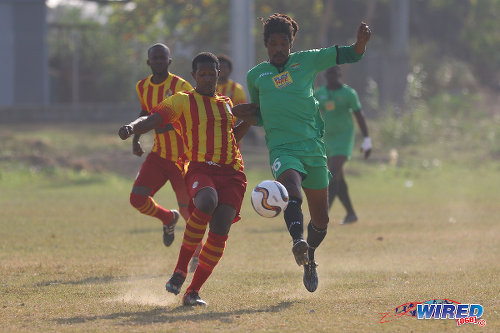 "You will swear Marvin is Messi, yes," one Point Fortin supporter grumbled.
Well, there was one rabona pass—executed by swinging your kicking leg behind your standing one, to hit the ball—from Oliver that sent Jabloteh winger Nathan Lewis clear down the right flank, which served as a reminder that the 41 year old Rastafarian is still a special player indeed.
Yesterday, Oliver's contribution was largely flawless, as he helped shuffle the ball from one teammate to the next. And Jabloteh players were happy to allow him to dictate terms.
But it was made easy by the fact that Jabloteh outnumbered Civic in centre field from the opening whistle. And it got worse from the 67th minute, as referee Marlon Peruse ejected Point Fortin left back Shaquille Stewart for his second bookable offence.
Credit then to central midfielder Jamal John, a transfer window signing from Siparia Spurs, who made life difficult for Oliver at times. And, with his sure touch and energy, was Civic's best outfield player.
It was Lewis who settled the game in the fourth minute, though, with a half volley from close range off a Benjamin cross.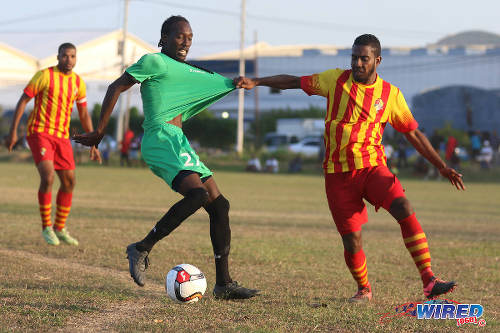 Jabloteh had a raft of chances to double their advantage but failed to take them. And Jeffrey breathed a sigh of relief when Point Fortin striker Juma Clarence clipped the top of the bar with an audacious effort from distance.
"The result is not a true reflection of what should have happened," said Jeffrey. "In the first 20 minutes, the game should have been three or four (to) nil. It is something that has been happening whole season where we are not capitalising on some of the shortcomings of the (opposing) teams.
"And that's why we only have 32 points. If we were executing a lot better, we would have been up (there) with Central FC."
On the sidelines, spectators discussed a range of issues not always related to Jabloteh.
"What happened to the (Pro League) competition where you could win a ticket to watch (an England) Premiership match?" one supporter asked.
"A young fellah from Carenage won," said match commissioner Wayne Cunningham.
"That is the thing allyuh have to bring back to the Pro League," the supporter responded. "When you could come out and win a flatscreen tv and thing. I taking that kinda gamble, man."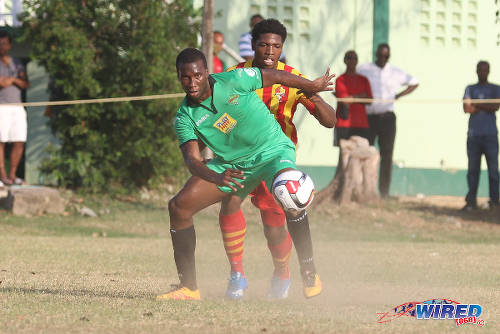 Another supporter had a less pricey freebie in mind.
"Boy, you have to be a Yankee yes!" one elder spectator loudly and dramatically chastised his viewing partner. "You're asking me to go with you and drink a beer but I have to buy my own beer?!
"… And imagine you never even travel to America self!"
An ice cream man found some joy with younger patrons on the southern edge of the ground. The problem was, to find a surface flat enough to cycle his cart on, the proprietor rode so close to the ground that the referee's assistant had to step aside for him to conduct his business.
"Man, you don't see a game going on?!" shouted one fan, who was more interested in beers than ice cream bars. "Move that cart from here nah!"
Pro League CEO Dexter Skeene suggested that a return to community grounds would give clubs the impetus to build a support base, which could ensure their survival.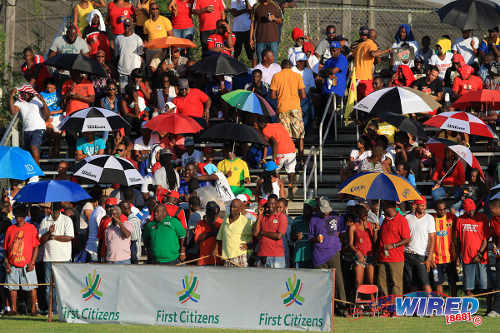 Maybe Jabloteh would eventually remember yesterday's outing at the Barataria Recreation Ground with fondness.
For now, Jeffrey is mostly concerned with beating Defence Force and DirecTV W Connection to second spot behind defending champions and current leaders, Central.
"There is a very big financial incentive (for finishing second) and the players know it," said Jeffrey, who also used former Jabloteh utility player Noel Williams as a second half substitute. "It is up to them now."
(Teams)
San Juan Jabloteh (4-2-3-1): 35.Andrew Durant (GK); 4.Garth Thomas, 21.Aquil Selby, 24.Adrian Reid, 6.Akeem Benjamin; 26.Marvin Oliver (20.Aaqil Campbell 81), 11.Damian Williams (captain); 27.Nathan Lewis (23.Kennedy Hinkson 87), 13.Fabian Reid, 24.Sean Bonval (2.Noel Williams 68); 7.Jamal Gay.
Unused substitutes: 36.Raheem Belgrave (GK), 9.Brent Sam, 15.Jerome McIntyre, 16.Kaashif Thomas.
Coach: Keith Jeffrey
Point Fortin Civic (4-1-3-2): 52.Akini Adams (GK); 11.Tigana Sparks, 15.Nedeon Noel (6.Jayson Joseph 28), 19.Andrei Pacheco (captain), 18.Shaquille Stewart; 7.Nickcolson Thomas; 30.Trent Lougheed (9.Shackiel Henry 32), 32.Jamal John, 8.Akeem Redhead; 29.Sylvester Teesdale, 24.Juma Clarence.
Unused substitutes: 1.Miles Goodman (GK), 3.Kurfi Pierre, 20.Jamille Boatswain, 21.Ronell Paul, 31.Shaquille Dublin.
Coach: Leroy De Leon
Referee: Marlon Peruse
Man of the match: Adrian Reid (San Juan Jabloteh)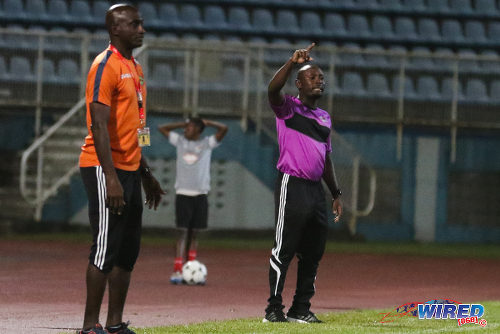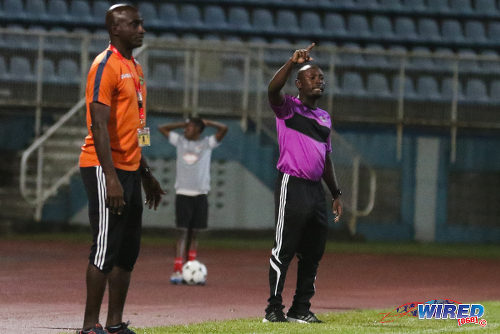 Pro League weekend results
(Friday March 4)
Morvant Caledonia Utd 2 (Kareem Knights 13, Pernell Schultz 44 pen), W Connection 2 (Shahdon Winchester 55, Dimitrie Apai 62) at Ato Boldon Stadium;
Central FC 1 (Marcus Joseph 13), Defence Force 0 at Ato Boldon Stadium;
(Saturday March 5)
St Ann's Rangers 2 (Keron Cornwall 47, Kadeem Hutchinson 70), Club Sando 3 (Jesse Downing 44, Devon Modeste 83, Bradley Nestor 87) at Mannie Ramjohn Stadium;
San Juan Jabloteh 1 (Nathan Lewis 4), Point Fortin Civic 0 at Barataria Recreation Ground;
(Sunday March 6)
North East Stars 5 (Kerry Baptiste 12, 70, 89, Gorean Highley 43, Reon Moore 75), Police FC 2 (Dylon King 79, Makesi Lewis 90+2) at Larry Gomes Stadium.
[standings league_id=2 template=compact logo=true]