Play Whe San Juan Jabloteh pulled within four points of 2015/16 TT Pro League leaders Defence Force yesterday with a 3-2 comeback victory over Point Fortin Civic at the Hasely Crawford Stadium.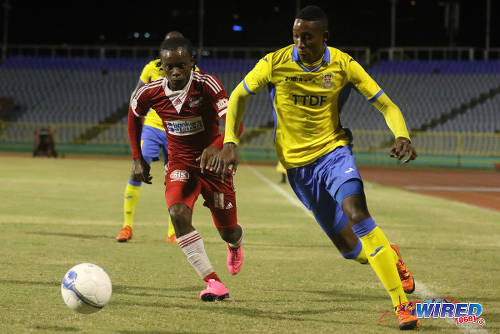 Second half goals by Kennedy Hinkson, Jamal Gay and Keyon Edwards dramatically tilted the game in Jabloteh's favour, as Civic forward Shackiel Henry saw his first half double overturned.
It was the second time in four days that Civic let a second half lead slip, as they were 2-1 up against Police on Saturday before losing 3-2 at the death.
Table-toppers Defence Force, who mauled Morvant Caledonia United 8-nil on Friday night, would have wished they had some goals left in reserve last night, as they played to a listless, goalless draw with third place Bankers Insurance Central FC.
The Army/Coast Guard combination were still able to stretch their Pro League lead to three points though, as rivals Police FC were pegged back by a Gorean "Ratty" Highley double at the Larry Gomes Stadium in a 2-0 defeat.

The first match of the Hasely Crawford Stadium double header did not start too auspiciously for the "San Juan Kings" as both attacker Tyrone Charles and goalkeeper Raheem "Birdie" Belgrave went down with injuries inside the first 10 ten minutes.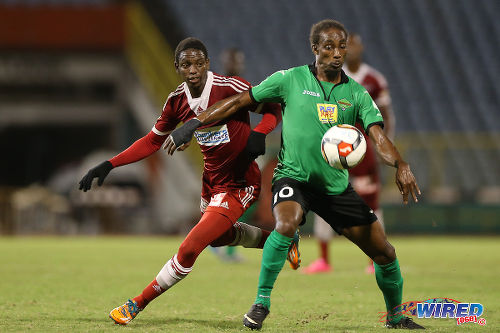 Charles, who made his "Soca Warriors" debut against Panama in a friendly last year, was able to shrug off his knock but Birdie was not so fortunate. There would be no soaring for the Jabloteh custodian after his innocuous-seeming leg injury, which occurred after a hurried clearance.
Belgrave's replacement, Shemel Louison, was put to the test almost immediately, and the Grenada international did not pass with flying colours.
In the 22nd minute, Civic attacker Jamille Botswain latched on to a swift throw in from the right flank and whipped in a dangerous, low ball which was met by an instinctive first time finish by Henry at the near post. To be fair, Lousion did not know what hit him, as it happened in a blur.
Jabloteh should have responded just three minutes later but Gay somehow failed to find the back of the net, after Charles beautifully carved out a chance with some neat footwork in the Civic penalty area.
Coach Keith Jeffrey's Jabloteh were seeing more of the ball in the first half. But they seemingly forgot how to use it, as their methodical play reaped little benefits.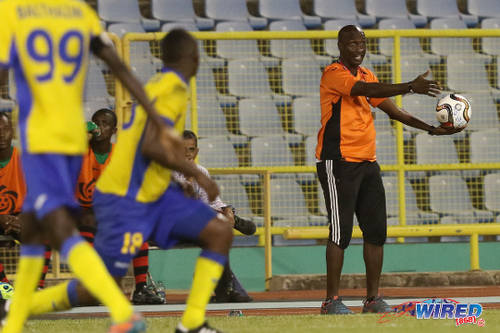 Henry was more cut-throat at the other end for Civic though, as he doubled his team's tally with a real poacher's item on the stroke of the interval.
Jeffrey made his intentions very clear at the start of the second half as he introduced San Juan North Secondary standout Brent Sam for central midfielder Kaashif Thomas.
Jeffrey's team talk must have been an inspiring one too as Hinkson equalised just two minutes after the restart with an absolutely delightful hit.
The diminutive utility player collected the ball on the left side of the box before checking inside his marker and curling a right-footer past the outstretched dive of Civic goalie Miles Goodman. Game on!
The lively Henry tried to mimic Hinkson's beauty in Civic's very next attack but screwed his effort just wide after shaking off defender Aquil Selby.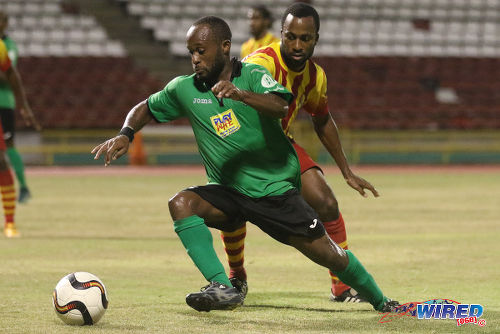 The end to end action continued as Sam shot agonisingly high in the 50th minute before Gay notched the equalizer just three minutes after.
The Civic defenders will not want coach Leroy De Leon to get a hold of last night's video footage though, as their marking was atrocious. And that is being generous.
Gay was unmarked when he headed in from all of four yards from a Charles corner in the 53rd minute and is bound to see tighter marking at his next training session. Goodman was left abandoned.
Civic centre-back Kern Peters made some headway in regaining the trust of his goalie in the 64th minute, as he deflected a goal-bound effort by Gay overbar after the lanky striker sprung the offside trap and rounded the shot-stopper.
The game grew increasingly stretched as it wore on and Henry buzzed at one end while Charles teased at the other with his set pieces.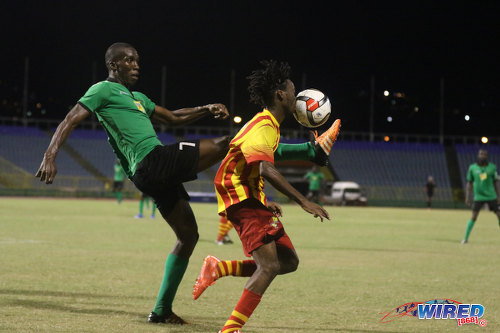 It seemed as though the Civic defenders were testing the Jabloteh playmaker to find the foreheads of his teammates, and Charles duly obliged.
Sam headed wide off one in-swinging Charles corner before veteran attacker Keyon Edwards converted another, as he headed into the back of the net under minimal pressure in the 72nd minute.
A few Civic fans belted out their feelings to the culpable players in the aftermath of Edwards' headed goal and it was far from pleasant.
Henry ensured that no faults could be found in his performance as he continued to give the Jabloteh backline a few things to think about. The wily attacker had an 80th minute free kick deflected just wide before he spanked an inventive shot wide of the near post, after a slick juggling act just two minutes later.
Unluckily for Henry, his teammates were not on the same wavelength last night and Jabloteh were able to safely execute their comeback.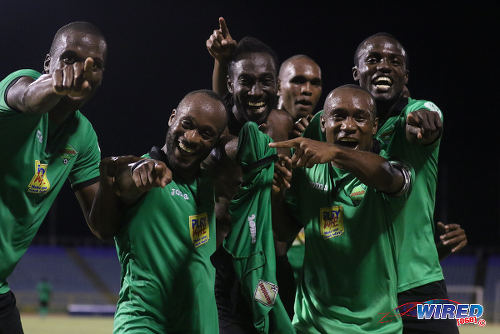 The second match of the night's double header promised a lot at the offing but in the end delivered very little.
Central are defending Pro League and Caribbean Club champions, while Defence Force are sitting pretty atop the current league standings and are scoring goals for fun.
"Army" have scored 29 Pro League goals to date and the league's all-time leading goal scorer Devorn Jorsling has only accounted for five of those.
Jorsling was missing in action last night and his teammates struggled to test "Soca Warrior" shot-stopper and Central captain Jan-Michael Williams between the sticks.
Army defender Glynn Franklyn eventually came closest to scoring in the 25th minute when he sent a header crashing off the crossbar.
Enigmatic Central playmaker Ataulla Guerra also went agonisingly close on a few occasions, including in stoppage time at the end of the contest, when he just failed to get significant contact to a cut back by substitute Ricardo John.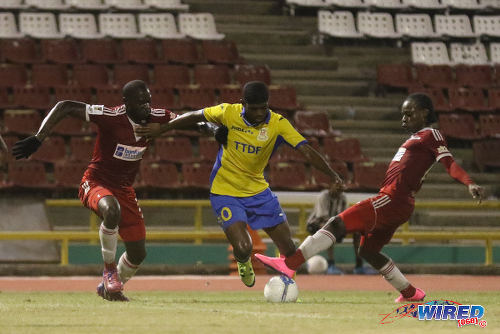 Elsewhere, Pro League newcomers Club Sando continued their remarkable change in fortune since the turn of the new year, as they copped their third straight victory with a 1-0 win over St Ann's Rangers at the Ato Boldon Stadium.
DIRECTV W Connection were also in winners' row as their dangerous duo of Jomal Williams and Shahdon Winchester both struck in a 4-2 win over Morvant Caledonia United.
Connection are currently unfamiliarly positioned in sixth while Caledonia continue to prop up the rear of the table.
(Teams)
San Juan Jabloteh (4-1-3-2): 36.Raheem Belgrave (GK) (30.Shemel Louison (GK) 12); 18.Jevon Morris, 21.Aquil Selby, 24.Adrian Reid, 5.Rickardo Harriott; 11.Damian Williams (captain); 23.Kennedy Hinkson (22.Caleb Sturge 74), 16.Kaashif Thomas (9.Brent Sam 46), 8.Keyon Edwards; 7.Jamal Gay, 10.Tyrone Charles.
Unused Substitutes: 4.Garth Thomas, 14.Sean Bonval, 27.Nathan Lewis.
Coach: Keith Jeffrey
Point Fortin Civic (4-4-2): 1.Miles Goodman (GK); 21.Ronnell Paul, 2.Garyl Doldron, 27.Kern Peters, 19.Andrei Pacheco (captain); 11.Tigana Sparks (10.Bevon Bass 85), 8.Akeem Redhead, 16.Kelvin Modeste, 14.Kerwin Stafford (18.Shaquille Stewart 56); 20.Jamille Botswain; 9.Shackiel Henry.
Unused Substitutes: 52.Akini Adams (GK), 3.Kurfi Pierre, 23.Mickell Charles, 25.Troy Moses, 26.Kern George.
Coach: Leroy De Leon
Referee: Keilon Bacchus
Man of the Match: Tyrone Charles (San Juan Jabloteh)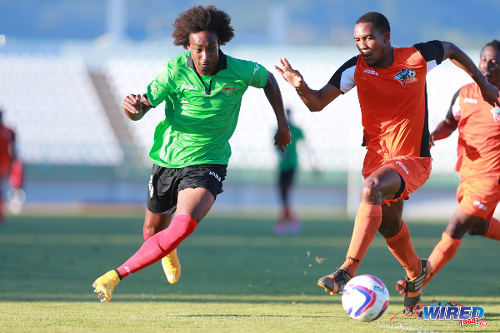 Pro League results
(Tuesday January 12)
Club Sando 1 (Jeromie Williams 66), St Ann's Rangers 0 at Ato Boldon Stadium;
W Connection 4 (Shahdon Winchester 3, 36, Jabari Mitchell 14, Jomal Williams 62), Morvant Caledonia Utd 2 (Pernell Schultz 63, Kareem Joseph 68) at Ato Boldon Stadium;
Police FC 0, North East Stars 2 (Gorean Highley 24, 42) at Larry Gomes Stadium;
San Juan Jabloteh 3 (Kennedy Hinkson 47, Jamal Gay 53, Keyon Edwards 72), Point Fortin Civic 2 (Shackiel Henry 22, 45) at Hasely Crawford Stadium;
Defence Force 0, Central FC 0 at Hasely Crawford Stadium;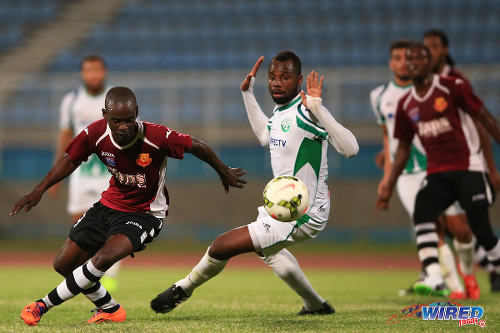 Upcoming fixtures
(Friday January 15)
Club Sando v North East Stars, 6 pm, Ato Boldon Stadium;
Central FC v Point Fortin Civic, 8 pm, Ato Boldon Stadium;
San Juan Jabloteh v Morvant Caledonia Utd, 6 pm, Hasely Crawford Stadium;
Defence Force v St Ann's Rangers, 8 pm, Hasely Crawford Stadium;
(Saturday January 16)
Police FC v W Connection, 3.30 pm, Larry Gomes Stadium.