"(Kimika Forbes) was outstanding tonight," Trinidad and Tobago Women's Senior National Team interim head coach Anthony Creece told Wired868 last night. "She came up with some saves and she made things happen. She is a rock back there."
For the second successive year, the "Women Soca Warriors" will challenge for a Caribbean title.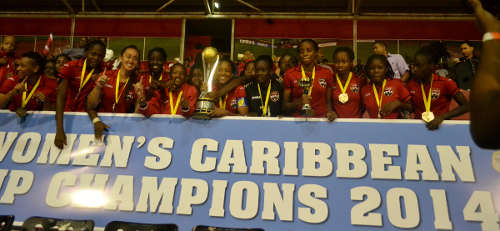 On Friday from 7.30 pm at the Ato Boldon Stadium in Couva, Trinidad and Tobago will face Puerto Rico in the Caribbean final of the regional 2016 Olympic qualifying round.
Judging from last night's 2-1 extra time win over Jamaica, it is difficult to anticipate what lies in store for the W/Warriors. On the one hand, the host team might have already played the toughest team in the competition.
But, on the other hand, they made really tough work of last night's triumph.

"At times, we were holding on," said Creece. "Of course, you have to put your chances away (and) we had some good chances when we went up 2-1 to put them away but we didn't.
"Jamaica is a pretty decent team and they had us on our heels for a while. So we had to sort out some things they were doing… It was just a matter of legs and heart."
There were just under 5,000 supporters at the Ato Boldon Stadium last night and, as they cheered and pleaded with the women footballers in equal measure, it was clear that the W/Warriors brand still means something in the stands and on the field.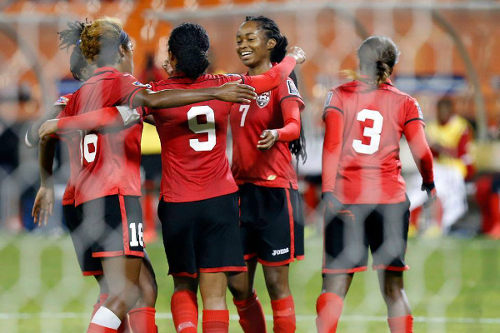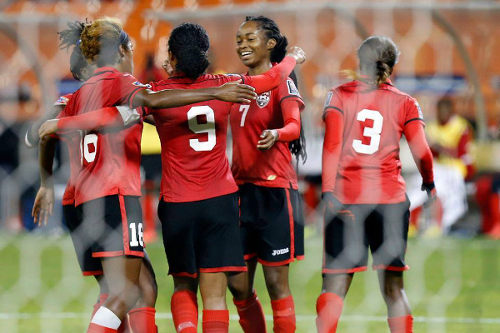 The issue has been whether the women's team matters enough in the Trinidad and Tobago Football Association's (TTFA) administrative offices.
The absence of playmaker Maylee Attin-Johnson and star attacker Kennya "Yaya" Cordner—among other prominent members of their 2015 World Cup qualifying squad—was one thing.
But the condition and cohesion of the national players who did take to the field was even more worrying. Most of the squad looked well below match fit while wayward crosses and passes troubled the ball attendants more than the Jamaica backline.
Head coach Randy Waldrum, who is in Texas while he negotiates the terms of his engagement with the TTFA, revealed the extent of their disarray last week. And Attin-Johnson and Cordner spoke to perceived managerial issues within the camp.
Result notwithstanding, the W/Warriors barely resembled the squad that played with such poise in CONCACAF last year and then held Argentina and Colombia at the Toronto 2015 Pan American Games, four months ago.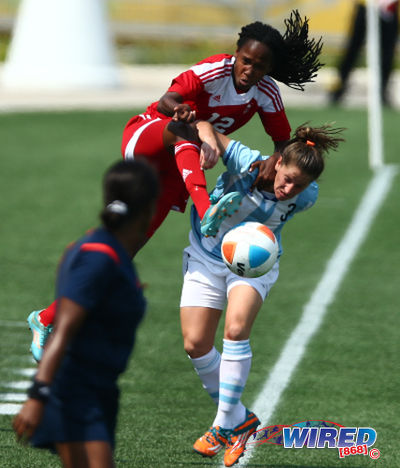 In contrast, Jamaica were slick, organised and business-like.
There was a stroke of good fortune about Jamaica's opening goal. But surely it had to come.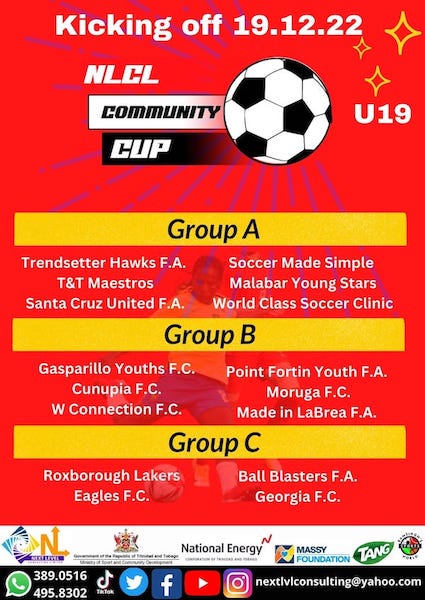 Forbes made a heavy touch on the ball and diminutive Jamaican midfielder Christina Murray, a league winner and all-star player at Trinidad and Tobago's inaugural Women's Premier League (WPL) competition, nipped in to steal possession and was promptly tripped.
Jodi-Ann McGregor, the WPL's MVP, calmly steered home the penalty to put Jamaica ahead on almost the stroke of halftime.
It was a rare blot from Forbes and maybe not totally unexpected. She had only gotten off a plane from New York about 18 hours earlier.
"Kimika flew in (on Tuesday night) and I picked her up at the airport at around 1 am (on Wednesday)," said Creece. "She and her sister (Karyn Forbes) and (Khadidra) Debesette. I asked them if they wanted to rest and they said no they want to be out there."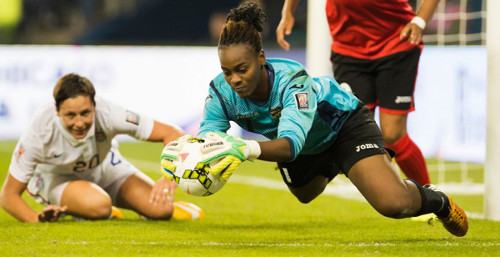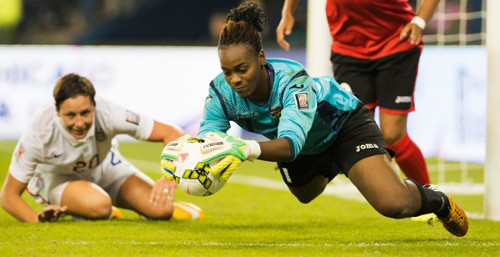 Forbes had a difficult choice to make a few days ago. The TTFA, according to team sources, sent the talented goalkeeper a plane ticket that covered only part of her journey. She had to meet the rest of her costs herself with the promise of reimbursement.
Forbes opted to return home. Another player who was absent for much of the team's preparation, Dernelle Mascall, also agreed to rejoin the squad as replacement for ailing striker Mariah Shade.
It proved to be a masterstroke as Forbes kept Jamaica at bay while, in the 60th minute, Mascall converted the equaliser from close range off a left side cross from Karyn "Bibi" Forbes.
Creece made a pointed message to the dissatisfied players within and outside his squad.
"What I told the girls when I came in is I just want them to concentrate on football," said Creece. "Let the administrators do the administrating and you just play football."
Creece's statement was a touch simplistic when, according to Waldrum, team manager Sharon O'Brien allegedly refused to fly Cordner home to represent Trinidad and Tobago because she paid her own way to North America to seek medical treatment for an injury suffered on international duty.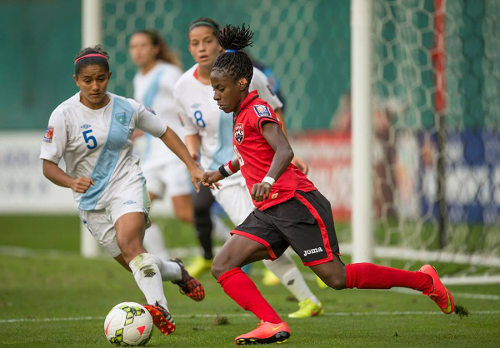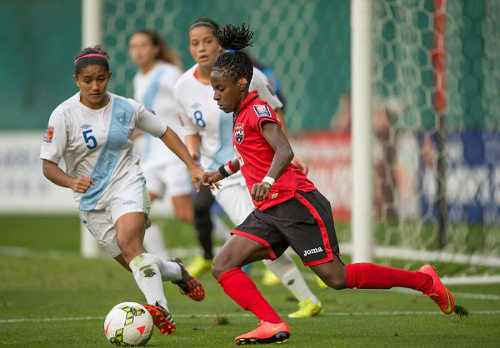 But then Creece too is caught up in the wave of uncertainty that surrounds the women's game.
"I am assistant coach at the moment," said Creece, when asked about his job title. "I haven't gotten any other information, so I am assistant coach. Interim head coach, I guess, because somebody has to be.
"But interim. Until further notice."
Mascall's goal may have breathed life into whatever national coaching ambitions Creece harbours. It was her last touch of the game before she was replaced by Naomie Guerra.
The "Reggae Girlz" froze as the W/Warriors flickered to life and Trinidad and Tobago had their best spell of the match.
Tasha St Louis—who, along with captain Arin King, central defender Victoria Swift and left back Daniella Blair, was one of the few local players to do herself justice—stung the palms of capable Jamaica custodian Nicole McClure in the 64th minute with a left footed scorcher.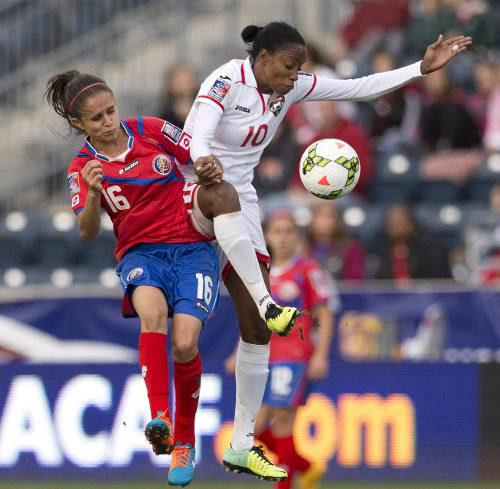 St Louis might have put the match to bed in the 86th minute too, as she raced on to a ball over the top but, harassed by recovering defender Konya Plummer, again failed to beat McClure.
But Kimika was vital too, as she pushed away an effort by Jamaica captain Christine Exeter in the 70th minute and then, a minute later, superbly denied substitute Venecia Reid in a one-on-one situation.
Somehow, with Jamaica midfielders Chinyelu Asher and McGregor repeatedly sliding balls into space for their runners down either flank, the W/Warriors were able to resist the onslaught.
In the stands, thousands of partisan fans ordered the team in red, white and black to stand firm.
"The people in the crowd were very influential in pushing our girls," said Creece. "They feel really appreciated when people come out and push us like this. They pushed us over the top and willed us to make it happen."
Jamaica continued where they left out in extra time and, within 24 seconds of the restart, Reid ran in off the left flank to receive a threaded ball inside the Trinidad and Tobago penalty area.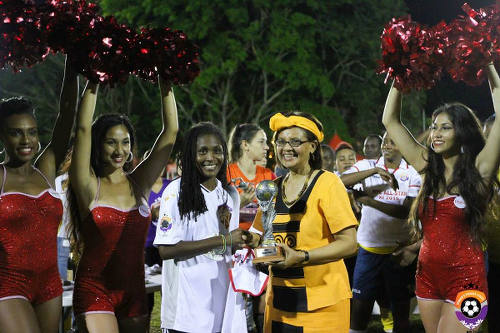 Kimika, who was beginning to look as though she had more arms than an octopus, saved low to again defy the Girlz. And, 28 seconds later, the ball was at the other end, where St Louis held off opposing defender Sashana Campbell to stroke past McClure.
The exaggerated celebration and roar of relief from the stands suggested what the goal meant to Trinidad and Tobago.
Two minutes later, St Louis almost produced an encore, off an Ahkeela Mollon cross, but was denied by a desperate Plummer tackle. Mollon had a half chance to provide an insurance goal on the break but it was by no means a sitter and her legs deserted her.
Otherwise, Jamaica continued to dominate.
Shaneka Gordon screamed in vain at Barbadian referee Gillian Martindale for a penalty in the 102nd minute, after she went down in a tangle with Swift. And Kimika produced yet another decisive save to preserve the hosts' advantage, early in the second half of extra time, to deny Exeter.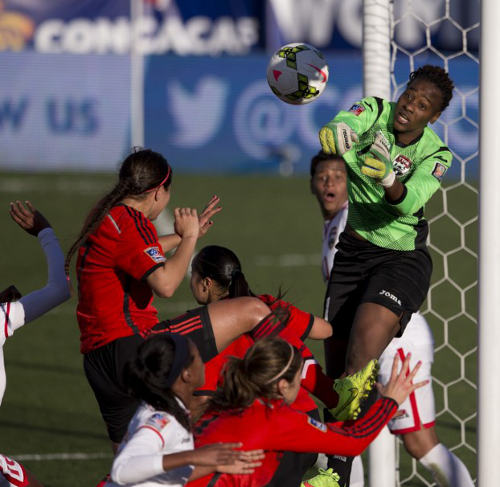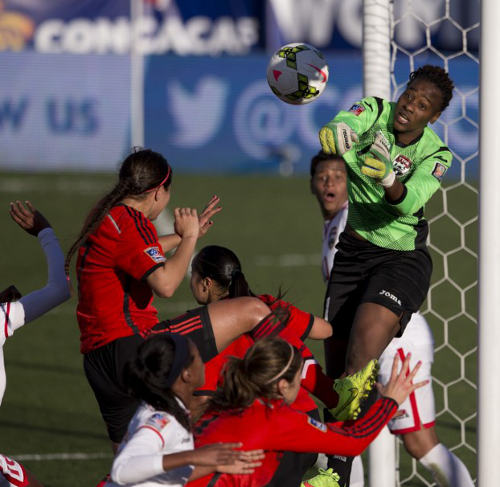 By the 110th minute, St Louis could go no further, as she succumbed to cramp and had to be stretchered off. And, for the final five minutes, the W/Warriors were pinned on top of their own penalty box and simply kicking the ball as far as they could for relief.
The final whistle sounded like a soothing, angelic whisper.
"I think they played excellent (football)," said Creece, of his squad. "We fought and showed heart… and everybody stepped it up. I can't be more proud of them."
He vowed that the W/Warriors intend to snatch a fourth straight victory on Friday night against Puerto Rico.
"The girls have said we don't just want to qualify," said Creece. "Now, we want to win this thing and go into the US game on a positive note."
The Trinidad and Tobago women, who were training with just seven and eight players barely a week ago, have just over two weeks preparation time before they face the United States, the FIFA World Cup champions, in friendly action at Honolulu, Hawaii on December 6.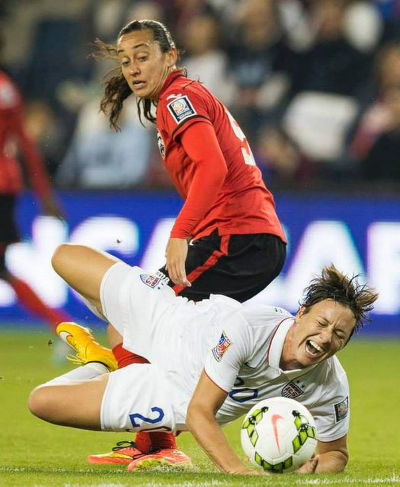 It would be a gross understatement to say that the W/Warriors are not the team they were, a year ago, when they lost by a solitary goal to the Americans.
"It is going to be a tremendous test of where we are (right now)," said Creece. "I would like to strengthen the team. We have some players outside and maybe they will want to come back because we need a bit more depth. But it is up to them…
"We are going to keep working and hopefully things fall in place and we can take a good contingent over to the States…
"I think these experiences will help… We have a new thing going on with some older ones and young ones and some new players coming to the fold, so we just want to build on it.
"It is a great experience to play against the world champions and all we can say is we will go out there and represent Trinidad and Tobago to the best of our ability."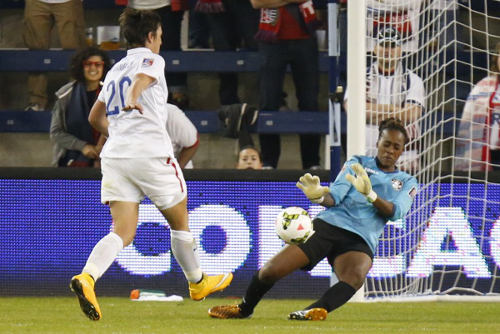 Considering their looming engagement with the US, Friday's date with Puerto Rico should be a piece of cake.
But, after last night's titanic struggle, the W/Warriors cannot afford to take Puerto Rico for granted either.
(Teams)
Trinidad and Tobago (4-3-2-1): 1.Kimika Forbes (GK); 20.Lauryn Hutchinson, 15.Victoria Swift, 5.Arin King (captain), 2.Danielle Blair; 10.Tasha St Louis (13.Annalis Cummings 110), 14.Karyn Forbes, 11.Janine Francois; 12.Ahkeela Mollon, 6.Khadidra Debesette (19.Chevonne John); 7.Dernelle Mascall (8.Naomie Guerra 60).
Unused substitutes: 17.Nicolette Craig (GK), 18.Tenesha Palmer (GK), 3.Melissa Woo Ling, 4.Daniella Findley, 9.Sharain Cummings.
Coach: Anthony Creece
Jamaica (4-2-3-1): 13.Nicole McClure (GK); 6.Natasha Douglas (16.Kenesha Reid 86), 5.Konya Plummer, 12.Sashana Campbell, 2.Lauren Silver; 14.Chinyelu Asher, 20.Jodi-Ann McGregor; 17.Shaneka Gordon, 11.Christina Murray (18.Shanise Foster 80), 4.Donna Kay Henry (7.Venecia Reid 63); 9.Christine Exeter (captain).
Unused substitutes: 1.Taylor Grant (GK), 3.Monique Pryce, 8.Ashleigh Shim, 10.Tashana Vincent,
Coach: Hue Menzies
Referee: Gillian Martindale (Barbados)
Player of the Match: Kimika Forbes (Trinidad and Tobago)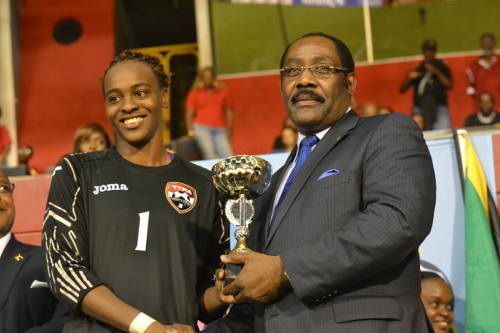 2016 Olympic qualifiers (Caribbean Zone) semifinals
(Wednesday November 18)
Puerto Rico 1, Guyana 0 at Couva;
*–Game decided in extra time;
Trinidad and Tobago 2 (Dernelle Mascall 60, Tasha St Louis 91), Jamaica 1 (Jodi-Ann McGregor 44 pen) at Couva;
*–Game decided in extra time;
(Friday November 20)
Jamaica v Guyana, 5 pm, Third place play off, Ato Boldon Stadium;
Trinidad and Tobago v Puerto Rico, 7.30 pm, Final, Ato Boldon Stadium.