Deadlocked at 0-0 after 90 minutes of 2018 World Cup qualifying action, the Trinidad and Tobago and United States head coaches continued to fight for an advantage in the post-game press conference at the Hasely Crawford Stadium tonight.
Trinidad and Tobago coach Stephen Hart felt his "Soca Warriors" should have sent the "Yanks" back home empty-handed.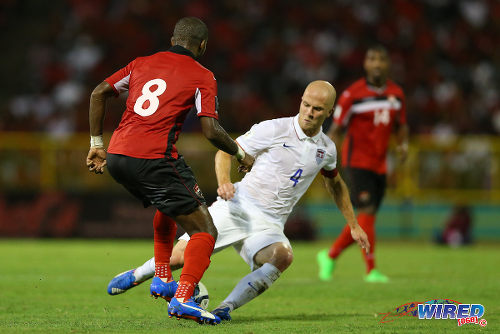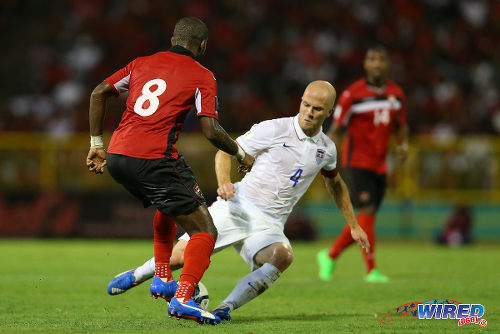 "I was pleased with our performance and I thought we controlled the game," said Hart. "Even in the second half when they looked as if they were controlling the game, they didn't really penetrate us and they only got one good shot…
"I think we let them off the hook."
United States coach Jurgen Klinsmann disagreed slightly over the balance of play and was quick to remind everyone about which team was leading the group, even though they only lead T&T by goal difference.
"It was a very tricky game," said Klinsmann. "I think Trinidad and Tobago started well and, after 25 minutes, we took over. There were chances on both sides (but) I think we had the clearest one.
"But a tie is alright and it keeps us first in the group."
In truth, it is remarkable that there is even a debate about which team did better tonight—one side has a multi-million dollar annual budget, more than a handful of players with top flight European experience and a population of over 318 million to choose from while the other football association sources players from roughly 1.5 million citizens, is bankrupt and has not paid its coach in four months.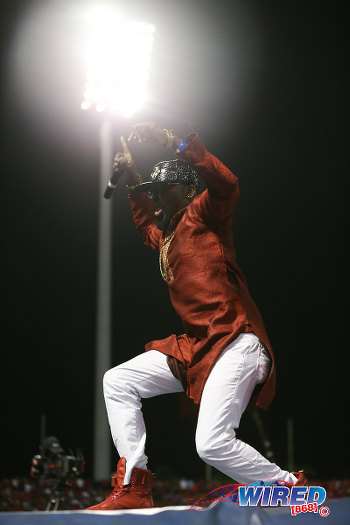 Before kick off, the stadium suffered two power outages while the battered seats and worn field looked distinctively like a hand-me-down.
But there is nothing shabby about the Warriors these days. Just maybe, whisper it, Trinidad and Tobago might be on the verge of something memorable.
There were 22,000 patrons at the Hasely Crawford Stadium today, which is the first time the venue was sold out since 12 October 2005 when the T&T edged Mexico 2-1 en route to a historic Germany 2006 World Cup berth.
And Klinsmann did not have long to discover what all the fuss was about.
There were barely 15 seconds on the clock before T&T had their first shot as a sweeping play involving Radanfah Abu Bakr, Cordell Cato and Kenwyne Jones ended with a hurried effort from Joevin Jones that cleared the bar.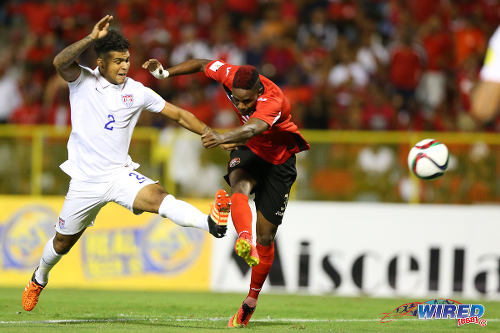 Kenwyne had a pop himself in the 12th minute but was wide at the near post while Cato dragged his shot wide of the far corner, under pressure from two US defenders, after an inviting through ball from Khaleem Hyland in the 25th minute.
Andre Boucaud was humming in midfield and Joevin and Cato, ably supported by Daneil Cyrus, were threatening down either flank. For all their promising build up play, though, there were a shortage of clear openings for the Warriors.
"(Central defenders Matt Beasler and Geoff Cameron) had Kenwyne Jones pretty much completely under control," said Klinsmann.
Beasler and Cameron got the credit but it was Germany-born midfielder Jermaine Jones who often did the hard work, particularly on goal kicks. Mr Jones versus Mr Jones beats Mayweather/Pacquaio hands down.
On the first meeting, Kenwyne blasted the American out of the sky. The second time around, the Trinidadian ended up stooped, rubbing a sore spot on his head while Jermaine smirked.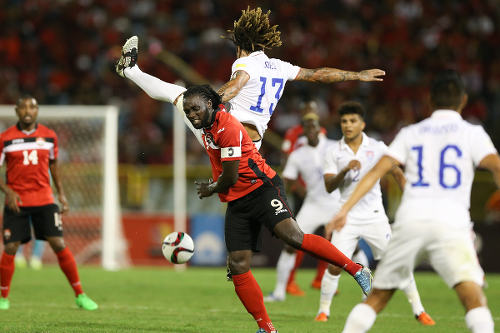 They never stopped. 'Keeping up with the Joneses' was a game within a game and, for peace's sake, one hopes they are staying at different hotels.
Klinsmann revealed after that Jermaine was carrying an injury and potential replacement, Kyle Beckerman, warmed up for the entire second half as a precaution.
"It was crucial that Jermaine played 90 minutes," said Klinsmann.
The days of giant Americans bullying artsy but lightweight T&T attackers are long gone. It is the United States players who are in danger of losing their lunch money if things get rowdy against the robust men in red, black and white gear.
By then, though, the tourists had gotten a feel for the venue and were beginning to get ideas.
Burly striker Jozy Altidore hammered one dipping effort just over bar in the 20th minute while Zardes and Altidore failed to make the most of opportunities in the 28th and 30th minutes respectively.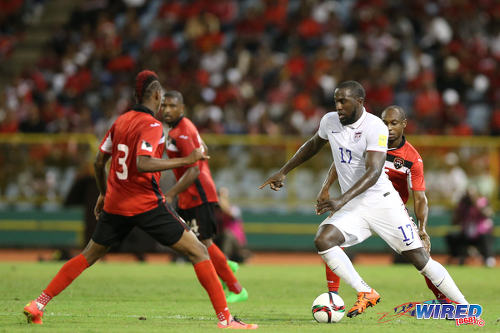 Zardes was an inch too short for Altidore's cross while the latter striker displayed the touch of a construction worker, when played through by Fabian Johnson, and was stripped by the alert Radanfah Abu Bakr.
The Yanks got off to a roaring start in the second half as, within seconds, Zardes headed against the bar after another Altidore cross.
"He has the smell for it," said Klinsmann, of the 24-year-old Zardes.
US attacker Clint Dempsey, who was left out tonight, probably scores a dozen of those before breakfast.
The moment of the match came in the 77th minute, as Jermaine uncorked one from about 25 yards that fizzed towards the top left hand corner. Somehow, Trinidad and Tobago goalkeeper Jan-Michael Williams was able to get a touch, which diverted the effort on to the bar and over for a corner kick.
It salvaged a point for the Warriors.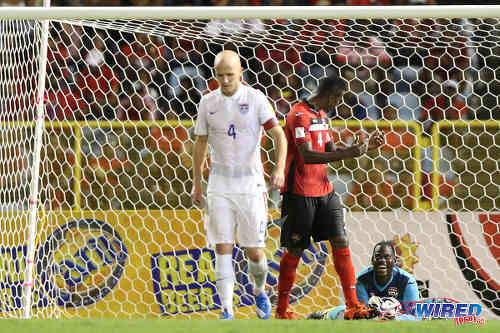 Klinsmann was not wrong when he said that his team had the better chances. But then Trinidad and Tobago got into good attacking positions on multiple occasions and won more than enough set pieces to challenge for three points.
Hart suggested his players should have been bolder.
"When Khaleem was high up the pitch, their two centre backs struggled," said Hart. "We started playing in front of them and it was possession for possession's sake. I felt we should have put them under a little more pressure."
On the sidelines, Hart and Klinsmann were also trying to outmanoeuvre each other.
The United States began with an old school 4-4-2 formation but captain Michael Bradley and Jermaine struggled with T&T's excellent midfield triangle of Boucaud, Hyland and Kevan George, particularly as Jermaine had to help manage the Warriors captain.
So, Klinsmann had Jermaine drop off as a midfield sweeper while the other three midfielders played closer together in front of him.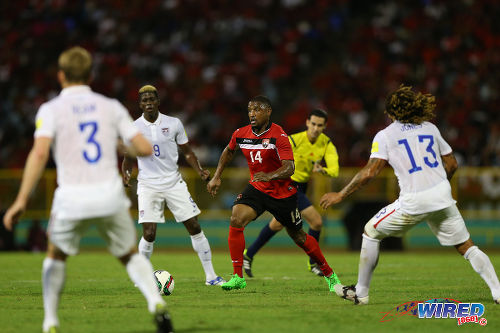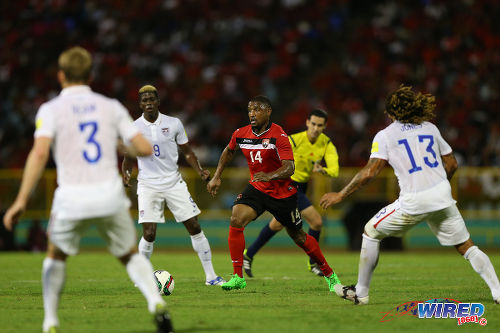 In the second half, it was the turn of the US coach to take the initiative as he withdrew Tim Leam and Johnson dropped to left back while Liberia-born substitute Darlington Nagbe went on the left flank.
"We've found a player who knows how to play and take care of the ball," said Klinsmann. "(Nagbe) is very comfortable on the ball and he gives us a different flow in the game because he connects the passes."
At the time, Joevin was marshalling Trinidad and Tobago's right flank. Hart quickly switched him with Cato and then sent on the fresh legs of Trevin Caesar to boot.
"(Nagbe) could play," said Hart, with a raised eyebrow and appreciative nod. "What they did was brought him on to take advantage of Joevin who had run himself out.
"When we switched back to Cato on that side, (Nagbe) started coming deep inside the pitch (into central midfield) and I wasn't worried about that."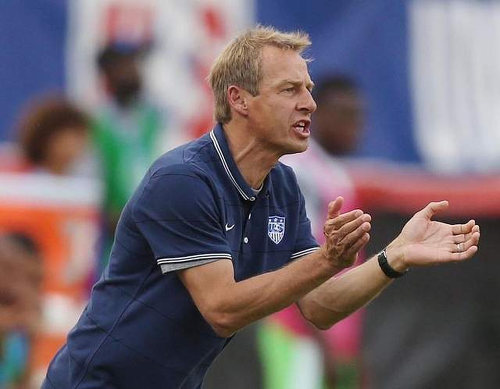 Klinsmann insisted that his soldiers were winning the war though.
"We want to finish the group as the number one team," said Klinsmann. "Our goal is to make a huge step in March with six points (home and away against Guatemala). It is important that you don't give anyone an advantage.
"Getting a tie (against T&T) means you leave them behind you."
Hart countered that the United States were ripe for the taking and his men will not be as inhibited in their next meeting.
"I felt on the first half performance alone we should have scored more than one," said the Warriors coach. "It is a psychological thing because it is the US (and) they are a CONCACAF powerhouse and have qualified for every World Cup since 1990. I think my team doesn't know how well they can play…
"I would have liked to be with six points (from Guatemala and the United States)."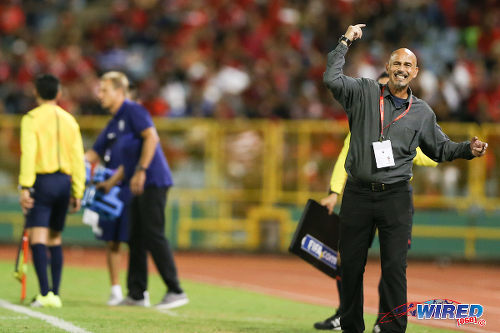 Hart's belief is contagious. Already local football fans are responding and they came out in their numbers today, although they were still largely reactive during the 90 minutes.
"It was fantastic," Hart said, of the turnout. "When they began singing the national anthem, it was very emotional. It was very nice. I thank them for that."
The Warriors do not travel to the US until next September. And 10 months is a long time in Trinidad and Tobago football.
"You don't want that break to come when you are playing well," said Hart.
But one suspects that the young men from the two island republic will no longer be content to finish second in the group.
The mighty United States should brace for a blast of T&T.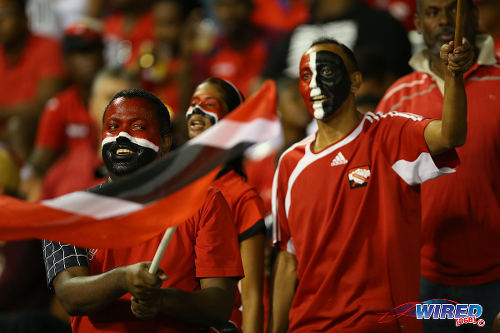 (Teams)
Trinidad and Tobago (4-2-3-1): 21.Jan-Michael Williams (GK), 5.Daneil Cyrus, 6.Radanfah Abu Bakr, 4.Sheldon Bateau, 17.Mekeil Williams (16.Justin Hoyte 75), 19.Kevan George, 14.Andre Boucaud (20.Keron Cummings 81), 13.Cordell Cato (11.Trevin Caesar 83), 8.Khaleem Hyland, 3.Joevin Jones, 9.Kenwyne Jones,
Unused substitutes: 1.Marvin Phillip (GK), 7.Jonathan Glenn, 10.Willis Plaza, 18.Yohance Marshall, 12.Carlyle Mitchell, 15.Neveal Hackshaw, 23.Lester Peltier.
Coach: Stephen Hart
United States (4-4-2): 12.Tim Howard (GK); 16.Michael Orozco, 20.Geoff Cameron, 5.Matt Beasler, 3.Tim Ream (6.Darlington Nagbe 67), 2.DeAndre Yedlin, 4.Michael Bradley (captain), 13.Jermaine Jones, 23.Fabian Johnson, 9.Gyasi Zardes (18.Bobby Wood 75), 17.Jozy Altidore,
Unused substitutes: 1.Brad Guzan (GK), 22.Bill Hamid (GK), 7.Miguel Ibarra, 8.Jordan Morris, 10.Mix Diskerud, 11.Brek Shea, 14.Matt Miazga, 15.Kyle Beckerman, 19.Ventura Alvarado, 21.Alan Gordon.
Coach: Jurgen Klinsmann
Referee: César Ramos (Mexico)
Man of the Match: Khaleem Hyland (Trinidad and Tobago)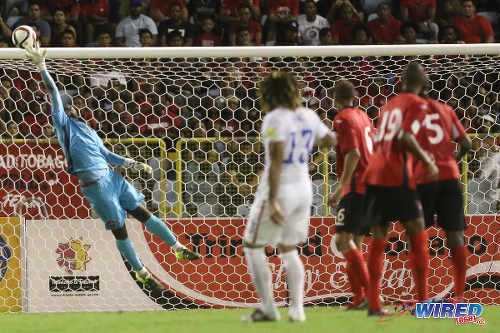 2018 World Cup qualifiers
Group C
(Tuesday November 17)
Trinidad and Tobago 0, USA 0 at Port of Spain;
St Vincent and the Grenadines 0, Guatemala 4 (Stefano Cincotta 23, Mynor Lopez 32, Dennis Lopez 48, Gerson Tinoco 81) at Arnos Vale;
(Friday November 13)
Guatemala 1 (Carlos Mejia 90), Trinidad and Tobago 2 (Khaleem Hyland 67, Kenwyne Jones 80) at Guatemala City,
USA 6 (Bobby Wood 11, Fabian Johnson 29, Jozy Altidore 31, 74, Geoff Cameron 51, Gyasi Zardes 58), St Vincent and the Grenadines 1 (Oalex Anderson 5) at St Louis.