The last time that Khaleem Hyland scored for Trinidad and Tobago, Patrick Manning was prime minister, Fay-Ann Lyons was Road March champion and JW and Blaze had not yet written "Palance."
But the Belgium-based midfielder's cool finish from outside the box was a welcome sight for "Soca Warriors" fans last night as the Trinidad and Tobago team started their Russia 2018 World Cup qualifying campaign with a 2-1 win away to Guatemala.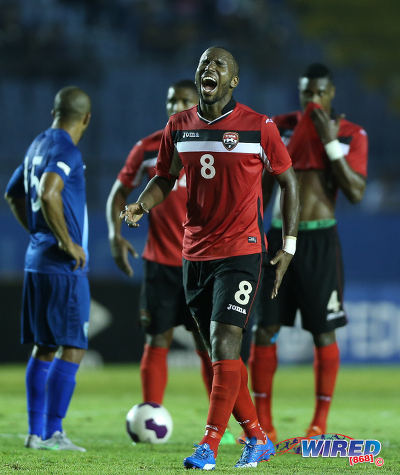 You would have to go back even longer for Trinidad and Tobago's last successful visit to the Estadio Mateo Flores in Guatemala City. Hyland was just two months old when the "Land of the Hummingbird" last snatched a win in Guatemala.
Kerry Jamerson was the goal scorer then as the "Strike Squad" embarked on an unforgettable—although ultimately unsuccessful—push towards the Italy 1990 World Cup.
Can Hyland's strike similarly inspire a fresh wave of belief in the "Red, White and Black?"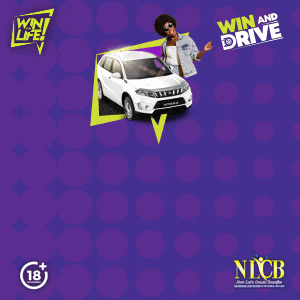 The Warriors' performances at the 2015 Gold Cup have suggested that they might be capable of something memorable too and there will surely be a rush for tickets for next Tuesday's home qualifier against the United States in Port of Spain.
US "soccer" has not seen anything like this current squad in Trinidad before, although that is a double-edged sword.
Traditionally, United States teams have come prepared to bully more lightweight T&T outfits stuffed with ball artists like Russell Latapy, Arnold Dwarika and David Nakhid.
Not these Warriors.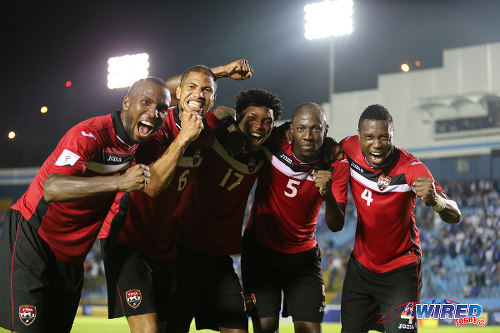 "It was not pretty to watch at all," Trinidad and Tobago head coach Stephen Hart told Wired868. "The first half was littered with poor decisions in possession and a lack of movement. But we did better once (Kevan) George and (Cordell) Cato came on."
Guatemala coach Ivan Sopegno, an Argentine native, might still be wondering what hit them.
At the July Gold Cup, Guatemala, who started with a 3-4-3 formation then, were exposed on the flanks and found themselves three goals down by the interval, after some rapid counterattacks.
Tonight, Sopegno made sure to squeeze space in the wide areas to protect against Trinidad and Tobago's counter-attacking ability, while he often had two Guatemalans near to Joevin Jones.
Guatemala played two centre forwards too in an attempt to apply early pressure on the Warriors backline, which might have tickled Hart.
In their last friendly against Nicaragua, Trinidad and Tobago made a big show of playing the ball out from the back. But, Hart explained in private then, it was a decoy. And Sopegno's tactical alteration left plenty of room for Andre Boucaud to operate in midfield.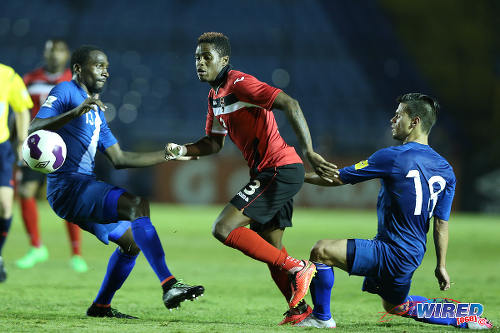 The problem was Jones (J) was kept under closer observation than Ruth Marchan at Walmart and Lester Peltier, not for the first time, would have been completely invisible if not for sporadic moans at the Canadian match official, Mathieu Bourdeau.
Elsewhere, Keron "Ball Pest" Cummings rarely got close to captain Kenwyne Jones and left back Mekeil Williams offered little offensive help to Joevin.
It meant gridlock and Guatemala created the better opportunities during that period, as striker Gerson Tinoco and machiavellian captain Carlos Ruiz threatened constantly.
Trinidad and Tobago custodian Jan-Michael Williams was fortunate to save one Tinoco effort with his legs in the 12th minute while he twice reacted quickly to punch away from Ruiz.
At halftime, the Warriors had not managed a single attempt on goal and, worse, seemed to have no idea how to engineer a chance.
If anything, Guatemala made an even better start to the second half. Between the 55th and the 58th minutes, the Central American nation won five straight corner kicks as the Warriors were pinned back.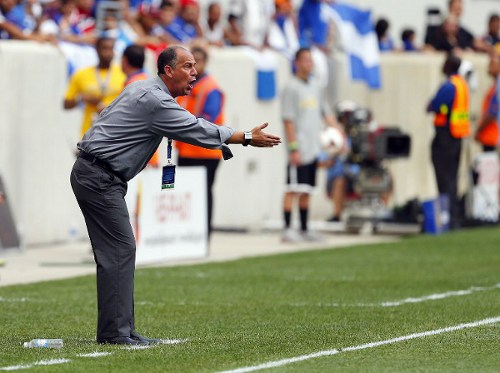 That was when the Guatemalans were really in trouble though.
The likes of Trinidad and Tobago defenders Sheldon Bateau, Daneil Cyrus and Radanfah Abu Bakr can defend set pieces all day long. And it is when opponents smell blood and press forward in their numbers that the Warriors are most dangerous.
But Hart still had not made that dramatic and decisive shuffle of his chess pieces.
In the 61st and 63rd minutes, he brought on midfield destroyer Kevan George and speed demon Cordell Cato at the expense of Cummings and Peltier respectively. And the barrel-chested Hyland was pushed into an advanced midfield role, as was the case for the final 25 minutes against Nicaragua.
"I wanted Andre (Boucaud) and Hyland to put earlier pressure on (Jose Contreras) and (Fredy Thompson)," said Hart. "We were not dealing well with their five man midfield."
But Hart got more than he bargained before as, in the 67th minute, the 26 year old midfielder won possession about 25 yards away from the Guatemala goal and calmly stroked the ball past partially unsighted opposing goalkeeper Paulo Motta and into the far corner.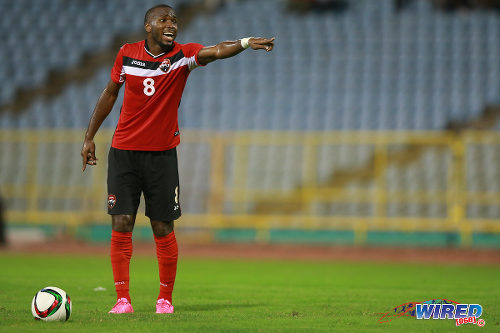 On the last occasion that Hyland celebrated an international goal, Everton assistant coach Dennis Lawrence was still wearing Trinidad and Tobago colours, Cristiano Ronaldo was still a Manchester United player and Calder Hart was the UDECOTT executive chairman.
Trinidad and Tobago have never lost a game under Hart once they nosed ahead. And Guatemala soon discovered why.
Sopegno was forced to gamble now and off went auxiliary right back Stefano Cincotta in the 74th minute as Guatemala went on the offensive. And, six minutes later, Joevin took full advantage of the space, as he shaped a beautiful, curving ball into the path of his namesake, Kenwyne.
And the giant Cardiff city forward responded with a superb side footed volley into the far corner. It was his 15th international goal in 26 outings under Hart.
Incidentally, Argentina striker Sergio Aguero has managed 16 goals in his last 28 international appearances.
Food for thought, perhaps, for fans who are still unconvinced about Jones' ability to lead the line for Trinidad and Tobago's 2018 World Cup charge.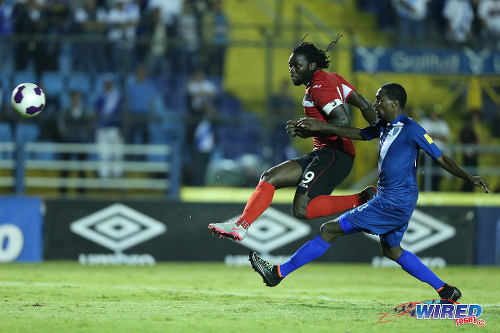 There was a frustrating late blemish by the Warriors. Williams (JM) picked up a late caution for time wasting while, one minute into stoppage time, Trinidad and Tobago conceded a soft goal as Ruiz wriggled free in the penalty box and squared for substitute Carlos Mejia to convert.
But Guatemala could not get a second item and the final blast of Bourdeau's whistle confirmed a successful three point haul for the Warriors.
The United States are next. Coach Klinsmann's men will have to prepare themselves for a physical contest and an aerial battering while their tactics must be spot-on to resist Trinidad and Tobago's quick offensive transition.
Oh how things have changed.
(Teams)
Trinidad and Tobago (4-2-3-1): 21.Jan-Michael Williams (GK); 5.Daneil Cyrus, 6.Radanfah Abu Bakr, 4.Sheldon Bateau, 17.Mekeil Williams; 8.Khaleem Hyland 14.Andre Boucaud; 23.Lester Peltier (13.Cordell Cato 63), 20.Keron Cummings (19.Kevan George 61), 3.Joevin Jones; 9.Kenwyne Jones (10.Willis Plaza 84).
Unused substitutes: 1.Marvin Phillip (GK), 7.Jonathan Glenn, 18.Yohance Marshall, 16.Justin Hoyte, 12.Carlyle Mitchell, 15.Neveal Hackshaw, 11.Trevin Caesar.
Coach: Stephen Hart
Guatemala (3-4-1-2): 12.Paulo Motta (GK); 4.Hamilton Lopez, 3.Elias Vasquez (6.Carlos Mejia 54), 13.Dennis Lopez; 18.Stefano Cincotta (7.Henry Lopez 74), 15.Fredy Thompson, 10.Jose Contreras, 11.Moises Hernandez; 16.Marco Papa; 9.Gerson Tinoco (22.Mynor Lopez 83), 20.Carlos Ruiz (captain),
Coach: Ivan Sopegno
Referee: Mathieu Bourdeau (Canada)
Man of the match: Khaleem Hyland (Trinidad and Tobago)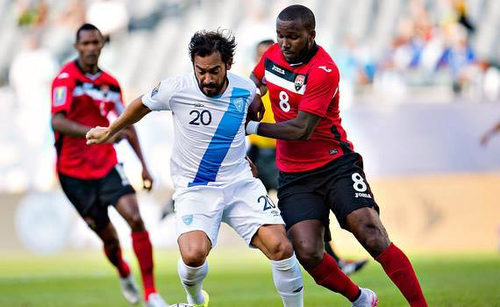 Russia 2018 World Cup qualifiers
(Friday November 13)
Group C
Guatemala 1 (Carlos Mejia 90), Trinidad and Tobago 2 (Khaleem Hyland 67, Kenwyne Jones 80) at Guatemala City;
USA 6 (Bobby Wood 11, Fabian Johnson 29, Jozy Altidore 31, 74, Geoff Cameron 51, Gyasi Zardes 58), St Vincent and the Grenadines 1 (Oalex Anderson 5) at St Louis;
Group B
Jamaica 0, Panama 2 (Armando Cooper 43, Wes Morgan OG 52) at Kingston;
Costa Rica 1 (Christian Gamboa 29), Haiti 0 at San Jose
Group A
Mexico 3 (Andre Guardado 7, Hector Herrera 42, Carlos Vela 64), El Salvador 0 at Mexico City;
Canada 1 (Will Johnson 38), Honduras 0 at Vancouver.