Queen's Park Cricket Club (QPCC) dropped two points behind NSL Championship Division leaders Prisons FC yesterday as the "Parkites" battled to a cagey 0-0 draw with the visiting Petit Valley United FC at the Queen's Park Oval.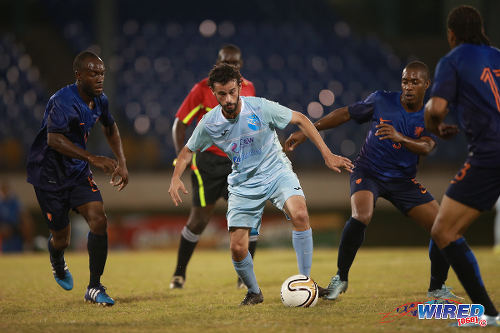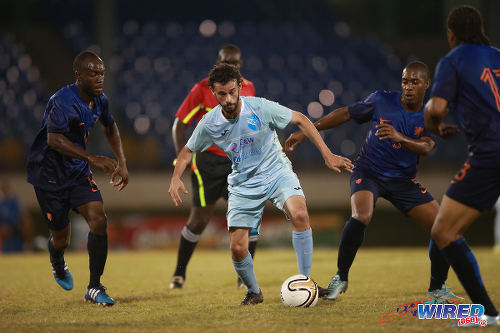 The Parkites were unable to penetrate a very compact and rugged Petit Valley backline, which did exactly what Valley coach Ronald Daniel had asked of them.
"We were prepared for this game and we came with a defensive plan," Daniel told Wired868. "The plan worked very well because we did not concede any goals."
Petit Valley right-back Michael Ramsey and centre-half Sydney Charles, in particular, were uncompromising at the back, fearless in their 50/50 tackles and imposing in the air against their leaner QPCC opponents.
Parkites striker Benedict Barrett should have probably foiled Valley's plans though, as he had the best opportunities in a game in which goal scoring chances were few and far between.
Tricky QPCC playmaker Jason Devenish beat Petit Valley's improbably high defensive line in the 11th minute with an audacious long range diagonal pass but Barrett was dispossessed as he prepared to pull the trigger in the penalty area.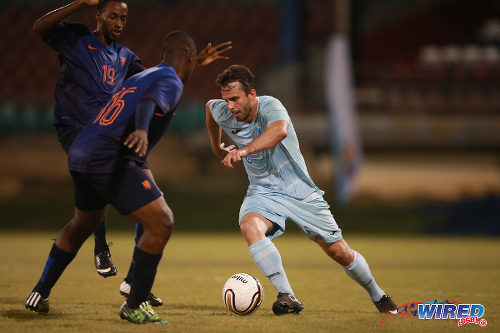 QPCC winger Mikhail Walters-Dindial then intelligently slipped in Barrett in the 15th minute but the latter could not find a teammate after rounding Petit Valley goalkeeper Perry Leigh O'Connor.
At the other end, despite some neat exchanges, Petit Valley attackers Keston Bibby-Cummings and Jabari "Jah Jah" Caresquero were having similar problems breaching QPCC's rock-solid centre-back pairing of David Campbell and Alex Knaggs.
Both teams picked up the pace a bit in the second half in an effort to break the shackles.
Jah Jah found a marauding David Charles with an incisive through ball in the 54th minute but the Valley central midfielder's effort lacked the subtlety of the pass which found him.
Seven minutes later, Knaggs, who confidently strutted into midfield when it suited him, expertly picked out another Charles, Jerome. But the striker's finish fell well short of his "Drogba" alias, as he headed over bar from six yards out.
Caresquero had come alive down Valley's right wing by then as he tried to deliver a miracle for the visitors. On more than occasion, his quick feet left several Parkites defenders in his path in the 65th minute.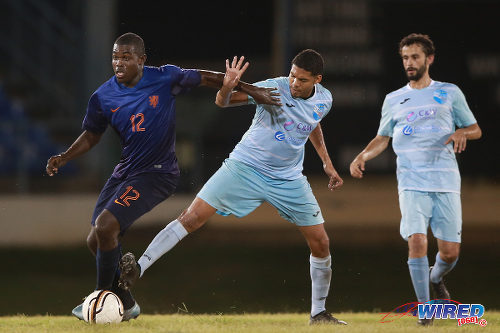 But, just when it seemed like Jah Jah was on the verge of a breakthrough, the Valley coach withdrew him.
"(Jah Jah) was lively but he wasn't giving me what I'm accustomed to," said Daniel. "Offensively he was lively yes but defensively he was not keeping his positioning. And where he was supposed to be clever, he was not clever."
Jah Jah was not the only one who failed a demanding Daniel yesterday, as referee Glendon Superville also made a crucial no-call that did not sit right with the Petit Valley coach.
"We should have come out 1-nil as there was a blatant, open penalty but the referee didn't call," said Daniel.
Petit Valley midfielder Eric Charles was presented with a glorious one-on-one opportunity with QPCC custodian Nicholas Dick in the 90th minute. But he dallied on the ball long enough for a retreating Knaggs to get between him and the ball and shepherd it back to the goalkeeper.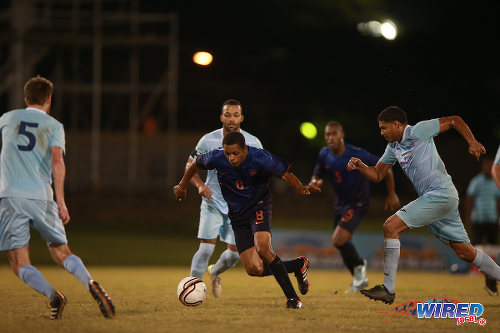 The visiting technical staff and substitutes were in uproar as they appealed to Superville for a penalty. But the man with the whistle remained unbothered.
Both QPCC and Petit Valley will hope the goals start back rattling in as they move on to NSL knockout action this weekend.
(Teams)
QPCC (4-4-2): 1.Nicholas Dick (GK); 13.Kishan Geelal, 21.Alex Knaggs, 5.David Campbell, 3.Jovan Marshall; 11.Mikhail Walters-Dindial (17.Ross Dowden 38), 14.Ryan De Silva, 4.Mikhail Awai (captain), 10.Jason Devenish (23.Abiola Clarence 61); 19.Jerome Charles (12.Jovica Bristol), 9.Benedict Barrett.
Unused Substitutes: 2.Clint Hospedales, 20.Shabaka Mahluli, 30.Jeremiah Goddard.
Coach: Shawn Cooper
Petit Valley United (4-2-3-1): 33.Perry Leigh O'Connor (GK); 16.Michael Ramsey, 13.Sydney Charles, 18.Chijioke Edwards, 14.Quason Hartman; 12.David Charles (3.Shane Davidson 90+2), 5.Mashama Baptiste; 8.Eric Charles, 19.Keston Bibby-Cummings (21.Isaiah Irish 88), 6.Karamo Samuel (captain); 10.Jabari Caresquero (20.Sheldon Aberdeen 78).
Unused Substitutes: 1.Akini Awai (GK), 22.Simon Pierre.
Coach: Ronald Daniel
Referee: Glendon Superville
Man of the Match: Alex Knaggs (QPCC)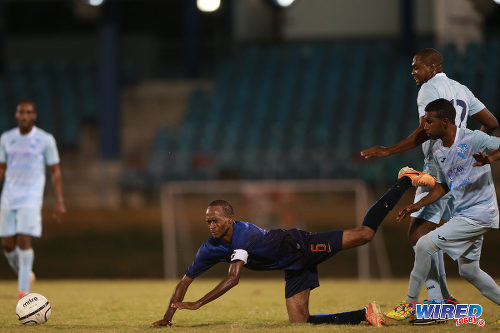 CNG National Super League Championship Division
(Tuesday September 29)
Barrackpore United SC 0, Xtra Foods Chaguanas 0;
Malabar FC 1 (Richard Ayers 90), Prisons FC 3 (Ricardo Alleyne [2], own goal 50);
UTT 3 (Isaiah Mejias 7, McRoy McKnight 29, Jamal Creighton 76), Edinburgh 500 FC 0;
Cunupia FC 2 (Own goal 11, Lester Joseph 19), Saddle Hill Hotspur 2 (Hector Same 45, Cyrano Glen 87);
QPCC 0, Petit Valley 0.