St Anthony's College produced an inspired second half performance yesterday afternoon to notch a 2-nil win over Trinity College East in a clash of two struggling SSFL Premier Division teams.
Goals by substitute Shem Clauzel and winger Kathon St Hillaire were enough for St Anthony's first home win this year and only the school's second win of the season in front of a small Westmoorings crowd.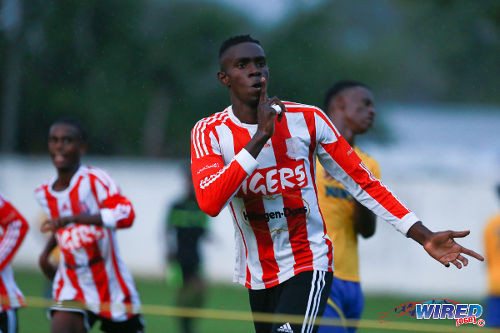 "We are in a regrouping phase right now," St Anthony's coach Nigel Grosvenor told Wired868. "We have to try and stay afloat this year and look to come back stronger next year."
While the "Westmoorings Tigers" are struggling to replace the likes of departed defender Isaiah McIntyre and playmaker Matthew Woo-Ling, Trinity College East is adjusting to a new coach after five successive losses—three of which came under previous coach Adrian Romain.
Romain was the second SSFL coach to be replaced last week after Fatima College also relieved Jason Spence of his duties.

At Westmoorings, with new coach Gerald Pollonais at the helm, Trinity's "Blue Hawks" suffered loss number six.
"It is a transition and we have a young team of mainly fourteen and fifteen year-olds so we are building," said Pollonais. "The message we want to send to them is to enjoy this (SSFL) because when this is over it is not coming back.
"Twenty years from now they will meet their friends and talk about this event with fondness. So we are encouraging them to be positive."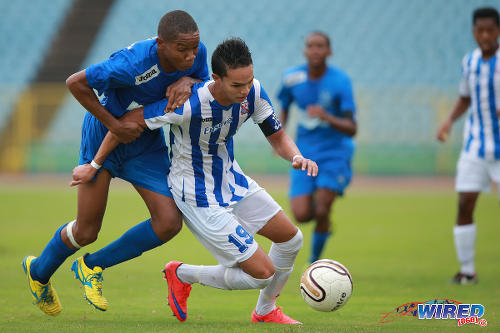 On the field of play, the young Hawks were full of vigour and enthusiasm. But those attributes never really translated into threatening moments for Tigers custodian Jabari Brice or sweeper Joseph Simon.
At the other end, the Tigers attack was also subdued as St Hillaire and dangerous front man Kwesi "Jep" Allen found it difficult to find their shooting ranges.
But a halftime talk by Grosvenor got the Tigers prowling again.
"We spoke to them at half time and we told them settle down and stop arguing," said Grosvenor. "(We said) just relax and play what we practiced, which is knocking the ball around."
The Tigers definitely started moving the ball around with more confidence and guile in the second half and the introductions of Clauzel and striker Nkosi Salandy helped.
St Hillaire, who won the 2014 Intercol title with the now relegated Mucurapo East Secondary last season, sprung to life with a switch to the right flank and played a big part to play in St Anthony's opener in the 61st minute.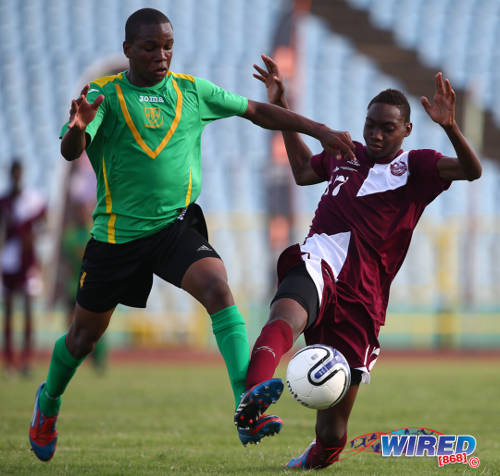 Allen picked out St Hillaire at the far post with a precise cross from the left flank and the winger unselfishly headed the ball back into the path of Clauzel, who had the simple task of tapping home.
"Offside ref, offside ref!" shouted the eager Trinity supporters
But no flag was raised in their favour.
Orr tried to respond for Trinity in the 70th minute but St Anthony's College goalkeeper Jabari Brice made a smart save from point blank range.
The Tigers attacked Trinity viciously in search of the game-clinching goal but "Jep" and St Hillaire still had problems finding the old onion bag.
Four minutes into stoppage time, St Hillaire finally put his demons to rest as he calmly slotted home after another lovely cross by "Jep" from the left wing.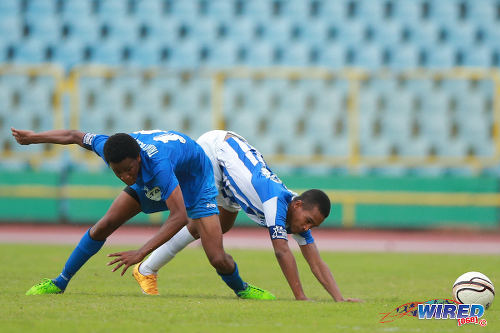 Grosvenor will definitely hope that his boys can maintain their second half intensity when they face defending champions, Naparima College, on Wednesday.
(Teams)
St Anthony's College (1-3-4-2): 1.Jabari Brice (GK); 18.Joseph Simon (captain); 20.Brent Joel, 15.Nicholas Moyou, 9.Shakeem Patrick; 11.Afriel Kerr (21.Nkosi Salandy 46), 16.Gyasi Moore (13.Shem Clauzel 46), 8.Jules Lee, 7.Kathon St Hillaire; 19.Andrew Rullow, 10.Kwesi "Jep" Allen.
Unused Substitutes: 22.Oba Augustine (GK), 17.Raheem Borde, 12.Jediel Harewood, 4.Haile Beckles.
Coach: Nigel Grosvenor
Trinity College East (4-2-3-1): 22.Shamall Joseph (GK); 6.Jalani Augustus, 3.Stephan Ealie, 17.Christian Ransome (captain), 15.Romario Williams; 7.Andre Raymond (26.Darius Pierre 87), 21.Davidson Lawrence; 9.Kishion Hackshaw, 18.Fortune Rivaldo (14.Akeino Edwards 77), 25.Myles Ryan (24.Jarved Elcock 55); 20.Nickel Orr.
Unused Substitutes: 16.Kemuel Keshwar, 19.Jonathan Plaza, 23.Winston Guiseppi.
Coach: Gerald Pollonais
Referee: Ishmael Mohammed
Man of the Match: Kathon St Hillaire (St Anthony's College)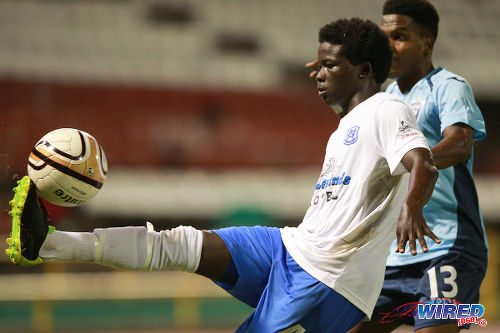 SSFL Premier Division results
(Saturday September 26)
St Anthony's 2 (Shem Clauzel 61, Kathon St Hillaire 90+4), Trinity College East 0 at Westmoorings;
Presentation San F'do 3 (Kori Cupid 24, Terrell Williams 38, Kareem Riley 71), Speyside High 2 (Kerri McDonald 6, Marcus Caesar 57) at Guaracara Park;
St Benedict's College 0, Naparima College 0 at St Benedict's;
QRC 3, Fyzabad Secondary 2 at QRC; (Game incomplete due to pitch invasion)
Trinity College Moka 2, Fatima College 2 at Moka;
St Mary's College 2, Carapichaima East 2 at St Mary's;
San Juan North 2 (Brandon Semper 1, Brent Sam 75), St Augustine 0 at San Juan;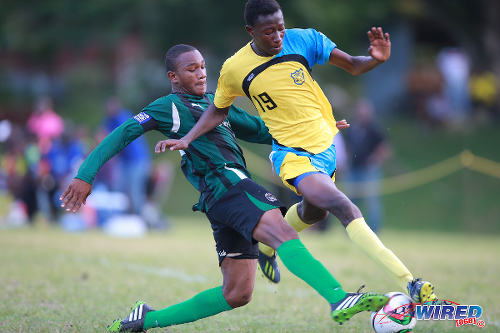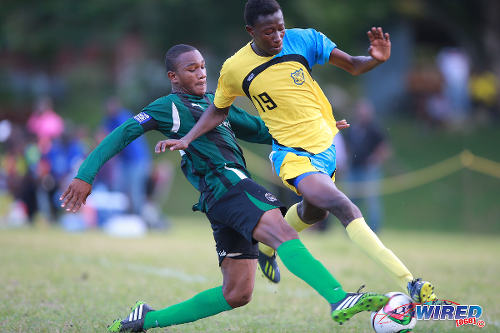 Upcoming SSFL fixtures
(Wednesday October 30)
Shiva Boys HC v Presentation San F'do, 3.45 pm, Penal;
Naparima College v St Anthony's College, 3.45 pm, Lewis St, San F'do;
Speyside High School v QRC, 3.45 pm, Speyside;
Fatima College v St Benedict's College, 3.45 pm, Fatima;
Fyzabad Secondary v St Mary's College, 3.45 pm, Fyzabad;
St Augustine v Trinity College Moka, 3.45 pm, St Augustine;
Carapichaima East v San Juan North, 3.45 pm, Carapichaima;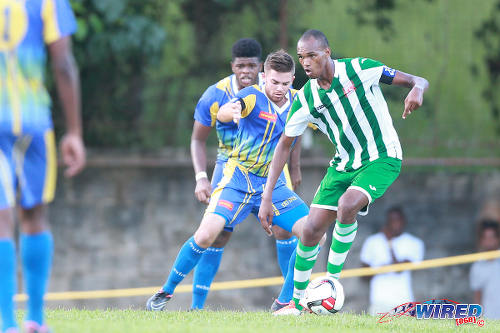 SSFL Standings (Tabulated as Played-Won-Drew-Lost-Goals For-Goals Against-Points)
Naparima College 6-5-1-0-10-2-16
Presentation SF     6-5-0-1-15-9-15
Shiva Boys HC        5-4-0-1-7-2-12
San Juan North     6-4-0-2-10-6-12
St Mary's College  6-3-1-2-12-5-10
St Benedict's           5-3-1-1-6-6-10
St Anthony's            5-2-1-2-7-9-7
St Augustine Sec    6-2-1-3-6-8-7
QRC                              5-1-3-1-5-5-6
Fyzabad Sec              4-2-0-2-6-8-6
Trinity Moka            5-1-2-2-11-12-5
Speyside High          5-1-1-3-9-12-4
Carapichaima E      6-0-3-3-5-10-3
Fatima College        6-0-2-4-8-13-2
Trinity East               6-0-0-6-4–14-0