TT Pro League all-time leading goal scorer Devorn Jorsling failed to convert a second half penalty as Defence Force was held 1-1 by St Ann's Rangers at the Hasely Crawford Stadium yesterday in the first competitive match of the 2015/16 season.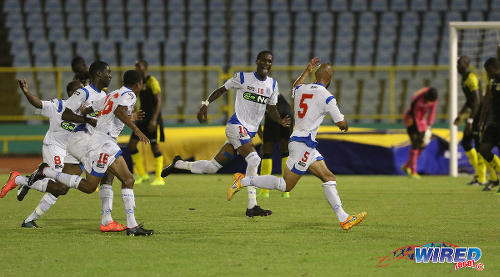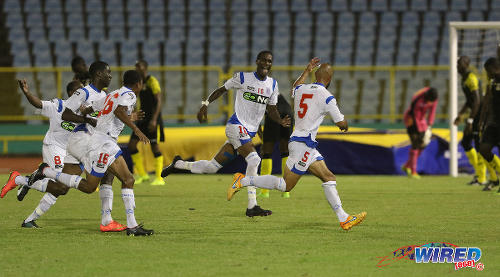 St Ann's Rangers goalkeeper Stefan Berkeley, who followed new Rangers coach Angus Eve from North East Stars, was the eventual hero in a sluggish contest that fell short of Pro League general secretary Julia Baptiste's wish for "extraordinary" showings.
Neither team really established a rhythm in 90 minutes of strong, physical play although there were a few solid individual performances from Rangers.
New Argentine signing Miguel Romeo, a former Caledonia AIA and Central FC midfielder, showed why Eve empowered him with the captain's armband.
Supported in central midfield by Sedate McLean, Romeo made life very difficult for the Defence Force midfield trio of Stephan Campbell, Dave Long and Jerwyn Balthazar in the first half. And his gritty play characterised Rangers early on as they pressed their opponents hard and often and kept a close eye on the dangerous Jorsling.

Eve's Rangers players treated Jorsling like his Naparima College squad did San Juan North star Brent Sam in the SSFL last week.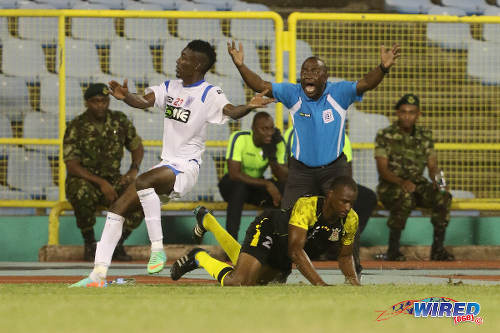 "No left foot! No left foot!" a Rangers defender shouted at his teammates, as Jorsling lined up a shot in the first half.
The physical and combative contest looked as though it was destined to finish with less than 22 men on the field. And Defence Force midfielder Kerry Joseph was lucky to avoid a second yellow card after he left a little bit extra on Romeo, midway through the first half.
Referee Crystal Sobers was in a lenient mood tonight though.
The contest was crying out for some brilliance and Defence Force's Balthazar tried his best to provide it with a low right-footed shot from distance in the 29th minute that Berkeley denied with a sharp save.
The 300 or so fans finally got something extraordinary in the 45th minute, off a short free kick from Rangers midfielder Samuel Delice, as Romeo pulled one out of the very top drawer with a beautiful, curling right-footed shot from 25 yards that went in off of Sheldon Clarke's right hand upright.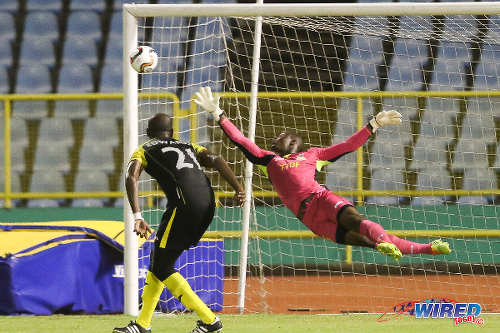 You are most vulnerable after you have just scored though.
Balthazar showed the wisdom of the old adage within seconds, as he tucked home a right-sided cross by Joseph, in the second minute of first half stoppage time, to restore parity.
Jorsling, whose Pro League goal tally stands at a mammoth 136, had the chance to get number 137 in the 68th minute after Rangers left-back Jelani Peters was adjudged to have handled a Marvin Jones cross.
Rangers shot-stopper Berkeley was not in a sentimental mood, though, as he sprung smartly to his left to stop Jorsling's penalty.
As the second half went along, both teams looked more fearful of conceding than they were eager to score.
By then, Romeo had drifted out of the contest considerably although Rangers still looked a threat on the counter attack as speedy winger Kevon Piper ran at opponents with every chance he got.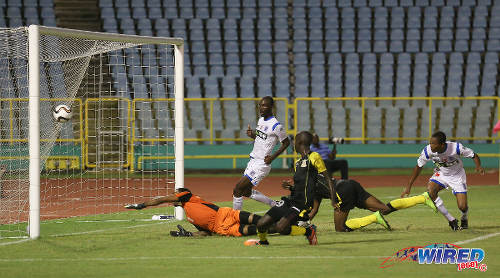 Defence Force substitute Richard Roy got two glorious opportunities to grab the winner in the dying moments of the game but failed to hit the target on both occasions.
Roy's miss in the third minute of stoppage time was especially painful for the Defence Force faithful as that wild swing over the bar turned out to be the last kick of the contest. And it meant the two teams settled for one point each.
(Teams)
Defence Force (4-2-3-1): 25.Sheldon Clarke (GK); 13.Marvin Jones, 8.Curtis Gonzales (captain), 2.Glynn Franklyn, 21.Aklie Edwards; 22.Stephan Campbell, 4.Dave Long (26.Richard Roy 68); 23.Kerry Joseph, 99.Jerwyn Balthazar, 17.Ross Russell Jr (7.Jelani Felix 58); 9.Devorn Jorsling.
Unused substitutes: 80.Aaron Enil (GK), 6.Rodell Elcock, 12.Jemel Sebro, 16.Kellon Serrette, 18.Sean Narcis.
Coach: Marvin Gordon
St Ann's Rangers (4-2-3-1): 1.Stefan Berkeley (GK); 16.Richard Williams, 3.Ryan Oneil, 2.Shakiyl Phillip, 4.Jelani Peters; 7.Sedale McLean (14.Jemel Berot 89), 5.Miguel Romeo (captain); 8.Kevon Piper, 23.Sayid Freitas, 10.Samuel Delice (9.Keron Cornwall 57); 19.Rasheed Simon (17.Kadeem Hutchinson 76).
Unused substitutes: 22.Christopher Biggette (GK), 6.Shaquille Moses, 12.Darius Ollivierra, 29.Jameel Antoine.
Coach: Angus Eve
Referee: Crystal Sobers
Man of the Match: Stefan Berkeley (St Ann's Rangers)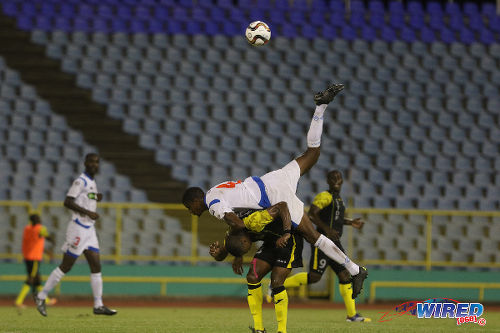 TT Pro League results
(Friday September 25)
Defence Force 1 (Jerwyn Balthazar 45+2), St Ann's Rangers 1 (Miguel Romeo 45) at Hasely Crawford Stadium;
Upcoming Pro League fixtures
(Saturday September 26)
W Connection v Police FC, 4 pm, Mannie Ramjohn Stadium;
North East Stars v Club Sando, 4 pm, Larry Gomes Stadium;
Point Fortin Civic v Central FC, 6 pm, Mahaica Oval;
(Sunday September 27)
M'vt/Caledonia Utd v San Juan Jabloteh, 4 pm, Hasely Crawford Stadium.