Central FC is set for familiar new owners after Bankers Insurance CEO Vance Gabriel introduced himself to the "Couva Sharks" as their new boss on Saturday morning at the Kampo Vibes Restaurant on Ramsaran Street, Chaguanas.
And, at Gabriel's side, were the controversial duo of former Central chairman Brent Sancho and operations director Kevin Harrison, who were the former Sport Minister and Advisor to the Sport Minister respectively.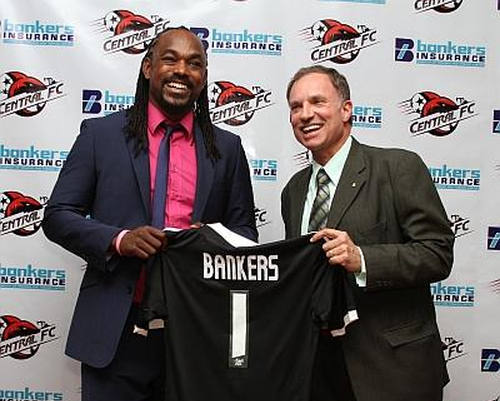 The announcement followed weeks of speculation about the future of the Pro League club, which is co-owned by SIS directors Daren Mohamdally and Ronald Ramlogan.
The club ownership is believed to have switched hands on paper today, although neither Mohamdally nor Ramlogan have communicated with the Pro League club's players or staff.
Pro League CEO Dexter Skeene said that he had not been informed of a change in ownership at Central either. However, Pro League rules do not give the board any say over change of ownership.

"The Pro League board is a limited liability company," Skeene told Wired868, "and there is nothing in our company's act hindering any change in ownership in the case of anyone purchasing the club or a change of shareholders.
"The Pro League doesn't have any jurisdiction as far as clubs changing owners."
Gabriel's decision to take the reins with Sancho and Harrison in tow has caused feverish discussions between players and staff.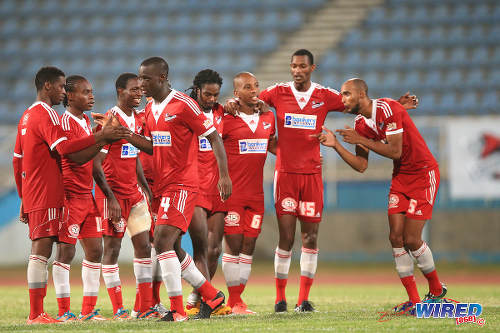 The move follows exclusive Wired868 reports on the behaviour of both men, which includes the commingling of personal and Central FC funds and a request for a personal payment during transfer negotiations.
Sancho and Harrison are being probed by the the Trinidad and Tobago Football Association (TTFA) on: their conduct with regards to the transfers of Central forward Rundell Winchester, the signing of then 16-year-old winger Levi Garcia, the alleged misappropriation of CONCACAF funds and non-payment of bonuses to Central players.
And, last Wednesday, 24 of Central's 29 first team players signed a petition that urged the club's board of directors not to bring Sancho and Harrison around the team while so many allegations hung over their heads.
Gabriel spoke of the duo's return as a glorious homecoming, though.
"Brent and Kevin were the original owners," Gabriel told Wired868, "but SIS was doing most of the running of the club rather than the other way around. So what I am doing is restoring Brent and Kevin to their rightful place…
"We will run it like a business… With Brent and Kevin, we will put all the plans we had initially into place."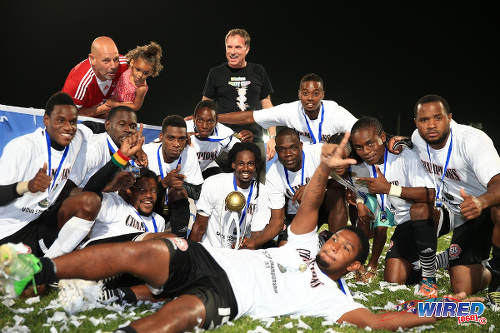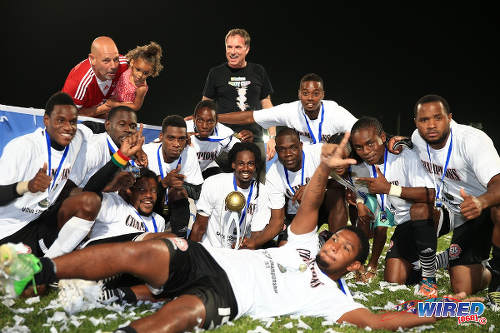 In fact, Sancho and Harrison never owned Central, although they were co-founders. SIS always held on to the reins of power but allowed the then Chairman and Operations Director to run the business end of of the club.
Their tenure saw, among other things, requests from Harrison—a British native—to Belgium lower division club, CS Visé, and CONCACAF to send money due to Central to the pair through Western Union or Sancho's personal bank account.
But Gabriel said he is pleased to play a role in returning the duo to the administrative helm of the Pro League club.
Gabriel's own relationship with Central started in January 2015 when Bankers Insurance was brought on board as a sponsor.
Wired868 attempted to get further information from Gabriel on the financial details of their Central take-over.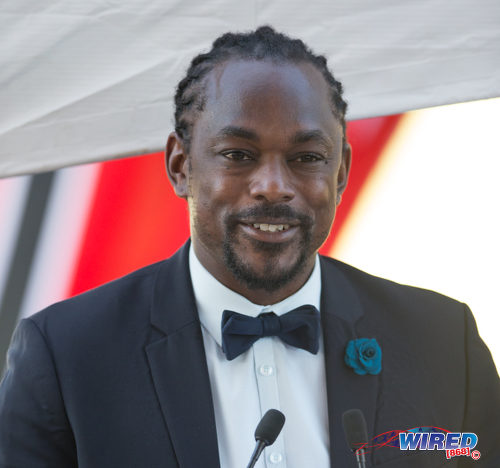 Will either Gabriel, Sancho or Harrison invest any of their own money into Central? Or will Bankers Insurance foot the tab while the three men enter the arrangement risk free?
Will Bankers Insurance have any formal stake in the team as SIS did? Or will the company be merely an advertiser while the trio runs the club and reaps the rewards?
Would Bankers Insurance now inject more sponsorship money into the club to run its affairs? Or would Gabriel, Sancho and Harrison look elsewhere to make up for the financial shortcoming?
The details remain scarce and Gabriel did not make himself available to answer more questions today.
On Saturday, the Bankers Insurance CEO was unmoved by the Central players' petition against the return of Sancho and Harrison.
"I believe the players may have done that because they don't know the whole truth," said Gabriel.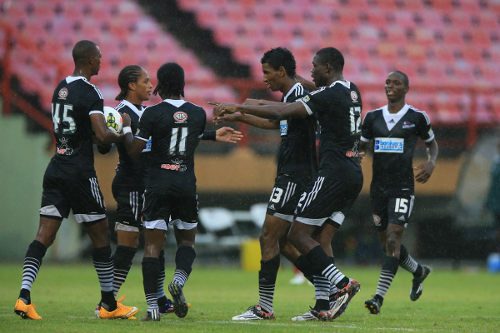 Did Central's prospective new owner speak to the players themselves to determine whether their concerns were valid or not?
"No," said Gabriel, "we had a meeting (on Saturday) but we never asked (about) that."
Sancho and Harrison were both present at the Saturday meeting with the players. Wired868 was informed that the Sharks requested a private meeting with Gabriel to raise their misgivings but none has yet been scheduled.
Central's new three-man board potentially faces an even tougher time from the TTFA, which is probing Sancho and Harrison for four possible offences.
CONCACAF is being kept abreast too, and the football confederation has already contradicted Gabriel's business partners on how a Champions League disbursement ended up in Sancho's bank account.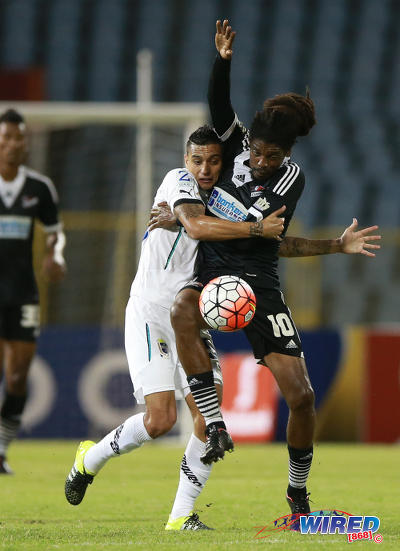 Was Gabriel concerned that he was taking over a football cub with two men who could potentially be banned from all football-related activities, according to the findings of an ongoing TTFA investigation?
"I am not too concerned (about the TTFA probe)," said Gabriel. "I know of some of the explanations (from Sancho and Harrison)."
On Friday, Sancho and Harrison replied to the TTFA's request for information on their conduct at Central with questions of their own.
Rather than respond to the charges, Sancho and Harrison, through their mutual attorney, Vincent Charles, instead asked the TTFA to produce evidence and statements to support its allegations.
"Their lawyer sent a correspondence to us on Friday but the correspondence was not a response," said TTFA general secretary Sheldon Phillips, who holds a law degree from Stamford University in the United States. "It didn't answer the allegations, instead it made requests for us to produce evidence and statements behind the allegations."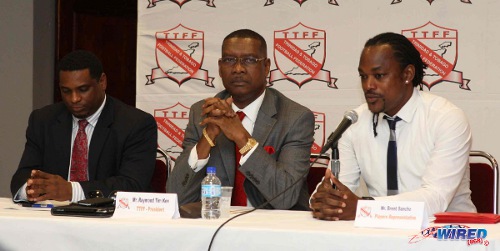 Phillips said he will forward a file on the case, inclusive of the Central duo's response, to the TTFA executive next week as well as to the local football body's attorney, Mervyn Campbell, and the head of CONCACAF's Legal Department, Marco Leal.
"The file is now being sent up to the (TTFA) executive committee and they will determine what the next step will be," said Phillips. "At this point in time, my role was to alert the two gentlemen and to be the point of receipt for their response or their attorney's response.
"Once that is done, I present the file to the executive and they decide the best course of action on the matter."
Sancho and Harrison, thanks to Gabriel and Bankers Insurance, will have their old jobs back and might be shareholders too by the time the TTFA decides on its next step.
Up to the time of publication, neither Sancho nor Harrison had respond to requests for an interview on the changes at Central.
Incidentally, Skeene said the Pro League board does plan to discuss a "fit and proper test" for club owners at its next meeting. He stressed that this was totally unrelated to any happenings at Central but was merely a way for the local top flight competition to protect is reputation.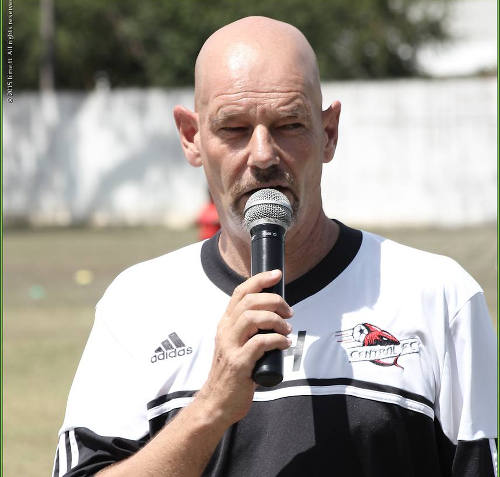 The fit and proper test is done by several international boards, including the England Premier League, as a means of protecting its reputation from unsavoury would-be business partners.
Interestingly, the England Football League might not have been as dismissive as Gabriel to the TTFA's probe into Harrison and Sancho.
According to the Owners' and Directors' Test in Appendix Three, the disqualification conditions for would-be club owners or directors in England includes:
(c) Being subject to a suspension or ban, whether directly (for example a sanction against the individual in particular) or indirectly (for example a direction to persons subject to the jurisdiction of the Sports Governing Body that they should not employ, contract with or otherwise engage or retain the services of, any individual), from involvement in the administration of a sport by a Sports Governing Body or such other similar forms of disqualification as may operate from time to time;

(d) Being found to have breached (irrespective of any sentence actually imposed), or having admitted breaching (irrespective of whether disciplinary proceedings were brought or not) at any time.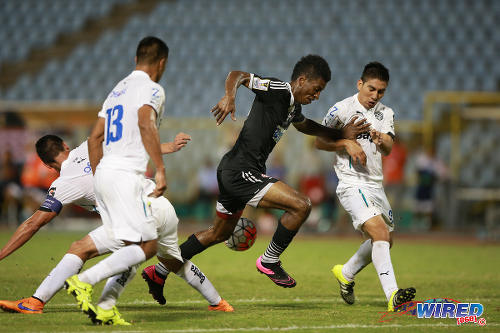 The Couva Sharks close their 2015 CONCACAF Champions League adventure on Wednesday night when they face LA Galaxy from 8 pm at the Hasely Crawford Stadium in Port of Spain.
Editor's Note: Click HERE to read England Football League's Owners' and Directors' Test.