Reigning Secondary Schools Football League (SSFL) Premier Division champions, Naparima College, got their 2015 season off to a flying start this evening, as they gunned down newly promoted Queen's Royal College 2-0 at the Hasely Crawford Stadium in Port of Spain.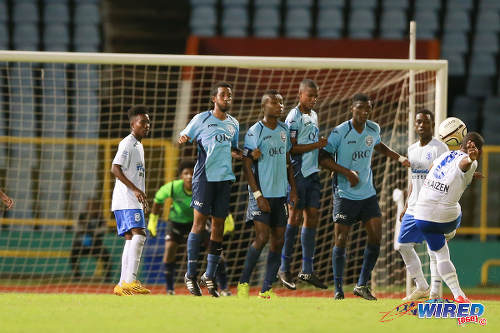 The clash between the two old institutions was the second match of a Port of Spain double header, which began with a St Mary's College demolition job of Trinity College East.
In fact, Trinity should have taken the lead after just 22 seconds. Almost straight from the kick off, flanker Kishion Hackshaw played a measured through ball perfectly into the path of striker Dareem Daniel.
Clear through, Daniel's final effort was tame and way too easy for St Mary's custodian Khristopher Donaldson.
The "Blue Hawks" regretted the missed opportunity within minutes as an Aaron Skeene effort deflected off a defender and fell obligingly for Ethan Shim to produce a simple tap-in finish.

Ever the showman, Shim sprinted the length of the field to celebrate with an array of poses that would not have been out of place on a catwalk.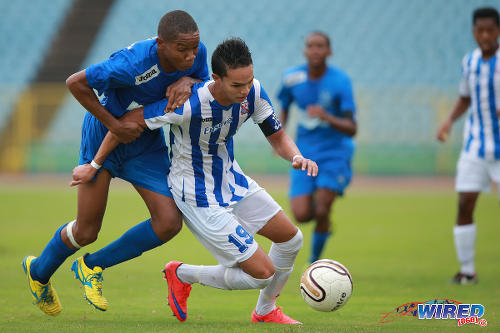 Daniel shrugged off his error, though, and almost single handedly dragged Trinity back into the game with his penetrative runs and trickery.
There was a "Cruyff turn" on St Mary's College captain Jerome Dempster-Babb that left the defender chasing shadows. And a shimmy on his central defensive partner, Emilio Saunders, and crack that Donaldson somehow diverted on to his bar in the 37th minute.
The "Saints", who started playing some tidy football through pint sized playmaker Daniel Conocchiari, were being run ragged and an equaliser seemed to be a matter of "when" not "if."
But that was if Daniel could curb his inner demons.
Last season, the talented frontman was cut from the Hawks in mid-season for indiscipline and then left out of the Trinidad and Tobago National Under-17 Team for the same reason.
Despite his flashes in possession, Trinity East coach Adrian Romain might have been frustrated with his efforts off the ball as he replaced Daniel in the 58th minute.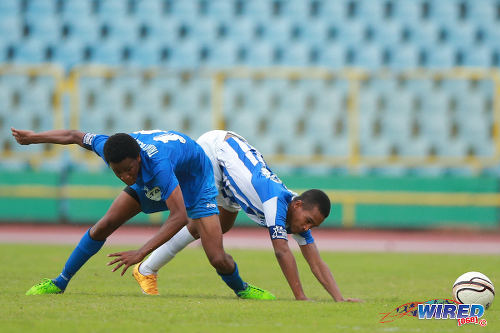 Maybe the player and his teammates would reap the benefit of that wake-up call later in the season. But it meant the end of Trinity's threat on the evening.
St Mary's coach Ryan Shim, Ethan's dad, sent on talented attacker Chinua Bernard—one of the SSFL's top players last year—and the wily number 9 doubled his school's lead with his first touch.
Bernard ran on to a clever Skeene pass and rounded opposing goalkeeper Emmanuel John to convert. Skeene had a hand in the third goal as well. Referee Crystal Sobers penalised Stephen Ealie for a tug on Skeene in the 86th minute and Shim converted the penalty with aplomb.
In truth, Trinity East had been merely hanging around waiting on the final whistle for roughly the last hour, though. The second fixture was more competitive as the newly promoted "Royalians" made Naparima toil for a result in Port of Spain.
But, to be fair, the job never looked beyond "Naps."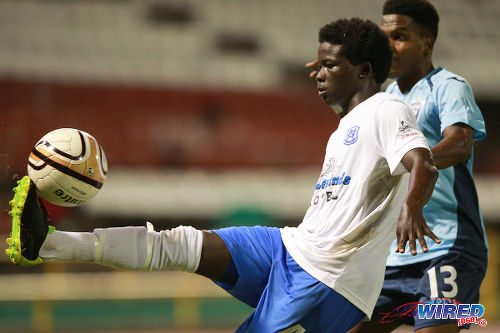 Despite the departure of playmaker and SSFL MVP Jabari Mitchell, utility player Martieon Watson, striker Nicholas Dillon and captain Amritt Gildharry, the San Fernando school boys have lost little of their menace.
Naps, coached by Trinidad and Tobago's most capped international player Angus Eve, kept a solid shape, moved the ball about briskly and generally showed decent decision making at this level.
If today's outing was a reliable guide, Naparima midfielder Shane Sandy and winger Renaldo Francois will be forces to be reckoned with this season as well.
Francois created the game's only item in the 35th minute, as his deep right side cross was headed in by fellow winger Jarred Dass.
QRC custodian Jadel Poon-Lewis prevented Naps from doubling their lead in the 44th minute with an alert save from the legs of striker Shobal Celestine. But the St Clair-based school could not get back into the match.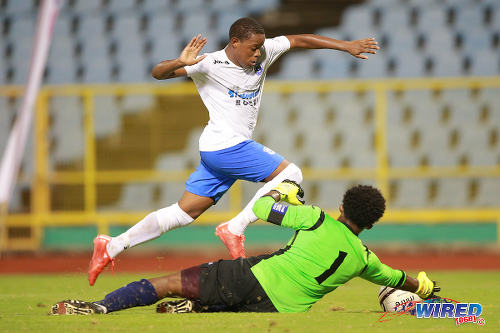 Much is expected of tiny 15-year-old playmaker John-Paul Rochford, who was Trinidad and Tobago's youngest player at the 2015 CONCACAF Under-17 Championship, but he was isolated as a lone striker for the first half. And then was never really able to affect the game—other than the odd gorgeous pass—from the flank in the second half.
Naps killed off the affair in some style, in the 76th minute, as Judah St Louis whipped a wonderful 25-yard free kick into the top right hand corner of the QRC goal.
Naparima's title defence is up and running.
(Teams)
QRC (4-1-4-1): 1.Jadel Poon-Lewis (GK); 2.Tishad Selvon, 4.Anfernee Stokes, 5.Tevin Lessey, 3.Janos Lashley; 18.Adrian Constantine; 13.Demetri Dunkley, 6.Keshawn Villafana (16.Mickel Walkes 61), 10.Jahrique Stewart, 7.Joash Williams; 15.John-Paul Rochford.
Unused substitutes: 8.Taariq Campbell, 9.Shemar De Gannes, 11.Tereque Hadley, 23.Roger Wason, 22.Saifallah Farrag, 17.Jerald John.
Coach: Dexter Gill
Naparima College (4-2-1-3): 22.Levi Fernandez (GK), 20.Rondell Payne, 16.Anderson Toussaint, 19.Stephon Smith, 4.Nicholas Thomas; 6.Judah St Louis, 8.Michael Basdeo (captain); 11.Shane Sandy; 23.Renaldo Francois (10.Jeremiah Kezar 55), 9.Shobal Celestine (7.Akinola Gregory 55), 12.Jarred Dass (3.Khris Stroud 81).
Unused substitutes: 1.Darriel Kurjah (GK), 2.Andrews Tyrike, 13.Seon Shippley, 21.Justin Sadoo.
Coach: Angus Eve
Referee: Keilon Bacchus
Man of the Match: Judah St Louis (Naparima College)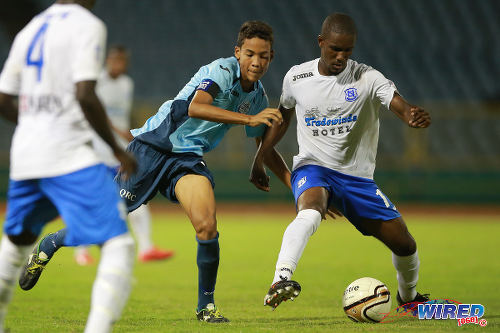 SSFL Premier Division results
(Wednesday September 9)
St Mary's College 3 (Ethan Shim 9, 86 pen, China Bernard 60), Trinity College East 0, Hasely Crawford Stadium;
QRC 0, Naparima College 2 (Jarred Dass 35, Judah St Louis 76) at Hasely Crawford;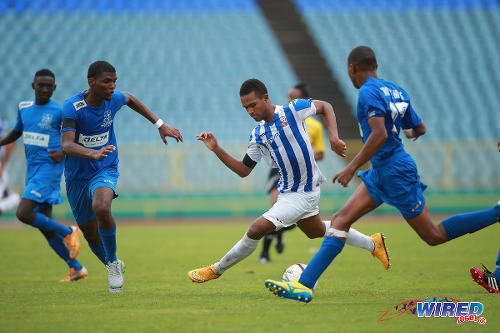 Upcoming fixtures
(Thursday September 10)
Speyside High v Carapichaima East, 3.45 pm, Speyside;
Trinity College Moka v St Benedict's College, 3.45 pm, Moka;
Presentation San F'do v Fatima College, 3.45 pm, Mannie Ramjohn;
Shiva Boys HC v St Augustine, 3.45 pm, Penal;
San Juan North v St Anthony's College, 3.45 pm, San Juan;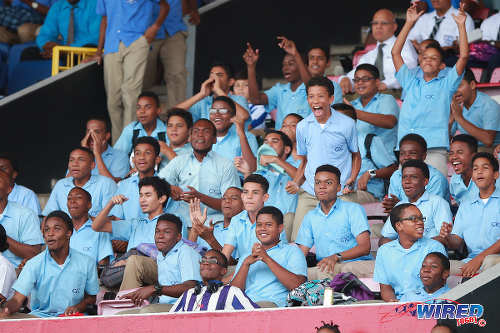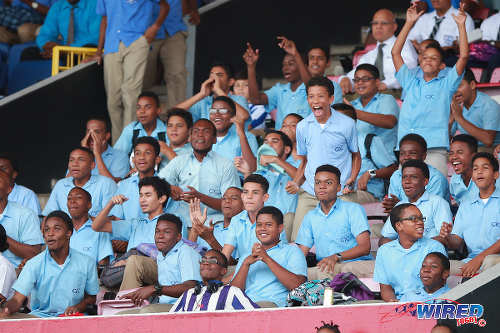 (Saturday September 12)
St Benedict's College v San Juan North, 3.45 pm, Mahaica Oval, P/Fortin;
Carapichaima East v Fyzabad Secondary, 3.45 pm, Carapichaima;
St Anthony's College v St Mary's College, 3.45 pm, St Anthony's;
Fatima College v Shiva Boys HC, 3.45 pm, Fatima;
St Augustine v Speyside High, 3.45 pm, St Augustine;
Presentation San F'do v Naparima College, 3.45 pm, Mannie Ramjohn;
Trinity College East v QRC, 3.45 pm, Trincity.