If last night's CNG Super League Championship Division fixture at the D'Abadie Recreation was a fair guide, the winner of the competition should not only get a football trophy. Their players should get black belts.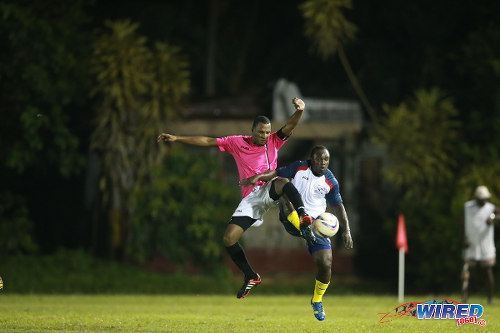 In the end, Malabar FC was the happier of the two teams, after pulling off a hard-fought come-from-behind 2-1 win over Edinburgh 500. Hopefully their players celebrated the triumph last night. They probably won't feel their arms and legs in the morning.
The Edinburgh 500 contingent was possibly a player short on its return to central Trinidad, after substitute Kelonne Cazoe was stretchered off late in the match and taken to the hospital with an obviously painful shoulder injury.
In short, this was part-football and part-iron man competition.
Apart from the typical groans at the referee, there were little real complaints after the final whistle, though, as both coaches seemed reasonably happy with the effort of their players.

"We did really well," said Edinburgh coach Rawle St Louis. "This is our first outing away from home (this season) and I think we did well. The players are now starting to gel."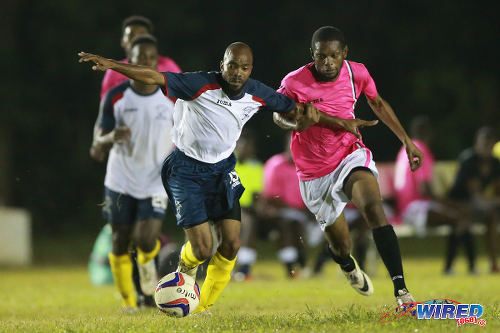 If the Edinburgh 500 squad is only just getting warm, then it will be worth seeing what shape left back Shaheed John is in by October.
Just 17 years old, John does not exactly look elegant in possession and he certainly has no airs. But he is tough, composed on the ball and not only enjoys an overlap but knows when to make them too.
In the 32nd minute, John signed off on the first real quality move of the match, as he ghosted in off the left flank to collect a clever, threaded pass from Amalias James, which he slammed past Malabar custodian Joshua Lamb at his near post. It was the teenager's second goal from as many matches.
The slick Edinburgh interplay that led to the opener seemed as out of place in the rough and tumble affair as spotting Halle Berry in a roadside pub.
Far from discouraged, Malabar rose to the challenge.
Edinburgh just could not hold on to the ball on the uneven playing surface and Malabar's midfield schemers, forever squeezing, teasing and probing, began to find spaces in the opposing defence.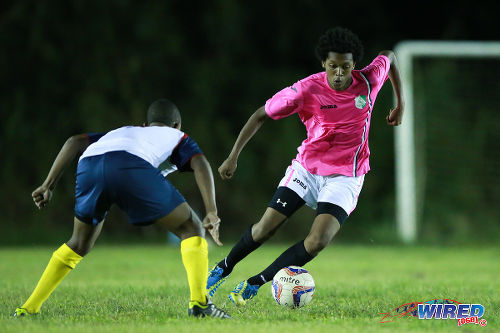 Mikheil Peters, an inverted winger who starts on the flank but never stays there, was irrepressible.
Edinburgh goalkeeper Joel Sansavior produced a fine one-handed save to tip a Peters effort for a corner kick in the 36th minute and then managed an encore, five minutes later, to again turn the attacker's attempt around his post.
Seconds after the restart, Peters troubled Sansavior with a cross this time, which 16 year old Malabar midfielder Dominic Douglas headed beyond the goalkeeper, only for retreating defender Chad Paul to pull off a goalline clearance.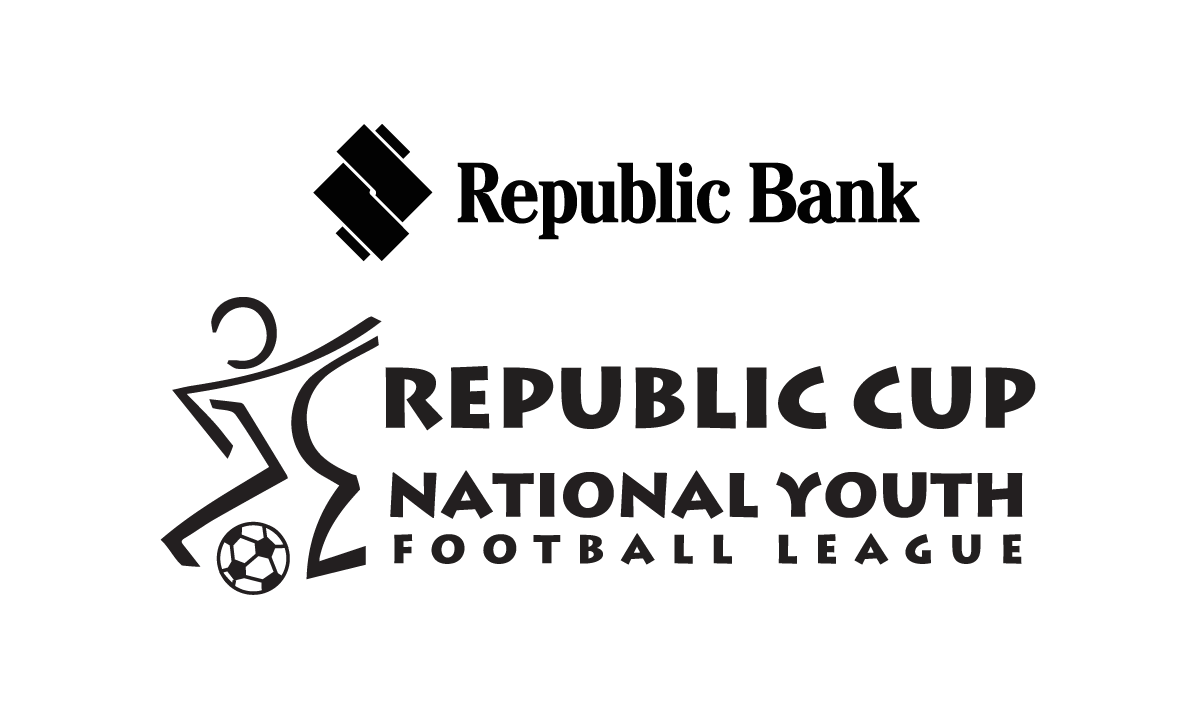 Edinburgh might have doubled their lead against the run of play, as captain and playmaker Atiba Alves released winger, Brandon Francis, behind enemy lines. But Francis, not for the first time, lacked quality when it mattered and buried his effort into the side netting.
Malabar never looked back.
Cazoe almost deflected a Che Edwards cross past his own goalkeeper in the 63rd minute. But, two minutes later, the equaliser duly arrived as Peters drilled a speculative effort past Sansavior from the top of the penalty box.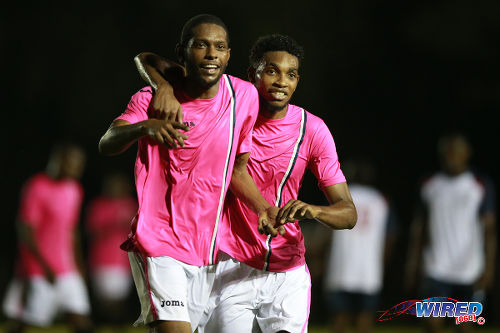 And, in the 69th minute, Malabar went ahead as Peters ran on to an inviting diagonal ball through the heart of the opposing defence and drove his shot across the Edinburgh goalkeeper.
The Central Zone visitors lost their composure a bit and were lucky not to be a player short too after substitute Milton Wilson went over the ball with an ugly challenge on an opponent. Referee Kurt Harry opted, leniently, for a yellow card.
In the 89th minute, Edinburgh did suffer a numerical disadvantage and much more besides as Cazoe landed awkwardly on his shoulder. The substitute spent close to five minutes yelping as if going into labour before a vehicle was found to take him to the hospital.
St Louis complained that the refereeing was consistently against Malabar. But Peters—not Harry—was the real decisive factor in D'Abadie.
"We started off slowly," said Malabar coach Adrian Romain, "but as the game went on, we came into our own."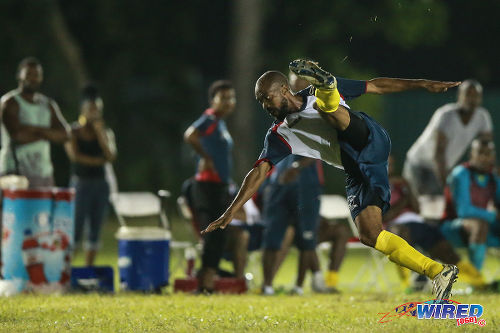 Malabar deserved their smiles on the night. But they probably won't feel as chirpy when they are massaging lumps in the morning.
(Teams)
Malabar FC (4-1-4-1): 21.Joshua Lamb (GK); 6.Mariba Imhotep, 4.Jemal Osborne, 1.Marvin Springer (captain), 23.Ronaldo Alexander; 19.Shem Alexander; 30.Mikheil Peters (13.Ryan Stanley 89), 15.Richard Ayers, 22.Dominic Douglas, 7.Kerdel Chairman; 9.Aaron Auguste (69.Che Edwards 69 [82.Akeem Christmas 89]).
Unused substitutes: 74.Jason Jattan (GK), 17.Deyshawn Edwards, 26.Jemel Patron, 99.Dwight Williams.
Coach: Adrian Romain
Edinburgh 500 (4-2-3-1): 27.Joel Sansavior (GK); 4.Williams Murray, 5.Trevis Richards, 22.Aswad Alves (15.Kelonne Cazoe 60), 11.Shaheed John; 7.Amalias James, 20.Chad Paul; 16.Brandon Francis, 10.Atiba Alves (captain), 12.Joshua Eneau (8.Cassim Kellar 60); 13.Carlos Lindsay (9.Milton Wilson 75).
Unused substitutes: 1.Adrian Lewis (GK), 14.Crayus Rampersad, 17.Jerome Quamina, 19.Duvon Ray.
Coach: Rawle St Louis
Referee: Kurt Harry
Man of the Match: Mikheil Peters (Malabar FC)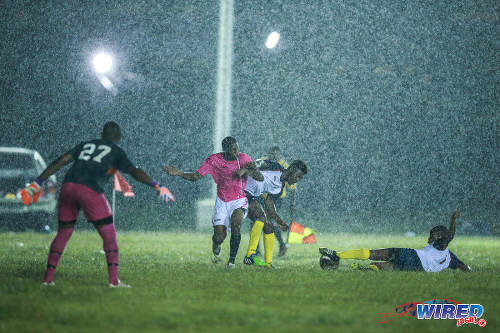 CNG Super League results
Championship Division
(Tuesday September 1)
Malabar FC 2 (Mikheil Peters 65, 69), Edinburgh 500 1 (Shaheed John 32), D'Abadie Recreation Ground;
Prisons FC 4 (OG 6, Lance Haynes 16, Ricardo Alleyne 20, 88), Petit Valley Utd 0, YTC, Arouca, 4.15 pm;
UTT 1 (Isaiah Mejias 55), Saddle Hill Hotspur 3 (Raychard Alleyne 27, OG 71, Kevon Durham 73), UTT, O'Meara, Arima, 6 pm;
Cunupia FC 1 (Antonio Calliste 25), Xtra Foods Chaguanas FC 0, Edinburgh 500 Recreation Ground;
Barrackpore Utd 2 (Kiel Ribeiro 31, Quacy Cooper 40), QPCC 3 (Jason Devenish 50, Mikhail Dindial 60, Chike Phillip 90), Barrackpore Recreation Ground;
Upcoming fixtures
Premiership Division
(Thursday September 3)
Real Maracas FC v Bethel United, Maracas Recreation Ground, 4 pm;
NLCB La Horquetta SA v 1976 FC Phoenix, Larry Gomes Stadium, 4 pm;
WASA FC v Stokely Vale FC, WASA, St Joseph, 5 pm;
Club Sando Moruga v Petrotrin Palo Seco, Grand Chemin Recreation Ground, 4 pm;
Guaya United v Police FC, Guaya Recreation Ground, 4 pm;
Defence Force FC v Marabella Family Crisis Centre, Ato Boldon Stadium, 4 pm;
FC Santa Rosa v Matura ReUnited, Marvin Lee Stadium, 5 pm;
Championship Division
(Tuesday September 8)
Saddle Hill Hotspur v Malabar FC, Hasely Crawford Stadium training field, 4.15 pm;
Petit Valley United FC v Barrackpore United SC, Northern Recreation Ground, Diego Martin, 6 pm;
QPCC v Cunupia FC, Queen's Park Oval, 6 pm;
Xtra Foods Chaguanas FC v UTT, New Settlement Ground, Chaguanas, 7 pm;
Edinburgh 500 FC v Prisons FC, Edinburgh 500 Recreation Ground, 7 pm.