There will be a new champion in the Under-15 age group of the Republic Bank  National Youth Cup.
Defending champions Point Fortin Civic Centre (PFCC) crashed out of the South Zone yesterday after 1-0 and 2-0 losses respectively in their only two group games, as action continued yesterday in the 2015 edition of the national youth tournament at Guaracara Park in Pointe-a-Pierre.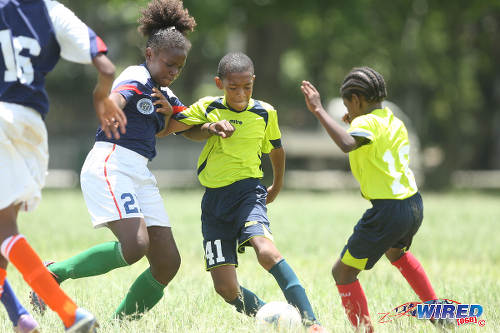 Uprising Youths emerged victorious instead and will represent south Trinidad in the Under-15 category when the tournament's quarterfinal round kicks off on Saturday August 22 at Constantine Park in Macoya, Tunapuna.
Uprising also topped the Under-11 category with three successive victories. It was such a breeze, in fact, that the focus deviated from results to aesthetic endeavours  by their last game.
"Allyuh look good, look good!" shouted one fan.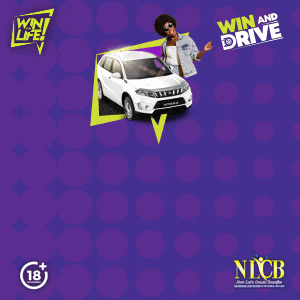 In the Under-13 division, the impressive La Brea-based WEZ Pro team topped their group with three victories and as many clean sheets.
WEZ Pro and Uprising joined fellow southerners San Fernando SA (Under-13) and Marabella Family Crisis Centre (Under-11), who had already booked their places in the knockout rounds.
It was WEZ Pro's debut in the Republic Bank tournament and, marshalled by coach Shakeem Darius, they used a 4-4-2 formation and were highly effective, simple and direct.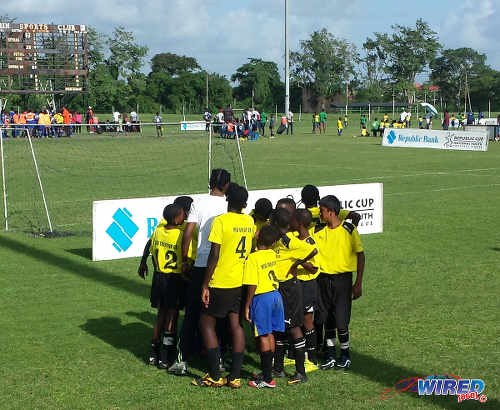 Darius' four defenders rarely crossed the half-line and did not linger in possession while their midfield, led by captain Isaiah Neptune, moved the ball around quickly and attackers Caesar Williams and Rashad Webb, the son of former Trinidad and Tobago international Wesley Webb, were a constant threat on top.
Webb, who is heading for Form Two in Presentation College (San Fernando) next month, was a treat to watch on the ball.
Ste Madeline barely got within sight of WEZ Pro's goal area in the first clash of the day while three goals in the space of six minutes from Webb, Atiba Augustus and Caesar Williams respectively ensured a comfortable triumph.
Point Fortin edged Uprising 1-0 in their meeting at Under-13 level, thanks to a goal from captain Ezekiel Kezar, although the result was harsh on the latter team from Gonzales Village, whose performance married tactical discipline, effort and skill.
Webb's wizardry was key in the Under-13 group decider, though, as—with chants of "La Brea! La Brea!" ringing out from their supporters—WEZ Pro proved too much for Point.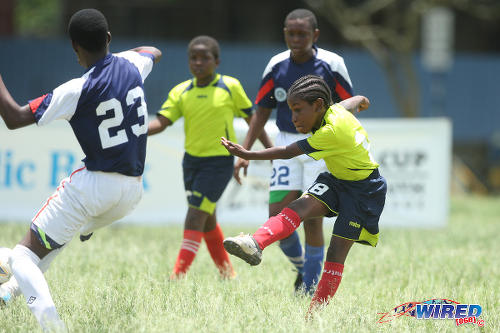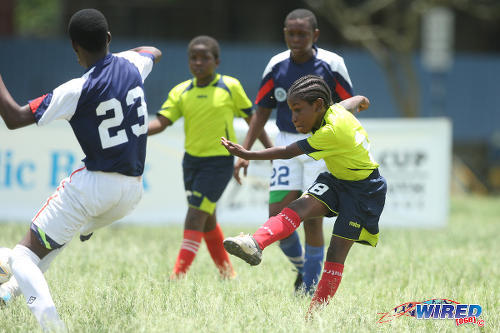 Webb and Neptune got the two goals and the young men, along with teammate Augustus, credited "working together" as the key ingredient in their success.
Only two clubs participated in the Under-15 category as Club Sando turned up with just six players while Gasparillo Youths, which is based just five kilometres away, did not appear at all.
Officials from the three clubs blamed their weakened states on a Trinidad and Tobago National Under-15 team training session, which is ironic since the Republic Bank competition serves as the Trinidad and Tobago Football Association's official youth competition.
"National Under-15 (training)?!" one supported asked. "In preparation for what tournament? Ent that cancelled? Steups!"
CONCACAF cancelled its National Under-15 competition almost two months ago.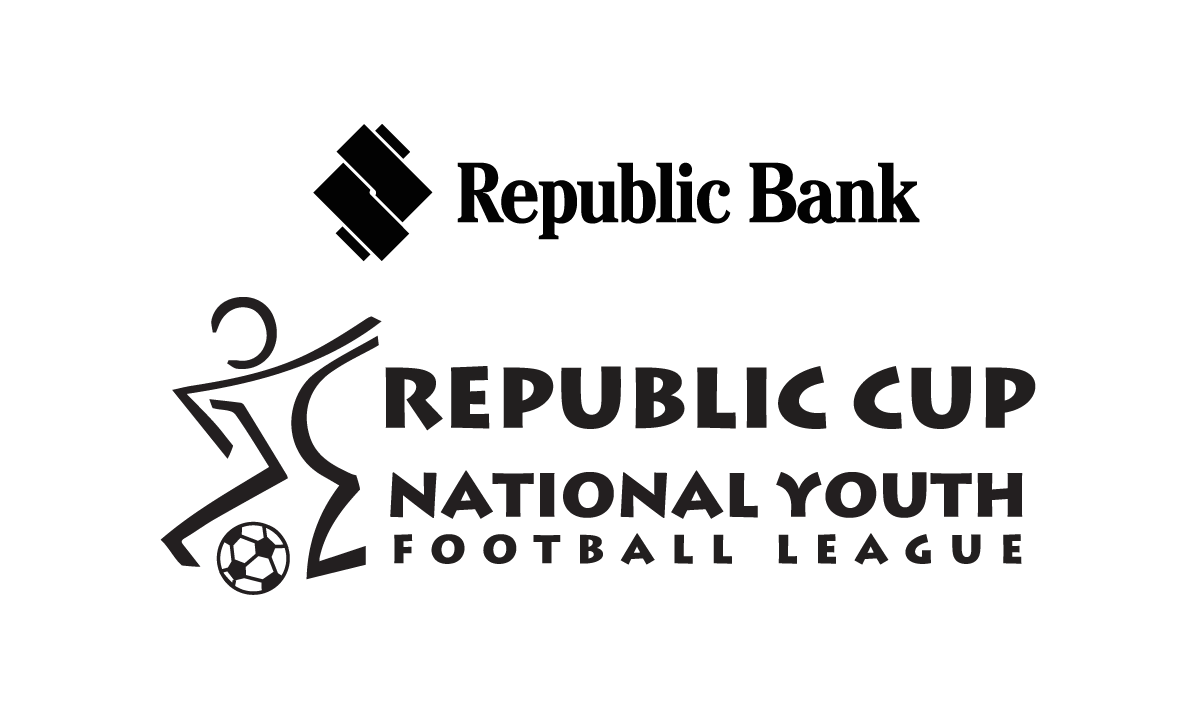 Point Fortin and Uprising faced each other twice to decide which team would represent the South Zone in that category. But the matches were dull and lacked impetus.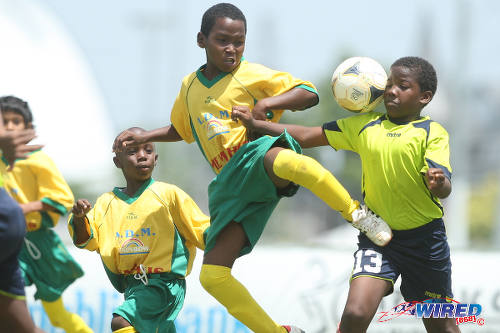 Perhaps they were disappointed with the altered format of the competition or slowed down by the hot weather conditions. Or maybe the casual atmosphere was due to the fact that both teams usually combine to represent Point Fortin in the Pro League's youth competition
But Gyasi Jeffrey did have something to prove. He was last year's Under-14 MVP at goalkeeper as Point Fortin lifted the national title.
However, Jeffrey switched allegiances to Uprising because, according to the player, he prefers to scores goals rather than stop them and he receives better coaching at his new team anyway.
The Point Fortin West Secondary student, who played upfront, rubbed salt in the wounds of his former teammates with a flicked goal off a corner kick that virtually ensured PFCC's elimination and propelled Uprising to the Under-15 quarterfinals in Macoya.
Uprising Youths were even more emphatic in the Under-11 category where they scored four times and never conceded. This age group provided the most passionate play, filled with rapturous cheers and jubilant celebrations.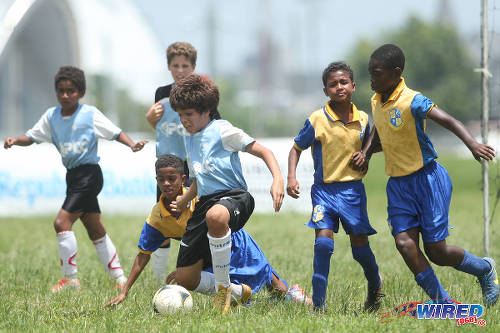 Former "Strike Squad" stand out, Philbert Jones—the uncle of current "Soca Warriors" captain Kenwyne Jones—had two sons, Jaylon and Daniel, in the WEZ Pro Under-11 team.
But, this time, the debutantes would not taste success.
Point Fortin Civic Centre edged WEZ Pro 1-0 when they met up and it sparked the celebration of the day as scorer Joel Guichard sprinted for about 40 yards with his arms extended like Cristiano Ronaldo while his teammate and goalkeeper lay supine on the ground shaking his fists in elation.
It was quite a theatric response to a converted penalty kick.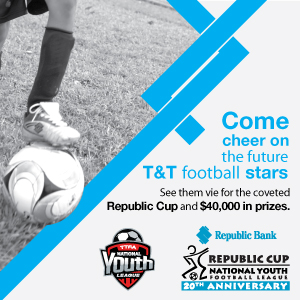 Yesterday's Republic Bank National Youth Cup results
South Zone
Sunday August 15
(Under-11)
WEZ Pro 0, Point Fortin Civic 0, Group A;
Uprising Youths 1 (Kanye Francis 22), Point Fortin Civic Centre 0, Group A;
Uprising Youths 2 (Keldon Hamilton 17, Isaiah Thompson 24), WEZ Pro 0, Group A;
Point Fortin Civic Centre 0, Uprising Youths 1 (Luke Phillip 30), Group A;
WEZ Pro 0, Point Fortin Civic Centre 1 (Joel Guichard 17 pen), Group A;
Uprising Youths 0, WEZ Pro 0, Group A;
(Under-13)
WEZ Pro 3 (Rashad Webb 31, OG 33, Atiba Augustus 35), St Madeline Strikers 0, Group A;
Uprising Youths 0, Point Fortin Civic Centre 1 (Ezekiel Kezar 38), Group A;
Uprising Youths 0, WEZ Pro 1 (Isaiah Neptune 45), Group A;
Point Fortin Civic Centre 3 (Ezekiel Kezar 6, Jahmali Cobham 23, Mordecai Brown 40), St Madeline Strikers 0, Group A;
St Madeline Strikers 0, Uprising Youth 0, Group A;
WEZ Pro 2 (Rashad Webb 7, Isaiah Neptune 40), Point Fortin Civic Centre 0, Group A;
(Under-15)
Uprising Youths 1 (Jamiel Pierre 18), Point Fortin Civic Centre 0;
Uprising Youths 2 (Gyasi Jeffrey 30, OG 54), Point Fortin Civic Centre 0;