The inaugural Women's Professional League (WPL), the brainchild of Sport Minister Brent Sancho, looks set for a farcical finish this week with understaffed teams and crammed fixtures, as organisers try to wrap up the competition by Thursday July 30.
The hastily arranged competition was initially criticised by the public. However, skepticism made way for encouraging reviews as the WPL kicked off with entertaining action played before appreciative crowds.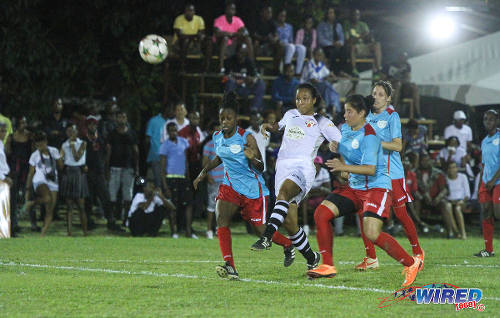 Concerns about the WPL's schedule proved to be well founded, though, as the Toronto 2015 Pan American Games effectively scuttled the competition's momentum in more ways than one.
On Sunday July 26, the women's competition announced fixtures for the same day with barely 15 hours notice to the media and public while clubs are uncertain about venues for matches this week.
Boom Champions Fuego were unbeaten before Sunday but, with just 14 available players, lost 2-0 to Wave FC in front of a nearly deserted stands. Fuego now play their last two outings within 24 hours of each other against Petrotrin Oilers and CNGC Rush on July 29 and 30 respectively, which means three games within five days.

The crammed WPL schedule is against FIFA's medical guidelines for competitive matches.
"I am very concerned about (the fixtures)," Fuego coach Richard Hood told Wired868. "I argued with the organisers (but) for whatever reason they said we had to finish the league by Thursday. I think there would have been additional costs if they didn't and they didn't want to deal with that.
"It is not good for the girls but they decided."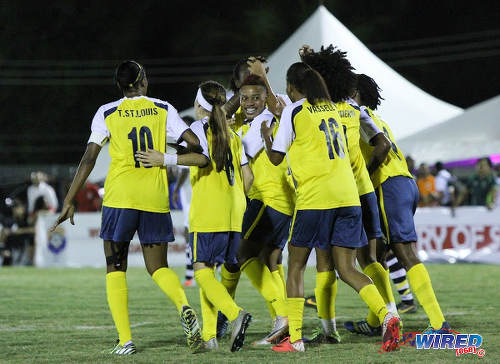 Fuego, Hood said, plays at the St James Barracks on Wednesday and then in Siparia on Thursday. Or maybe not.
Rush coach Marlon Charles said he believes the Thursday double header was moved to Chaguanas instead. Charles enjoyed the brief WPL tournament, although he believes the administration of the competition must improve.
"It looked good when the girls went on the field because they did their part to sell the league," said Charles. "The girls gave 100 percent effort, so I think the league achieved its goal in that sense. But the administration itself needs to be more organised. A lot of things surprised them I think."
Hood and Charles were both wrong about this week's fixtures. WPL director Kairon Serrette told Wired868 that, after today's double header at the Eddie Hart Grounds in Tacarigua, the remaining games will be held at Edinburgh 500 in Chaguanas on Wednesday and the St James Barracks on Thursday.
Serrette was unaware of the FIFA medical guidelines for competitions, which doesn't strictly apply as the WPL is not a FIFA competition. However, he admitted that they ended up in a race against the clock, as the tournament's 40-plus foreign players are due to leave Trinidad on Friday.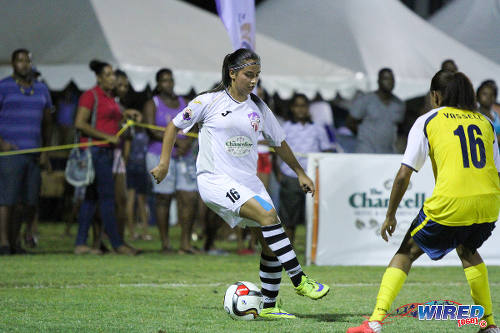 "It was more of a scheduling issue but it had to be done based on the schedule we had to complete the league," said Serrette. "We had different challenges that we had to react to, so we had to adapt."
Serrette chose not to give specific examples of those challenges. However, he said there were more positives than negatives to take away from the maiden WPL season, which cost taxpayers $1.7 million.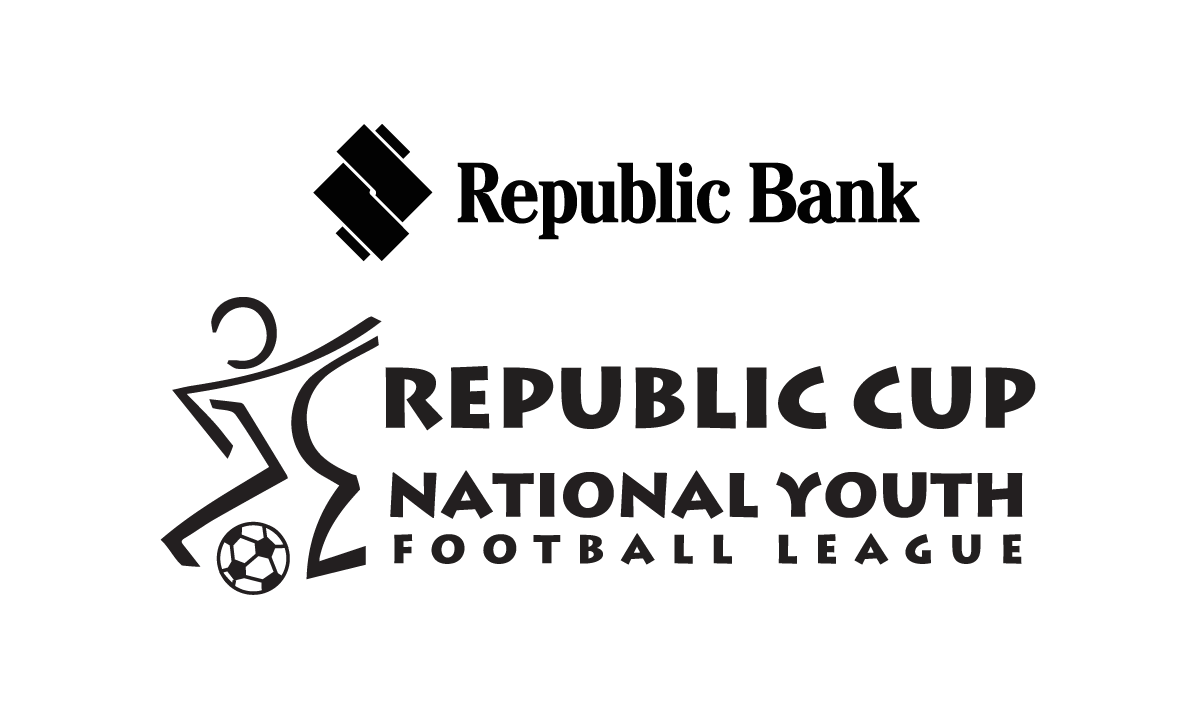 "We have had challenges (and) we have not done things perfectly and had to adapt," said Serrette, "but we will do the post-mortem after and see how we can improve.
"I firmly believe it is worth another edition. We have learnt a lot in this first year and once the same principles are involved with more resources, I think this can really take off…"
Most of the WPL's coaches, players and spectators agreed that the potential for a women's professional league is real.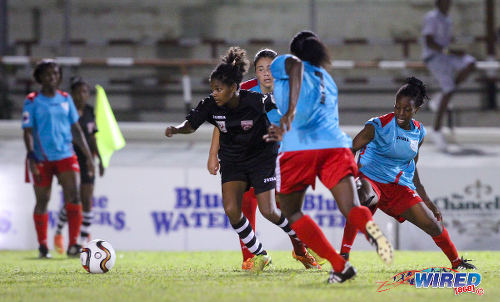 Undoubtedly, the six teams involved have bent over backwards to play through less than ideal circumstances.
There was no pre-season and most teams did not get together until two or three days before their opening fixture. Clubs do not have their own physiotherapists but use medical staff assigned by the WPL board.
In at least one fixture, the lone physio on duty abandoned the two playing teams to warm-up the squads for the second fixture.
Charles said that, for the past two weeks, he often held training sessions with just his seven foreign players as many of the locals had to work. So, he combined with Wave FC coach Derek Arneaud, who had the same problem, and they essentially combined their two squads.
"I think the league, given an opportunity again, can only do better," said Charles.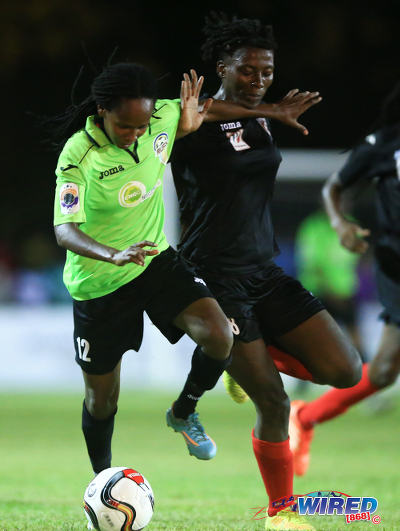 Roughly one third of the rostered WPL players, around 40 women, came from North and South America as well as the Caribbean. And the skill levels of the imports varied greatly.
There were some standouts like the Angels duo of American defender Jaclyn Poucel and Jamaican midfielder Jodi-Ann McGregor as well as the Brazilian pair of Fuego goalkeeper Leticia "Lele" Bussato and Rush midfielder Priscilla "Pri" Selau. But most were solid at best.
However, Charles believes the WPL is enhanced by the foreign talent, even when they are less gifted than the local players.
"A lot of our local players were very unfit when they came to screening and I was very disappointed with that," said Charles. "If you are a footballer, you have to be at least 75 percent fit at all times. The foreign players came eager and ready to play…
"Some of the foreign players were not as good as the locals but the locals have to step up next time."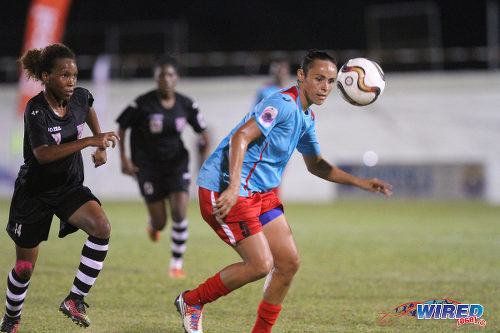 Whether there will be a "next time" is another story. Serrette has his fingers crossed. But he knows that State funding will be vital to the WPL's survival.
"I think we won some fans wherever we played, even though we know we were not perfect, and I am happy with that," Serrette told Wired868. "I don't know what will happen in the next few months but I hope whoever has to sign off (on the next competition) sees the potential and that it is worth putting the money into it again.
"We tried with a very small staff to provide the best experience possible to the athletes and the public. You never know what is going to happen but we really hope it can continue."
Serrette pointed out that there are few opportunities for professional women's football in South and Central America. And he claimed that the imports all enjoyed their time in Trinidad and have vowed to return.
With more time to plan and scout and increased staff and resources, he thinks the WPL can only improve.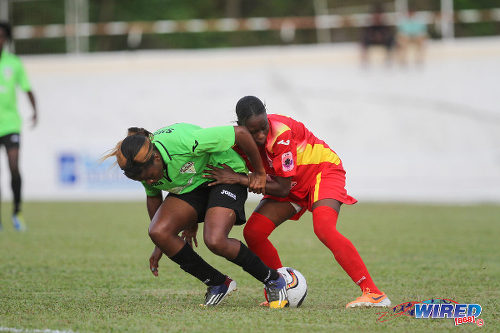 "Next year with a few changes, we may be able to attract even better talent and we can improve on the whole product and take it further," said Serrette. "This thing can really be good. It can be big…
"It wasn't perfect but, at the core, it is really just to execute better. It is a good introduction into women's football."
Hood, Charles and their coaching counterparts hope that the WPL is here to stay.
"I love what the league is bringing," said Charles, "and I think it was successful on the field where the players really represented."
Before they get to the post-mortem, though, there are still three gruelling double headers to play in as many days, with a fixture list that is anything but fair to the six teams involved.
The maiden WPL season has encouraged on the field but also disappointed off of it. However, the weighing up of its pros and cons and subsequent reshaping of Trinidad and Tobago's domestic women's top tier could be vital to the long term development of the "Women Soca Warriors."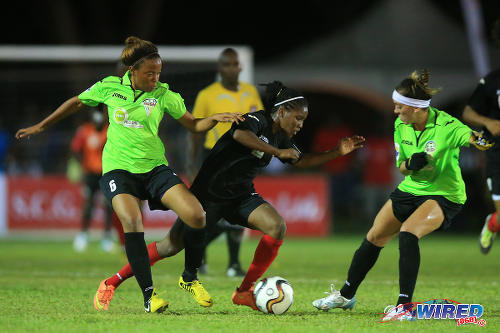 WPL fixtures
(Tue July 28)
Wave FC v SCG Dragons, 5.30 pm, Eddie Hart Grounds;
CNGC Rush v Chancellor Angels, 7.30 pm, Eddie Hart Grounds.
Editor's Note: Tsaianne Leander scored twice on Sunday as Trinidad and Tobago's Under-20 Women's Team defeated hosts St Vincent and the Grenadines 2-0 in their opening CFU fixture.