The "Women Soca Warriors" bent but, once again, they could not be broken.
For the second successive Toronto 2015 Pan American Games outing, the Trinidad and Tobago Women's National Senior Team players were forced to spend most of their time chasing the ball against a better ranked football nation.
But, crucially, they refused to yield. And a late Kennya "Yaya" Cordner goal meant both teams left the Hamilton Pan American Soccer Stadium with a point each after a 1-1 draw.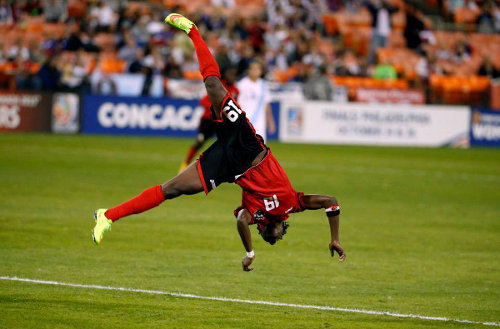 The Women Warriors drew 2-2 with Argentina on Saturday at the same venue while they face Mexico in their final Group A match from 5.35 pm. Mexico whipped Argentina 3-1 earlier this evening.
At present, the Trinidad and Tobago ladies are in third place and must defeat Mexico to advance to the Pan Am semifinals. Whether or not they can accomplish that will not diminish from their courageous and encouraging performances in Canada.

The W/Warriors had hoped to be here a month ago for the Canada 2015 Women's World Cup but were edged out by Ecuador in a two-legged Play Off. Since then captain Maylee Attin-Johnson and her gang, who are ranked 48th in the world by FIFA, have not played a single international game.
And yet here they are are.
The Colombia team that Trinidad and Tobago drew today made it to the Round of 16 in the Canada World Cup and has a global ranking of 25th. Argentina and Mexico are ranked 35th and 26th respectively.
But the W/Warriors refused to make up numbers.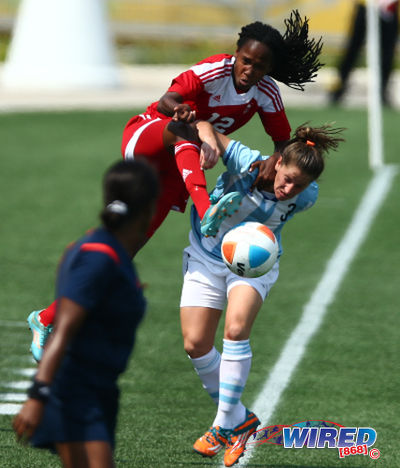 Colombia took the lead today after just four minutes as Ingrid Vidal converted a low right side cross from close range. And Trinidad and Tobago, led in the back by 2014 Player of the Year Arin King, put in a defiant showing to avoid conceding another.
Colombia enjoyed an emphatic 61 percent possession while the South American team had 22 goal attempts and nine corners to six and two respectively by the W/Warriors.
Trinidad and Tobago coach Ross Russell was forced to withdraw Attin-Johnson just after the hour mark with what appeared to be an injury too.
But, three minutes before the final whistle, a Colombian defender played an errant back pass to her own goalkeeper, Sandra Sepulveda, and Cordner, the three-time TTFA Player of the Year, pounced to level the scores with a predatory finish.
On Saturday, the Trinidad and Tobago women face the Mexican team that defeated them in extra time of the 2014 CONCACAF Championship third place play off last October. That loss forced the W/Warriors into a FIFA Play Off against Ecuador.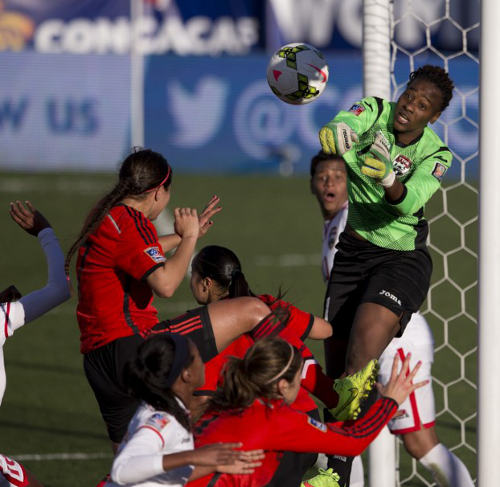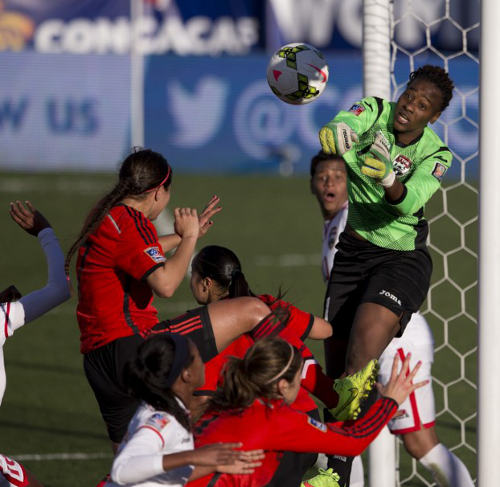 On Saturday, it is do or die again. The winner will advance to the Pan American semifinals where they are likely to meet either Brazil or Canada. The losers will put their boots in storage.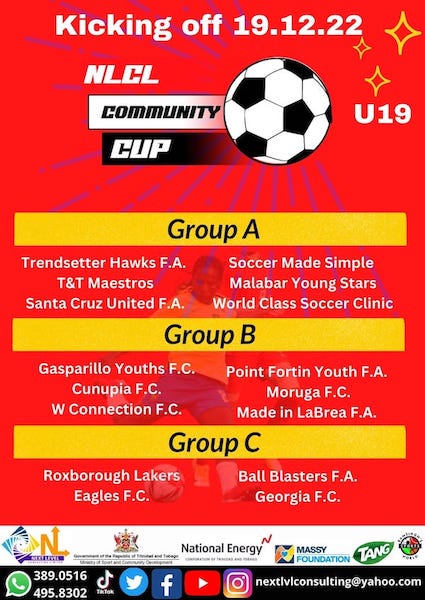 Time will tell if Yaya and the W/Warriors have one more heroic performance left in them.
(Team)
Trinidad and Tobago: 1.Kimika Forbes (GK); 8.Patrice Superville, 4.Rhea Belgrave, 5.Arin King, 17.Lauryn Hutchinson; 16.Brianna Ryce (10.Tasha St Louis 65), 11.Janine Francois, 9.Maylee Attin-Johnson (captain) (6.Khadidra Debesette 63); 12.Ahkeela Mollon, 3.Mariah Shade (13.Shenelle Henry 78), 19.Kennya Cordner.
Unused substitutes: 21.Shalette Alexander (GK), 2.Ayanna Russell (captain), 7.Dernelle Mascall, 14.Karyn Forbes.
Coach: Ross Russell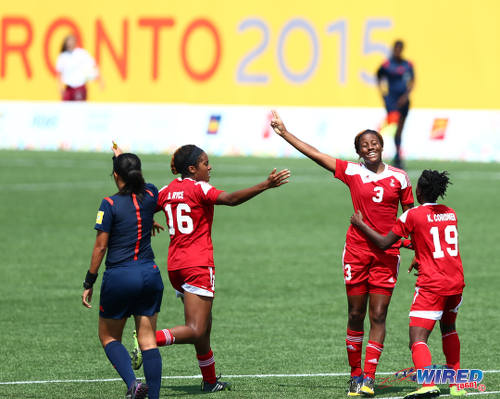 2015 Pan American Games 
Women's results
(Sat July 11)
Trinidad and Tobago 2 (Mariah Shade 59, Maylee Attin-Johnson 90), Argentina 2 (Marianna Larroquette 52, Belen Potassa 88) in Toronto;
(Tue July 14)
Trinidad and Tobago 1 (Kennya Cordner 87), Colombia 1 (Ingrid Vidal 4) in Toronto;
(Sat July 18)
Trinidad and Tobago v Mexico in Toronto.