I am willing to bet that there is a West Indian native or a West Indian supporter in the stats department at espncricinfo. That would explain why somebody tried to take shame outta we face on Sunday after Michel Clarke's Aussies rolled over Denesh Ramdin's West Indies with almost five sessions to spare at Sabina Park in the Second Test on the weekend.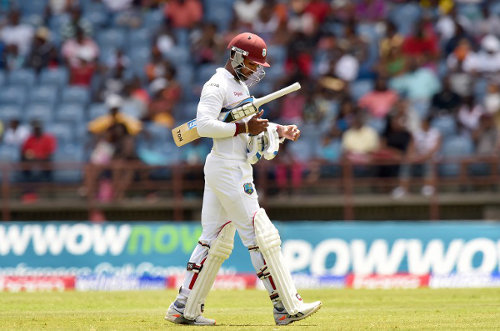 In the Smart Stats box that accompanied the match report, the world was told, inter alia, that the Windies had faced only 611 balls in the two innings of the match. What we were not told is that 611 is also the number of runs scored by the Aussies in their two innings.
Think about that! WI faced only as many balls as the Australians scored runs.
Tell me honestly: Would you blame someone for asking whether that Second Test really qualifies as a cricket match? And whether Ramdin's side qualifies as a cricket team? What more telling statistic than that parity between our balls and their runs do we need to understand just how far down in the cricket world we have come? Just how deep is the crisis?
Smart Stats

0.65 West Indies' win-loss ratio at home over the last 10 years, the worst for any top-eight team. West Indies have played 41 home Test during this period, winning 11 and losing 17.

9 Number of times three out of West Indies' top six batsmen have been dismissed for ducks in a Test innings. Five of those instances have come since 2000.

31 Runs scored by West Indies' top six batsmen in the second innings, the second-fewest in a Test innings at home. The fewest runs scored is 24, also at Sabina Park, against England in 2004.

49 The eighth-wicket partnership between Veerasammy Permaul and Denesh Ramdin in the second innings, the highest in 24 years for West Indies against Australia in a home test.

611 Balls faced (or 101.5 overs) by West Indies' batsmen in this Test, the third fewest against Australia when they have been bowled out twice. The fewest balls is 457 (or 76.1 overs) in Port of Spain in 1999.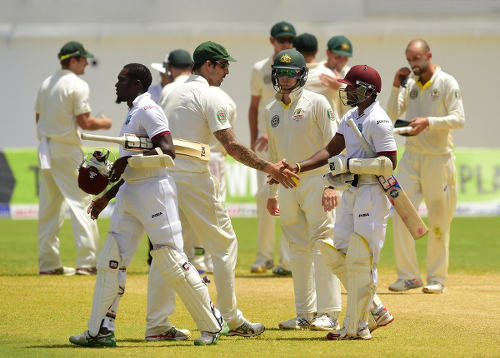 It took the tourists a session and a piece longer to claim victory at Sabina than at Windsor Park. I feel pretty certain that the optimists will advance that as a positive. Also positive in their eyes is the fact that WI saved the follow-on and so did not lose by an innings. And the final two straws at which the optimists, led by Skipper Ramdin, will clutch are Jason Holder's first innings half-century and Jerome Taylor's six-wicket haul, also in the first innings.

But realistically, if you are completely honest with yourself, can you say that, David Warner's first-over dismissal apart, there was one moment in this entire match when you felt proud, really proud of this team?
I mean, we don't even have to go back to the glory days and Michael Holding, say, bowling an unplayable over to Geoff Boycott at Kensington Oval in 1981.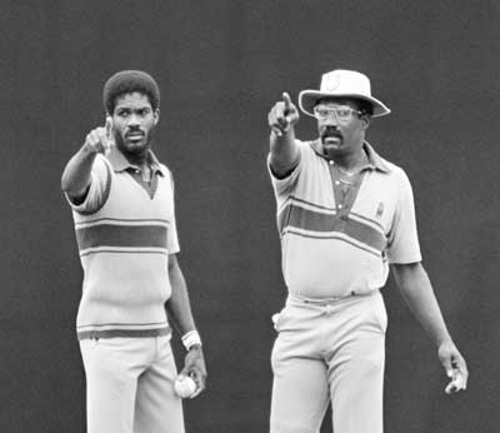 Let's start ten years later with Curtly Ambrose and Courtney Walsh finishing off South Africa to snatch victory from almost certain defeat at Kensington in 1991. Think of Ambrose damblaying the performance to destroy England at the Oval in 1995 or of Brian Lara's scoring 213 and 153 not out against Australia in 1999.
Think of Ramnaresh Sarwan and Shivnarine Chanderpaul helping Lara's team to post 418 in the fourth innings against the same high-flying Aussies in Antigua in 2003. Think of Chris Gayle making a triple century against Graeme Smith's South Africans in 2005 or again against Sri Lanka in 2010 or of the World Cup final in 2012 when Marlon Samuels beat Lasith Malinga to a frazzle and then beat the frazzle?
Do you remember how that felt? When last has a West Indian performance in the Test arena had you, in Duke's words, stiffing yuh chest? Was there one moment in the just concluded series that came even close?
Last weekend was much more reminiscent of the low, empty feeling in your chest in 1999 when Steve Waugh's Australians needed only 457 balls to dismiss Lara's team for 51 at the Oval.
Or when Darren Sammy's side rolled over and died twice in three days at Sachin Tendulkar's beatification in India in November 2013. Or just last month in the second innings of the First Test against England when WI could only manage 307 after being 224 before the fall of the third wicket.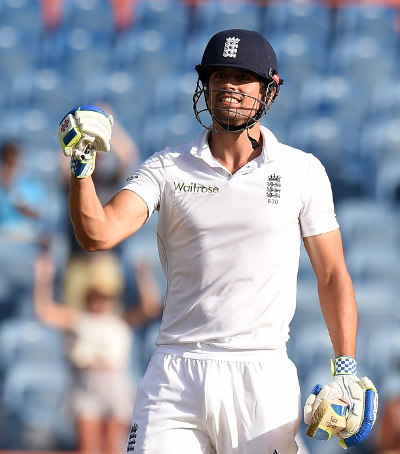 It's not a nice feeling, is it? But brace yourself, West Indies go to Sri Lanka in October/November for two Tests, three ODI's and two T20's but the really stern Test test for the WI comes at the end of the year when we play Australia in Australia.
I am sort of silently hoping that Channel 9, Sky Sports and Sports Max will all have a massive technical failure just at that time. Because the truth is that my masochism includes being unable to not watch even when I know that only serious cutarse is in the offing.
So what to do?
We have, the sentimentalists will urge us, to reculer pour mieux sauter. Bring back Chanderpaul, they will say. And Dwayne Bravo. And Keiron Pollard. But sometimes you can reculer so far that even when you sauter you have lost ground.
A genuine crisis, Lloyd Best used to say, is a situation in which whatever you do is wrong; I think we have one on our hands.  And because of that, I think, another Lloyd, chief selector Clive, has, Fazeer Mohammed pointed out in Monday's Express, "asked the Caribbean people for patience."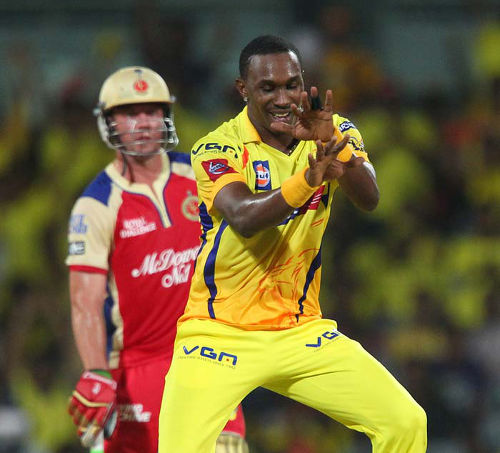 Mohammed, who for me leads the regional realists, has set down in clear terms the reasons why we cannot afford to go that route:
"So they all make themselves available again. They're all picked without the nuisance of playing any of our sub-standard first-class cricket in the Caribbean. They show their class in bits and pieces and the West Indies lose again. Then they're unavailable because of this T20 thing over here or that T20 thing over there and the selectors fill the spots with players who were tried, dropped to accommodate the returning stars and are now picked again…"
"…makes a whole lot of sense, doesn't it?"
So what to do?
Trust the leadership? If, says Fazeer, "Phil Simmons, Lloyd and the other members of the selection panel (Courtney Walsh, Eldine Baptiste and Courtney Browne) (…) know what they are doing and are convinced that they are on the right path, they have to stay the course come what may."
That's a big "if." He is asking us to trust the leadership that tossed the 23-year-old Jason Holder into the deep end of the pool by promoting him to the captaincy for the World Cup.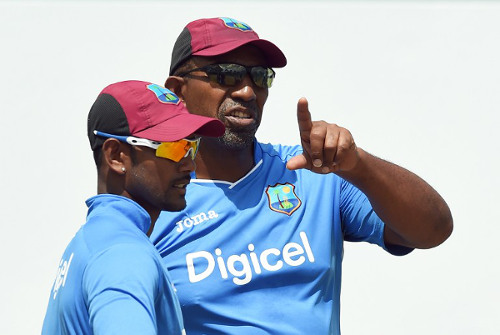 Do you remember the look on Gally Cummings' face on November 19, 1989 when the Strike Squad was a goal down and time was running out? He looked, I wrote at the time, like a desahuciado, the Spanish word both for a man who's been evicted from his lodgings and has nowhere to go and a man who's terminally ill and been written off by his doctors.
I saw that same look on Holder's face when AB DeVilliers took a liking to his bowling in the pre-World Cup series and again during the World Cup and began to beat him out of sight and then beat him a little more for hiding.
But guess what? Since then, the same Holder has produced an unbeaten century against England, an unbeaten half-century against Australia and an aggregate of 264 runs in nine innings at an average of 44.
With the ball in the same period, he claimed 11 wickets for 367 runs at an average a shade over 33. In fact, he has performed so well that the professional commentators are now all agreed that he has solved the problem of finding a batting all-rounder to occupy the number six slot and leave room for an additional bowler.
So trust the leadership? Well, maybe…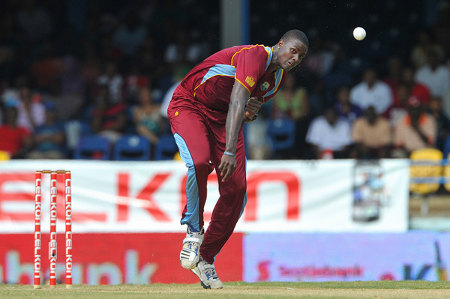 But they have to do something about the captaincy; Ramdin simply is not cutting it. He sees the problem as his not contributing with the bat. That's true. In his last 22 Test innings since the end of 2013, he has scored just 349 runs at an average of 16.61 with a solitary half-century.
But the West Indian problem is neither his hands and feet nor the space in front of and behind the stumps; it's the space between his ears!
So what to do?
For me, the crisis gives us little choice in the matter. David Rudder is an honourable West Indian man. And David Rudder assures us that when the Toussaints go, the Dessalines come.
Even if like me you are tempted to ask the bard, "Really?", take a deep breath, exhale, swallow the bile and, for a few seasons more, rally.