Says he wants to publish damning report…
June 24, 2010: THE TIMING was brilliant. I don't believe the prosecutors in Zug conspired with FIFA to release their statement as the first round of the World Cup in South Africa was ending and the eyes of fans were on teams advancing to the second round — and who was going home.
But it helped. The world's football writers were busy.
Blatter put out a mendacious statement;
'The FIFA President has been cleared of any wrong-doing in this matter. As the investigation and the case are now definitely closed, FIFA will make no further comment.'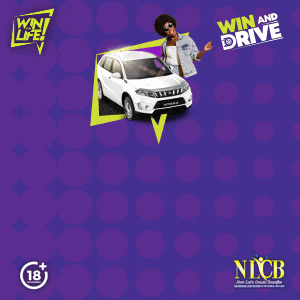 It appeared they had got away with their crimes.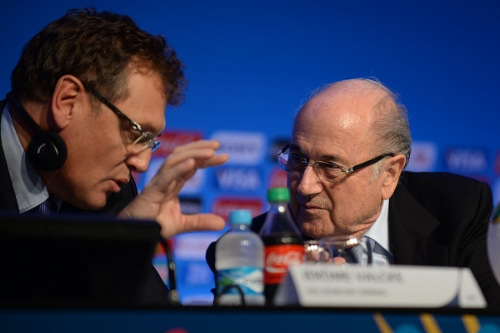 Later that year, somewhere in middle-Europe, I talked with a policeman. Deliberately, to wind him up, I showed him Blatter's statement 'The FIFA President has been cleared of any wrong-doing in this matter.'
It worked. The policeman – who had knowledge of the investigation – exploded.
'That is not true!' he said.
We talked for many more hours. I asked, 'how do I get my hands on the confidential investigation report, locked away in Zug?'
'They cannot and will not leak it to you,' he said. 'But there is another way.'
I listened.
'You have to convince a court that it is in the public interest to publish the report.'

As dark fell over a nearby lake, I returned to my hotel room to write notes of the secret meeting into my laptop. The policeman gave me a name and wished me well. The next day I called my friend Jean-François Tanda in Zurich. He had trained as a lawyer before becoming a top class investigative reporter.
'Yes,' he said. 'There is a precedent case in Switzerland. I am looking at it already. A former army chief paid compensation to a woman who accused him of harassing her.'
Zurich newspapers went to court and eventually the judges agreed that the public had a right to know and the name of the army chief was published with the evidence and the amount he paid her to conclude the case.
I was working on a new BBC Panorama programme investigation, to be screened at the end of November 2010, a few days before the FIFA lowlifes announced to whom they would give the World Cups of 2018 and 2022. I had acquired some sensational information – and a document. But we were not alone in hunting down FIFA corruption.
WORLD CUP VOTES FOR SALE! This was the headline in the London Sunday Times on October 17, 2010. A team of reporters posed as lobbyists for a consortium of American private companies who wanted to get the World Cup to the United States.
They had secretly filmed Amos Adamu from Nigeria, a member of FIFA's executive committee, offering to sell his vote for £500,000.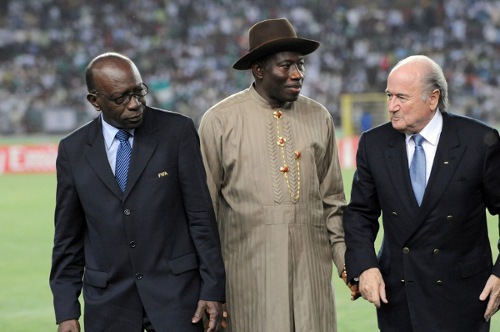 (Thirteen months later the Sunday Times published documents revealing that the Qatar bid team had contracted to pay $1 million to Amos Adamu's son Samson, to host a lavish dinner and party in South Africa, during the World Cup. The dinner took place but the Qataris claimed they had second thoughts and denied paying the money.)
The Sunday Times Insight team also fingered another ExCo member, Reynald Temarii from Tahiti, requesting £1.5m for a sports academy. This broke FIFA's elastic bidding rules.
The journalists secretly recorded hours of conversation with knowledgeable FIFA officials who discussed past bribes. One ExCo member was named as 'the biggest gangster you will find on earth' who profited from World Cup bids.
'I can imagine that the total of what he would receive in money and in other advantages would be as a minimum, half a million.'
Another one was happy to sell his vote.
'We can go to Rio and talk with him on a terrace, no problem. Openly, openly,' said a football official. Yet another of the 23 ExCo members preferred girls to money. Lots of girls.
Former executive committee member Amadou Diakite from Mali revealed that one of the countries bidding to host the World Cup in 2022 was offering $1.2m to members for 'personal projects.'
IN THE YEARS that followed we witnessed Blatter's sordid attempts to dissemble and divert attention from the embedded corruption in his own boardroom. It was the actions of a mafia boss, scorning every reasonable standard of public behaviour, protecting his loyal capos, never critical when they were caught stealing.
With exclusive access to confidential sources and documents I can reveal how Blatter twisted and lied to stop the world discovering the truth about the rottenness of FIFA.
Blatter's immediate response to the Sunday Times evidence was to announce he had banned ExCo members from talking to the media.
Then he went on the attack. 'I do not think there is anything wrong with the voting procedure. We have come to expect it to be carried out morally and ethically based on good judgment and on what has been presented by a bidding committee.'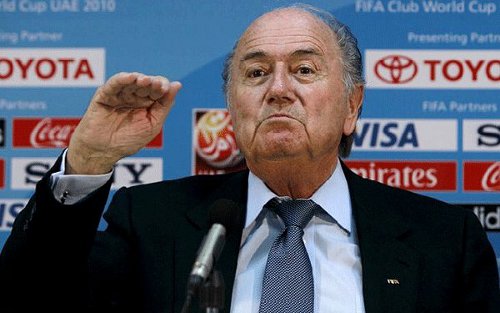 Was he smoking that stuff? Did he think we were?
No, the bigger the lie the better. And Blatter had more lies.
'By having a small body decide where the World Cup will be held, you also can identify the people responsible for choosing the World Cup venue — the executive committee — because they are the same people responsible for making it work.'
Firstly, this was not true. It was a secret ballot so we could never 'identify the people responsible for choosing the World Cup venue.' Secondly, they would not be 'the same people responsible for making it work.' Thirdly, few of the aging ExCo would be alive, never mind in power when responsibility had to be taken for awarding the World Cup to Putin's police state and the feudal setup in Qatar.
Hoping to bury the bribery disclosures, FIFA's ethics committee took only a month to ban Adamu for three years and Temarii for one. Claudio Sulser, Blatter's obedient glove puppet and chair of their ethics committee attacked the media, criticising the Sunday Times as 'sensationalist.' The crooks were in no mood to be remorseful. Blatter was aware there was another scandal about to break over FIFA. But he didn't know what it was. And Havelange could not care less.
November 22, 2010, Soccerex, Rio: Six months after he secretly confessed conspiring with Teixeira to embezzle FIFA's money, João Havelange was guest of honour at the Soccerex trade show in Rio. He had a special announcement to make; everybody please listen.
'Ricardo Teixeira would be a good president of FIFA. He speaks English and French and runs the CBF well. This would give me great joy.'
Shameless. The cluster of Brazilian thieves around João and Ricardo had always lamented losing control of FIFA in 1998. Teixeira might have been nominated as a candidate in that year. He and his former father-in-law had enough money to bribe delegates to the FIFA Congress in Paris.
So why couldn't Havelange force Blatter to stand aside?
The answer is probably that Blatter desperately wanted the job and he had too much dirt on the old man to give way. There may have been a deal. Did Blatter promise Teixeira, as he did with Mohamed Bin Hammam, that he would stand down after two 4-year terms?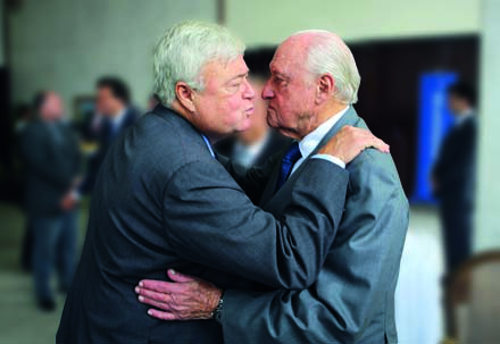 November 29, 2010: 'TONIGHT – CORRUPTION at the heart of world football.'
These were my first words as I launched the BBC's latest primetime investigation.
I continued, 'We reveal the three senior FIFA officials linked to an extraordinary list of secret payments worth around a hundred million dollars.'
Then came the question I was to hear repeated back to me again and again in every bar or meeting I go to in Brazil, 'Mr Teixeira. Did you take your bribes through the Sanud company?' It's funny now.
Two days before transmission of FIFA's Dirty Secrets I collapsed from exhaustion and was rushed to hospital. I was back on my feet 24 hours later in time to record the commentary for the film.
We were completing this complex film under intense political and media pressure on the BBC to kill the film, scheduled for transmission three days before the FIFA ExCo voted on 2018 and 2022. Prime Minister David Cameron said that our determination to screen was 'frustrating.' The brainless tabloids screamed every day that whatever was in our programme – and we had stayed tight-lipped about the $100 million bribes list – we would undermine England's hopes to host the World Cup in 2018.
The rightwing press hate the BBC. They went quiet after England got only two votes and it began to dawn that England lost an excellent bid because they would not pay bribes. Six months later I was cheered by England fans as keynote speaker at their annual fans' parliament.
One day passed and Issa Hayatou's Cairo-based spokesman was claiming that the 100,000 French Francs I disclosed was not a bribe from ISL. It was a  'donation' to celebrate the 40th birthday of their organisation. It was not explained why the money had been paid in cash to him personally.
The usually tepid Jacques Rogge stepped up to the Olympic plate announcing an investigation into the naming of IOC members Hayatou, Havelange and later Lamine Diack from track and field who was also on my ISL bribes list.
'It will not, in my humble opinion, last for months,' Rogge told journalists. In fact it lasted 12 months — because of Havelange's devious delaying.
The world noticed that Blatter and FIFA were not launching any investigation. A week into the new year, surrounded by love in Doha, Blatter launched a deranged assault on the IOC, saying FIFA was more transparent than the IOC and 'Our accounts are open to everyone. … We've done it since I'm the president.'
Before reporters could chorus, 'How much do you earn at FIFA?' the demented Blatter insulted 50% of the planet's population.
The IOC, he stumbled on, handles its finances 'like a housewife.' A few days later he apologised to Rogge in a private call. The IOC leaked this, gleefully, off-record, to the news agencies. But Blatter was the real winner; the silliness diverted media attention from the bribes and dirt at FIFA.
Blatter won another battle in Doha. A flood of money from his friends in Kuwait and Qatar at the regional congress of Asian football ensured the removal of longtime opponent Chung Mong-joon, the Hyundai billionaire from Seoul, from his vice-presidency, replaced by Prince Who?
A little-known princeling from Jordan. Prince Ali asserted, baffling to me, 'I continue to believe in the power of unity to develop football.'
His contribution to the bleak, global concerns about FIFA corruption was to call for an end to 'politics.'
Prince Ali was elected by the 46 member countries of Asian football. The voters seemed impressed most of all by his proposal for an easy-to-access development fund. Since then he has said he wants 'transparency, openness and integrity' at FIFA. Herr Blatter's salary and perks remain a secret.
If Asian football politics were a joke, so was South America's. Nicolás Leoz, the Paraguayan vacuum cleaner, now aged 82, was re-elected President of Conmebol. It was a unanimous vote by all 10 member countries.
The highlight of the ceremonies was Leoz hanging a medal around Teixeira's neck. You wonder where they stole it.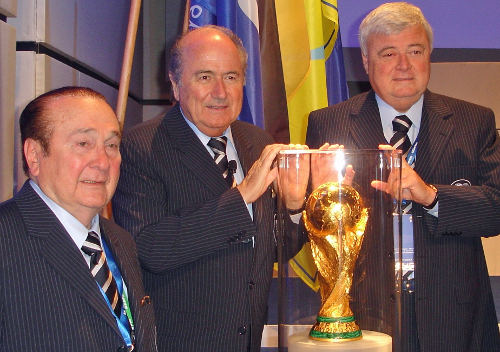 WE WERE BUILDING up to another FIFA exposé at BBC Panorama. I slipped into UEFA's Congress in Paris and managed to confront Blatter about the bribes ('No Comment') and Issa Hayatou ('No Comment'). I tried Nicolás Leoz and he gave an unintelligible grunt and fell asleep in the front row of the convention.
Other welcome guests were the two biggest bagmen in world football. Jean-Marie Weber, now on the payroll of Issa Hayatou, again declined to talk. Fedor Radmann – as ever with his close associate Franz Beckenbauer – saw me approaching with my camera team – and both men ran away!
Our new programme, FIFA: Football's Shame, used some of the secret footage filmed by the Sunday Times. Former ExCo member Ismail Bhamjee, forced out in 2006 over re-selling a mere 12 World Cup tickets, had told the undercover reporters that Qatar was offering up to $500,000 for ExCo members' votes. I also revealed that despite the secrecy, the two big bribe-takers named in the Hildbrand investigation report were Havelange and Teixeira.
The crucial issue then – and would be for the next year – was Blatter's devious manoeuvres to avoid publishing the Hildbrand investigation report. From May 2010 he always had a copy in his desk drawer and could have made it public at any time. There was no law to stop him.
Every time he said he was blocked by Swiss law – he lied. Another lie was his pretence that he didn't know the contents of the report. Blatter and his lawyers had argued every point with the Zug authorities in the previous few years. They knew everything.
By now my colleague James Oliver at the BBC and Jean-François Tanda in Zurich had begun legal action to have the report released, arguing legitimate public interest. They applied to the court in Zug and won! There were no objections from the authorities. This was a disaster for the crooks.
The lawyers for Blatter, Havelange and Teixeira fought back, sending appeals to the court. From the beginning Blatter – or FIFA – used their own identities. But Teixeira and Havelange insisted on hiding behind the codenames 'B2' and 'Z.'
On May 23, 2011 the lawyer for 'B2' — who we soon realised was Ricardo Teixeira — sent a 13-page letter to the Zug court.
He stated, 'B2 has a right to have his private life protected . . . disclosing the identity of B2 would lead to negative reporting in the press which would have a disproportionate pillory effect. The public reputation of B2 would be harmed in such a way as not to be reparable.'
If this claim had been known in Brazil there would have been a national screech of laughter from Belem to Porto Alegre. Teixeira's reputation was already wrecked at home.
The lawyer continued, 'There also exist considerable security risks in the country in which B2 resides. Locally important figures such as B2 are subject to strict security measures. B2's house is surrounded by a security fence and is guarded by security staff day and night.'
The same day another letter arrived from the lawyer representing 'Z' – of course we knew immediately that this was João Havelange. He had a new point; publication, 'would result in personal information regarding Z (name, profession, criminal charges, family details and social contacts, finances) being released which is not required to meet the public's need for information.'
There was more.
'There are also considerable security risks in the country in which Z resides. Locally important figures such as Z are subject to strict security measures. Z's house is surrounded by a security fence and is guarded by security staff day and night.
Personal information on the complainant such as his address or information on his financial circumstances are not publicly available in the country in which Z resides since such information encourages kidnap, burglaries or robbery. Should the identity of Z, as well as the amount of the indemnification paid, become publicly available, the consequences for the personal security of Z would be difficult to foresee.'
The third letter that same day was from the offices of Blatter's longstanding defender, lawyer Peter Nobel. How would he combat free publication? He argued that his gangster clients on the hill above Zurich were protected by the Swiss Federal Constitution, the European Convention on Human Rights and the International Covenant on Civil and Political Rights.
These legal campaigns to suppress the dirty truth about FIFA were undermined in public by their latest scandal as ExCo members Jack Warner and Mohamed Bin Hammam were suspended following revelations of a plot to buy votes against Blatter in the upcoming presidential election in the Caribbean. Within the month Warner resigned from FIFA, to escape investigation. His accuser, Chuck Blazer beamed with pleasure – but within two months was in trouble himself and his FIFA career soon over.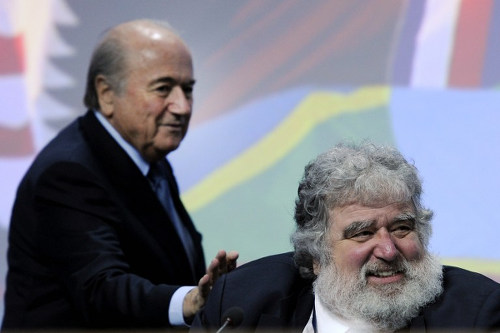 Behind the scenes the collapse of FIFA's image was concerning their paymasters. The sponsors – or 'partners' as we have been brainwashed into calling them – were worrying that they had paid millions to buy into an organisation that now smelled globally. Adidas, who publicly and privately had propped up Blatter for 40 years, said the corruption allegations were 'neither good for the sport of football nor for FIFA as an institution and its partners.'
Coca-Cola followed, describing the revelations as 'distressing and bad for the sport.' They added, 'We have every expectation that FIFA will resolve this situation in an expedient and thorough manner.'
Again, in August 2011, the Zug authorities ruled that the Hildbrand report should be published. This was immediately appealed, again, by lawyers acting for Blatter/FIFA, Havelange and Teixeira. Blatter was incorrigible. In late October his briefers fooled the always compliant BBC Sport into announcing that he was 'making a U-turn' and would push for publication. In private he and the other two continued fighting but were again rejected by the court in Zug.
Blatter came up with a new PR trick. In secret he agreed with the other two that they should continue fighting disclosure. He would terminate his legal campaign – but claim that because of their legal opposition, he was not permitted to publish.
Blatter put out another false statement to the media.
'FIFA has been working intensively over the past few weeks with its lawyers and legal team to be able to publish the ISL file at the next meeting of the FIFA Executive Committee in Japan on 17 December 2011,' he lied.
'It was my strong will to make the ISL file fully transparent at this meeting. I have now been advised that as a result of the objection of a third party to such transparency it will take more time to overcome the respective legal hurdles.
More lies were rolled out:
'This does not change my stance at all. I remain fully committed to publishing the files as soon as possible as an important part of my many reform plans for FIFA, which include handling the past as well as preparing the future structure of the organisation.'
It was hard to tell where the clouds of smoke ended and the mirrors began.
BBC Panorama took more independent legal advice in Switzerland. It was absolutely clear. Blatter was free to reveal his copy of the Hildbrand report. He could have gone further and denounced the two Brazilians. But Mafia bosses do not denounce their fellow gangsters for criminal activities. It's their job description.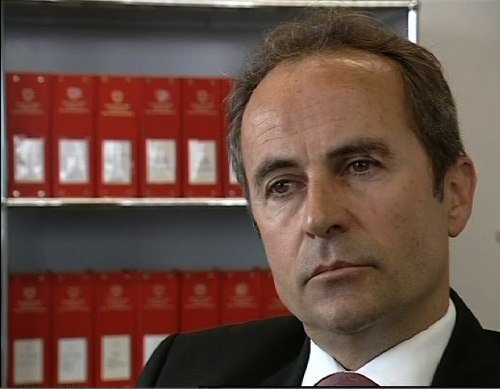 Blatter was careful to avoid meeting any critical reporters. But he was safe with the online newsletter insideworldfootball, dependent on funding from sports federations, promoters of mega-events and other sources. They reported that 'he has promised to leave no stone unturned and, for the first time, name names as part of his anti-corruption drive at the heart of world football.'
Blatter was quoted that he wanted only 'solutions that bite' and 'It takes time to shake the tree until all bad apples have fallen to the ground.' He was upset by criticisms that 'occasionally degenerates into personal and below the belt attacks.'
There was one more humiliating blow to come in 2011.
Editor's Note: Wired868 has been authorised to publish excerpts from Omertà for readers. We urge you to purchase an online version of the book for just US$11.70 from Amazon by clicking HERE.