Pro League bigwigs DIRECTV W Connection and Central FC both left the Ato Boldon Stadium, Couva aggrieved at getting the boot last night as the Pro Bowl competition took an unexpected twist in the semifinal round.
In only one case did that mean elimination, though.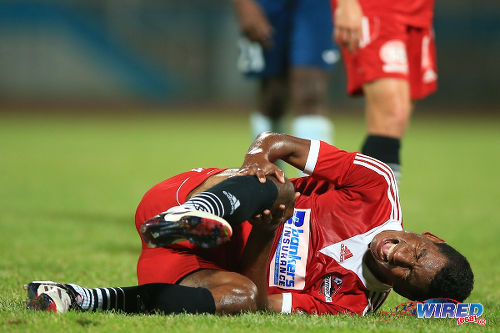 Defending champions W Connection lost their final chance at a domestic trophy this season after a shock 5-4 defeat to Caledonia AIA on penalties. While, in the second match of the Couva double header, Central edged Police FC 1-0 in a bruising affair that saw both of their strikers leave the field injured and their coach, Terry Fenwick, ejected for dissent.
At this rate, it might be difficult for either of local football's big two to get excited about next Friday's Caribbean Cup semifinal assignments.
Caledonia, with all due respect, bettered only St Ann's Rangers in the League standings this season while they finished six places and 22 points behind Connection. And, at the risk of being unkind, their 32-year-old playmaker Conrad Smith is probably more prolific on the dinner table than on the football field these days.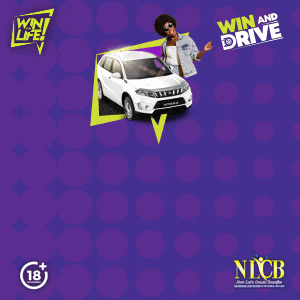 And yet Caledonia and Smith both capitalised on a listless Connection squad to book their first berth in a cup final for two years.
Both teams traded early blows as Mekeil Williams put Connection ahead in the third minute after the "Eastern Stallions" failed to deal with a corner kick. And Guyanese poacher Pernell Schultz pulled Caledonia level again in the 11th minute with a clever, composed finish after a pass from captain Kareem "Tiny" Joseph.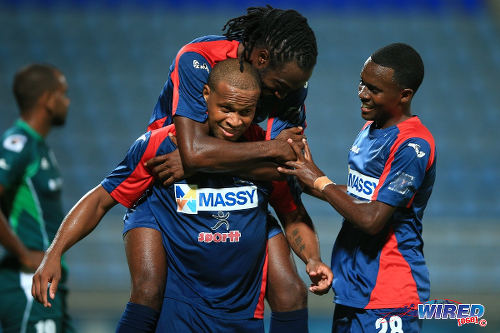 Joseph, another Caledonia veteran, produced the goal of the night in the 37th minute, as he ran on to a brilliantly measured Nathan Lewis pass before slapping into the far corner from just inside the opposing box.
Smith, who made up for his decreased mobility with good hold-up play and distribution, doubled Caledonia's advantage in the 56th minute after he pounced on an awful Alvin Jones backpass to embarrass Connection.
Inevitably, Caledonia's legs went and two late close range strikes by Shahdon Winchester and Hashim Arcia brought the defending champions level before the final whistle.
But the "Savonetta Boys" did not make the most of their reprieve, as Winchester struck the post while all other nine kickers converted to give Caledonia an unlikely trip to the Pro Bowl final.
Incidentally, Caledonia's last final was against the then newly formed outfit, Central FC, in March 2013. The "Eastern Stallions" won that encounter 2-0 to become the first club to retain the TTFA FA Trophy in over a decade.
Central were in no mood to reminisce, though, as they wrestled with their own skeletons.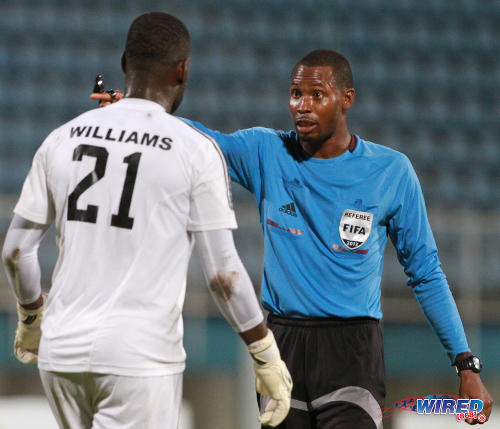 The "Couva Sharks" have been divided over the last week, as a bonus dispute over their unpaid Pro League winnings pitted players and staff against administrators as well as each other.
But if there is anything that could unite Central other than Couva foe, W Connection, it would be referee Rodphin Harris.
Two years ago, in a First Citizens Cup semifinal fixture against Connection, Harris ejected Jason Marcano for abusive language, just 13 minutes into the match, and Fenwick followed on a similar charge in the second half.
Central prevailed then on penalties and went on to claim their first crown but the ill-will never evaporated. Not on the club's side, at least.
There was little in the way of goalmouth action between the two teams last night. Willis Plaza took his chance brilliantly in the sixth minute as he hesitated long enough for Police custodian Adrian Foncette to commit himself, before lifting the ball over him and into the back of the net.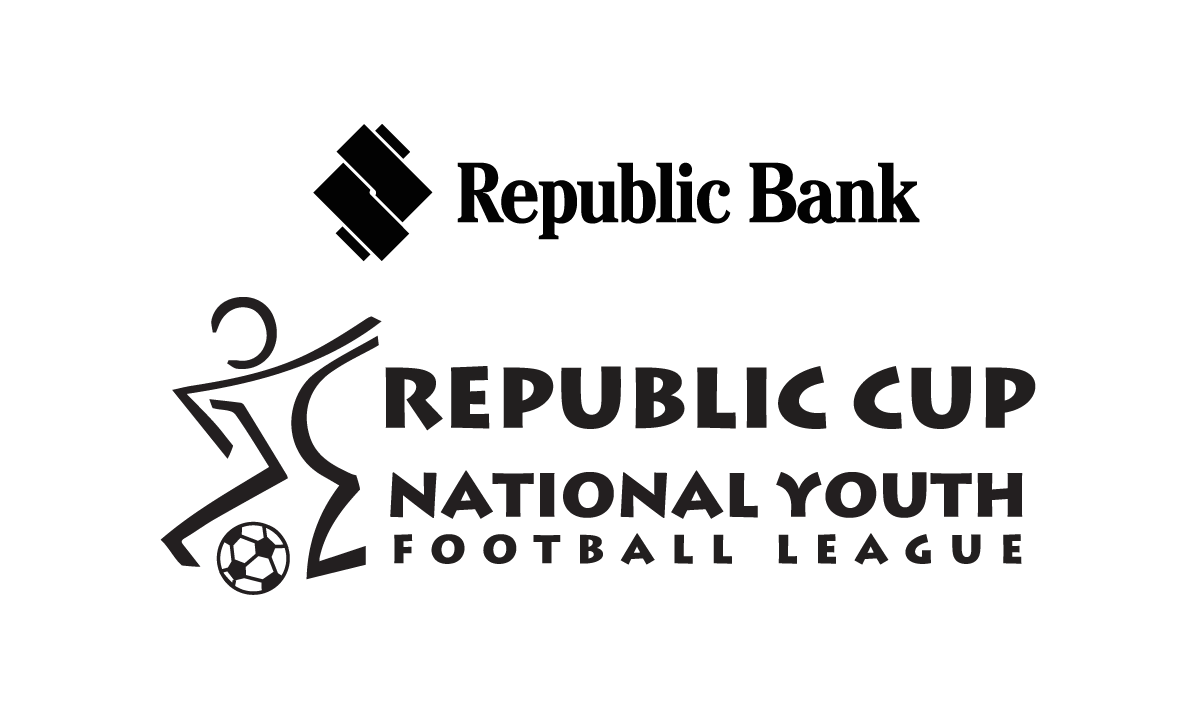 At the other end, Police failed to muster a single shot on target and rarely threatened apart from Kareem Freitas' dangerous free kicks into Central's 18-yard box.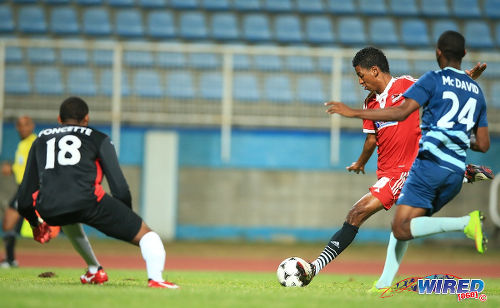 But the Police tackling was loose and liberal, if not reckless. And, by the final whistle, the Sharks would have been craving ice packs not champagne bottles.
Playmakers Ataulla Guerra and Marvin Oliver were both hobbling while Plaza was substituted at halftime following a knock to his knee. But Plaza's replacement, Dwight Quintero, fared worst of all as he was stretchered off in the 62nd minute with a gash over his shin bone and taken straight to the hospital for three stitches and an x-ray.
National Senior Team coach Stephen Hart and Olympic Team coach Zoran Vranes, who were both present, must have watched the match through their fingers. Quintero is an Olympic Team triallist while Plaza is a regular Senior Team player and, a month and a half before the 2015 CONCACAF Gold Cup, Guerra is the only fit playmaker Hart has left.
"There was a gash above (Quintero's) shin that was an inch and a half wide and a centimetre deep," Central physio Sheldon Scipio told Wired868. "We asked the referee to look at his condition. But he refused and said his job was just to get the game restarted."
Not for the first time, Fenwick also failed to last 90 minutes with Harris as he was ejected for dissent in stoppage time after a rough challenge on Oliver.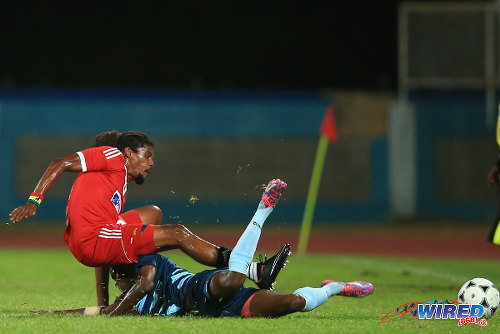 "There is no room for that sort of incompetence in football," said Fenwick, who vowed to lodge a protest to the relevant authorities.
Underpaid, unloved and over-kicked, in their estimate, Central are finding life as champions to be tougher than they might have expected. But they can still sign off in style with Caribbean Cup and Pro Bowl trophies still at stake.
That is if, considering the internal and external struggles, they still have the stomach for it.
(Teams)
Caledonia AIA (4-4-2): 1.Shemel Louison (GK); 12.Kareem Joseph (captain), 16.Pierre Hitner, 23.Jamil Joseph, 22.Jameel Neptune; 27.Nathan Lewis (25.Anthony Charles 84), 26.Nicholas Marcano, 9.Keyon Edwards, 18.Trayon Bobb; 4.Conrad Smith (30.Domini Garnett 81), 28.Pernell Schultz (29.Mickaeel Gordon 68).
Unused substitutes: 34.D'Eandre Villaroel (GK), 2.Kyle Mack.
Coach: Jerry Moe
W Connection (4-2-1-3): 18.Julani Archibald (GK); 39.Alvin Jones (20.Christian Rodriguez 71), 19.Leslie Russell, 5.Mekeil Williams (captain), 36.Triston Hodge; 3.Gerard Williams, 8.Yhon Reyes (27.Shannon Gomez 61); 14.Hashim Arcia; 65.Neil Benjamin Jr (40.Jomal Williams 61), 9.Shahdon Winchester, 12.Jerrel Britto.
Unused substitutes: 22.Aquelius Sylvester (GK), 13.Devaughn Elliot, 26.Maurice Ford, 28.Aikim Andrews.
Coach: Stuart Charles-Fevrier
Referee: Keon Yorke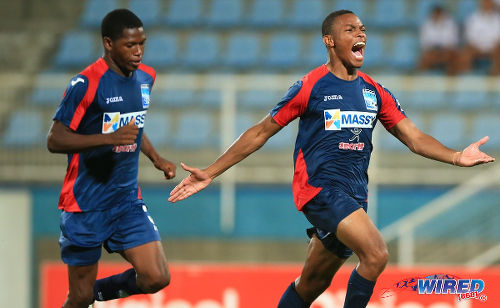 Pro Bowl semifinals
(Fri May 15)
Caledonia AIA 3 (Pernell Schultz 11, Kareem Joseph 37, Conrad Smith 56), W Connection 3 (Mekeil Williams 3, Shahdon Winchester 77, Hashim Arcia 88) at Couva;
*—Caledonia won 5-4 via a penalty shootout;
Central FC 1 (Willis Plaza 6), Police FC 0 at Couva.