"Now yuh in front de stand, yuh stiffing yuh chest, yuh waving yuh hand, yuh lifting yuh dress. Eh-eh, lady, how yuh have so much zest?"
Darren Bravo and Jermaine Blackwood are now giving England's Joe Root and Mooen Ali thunder at Kensington Oval.  Having defied the spearheads of the English attack, Man-of-the-Series James Anderson and his aggressive striking partner Stuart Broad, they have edged the West Indies ever closer to the match-winning target of 192.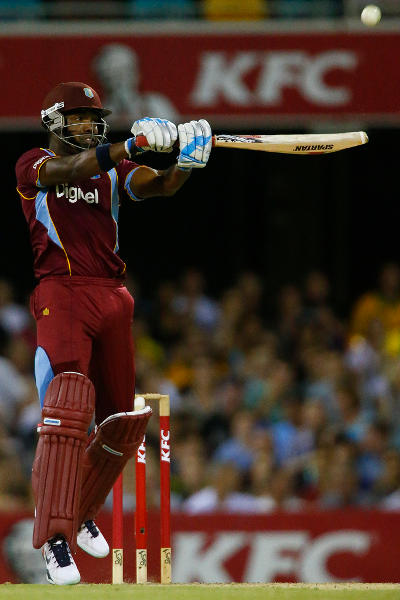 As the pair become increasingly confident, the mood in the Hall and Griffith and the Greenidge and Haynes Stands changes. The tension in the air and the strain on the faces at 80 for four when Shivnarine Chanderpaul ended his Test career with a played-on duck gradually dissipates.
Eventually, the mood is celebratory and the local supporters become increasingly raucous, silencing the usually boisterous Balmy Army. Like the tourists' captain, they know England's coocoo is cooked.
And the home crowd throws off its concerns, shrugs off its restraint and comes down "in front de stand" to celebrate the win, provoking memories of the female "in front de band" in the Mighty Duke's "Thunder."

Meanwhile, back in the pavilion, Coach Simmons and his assistant Curtly Ambrose are rather more sombre. They are chuffed by the solidity of Bravo's defence, they admire the quality of Blackwood's shot selection.
But they have seen the Jamaican right-hander's ballooning front-foot shot bisects Anderson, the bowler, and Root at short-cover and the Trinidadian left-hander's lofted drive just evades the despairing dive of Ben Stokes, they are mindful of the brinksmanship.
Blackwood was not yet off the mark when he went – it was something between 'danced' and 'sprinted' – down the wicket and missed. WI would have been 82 for 5 had Josh Buttler not grabbed at the ball down the leg-side and fumbled it.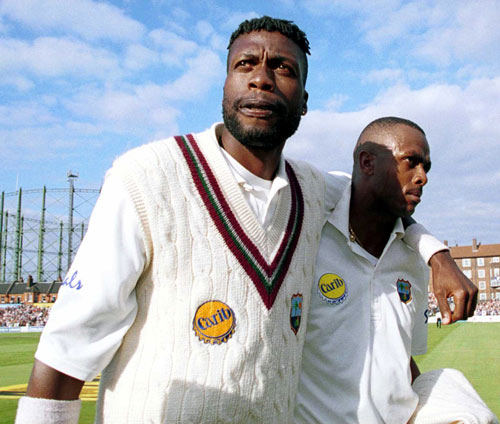 The coaches have also seen Blackwood have a dash at a few balls outside off stump and miss, to the frustration of the waiting wicketkeeper and the slips. And they have seen others take the edge and go wide or fall short but not to hand. In their heart of hearts, they know that the distance between the five-wicket win and defeat by 20, 40, 60 or 80 runs was a matter of mere inches.
And Simmons and Ambrose know that Michael Clarke's ruthless Australians, who ask for no quarter and certainly give, none are waiting around the corner in June.
June is but weeks away and the problems persist.
Promoted to opener to replace the out-of-his depth Devon Smith, Shai Hope did not, does not look quite up to it. The two Mitchells, Starc and Johnson, are likely to be not less but more of a challenge than the English attack, offering in their package more swing, more pace and more deviation off the wicket. And more aggression, enhanced as it will be by the sledging.
Despite the second-innings century in Grenada, Hope's senior partner Kraigg Brathwaite has not enjoyed the best of seasons so far, with an aggregate of 70 (39, 5, 1, 0, 25) in his other five knocks. More than once he fell to a short-pitched ball and he'll get plenty of that from the Aussies.
Bravo, Marlon Samuels, Blackwood and Ramdin just need to be reminded of their responsibilities to the team so that the rushes of blood that have cost them their wicket at times in the England series will be conspicuous by their absence during the two Australian Tests next month.
Not so Chanderpaul, who never loses sight of his responsibility to the team if only because he never loses sight of his responsibility to himself. But he has managed scores of 46 and 13, 1 and 7 and and 0 batting often with his team in trouble. At 40, he is not the Chanderpaul of old, facing 186 and 63 balls in the two innings of the First Test and then 40 and 38 respectively in the next two Tests.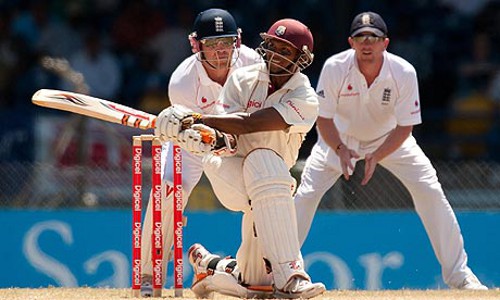 Chanders has served West Indies cricket long and well and it would be wrong to dump him unceremoniously if he wants to stay on to try his hand against the Aussies. But someone should be designated to have a conversation with him about the advisability of playing on at this stage.
My choice would be Brian Lara, within sniffing distance of whose official West Indies record Test aggregate of  11912 Chanders finds himself, or Curtly Ambrose whose passion for and commitment to West Indies cricket all those who have eyes can see.
All in all, the coaching staff will be happy with the four fast bowlers on show, Jerome Taylor, Kemar Roach, Jason Holder and Shannon Gabriel, having accounted for 30 of the 48 English scalps claimed by the West Indians.
Roach of course, well below his best, lost his place to Gabriel in Barbados whose extra pace was much commented upon on television and radio. But no one can reasonably feel that Roach's problem is more than a temporary loss of form, fitness or motivation or a combination of all three.
More worrisome is the support bowling, neither Sulieman Benn, Devendra Bishoo nor Verasammy Permaul who provided first-call spin services in each of the three Tests looking quite to have what it takes.  And with Sunil Narine having his own troubles in the IPL, there is no obvious solution in sight.
For me, however, the most pressing problem is the laglee captaincy of Denesh Ramdin.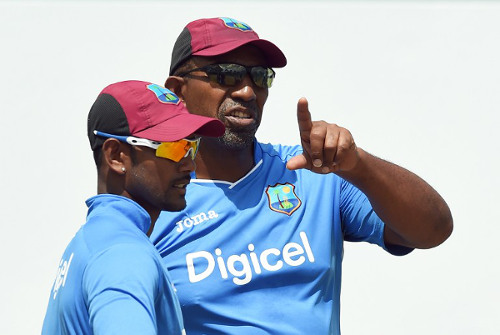 It is predictable, unimaginative and reactive and it will be extremely ineffectual against players like David Warner, Steve Smith and Michael Clarke, assuming that, the three-day five-wicket win against Cook's troops notwithstanding, Australia deign to bring a full-strength squad to take on the "mediocre" local lads. Frankly, more than anyone else's, it is Ramdin's face that Bravo and Blackwood saved.
Interviewed after the match by Michael Atherton, the skipper was asked whether he was looking forward to leading this winning squad against the Aussies next month. His response was instructive.
He said he would be delighted to take up the challenge "if I am given the opportunity."
If he is not, he will have no one but himself to blame.