Budding author Raheema Sayyid-Andrews shares an enduring love with Wired868:
When she was eleven, she fell in love. There were no fireworks or lightning bolts but it was intense, life-altering… and forever.
It was the first time she read a romance novel.
It was written by Barbara Cartland, set in the age when dukes and ladies roamed civilized society and only a rake dared glance at a lady's ankle or, God forbid, attempt to hold her hand. It was an era when merely being unchaperoned in the presence of an unrelated male would result in the ruination of a lady's good name and bring disrepute to her family.
And while there were no graphic descriptions of true love's first kiss, it was the most captivating thing she had read in all her years and so her heart was stolen.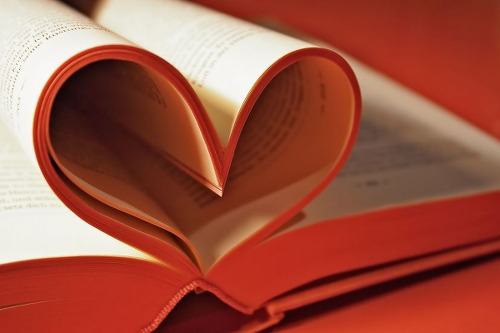 This journey into love had begun years before. There was, as her father would surely point out, no street sign or box top, post-card or bottle label that she had not perused.
And, at the age of eight, she was given the most wonderful gift in the world: a library card.
But at this tender age, nearing the end of primary and before secondary school education had begun, she found herself between the covers of that romance novel; and a bond was forged that would rival the strongest of chains.
And as she grew, she walked the expected path toward Mills and Boon, where she'd traverse 190 pages to get to the moment when the boy finally admits that he loves the girl. Of course, the girl had been well and truly under his spell since chapter three when she first saw the charming smile and twinkling eyes, which were hidden beneath his boorish behaviour and glowering expression.
With that chaste kiss in the second-last paragraph, the reward for her perseverance, the death grip on her emotions finally loosens as all ends well.
She graduates to Harlequin and Silhouette titles and, be still her heart, now the boy gets to tell his side of the story too. Her emotional investments have accrued interest along with the warnings from teachers about the vulnerability which may result from a constant diet of this fable-esque genre of books.
Her teachers are wasting their words though; she knows these books are not real life… They are so much better. For her own good, her educated educators confiscate her books but they forget one crucial detail: love forbidden is so much sweeter.
And so she keeps tumbling, head over heels, deeper and deeper…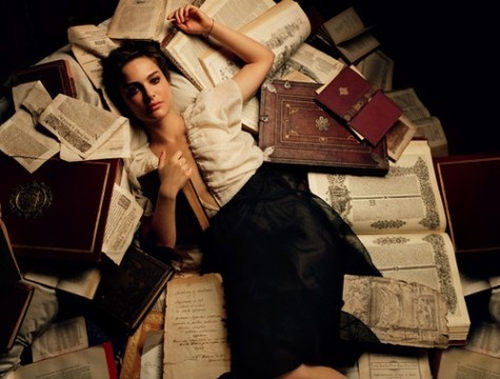 She grows, as children are wont to do, as do the authors and their contents. Now, not only are the adjectives and adverbs more colourful and intense; but now they are occasionally escorted with previously taboo words of just four letters. No teen worth her salt could pass up this childish opportunity to show that she's all grown up. Through the lenses of her slightly crooked glasses, her novels take on that appealing, bad-boy quality that burrows even deeper into her heart.
She is truly hooked.
She reads. She cannot stop. Without a book, she starts to shake, she feels sick. She devours already read books. One book takes three hours to complete. She reads while eating, while walking (but she rarely ever walks into things), she reads herself to sleep, reads as soon as she awakes. She is angry with and for the characters in her novels, happy when they are happy, sad when they are not. She cannot breathe until the very end, the beginning of their forever. Her friends are those who lend her romance novels, everyone else is but an acquaintance.
She is completely obsessed.
About a dozen years later, the seven-year itch sets in and she starts to question. The stereotypes loom too large to ignore or explain away. Logic dictates that a grown woman, a mother in her own right, not condone the depiction of these weak-willed, watery, simpering maidens desperately clinging to passive-aggressive, border-line abusive millionaires and princes.
Enter Nora Roberts and Sandra Brown. The romance is most definitely still there, scenes as steamy or even more so, language no less risqué. Now, however, it's enveloped in a mystery, wrapped in a murder, cloaked in intrigue.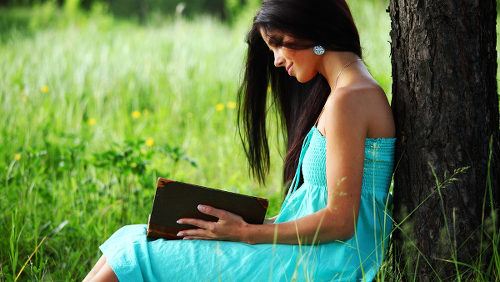 Distressing as their situations may be, these heroines are no fainting wimps or damsels in distress. These are women who fight. Fight back. Not just against the bad guys but for and with their men as well.
Their men too have evolved from strait-laced executives who merely cut a dashing figure and flash a hefty bankroll to warriors proudly displaying their scars while hiding their pain, tattooed jocks who cry in their sleep and wheelchair-bound amputees who can admit to needing help without shame or fear because, united with their lover, they are complete.
Now, no subject is off-limits, not rape or domestic violence, ex-cons, homosexuality, bisexuality or BDSM; all are on the table inside the pages of her books…
And she falls a little further.
Her heart is full almost to overflowing. Then, like the Grinch, it grows two sizes when she enters the world of paranormal romance.
Why can't vampires fall in love? Werewolves? Shape-shifters? Demons? Angels?
Christine Feehan, J R Ward, Rebecca Zanetti, Larissa Iona answer her: they can—and do. They challenge the norm, these authors, they push the envelope. The shadow-dwelling, blood-sucking monsters who own the night are men and women, just not human. (Are we truly so vain to think that we are all there is?)
These tortured souls need love as much as and even more than anyone else for that love is perhaps the only light they will ever see, the only peace they will ever find. It takes more than a two-dimensional carbon copy to inspire these beings and capture their hearts. It take characters whose height and weight and breadth follows you out of the book into your wide-awake dreams, grips your heart through your chest, steals the oxygen from your lungs and drags you into love with them.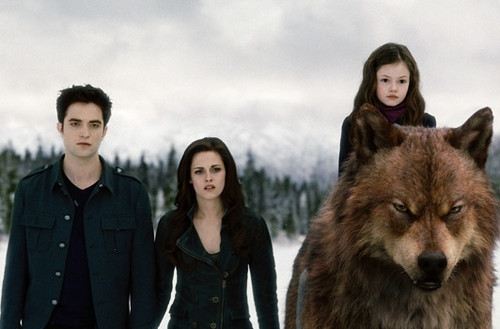 She is powerless to resist; her heart is theirs.
The real world is still here. She knows; she exists in it, works and plays, surrounded by the family she has made and who have made her. She hears the laughter of her children and feels the kisses of her husband and the tears on her cheeks when reality cannot be avoided and she is happy. She would not trade her life for any other.
But in her books, she lives.
And loves.
Always.