Got a teenager at home? Think (s)he has a novel or a short story nestling at the back of his/her head just waiting to get out? And what of teenagers in general? Agree that they have lost a lot of the skills that adolescents in your time had, including critical thinking and creative writing skills?
Well, help is on the way. Abstract and concrete.
Wired868 is pleased to announce its Write Start contest, which offers secondary school children a chance to show off their writing skills and earn themselves a share of TT$26,000 in hard cash as well as additional prizes. The competition is endorsed by the Ministry of Education.
The goal of the contest, funded by United States-based Trinbagonian businessman Sean Powder, is to challenge children aged 11-18 to abandon rote learning and show creativity and dynamism in their thinking.
The entrants will be divided into two groups, ages 11-15 and ages 16-18, based on their age on 22 September 2021. In each group, winners will earn TT$6,000, runners-up TT$4,000 and third place TT$2,000.
The 16-18 group is asked to write an essay of 800-1,000 words on the following subject: Describe the ways in which you think the first post-Covid-19 Carnival will be different from its predecessors.
For the 11-15 group, the challenge is this: Write a short, fictional story of 600-800 words with the title 'The day I met my local hero'. (The 'hero' has to be a real-life, identifiable, living local but all other characters may be fictional.)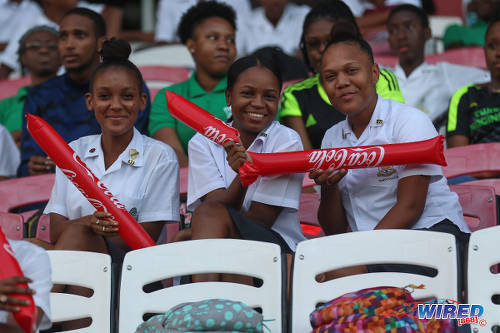 Bmobile corporate responsibility and community relations manager Anjanie Ramesar-Soom also confirmed that the winners in each group will receive mobile and data plans.
COSTAATT's Ken Gordon School of Journalism and Communication Studies will judge the 16-18 group while the 11-15 group will be judged by a panel chaired by novelist, poet and newspaper columnist Lisa Allen-Agostini and including Francis Warner, former head of the English Department at QRC, and Raheema Sayyid-Andrews, whose stories have occasionally appeared on Wired868.
All entries are to be emailed to editor@wired868.com and copied to writestartcontest@gmail.com by no later than midnight on Monday 1 November 2021.
Entries must have a cover page showing the writer's name, date of birth and current school and class as well as a parent's or guardian's telephone contact number and email address. A telephone number for the school is also required.
The judging panels will identify the top ten entries—strict script anonymity is guaranteed—in each group before the top 20 are published on the Wired868 website and social media channels.
There is an additional TT$1,000 prize for the story in each group which is shared the largest number of times from the Wired868 Facebook page by Tuesday 13 December.
Readers are encouraged to share the stories they like as often as they wish. That will not, however, affect the three top prizes, which will be determined exclusively by the decision of the eminent judges.
Minister of Education Dr Nyan Gadsby-Dolly said her ministry 'applauds the efforts being made to improve and expand the minds of our nation's youth. We look forward to a high participation rate in this competition, and the benefits of participation being reaped by as wide an audience as possible.'
This is not an original Wired868 idea; the motivation came indirectly from the late Eureka Merita Powder who, in her short life, was an inspiring lecturer, educator, athlete and positive motivator of all young people.
When she transitioned at the young age of 40, her nephew, Sean Powder, inherited her diverse Tobago-based library.
"The depth and scope of that library has been a significant part of my life," Powder told Wired868, "fine-tuning and wiring my brain for creativity and excellence.
"And so, in order to help our children get wired to creative expression, in honour of my aunt, I am proud to partner with Wired868 in sponsoring this annual creative writing contest."
Clarinda Jack, dean of COSTAATT's Ken Gordon School of Journalism and Communication Studies, said that KGSOJACS is 'pleased to partner with Wired868 on this project'.
Noting the School's commitment to 'nurturing the creativity and passion inherent in our students' and 'belief that honing the language and communication skills of our nation's youth is essential to unleashing their full potential in their chosen field of endeavour', she concluded that 'this competition helps to do just that'.
"We are therefore more than happy," she ended, "to play our role in the process."
Apart from the prize for the most shared stories, only TT$1,000 of each prize will be released to the winners immediately upon the official announcement of the laureates on Wednesday 15 December.
All remaining prize money will be deposited in separate accounts in the names of each of the winners and become accessible to them only at the end of the school year in July 2022—with all accrued interest!
Wired868 will reveal additional prizes for participants over the course of the competition. Companies or persons interested in contributing can contact us at editor@wired868.com.
Wired868 has provided readers with solid, independent journalism since 2012.  If you appreciate our work, please contribute to our efforts. 
Support Independent Journalism