The Trinidad and Tobago national under-20 football team will be financed to compete at next month's CONCACAF Championship in Jamaica after all.
Sportt Company acting CEO Adrian Raymond and Trinidad and Tobago Football Association (TTFA) official William Wallace confirmed today that the government will fund the youth's team travel and accommodation to Jamaica as well as its trip to Fort Lauderdale for a pre-tournament camp.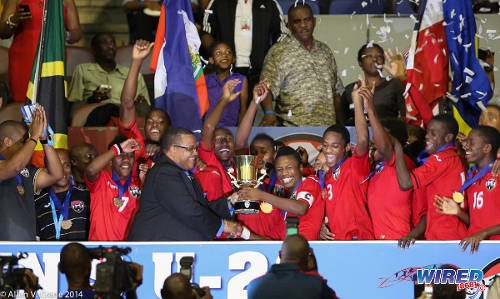 Wallace said that, in a Monday meeting, the Ministry of Sport's Permanent Secretary Richard Oliver informed the local football body that there was no funding available to send the young "Soca Warriors" into action.
By Tuesday afternoon, the government had amended its position though as the two parties agreed to dip into the subvention allocated for the national senior team, which is managed by the Sportt Company.
"I spoke to the PS who said they have no money," Wallace told Wired868, "and I asked him, since we have a subvention for the senior team, can we use money from that?

"Yesterday I got a call from the Ministry of Sport saying that the PS had approved our airfare and accommodation in Jamaica."
Raymond confirmed that Oliver had approved the payment via the Sportt Company.
"The PS sent a note to us yesterday asking us to make a draw down, so we are doing that right now," said Raymond. "We are trying to organize for the flights and right now we are just waiting on an invoice from Caribbean Airlines. So it will happen today or first thing on Monday."
Raymond assured the sporting community that, although the country is bracing for a tough economic period, the government will do its best to protect sport's National Governing Bodies (NGB).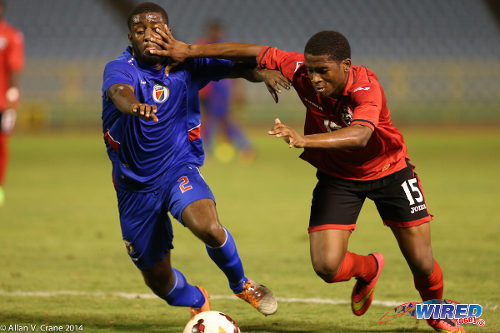 "We are looking to cut costs wherever we can cut costs," said Raymond. "(But) the last area we would look at cutting is the NGBs, specifically when it comes to teams representing the red, white and black in tournaments. We are just asking the NGBs to very judicious in terms of (travelling) contingents.
"There are people who go (on overseas tours and tournaments) because they are nice to have and there are people who are absolutely necessary…
"This (under-20 football) team has to participate and they will go. I don't know if they will make the Saturday fly out but they will certainly go."
The young Warriors were due to head for the United States on Saturday but, even if the Sportt Company makes the necessary arrangement on Christmas Eve, they still won't keep their initial schedule. The players do not have visa appointments until next Monday.
"I put a hold on the visa (applications) when I heard the funding was a trouble because that is about $17,000," said Wallace. "There was a definite 'no' from the PS on Monday who said that there were no funds. So we were then hoping to train here and travel to Jamaica directly and we wouldn't need visas for that.
"So I put a hold on it until I was sure about the funding. Not knowing put a spoke in our planning."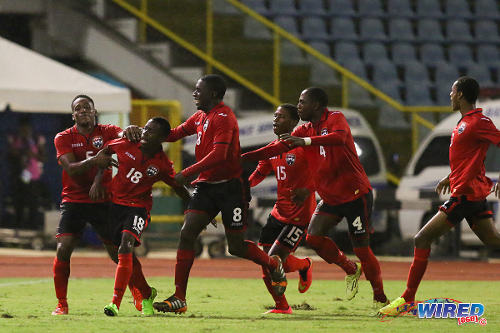 Meanwhile, the national under-20 players and staff are trying to stay focused despite missing out on a camp in Mexico and suddenly being informed that their entire camp was in jeopardy.
Head coach Derek King said the team trained this morning at the Hasely Crawford Stadium and will now have two days off for the Christmas period before returning to the training ground at 8 am on Saturday.
"The sessions have been good and you are seeing the intensity because all our players are here except (goalkeeper Johan) Welch who will join the team in Miami," King told Wired868. "This is the future of Trinidad and Tobago's football. Regardless of the situation, we are going there to do well."
At present, King has 27 players in training and the squad is so competitive that there was no room for San Juan North Secondary stand-out striker Brent Sam or his school teammate and defender Josiah Trimmingham. United States-based midfielder Andre Fortune and prolific St Anthony's College striker Kwesi Allen failed to make the cut as well.
"Sam has ability but his problem is he doesn't like to train," said King. "His attitude towards football is not there (yet) And Trimmingham's level has dropped since the Caribbean Cup."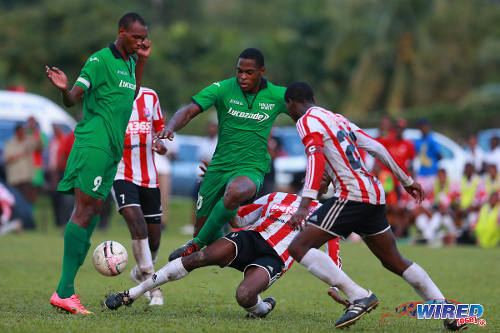 The new additions to the Caribbean Cup champions are: versatile WASA FC defender Justin Garcia, Defence Force winger Akeem Roach and the United States-based contingent of Leland Archer (College of Charleston), Duane Muckette (University of South Florida), Ricardo John (Virginia Tech), Brendon Creed (Temple University), Rashad Hyacinth (Belmont University) and Adrian Welch (St John's University).
The final 20-man team will be announced on Saturday but King hinted that Creed, who has trained in central defence but can also play in central midfielder, and Muckette, a robust and clever midfielder, might have already forced their way into the CONCACAF team.
"Creed is very solid and is a leader," said King. "Muckette, (Levi) Garcia and (Kadeem) Corbin have been playing very well too."
Corbin was the MVP of the Caribbean tournament while the then 16-year-old Garcia (L) was the competition's hottest property. Wired868 understands that Garcia, who is now 17, is on the verge of a move to Europe but agent Dion Sosa is remaining tight-lipped as his prospective employer tries to facilitate his move as a minor.
There are six players who competed in the 2014 Secondary Schools Football League (SSFL) competition in the current training squad.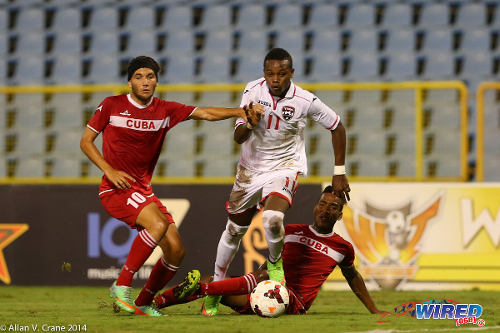 Goalkeeper Aaron Enil lifted the National and North Zone Intercol trophies this year with Mucurapo East Secondary while defender Martieon Watson, playmaker Jabari Mitchell and striker Nicholas Dillon won the Premier Division and Big Four titles with Naparima College. St Anthony's College playmaker Matthew Woo Ling and Garcia (Shiva Boys Hindu College) also played school football this season.
The CONCACAF under-20 tournament consists of five group matches in 12 days, which runs counter to the FIFA bylaw for the welfare of players. Faced with a similar situation in the senior Caribbean Cup last month, the CFU allowed teams to travel with 23 players which allowed more liberal rotation.
King said CONCACAF refused a similar request for the upcoming youth tournament. It means the fittest squads with the most strength in reserve will have a significant advantage in the gruelling competition. The top four nations will advance to the New Zealand 2015 Under-20 World Cup in May.
"We need players who can play in more than one position," said King. "The 20 we select will more or less be players who can play in more than one position so it gives us an opportunity to rotate."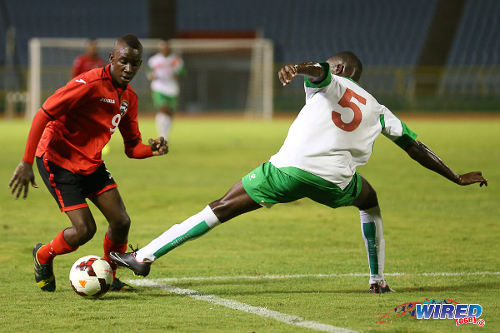 Trinidad and Tobago national under-20 shortlist:
Goalkeepers: Johan Welch (Houston Dynamo Juniors), Javon Sample (Central FC), Christopher Biggette (St Ann's Rangers), Aaron Enil (Mucurapo East);
Defenders: Shannon Gomez, Martieon Watson, Maurice Ford (all W Connection), Justin Garcia (WASA FC), Brendon Creed (Temple University), Leland Archer (College of Charleston), Jesus Perez (North East Stars);
Midfielders: Aikim Andrews, Akeem Garcia, Jabari Mitchell (all W Connection), Akeem Roach (Defence Force), Neveal Hackshaw, Keon Joseph (both North East Stars), Kevon Goddard (Central FC),  Akeem Humphrey (Club Sando), Matthew Woo Ling (St Anthony's College), Duane Muckette (University of South Florida), Levi Garcia (Shiva Boys HC), Kishun Seecharan (unattached);
Forwards: Kadeem Corbin (St Ann's Rangers), Nicholas Dillon (Central FC), Ricardo John (Virginia Tech), Rashad Hyacinth (Belmont University), Adrian Welch (St John's University).
Technical Staff:
Derek King (head coach), Hutson Charles (assistant coach), Michael Maurice (goalkeeper coach), Stephen Hart (technical advisor), Douglas Archer (manager), Wayne Cunningham (assistant manager), Terrence Babwah (doctor), Michael Taylor (physio), Sharon Joseph (trainer), Michael Williams (equipment manager), Shaun Fuentes (media officer).
Editor's Note: The final Trinidad and Tobago national under-20 squad will be selected on 27 December 2014.