"Nothing happens before its time" seems to be the mantra for 27 year old Special Reserve police officer and Police FC striker, Jameel Perry.
Having overcome adversity at an early age and being compelled to work from as early as 15 years, today Perry has a strong understanding that everything  has happened in his life  for a reason, and  he would not be who he is today had it not been for his life lessons.
The former Caledonia AIA striker has five brothers and one sister, and boasts of how well his mother has done to take care and unconditionally love of each of her children.
On the surface, the handsome Perry is very witty and funny but behind the wit emerges a very deep, well read, ruminate, determined and discerning individual.
Perry talked very candidly about his life with Wired868: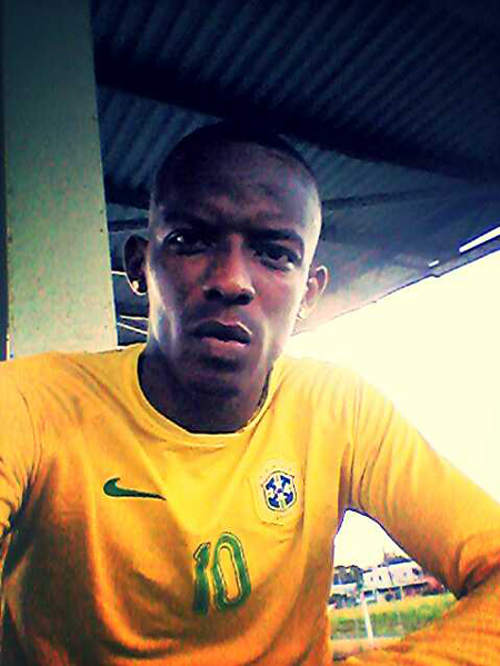 I really like your first name but do you have a nickname?
My nickname is "Jele" and most people call me that.  Interestingly no one ever calls me by my first name; I don't think many people even know what my first name is.  I got this nickname from a neighbor in my community and it has stuck with me ever since.
What is your date of birth?
19 September 1987
What is your hometown?
I am originally from Caledonia in Morvant; however after we lost our home to a tragic fire, we moved to Maloney.  
What is something most people do not know about you?
Personally, I want to do counselling; from dealing with children to marital counselling.  I have set a goal to begin studies in that area next year.
How did you start playing football and what was your earliest football memory?
No one in my family were footballers.  As I child, I used to run away with my boy "Fowl" to watch  games but was never too interested in playing it.  "Fowl" was a footballer though so I used to go watch him play as well.  One day, I think when I was 13, "Fowl" pulled me on field to play as a goalkeeper.  It was there and then that I realized that I had loved the game and wanted to play.  I developed a love for small goal and it was from there, you could say my career began.
In Police FC, what position do you play?
I am a striker! 
We understand that your brother Kareem also plays with Police FC.  Is there that proverbial sibling rivalry?
On the field, there is a definite synergy between us.  Kareem is a 'winger' and I am a forward.  When the two of us work with each other "is trouble" on the field.  He is a great motivator and a hard worker; he trains hard!  Off the field, we don't always see eye to eye.  He sees a lot of potential in me and pushes me to become the best me.  I "rel love" my brother though.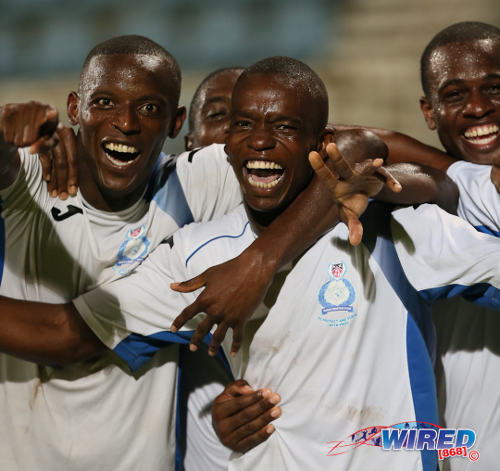 When you are not on the field or at work, what do you enjoy doing in your spare time? 
I love to read!  The deceased Myles Munroe was my mentor and favourite author.  From his collection I have read, "Understanding the Purpose and Power of a Woman" and "Understanding the Purpose and Power of a Vision."  
Out of curiosity, has the book "Understanding the Purpose and Power of a Woman" helped with your personal relationships?
Of course it has.  I understand that a woman's needs, wants and moods change so easily so as a man, I have to learn to adapt to this and learn how to treat with each need and mood.  (I thought this was some impressive stuff!…….good luck ladies!)
What pushes you to succeed?
My mom.  When I consider what she had to endure to ensure that each one of her children were brought up right, I always told myself that I would not want to do anything to bring dishonor to her name.  Mom always prays for me; I want her to be proud.
You are into the big leagues, playing with Police FC in the Pro League.  What do you  think about the clash between the Pro League and the Super League Clubs in the Toyota Cup?
I think it is a good approach to a competition.  It gives you the opportunity to compete against the best of the best.  Imagine you win your game against one of the best teams?  That would be a great achievement for the other team and gives the team an opportunity to move up from the Super League.
What can we expect from Police FC in the Toyota Cup?
Quite frankly, to win of course!
Who was your most important coach and why?
Jamal Shabazz.  Shabazz is the best motivator that I have ever met.  He nurtures his players and motivates them to be the best.  There were times when I felt that "this football thing" was too hard but when Shabazz was finished talking with me, I felt that I could have moved mountains.  If Shabazz wanted five goals, he got five goals!  One of his greatest qualities is that he was more interested in your life off field than on field.  I think it is important as a coach to know what is happening with (his players) off the field.
What has been your best moment's in football so far?
I have a few:  I scored a 'hattrick' against Jabloteh in the First Citizens Cup;  received the 2014 Digicel Pro Bowl Most Goals Award with Police FC; when I was in Caledonia AIA, I scored the winning goal against W Connection to win the FA Cup, please note that Caledonia did not win that cup in over 30 years;  I made the Caledonia AIA team after my first trial and last but not least, I was the only Caledonia striker  to play with Latapy – I learned a lot from him.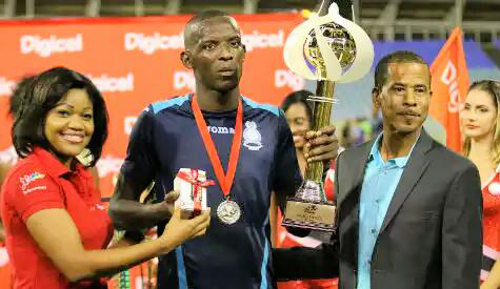 How far do you plan to take your football career?
I have had a few missed opportunities along the way, one of which was making the National Team. However nothing happens before its time so for now I am contented with club football.      
What would you like to tell young footballers out there who are looking at you a mentor?
Firstly, getting benched is important.  I learned this from being benched in my early days at Caledonia AIA.   It builds discipline and makes you a better player because it makes you determined to succeed when you get on to the field.  Secondly, talent is overrated.  You could be the most talented player but if you display the wrong attitude, you could be overlooked.  Lastly, thinking is a way of life.  Develop thinking skills on and off the field, it would help you make better decisions.   I like knowledge so whatever I do I think!   
Editor's Note: Jameel Perry and Police FC will face San Juan Jabloteh from 5 pm on Saturday December 6 in the Toyota Classic semifinal at the Ato Boldon Stadium in Couva. WASA FC and Point Fortin Civic square off in the second semifinal from 7 pm at the same venue.