"We will show you guys what we are made of and create history," said Trinidad and Tobago national senior women's team captain Maylee Attin-Johnson yesterday evening, "and everyone will be a part of something magical."
Attin-Johnson was preaching to the converted. Three weeks ago, there was concern and criticism as the Trinidad and Tobago Football Association (TTFA) announced record prices for the women's decisive FIFA 2015 World Cup Play Off fixture against Ecuador, which kicks off at 6 pm today at the Hasely Crawford Stadium in Port of Spain.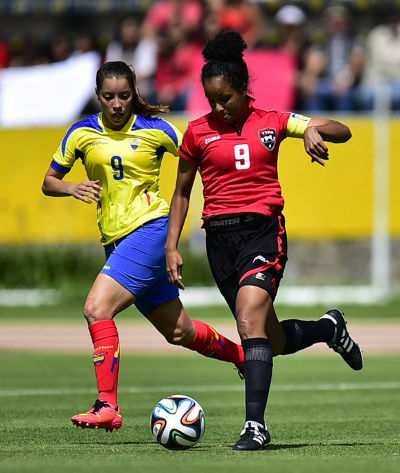 In the end, patrons who procrastinated were left in a mad scramble for tickets this morning after much of the 22,000 available seats were gobbled up by last weekend.
The national women footballers, abandoned and neglected up to two months ago, now carry the enthusiasm of the nation on their shoulders.
The story of the current squad really began in 2012 when the structure of the 2015 World Cup qualifying series was announced and CONCACAF received an additional half-spot. With Canada already qualified as the host nation and the United States and Mexico considered certainties, a favourable draw would pit Trinidad and Tobago and Costa Rica in a fight for the final qualifying spot.
At worse, the two island republic, the Caribbean's most southern nation which is a little more than a stone's throw from the Venezuelan border, would face the FIFA Play Offs.
The problem with that dream was their football body, whose special advisor and FIFA vice-president Jack Warner had just gone done in flames, was virtually bankrupt and the women's team was a minor priority at best.
There was no money; and sometimes the women had to borrow equipment and pool money to buy water and refreshments for training. Between 2012 and June 2014, the women did not play a single international game and FIFA cancelled their ranking.
Even when the football body did try to help, the results were sometimes farcical. The TTFA signed an American coach Randy Waldrum who agreed to work for free but then could not raise the money to get visas for the players to join him in Dallas.
Waldrum started work with about a dozen players in July while TTFA general secretary Sheldon Phillips tried to prise the remaining funds from the government.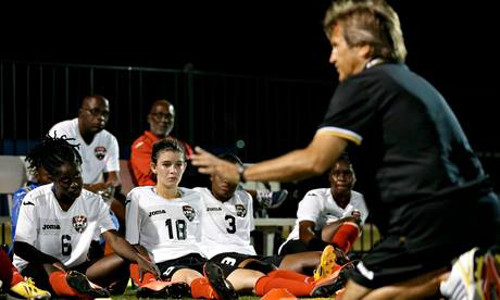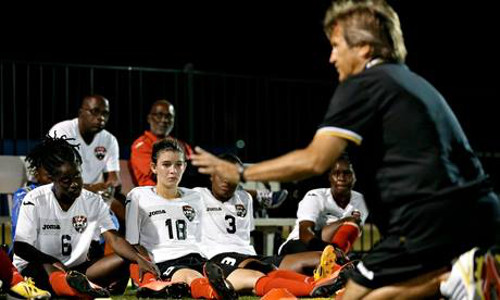 Long-suffering head coach Marlon Charles, who worked with the women when there were no resources, was sacked by press release, re-hired and then sacked again before the team left for a pre-CONCACAF tournament camp in October. Charles, incidentally, did not receive a ticket from the TTFA for this evening's historic fixture.
The squad, fresh from its Caribbean Cup triumph, headed to the US in October with only US$500 donated by a parent and TTFA employee and no accompanying team officials. That money was spent on the first night for a shuttle to their hotel and dinner; and, the following morning, Waldrum sent out the now infamous tweet:
"I need HELP! T&T sent a team here last night with $500 total. No equipment such as balls, no transportation from airport to hotel, nothing…
"I don't know how I'm going to feed these players starting at lunch today! If you know of anyone in Dallas area that will help with food, etc."
Like it or not, the tweet changed everything.
"Our preparation was abysmal," Attin-Johnson said then. "It was what we didn't expect after being champions of the Caribbean. But that is water under the bridge now.
"We just have to see what we can do, now that we have all the girls together, to get to the World Cup."
The Trinidad and Tobago team, in its first act of rebellion, ditched its sobriquet as the "Soca Princesses" and demanded to be called the "Women Soca Warriors" instead. And, with the eyes of the hemisphere on them, they defied FIFA's number one ranked team for long periods before losing 1-0 in their CONCACAF opener.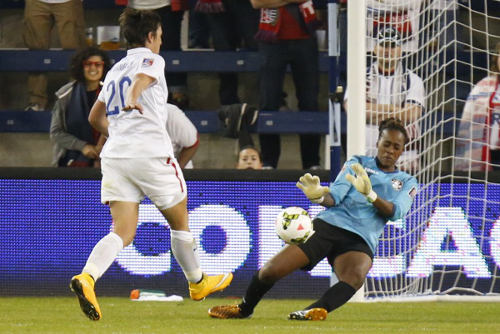 The Ministry of the Sport and the TTFA raced to keep up. Before the CONCACAF competition was over, each player was promised just under US$8,000 from the Government.
When the Warriors prepared to board their flight for Ecuador, via Mexico, general secretary Sheldon Phillips showed up at the airport with around US$3,000 for each player in brown envelopes.
And, for the past week, the Warriors have prepared for their decisive fixture while camped at the five-star Hyatt Regency Hotel in Port of Spain.
A vital part of the Warriors' entourage since the second game of their CONCACAF adventure is sport psychologist Dr Margaret Ottley who is teaching them how to restructure their thoughts, control their adrenalin and collectively pool their energies for each other.
Ottley, a Trinidadian full professor at West Chester University in Pennsylvania and ex-staff member of the US 2008 Olympics track and field team, wants the women to dance with the crowd today.
"The audience can be like a lion or a snake that you see as a threat or someone who has come to give you love," Ottley told Wired868. "I study African rhythms and aesthetics; everything is about rhythm. The earth is a big drum.
"I quote people like (calypsonian) David Rudder who (in "Calypso Music") says: 'it is a living vibration, rooted deep within my Caribbean belly.'
"Athletes are in pain all the time from overextending themselves but: 'It tells you that your heart is afire; and it tells you that your pain is a liar'."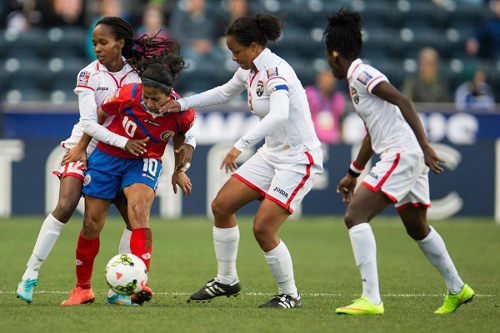 The charm of the Women Warriors is that, through the good and bad times, they have never lost their poise, dignity and character. Heads up and chests out, they have, as Mother Theresa once said: "been doing so much with so little for so long; they now seem qualified to do anything with nothing."
"I think we have our players back in full form," said Attin-Johnson. "Tasha St Louis is at 100 percent as well as Janine Francois is back in full health and they should help us possess the ball much better than we did in the past…
"So I think that and using our double trouble in Ahkeela Mollon and (Kennya Cordner) 'Yaya Monster' (will give us an advantage)."
The Warriors play an honest, straightforward game built on solid collective defence and the explosive pace and individual trickery of Ahkeela Mollon, who plays professionally in Sweden, and women's player of the year, Kennya "YaYa" Cordner, on the break.
Attin-Johnson, a classy, ball-playing midfielder, solid defender Arin King and defiant goalkeeper Kimika Forbes will try to build a platform for Mollon and Cordner to showcase their talents against a quick, intelligent Ecuador team.
"No one has to tell us the magnitude of this game," said Attin-Johnson. "We have worked all our lives for this…"
Waldrum said the Warriors will play an attacking game.
"We know we need a win so we will go after the game," he said. "I don't think we have the players who have the mentality to sit back and defend and I don't either. I like attacking football.
"We will have to go get the game. A tie unless it is 0-0 doesn't do us any good."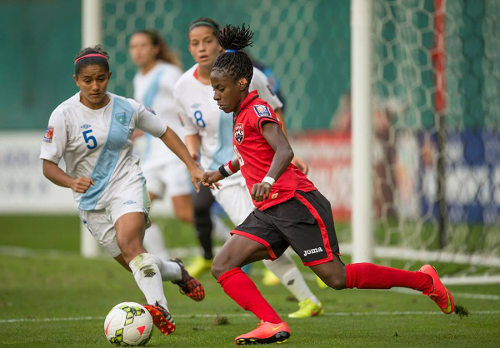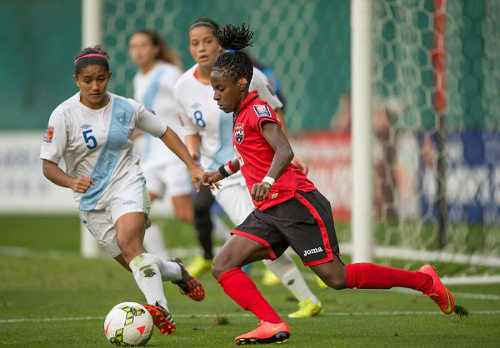 But this is where it gets tricky. Offensively, the Warriors have struggled since they left the Caribbean round.
In 600 minutes of football minus stoppage time against Ecuador, Mexico, Costa Rica, Guatemala, Haiti and the United States, Trinidad and Tobago managed 16 shots on target at an average of two per game.
The team has so struggled for rhythm in the opposing half that striker Mariah Shade, a shrewd penalty box operator, has closer resembled in a defender in the last two months.
Waldrum had requested two international practice games before this evening's fixture but the Warriors did not get any.
"You will always like to have games and unfortunately for all the reasons that are above me the games didn't happen," said Waldrum. "So we just do the best we can with what we have."
He did suggest, though, the improved physical condition of his midfield should translate to more control over the game and, hopefully, better opportunities to win the match.
When the battle begins, though, it is hard to shake the notion that the likes of Cordner, Mollon and Attin-Johnson will somehow find a way to upset the odds again. Or that a previously unheralded player like Lauryn Hutchinson or Forbes will emerge to steal the show.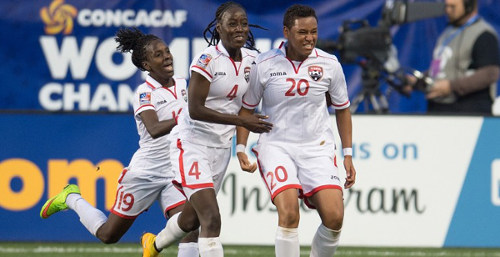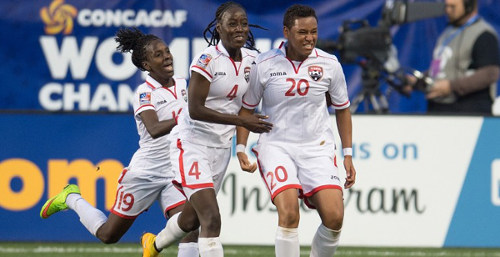 "I think we are excited, confident; a little bit of butterflies," said Attin-Johnson, "but we know that once we touch that ball it is game on.
"We've reached too far to have any doubts. We're ready."
Trinidad and Tobago is holding its collective breath.