Stern John's final swing of the boot last night and the trademark bulge of the net sent WASA FC players into frenzy as they streamed towards the veteran 38-year-old striker at the Ato Boldon Stadium in Couva.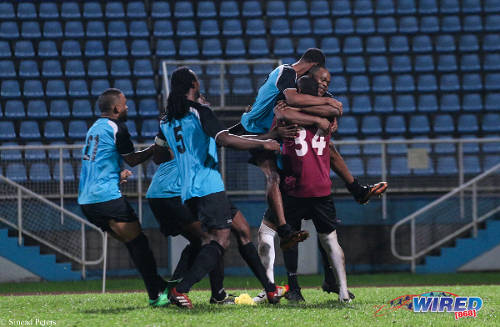 The last time a John item created such a stir was on 12 October 2005 when his double at the Hasely Crawford Stadium secured a remarkable 2-1 win over Mexico, which salvaged Trinidad and Tobago's historic 2006 World Cup campaign. It was the last time that the Hasely Crawford ground was sold out.
Last night, the occasion was the Toyota Classic Cup—not the World Cup—and the entire attendance could probably fit in one PTSC bus.
If it was not quite a fitting swansong for Trinidad and Tobago's greatest scorer of all time, John's emphatic spot kick, which sealed a 4-3 penalty shoot win over defending Toyota Cup and Pro League champion team DIRECTV W Connection, ensured that local football fans would have another chance to see him strut on the highest stage of the game on the island.
Next Saturday, WASA will face Caledonia AIA in the Toyota Classic quarterfinal round, which should bring John head-to-head with his former World Cup teammate, Densill Theobald. Together, they are arguably the most underappreciated "Soca Warriors" of this millennium.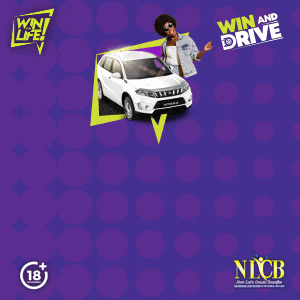 While players like Aurtis Whitley, Kerwin "Hardest" Jemmott, Terry "Jughead" St Louis, Silvio Spann and, arguably, Hayden Tinto had international careers that could be classified as short and sweet, Theobad's longevity—he represented the Warriors 99 times—as well as selflessness and ability to adapt to the requirements of a multitude of coaches were his defining qualities.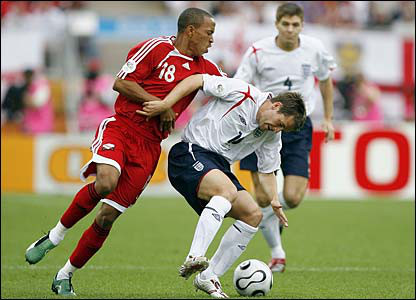 Yet, it seems that many Warrior fans never forgave Theobald for winning the nod ahead of local icon Russell Latapy at the 2006 World Cup where he played at central midfield, left wing and even left back.
And, in the eight years thereafter, the Caledonia midfielder never quite had the signature moment that stands out in memory for fans like Spann's outrageous free kick against El Salvador at the 2007 CONCACAF Gold Cup, Tinto's brilliant equaliser at the Azteca Stadium in World Cup qualifying action against Mexico or Whitley's tremendous individual performances against Mexico and Bahrain in the 2006 qualifying campaign.
Theobald was an efficient, meticulous professional who made a career of short, sharp but unflashy passes that freed up his teammates to inflict damage on opponents.
Trinidad and Tobago, as a nation, prefers spectacle to substance, which partly explains why the country's most successful player, Dwight Yorke, was also only valued in the twilight of his career after he was converted from a prolific poacher into a deep-lying midfielder.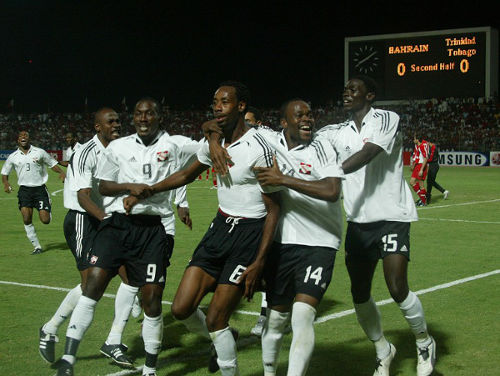 John never had that transformation from hunter to farmer. He is and always will be remembered as a snarling assassin and a ruthless finisher; not as a team guy, hardworking foot soldier or an entertainer. Not only are his 70 international goals the highest ever tally by a Trinidad and Tobago player; it is the ninth-highest recorded mark by anyone who ever played the game.
He has scored two more than Germany's Gerd Muller, five more than the Ivory Coast's Didier Drogba and eight more than Brazil's Ronaldo. And, above him, John has one less than Germany's Miroslav Klose, he is seven short of Brazil icon Pele and 39 shy of football's greatest international scorer, Iran's Ali Daei.
Chances are that everyone on that list receives a bit more appreciation in their homeland. But John never let that stop him.
The game started without him yesterday as John watched the likes of 18-year-old Connection attacker, Akeem Garcia, who is roughly the same age as the veteran's son, Tyriq John, sprinted around the field.
After seven minutes, Connection was predictably ahead as attacker Hashim Arcia rolled into the path of overlapping full back Alvin Jones who had time and space to shoot just inside the opposing area. When Jones hits the ball, it does not talk back; and WASA goalkeeper Glenroy Samuel only felt the breeze as the missile flew past him.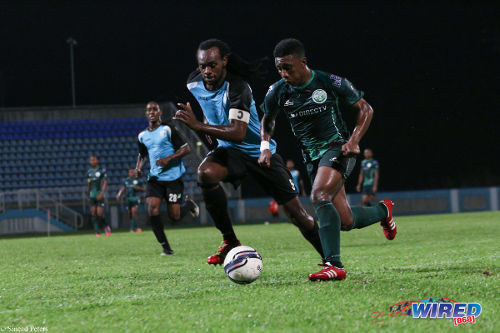 Connection ought to have doubled its advantage in the 47th minute but Arcia failed to find a teammate after rounding Samuel and defender Cleveland Cambridge cleared his tentative cross for a corner kick. And, two minutes later, the "Water Boys" stunned their illustrious opponent with an equaliser.
Mario Kissoon, a tricky ball handler who operated like a support striker, made a clever, disguised pass into the path of another veteran, Gary Glasgow, and the 39-year-old attacker faked past national under-20 defender Maurice Ford before squeezing his shot beyond Connection custodian Julani Archibald.
Three minutes later, Kissoon thought he had put WASA ahead. And so did everyone else.
This time, he ghosted behind the Connection defence to collect a headed flick on from Glen Walker. Kissoon's first shot ricocheted between Archibald's legs before the attacker stabbed in the rebound.
Referee Neal Brizan signalled a goal but, after Archibald stayed down for treatment, the referee changed his mind and awarded Connection a free kick instead.
WASA coach Marvin Faustin, another former national hero, was not amused although a replayed showed Kissoon stepped on Archibald's back before slotting home the rebound.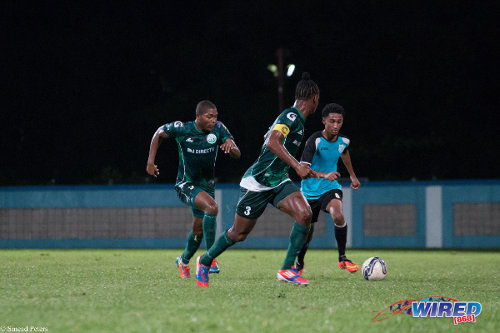 In the 73rd minute, Faustin made the change that the smattering of fans was waiting for as John replaced Kissoon.
"Allyuh can't get the ball from Stern!" shouted one excited WASA fan. "Show dem young fellahs how to play!"
It was not quite an education for Connection though. Although John was inconvenienced by teammates who suddenly seemed incapable of providing a proper pass; and substitute Dorian Daniel, a journeyman lower league player, was particularly culpable.
Instead, Connection substitutes Jerrel Britto and Keon Boucher fluffed simple scoring opportunities from inside the opposing six-yard box while WASA goalkeeper Glenroy Samuel, a former World Youth Cup player, managed one tremendous reflex save to deny St Lucia midfielder Tremain Paul.
There were no more goals in regulation time, though, and Brizan signalled for kicks from the penalty spot.
Penalty shootouts are supposedly the time for goalkeepers to become heroes. But neither Samuel nor Archibald blocked any of the ten efforts.
The opening four items were all converted, with Jones and Glasgow among the scorers, before Arcia banged his penalty off the bar. Walker was up next and skied his kick; but Connection's Neil Benjamin Jr also fired over as the advantage remained with WASA.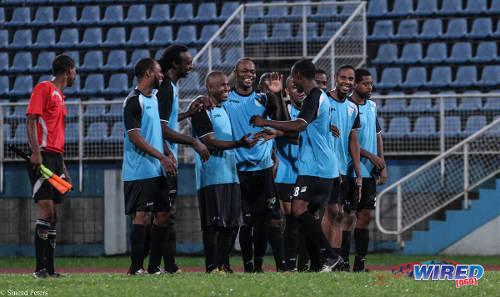 And, when Ethan Robinson spanked home WASA's fourth penalty to put his team 3-2 ahead, the Super League outfit began to celebrate early. The Water Boys would win once John, the former Birmingham City and Sunderland striker, did what he does better than any other Trinidad and Tobago citizen alive or dead.
Samuel got a hand to Connection's fifth kick from captain Gerard Williams but could not keep it out. No matter. John was next.
Archibald walked off his line to try and unsettle WASA's final kicker who is the first player with England Premier League experience to play in a competitive match in Trinidad and Tobago. He might have well been whistling into a hurricane.
"Show them Johnny Walker!" yelled the fan.
John, who has made a career out of souring the evenings of goalkeepers all over the planet, got the job done quickly. Bang! The ball flew low to Archibald's right and the WASA squad went berserk.
Next week, John will keep on walking as he tries to find the back of the net against Theobald's Caledonia. Hopefully, fans who cheered the Warriors on when they created history will come out to wish him good luck.
(Teams)
W Connection (4-2-1-3): 18.Julani Archibald (GK); 39.Alvin Jones, 26.Maurice Ford, 5.Mekeil Williams, 2.Kurt Frederick; 3.Gerard Williams (captain), 11.Tremain Paul; 10.Yefer Steven (12.Jerrel Britto 64); 65.Neil Benjamin Jr, 29.Akeem Garcia (23.Keon Boucher 68).
Unused substitutes: 22.Aquelius Sylvester (GK), 13.Devaughn Elliot, 16.Anselm Jackson, 19.Joel Russell, 36.Triston Hodge.
Coach: Stuart Charles-Fevrier
WASA FC  (4-4-1-1): 34.Glenroy Samuel (GK); 5.Akil Harley (captain), 2.Damien Pompey (21.Dominic Hutchinson 71), 22.Justin Garcia, 15.Cleveland Cambridge; 20.Dillon Peterson (18.Dorian Daniel 78), 28.Ethan Robinson, 8.Kevon Henry, 23.Gary Glasgow; 6.Mario Kissoon (25.Stern John 73); 26.Glen Walker.
Unused substitutes: 1.Michael Woods (GK), 9.Kareem Freitas, 10.Jahhan Hernandez, 19.Duran Felician.
Coach: Marvin Faustin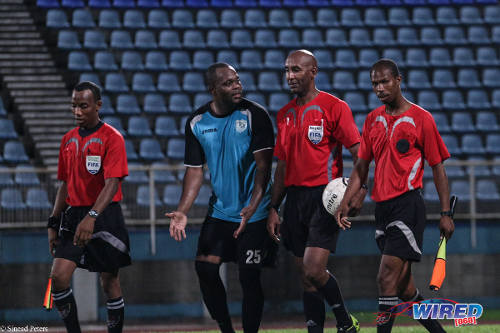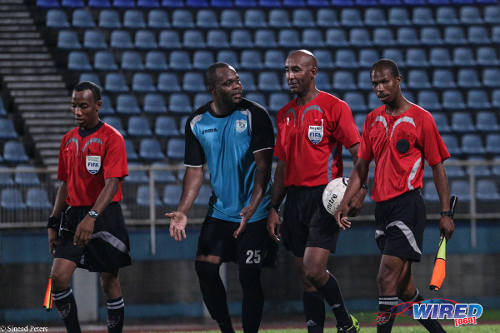 Toyota Classic Cup
Round of 16
(Sat Nov 22)
W Connection 1 (Alvin Jones 7), WASA FC 1 (Gary Glasgow 49) at Couva;
*–WASA won 4-3 on penalties
Caledonia AIA 3 (Nathan Lewis 32, Pernell Schultz 76, Kyle Adams 82), Defence Force (S/League) 0 at Couva;
San Juan Jabloteh 4 (OG 17, Troy Moses 31, 40, Johann Peltier 69), 1976 FC Phoenix 0 at Macoya;
Defence Force 6 (Devorn Jorsing 30, 45, 69, Kerry Joseph 53, Glynn Franklyn 77, Darryl Trim 81), Petrotrin Palo Seco 0 at Macoya.