The Caribbean Cup trophy, yet again, will not return to Trinidad and Tobago. And the Jamaica national football team captain, Rodolph Austin, took delight in sending the "Soca Warriors" home empty handed after a 4-3 penalty shoot-out final win in Montego Bay last night.
"When you go Trinidad, they turn back nuff Jamaicans," Austin told SportsMax TV, "so we had to show them who is number one."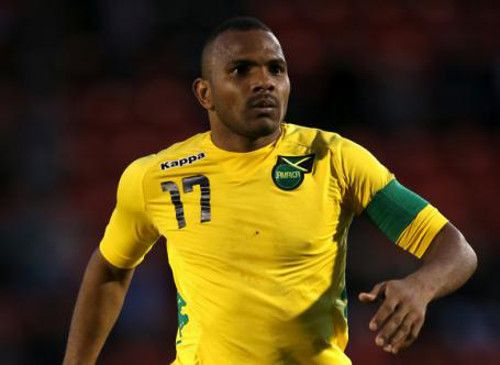 National Security Minister Gary Griffith's immigration policy was, apparently, part of Jamaica's pre-game team talk. While, in the Warriors' dressing room, much of the recent hostility also seemed to be directed to local administrators as captain Kenwyne Jones demand change from the eternally bankrupt Trinidad and Tobago Football Association (TTFA).
Jones promised that his squad would be focused on the job from the opening whistle last night. But, although the Warriors' commitment was unmistakable, there could be little doubt that the better team lifted the Caribbean trophy.
"They played some beautiful football so hats off to them," said Molino. "They deserved to win."

Trinidad and Tobago coach Stephen Hart said the Warriors had their chances to settle the affair but conceded that his team had work to do.
"We have a lot of building to do still and this shows us where we have to go," said Hart, whose next competitive assignment will be at the 2015 CONCACAF Gold Cup. "I am proud of my team… We will be fine."
Free-scoring Trinidad and Tobago midfielder Kevin Molino was inches away from the opener in the 23rd minute but missed the far corner after Jones cushioned a cross into his path. And substitute Ataulla Guerra came closer still, in second half stoppage time, when he pounced on a loose ball on top of the Jamaican penalty area but fizzed his effort just wide.
But that was as good as it got for the Warriors. In 90 minutes of regulation time plus a half hour of extra time, Trinidad and Tobago did not register a single shot on target and Jamaica goalkeeper Andre Blake's first save of the night came in the shoot-out.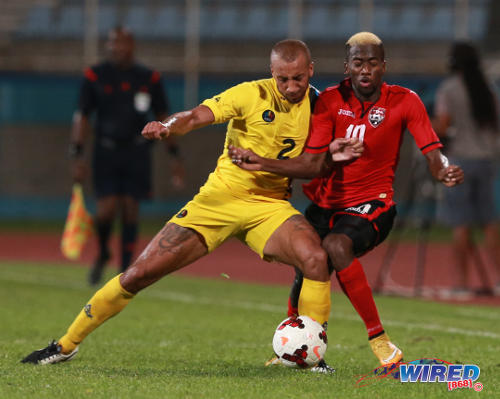 FIFA's last ranking in October put Trinidad and Tobago atop the Caribbean and 49th in the world ahead of 2014 World Cup nations like Australia, Iran and Japan.
Meanwhile, FIFA ranked Jamaica seventh in the Caribbean—behind even minnow St Vincent and the Grenadines who did not qualify for the regional competition—and 113th in the world alongside unheralded nations like Malawi, Sudan and Palestine.
But, under the Montego Bay spotlight, FIFA's lie as Trinidad and Tobago's limitations were laid bare.
Hart's team is a well organised, fairly disciplined bunch who, like the women's team, refuses to crumble under pressure. But Trinidad and Tobago will have to do better than hanging on for a result against Caribbean opposition if the 2018 World Cup is a serious target.
Molino apart, the Warriors lacked a player capable of unsettling the opposition defence. Guerra, an equally gifted attacker, has never been a consistent outlet for his country while the industrious Lester Peltier looked short of a trick against an equally mobile defender and winger Hughtun Hector added little going forward.
Versatile attacker Shahdon Winchester failed to win a chance to show his wares while utility player Joevin Jones' international tally of 40 caps with no goals tells its own story.
Hart needs more game changers and the Warriors, who are no longer employed in the top leagues like England and Portugal, must get more regular exposure against quality opposition.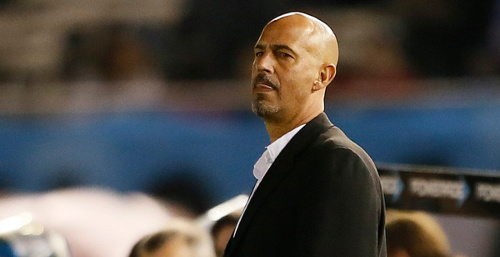 While the Trinidad and Tobago players and technical staff will return to awkward meetings with TTFA president Raymond Tim Kee and general secretary Sheldon Phillips, Jamaica is looking forward to not only the 2015 Gold Cup but the 2015 and 2016 Copa America tournaments as well.
What happens next in Port of Spain will be crucial in determining a reasonable expectation of the current men's team.
In Montego Bay, to be fair, the Warriors could not have given much more.
At times in the opening 20 minutes, it looked like Jamaica might finish the contest early with 33-year-old Leyton Orient playmaker Jobi McAnuff drifting all over the park to devastating effect.
McAnuff, who plays in the third tier of the English game, can spot an early pass and is tidy and creative on the ball. But, with all due respect, he lacks the dynamism of an Arnold Dwarika or Aurtis Whitley much less a Russell Latapy.
Trinidad and Tobago defenders Daneil Cyrus and Jones (J) figured him out soon enough and he lacked the pace or trickery to beat either man one-on-one. Molino can be more decisive in the final third but he struggled between Jamaica's powerful midfield pair of Je-Vaughn Watson and Austin.
A few months ago, Hart might have shuffled Molino wide and asked him to cut in from the left flank instead. But the coach appeared content to wait and hope that the Orlando City man would wiggle free eventually.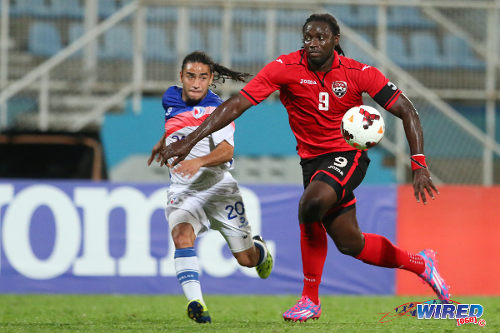 Likewise Jones (K) was having one of those frustrating outings when he could not seem to hold the ball up while his wingers rarely got past their markers to deliver quality crosses.
Hart might have put Guerra on in place of the giant forward, as he did in the 4-2 group win over French Guiana, so as to offer a different threat to the Jamaica defence. But the Trinidad and Tobago coach opted not to gamble in his biggest assignment this year.
Nothing ventured and nothing gained.
Guerra might have still won the match off a half-chance, when he eventually replaced Hector, but the "Reggae Boyz" had the better opportunities and were let down by the finishing of McAnuff and 18-year-old attacker Michael Seaton as the game drifted inevitably to penalties.
The writing seemed to be on the wall when Jones (K), who scored his last five penalties on international duty, failed to convert the Warriors' first kick, which was blocked by the legs of Jamaican custodian Andre Blake.
Trinidad and Tobago goalkeeper Jan-Michael Williams is always likely to get his hands on a penalty and he eventually obliged with a low block to deny Seaton. Jones (J) then tied scores up at 3-3 with a cracking effort into the top right hand corner.
Rodoph scored Jamaica's next attempt from the spot, which left Khaleem Hyland, the man-child with legs like tree trunks, in the un-envious position of shooting to keep his team in the match rather than to win it.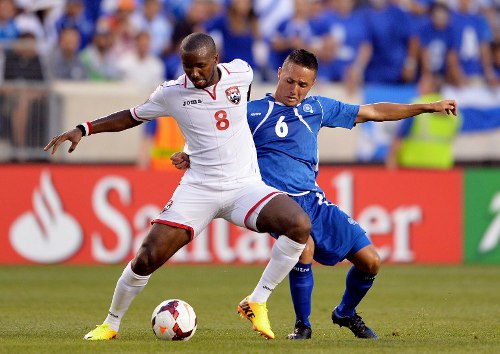 Hyland, who plays in Belgium's top flight with Racing Genk, has the unruffled air of a man who would barely blink during an earthquake. But his nerve deserted him in Mo-Bay as he slammed his kick over the bar before burying his face in his equally red jersey.
And Austin deputised himself as Jamaica's chief immigration officer as he pointed the Warriors to the departure lounge.
It is the third successive occasion that Trinidad and Tobago got to the Caribbean Cup final only to end up with silver medals; and it is now 13 years since the regional trophy was escorted to the two island republic.
Jamaica's footballers will spend the next two years locked in competitive action against the likes of Argentina's Lionel Messi, Brazil's Neymar, Uruguay's Luis Suarez and Colombia's James Rodriguez in successive Copa America competitions.
Can Tim Kee and Phillips conjure up a program that allows the Warriors to keep pace with their northern neighbours?
Trinidad and Tobago's immediate prospects within the Caribbean and CONCACAF depend on it.
(Teams)
Trinidad and Tobago (4-2-3-1): 21.Jan-Michael Williams (GK); 2.Justin Hoyte, 26.Aubrey David, 6.Daneil Cyrus, 3.Joevin Jones; 14.Andre Boucaud (5.Kevan George 104), 8.Khaleem Hyland; 23.Lester Peltier (13.Cordell Cato 67), 10.Kevin Molino, 7.Hughtun Hector (11.Ataulla Guerra 82); 9.Kenwyne Jones (captain),
Unused substitutes: 1.Marvin Phillip (GK), 24.Adrian Foncette (GK), 12.Radanfah Abu Bakr, 15.Jamal Gay, 16.Shahdon Winchester, 17.Leston Paul, 18.Yohance Marshall, 19.Carlyle Mitchell, 27.Jonathan Glenn,
Coach: Stephen Hart
Jamaica (4-2-2-2): 1.Andre Bake (GK); 7.Hughan Gay, 5.Alvas Powell, 6.Jermaine Taylor, 20.Kemar Lawrence; 15.Je-Vaughn Watson, 17.Rodolph Austin (captain); 11.Dane Richards (16.Joel Grant 56), 10.Jobi McAnuff; 18.Simon Dawkins (12.Demar Phillips 71), 21.Darren Mattocks (9.Michael Seaton 91).
Unused substitutes: 13.Ryan Thompson (GK), 2.Nyron Nosworthy, 3.Craig Foster, 4.Upston Edwards, 8.Nicholay Finlayson.
Coach: Winfried Schäfer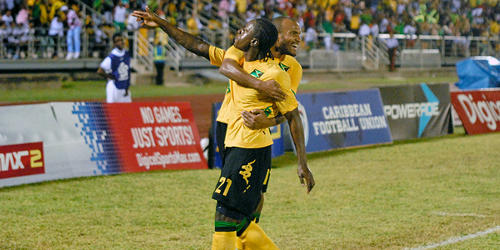 Caribbean Cup final
(November 18)
Jamaica 0, Trinidad and Tobago 0 at Montego Bay
*–Jamaica won 4-3 on penalty kicks