Naparima College picked up its second title of the maiden Secondary Schools Football League (SSFL) Premier Division season this afternoon after a 2-2 draw with St Anthony's College at the Mannie Ramjohn Stadium in Marabella, which assured "Naps" of the 2014 BG T&T/First Citizens Big Four title by goal difference.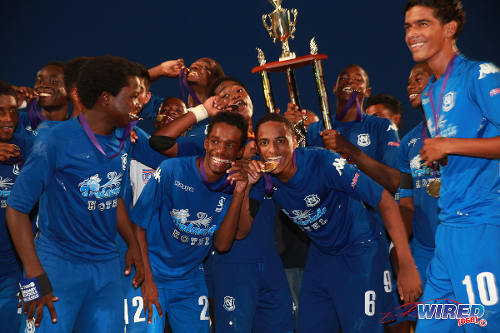 Last month, Naps were crowned Premier Division champions on the back of a 6-0 romp over Shiva Boys Hindu College at their Lewis Street, San Fernando home ground.
It was a much tighter affair this evening and there were ugly scenes in the closing seconds of the game as Naparima tried to deny the "Westmoorings Tigers" of a chance at the title by literally holding on to the ball.
Four minutes into stoppage time, Kwesi Allen grabbed a late equalizer and Naparima defender Stephon Smith's decision to clutch the ball against his chest almost sparked a brawl as the Tigers tried to rip it off him.
It was too little too late for St Anthony's though. So close; and yet so far.

At the final whistle, Naparima and St Anthony's each had seven points and had scored nine goals in three Big Four outings. But Naparima conceded four, which was one less than the Tigers.
And that was the difference. Well, that and perhaps the absence of star midfielder Matthew Woo Ling who watched the game from the stands. Not only was the national under-20 player suspended; but he also had the flu.
Luck deserted the Tigers yet again after, earlier in the regular season, two rescheduled fixtures at an inopportune time compounded a dip in form and saw the north zone school slip from first to third place.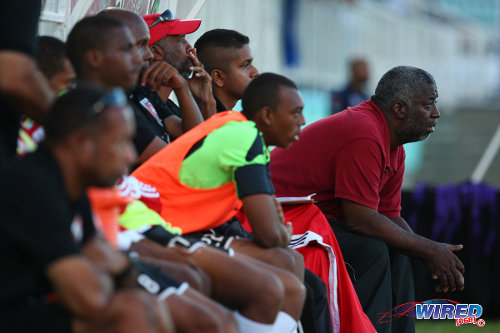 Still, there was no doubt that Naparima looked every inch a champion team. And there was a period yesterday when one feared that the St Anthony's team was in for another humbling experience.
After just seven minutes, Naps were two goals clear.
Midfielder flanker Akinola Gregory darted inside off the left wing and hit a speculative effort that deflected into the far corner to put Naparima ahead in only the second minute. It was his third successive goal for Naps in the competition.
Five minutes later, the southerners doubled their advantage.
Naps playmaker Jabari Mitchell slipped a ball for striker Nicholas Dillon to run on to. It should have been a 50/50 challenge for St Anthony's captain Mawasi Charles. But it sure did not look that way as Charles bounced off the powerful striker who neatly stabbed the ball around advancing goalkeeper Carlton Alfonso for the afternoon's second item.
Naparima goalkeeper Akeem Awong sprinted the length of the field to join his teammates in a celebratory dance at the edge of the St Anthony's penalty box. Memories of Naps' 5-1 regular season spanking of the Tigers were coming to mind.
But, seconds later, St Anthony's halved the deficit. Allen headed a Shakeem Patrick corner kick towards goal and his effort was fended into the path of midfielder Denzel Woods who rammed home with a flying kick.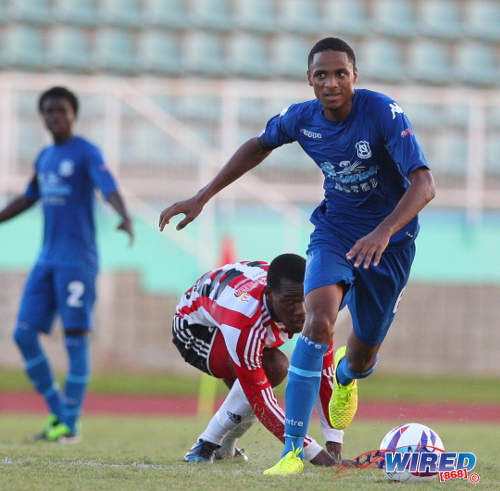 It did not quite galvanise St Anthony's though. For much of the first half, the boys in red and white stripes looked leaderless and short of confidence in attack.
Their two-man midfield screen of Leon Whyle and Woods was not cutting anything out while Allen and Lee, both solid, versatile players, seemed to lack the personality to lift their teammates.
Twice, Mitchell went close to a third for Naparima while an excellent Isaiah McIntyre tackle denied a close range effort from Naps flanker Jarred Dass, who had chased a long ball over the top.
Patrick got a sniff at goal in the closing seconds of the half after a loose pass from the otherwise impressive Naparima midfielder Shane Sandy. But the 2-1 scoreline did not flatter the southern champs when the whistle sounded to end the first half.
Perhaps Woods' goal had struck a mental blow though. Naparima was the better team but seemed apprehensive about adding to its lead, particularly against an opponent with a mobile front three.
St Anthony's took the initiative in the second half and who knows what might have happened if substitute Andrew Rullow had brought his scoring boots to Marabella.
Just six minutes after the interval, Patrick produced a brilliant left side cross that found Rullow unmarked in the six yard box. Somehow, the lanky striker missed the entire ball.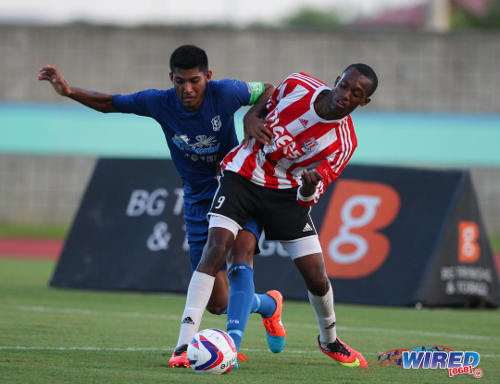 In the 65th minute, Naparima captain Amritt Gildharry, who was well below his best, got caught out of position and another St Anthony's substitute, Darius Olliveira, headed into the opposing area for Rullow to run on to.
Rullow got his shot off this time; but it was a tame left footer that was easily held by Naparima goalkeeper Akeem Awong.
Allen had started to flicker to life by then. The St Anthony's attacker is at his best when he has a centre forward to play off of. He is not a striker nor a winger nor a midfielder. But he is fast, has a good attitude, is a decent crosser and, best of all, has a cracking left foot shot and nose for goal.
In the 73rd minute, Allen dipped his shoulder twice to find space before rifling a left footed blast from an acute angle that Awong fended away as a matter of self-preservation.
Naparima coach Angus Eve responded by replacing Gregory with a midfield ball-winner, Kierron Mason. The southern outfit was setting its stall up to defend a slender advantage.
In the 87th minute, Eve inserted a fifth defender, Khris Stroud, at the expense of his ace striker, Dillon.
But, impressive midfield anchor Martieon Watson apart, Naps seemed to have temporarily lost their sense of purpose. Teenaged players enjoy playing to score goals not to prevent them. And, even with the prize just minutes away, concentration was wandering.
Four minutes into stoppage time, a careless Naparima clearance gifted possession to the Tigers and Rullow sped down the left flank before squaring for Allen to tap into an unguarded net from close range. Allen joined Gregory as the only players to score in all three Big Four fixtures.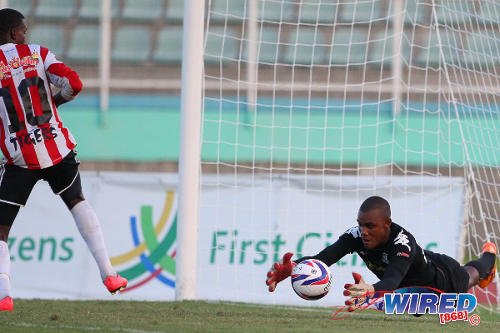 Smith tried to prevent St Anthony's players from rushing the ball back to the halfway line and Rullow and Simon Joseph accosted him as frustration boiled over.
It took almost two minutes before referee Cecile Hinds separated the two teams and regained control. And, seconds after the restart, she blew the whistle for the last time in the Big Four competition.
Two trophies down for Naparima College; and only the Intercol left to go.
(Teams)
Naparima College (4-2-3-1): 25.Akeem Awong (GK); 2.Nicholas Thomas, 19.Stephon Smith, 4.Amritt Gildharry (captain), 18.Ocean Gayah; 6.Martieon Watson, 12.Jarred Dass (29.Jeremiah Kezar 64), 11.Shane Sandy; 34.Jabari Mitchell, 7.Akinola Gregory (27.Kierron Mason 75); 20.Nicholas Dillon (3.Khris Stroud 87).
Unused substitutes: 1.Darriel Kurjah (GK), 8.Michael Basdeo, 10.Justin Sadoo, 15.Jordan Samuel.
Coach: Angus Eve
St Anthony's College (4-2-3-1): 1.Carlton Alfonso (GK); 2.Jared Flament, 23.Mawasi Charles (captain), 4.Isaiah McIntyre, 18.Simon Joseph; 6.Leon Whyle, 7.Denzel Woods (5.Keston Herrera 83); 11.Adriel Kerr (9.Darius Olliveira 58), 8.Jules Lee (19.Andrew Rullow 48), 25.Shakeem Patrick; 10.Kwesi Allen.
Unused substitutes: 22.Oba Augustin (GK), 15.Shem Clauzel, 16.Brent Joel, 17.Raheem Borde.
Coach: Nigel Grosvenor
Referee: Cecile Hinds
BG T&T/First Citizens Premier Division Big Four results
(Sat Nov 1)
Naparima College 2 (Akinola Gregory 5, Nicholas Dillon 7), St Anthony's College 2 (Denzel Woods 8, Kwesi Allen 90) at Mannie Ramjohn Stadium;
San Juan North Secondary 2, Speyside Secondary 1 at San Juan;
(Wed Oct 29)
Speyside Secondary 2 (Brandon Benjamin, Sampson Caesar), Naparima College 5 (Jabari Mitchell [2], Nicholas Dillon, Martieon Watson, Akinola Gregory) at Roxborough;
St Anthony's College 4 (Matthew Woo Ling 20 pen, Kwesi Allen 30, 37, 84), San Juan North 3 (Brent Sam 18, 50, Josiah Trimmingham 21) at Westmoorings;
(Sat Oct 25)
St Anthony's College 3 (Kwesi Allen 44, Shem Clauzel 73, Andrew Rullow 79), Speyside 0 at Serpentine Road, St Clair;
San Juan North 0, Naparima 2 (Shane Sandy 49, Akinola Gregory 81) at San Juan;