Naparima College and St Anthony's College got off to triumphant starts in the truncated BG T&T/First Citizens Premier Division Big Four competition this evening with wins over San Juan North Secondary and Speyside Secondary.
Naparima, the recently crowned SSFL Premier Division champion team, downed San Juan 2-0 in Bourg Mulattrasse while St Anthony's whipped Speyside 3-0 at the St Mary's College ground on Serpentine Road, St Clair.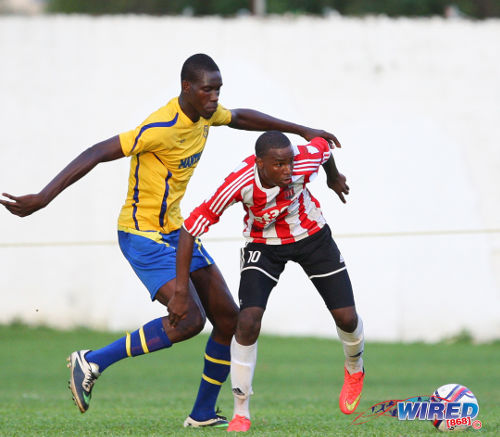 There are just three rounds in this competition, which ends next Saturday, and precious little time to recover lost ground. And the luck of the draw meant that St Anthony's and San Juan will get two home matches each while Speyside and Naparima must play two of their three fixtures on the road.
"Naps" made light of their trip to Bourg Mulattrasse this evening thanks to second half goals from Shane Sandy and Akinola Gregory.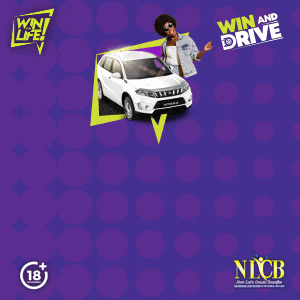 Speyside was not so lucky.
A mix-up in the appointment of referees meant the Speyside and St Anthony's players had to wait an additional 30 minutes for kick off while a sudden downpour tested the commitment of supporters in the second half.
It was all too much for the boys from east Tobago who started well but lacked the know-how to control the match during their brighter moments or the legs to mount a recovery once they fell behind.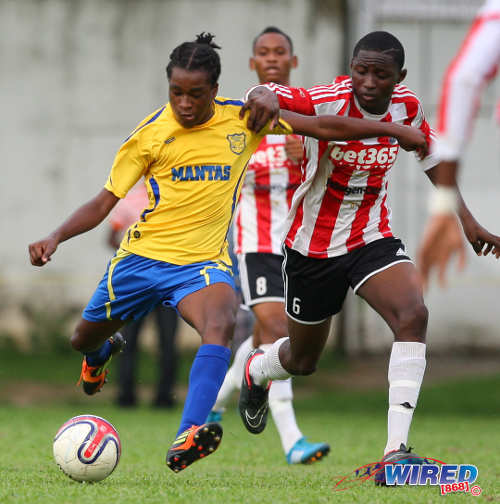 Speyside played a basic 4-4-2 formation with lively penetrative wingers in Malique Lewis and Marcus Caesar. But it was too much to ask the visitors' two-man midfield to cope with St Anthony's midfield triangle of Leon Whyle, Denzel Woods and national under-20 player Matthew Woo Ling plus narrow wingers Jules Lee and national under-17 player Shakeem Patrick.
By the half hour mark, St Anthony's had wrested control and, with Woo Ling ghosting effectively between the lines, the Tobagonians were in trouble.
Speyside goalkeeper Kellis Coker produced a fine flying save to keep a Woo Ling free kick out of his near post in the 30th minute. But Coker had no chance when the "Westmoorings Tigers" carved through his backline for the opener in the 44th minute.
Woo Ling was again involved as the diminutive playmaker exchanged passes with Patrick to get to the byline before crossing for an unattended Kwesi "Jep" Allen to control, pick his spot and put St Anthony's ahead.
Down came the rain at the interval as St Clair became increasingly bleak for Speyside.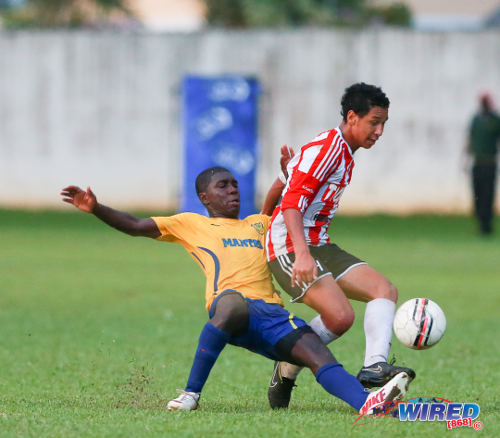 Allen nearly got his second in the 57th minute with a left footed blast that Coker managed to divert on to his post. But, in the 73rd minute, the visitors could not hold out any longer as substitute Shem Clauzel flung himself at an Allen cross which squirmed under Coker's body for St Anthony's second item.
It was the 15-year-old Clauzel's first goal for the Premier Division team. His father, Ian "The Dread Dribbler" Clauzel, remains one of Mucurapo Secondary's most famous past players; Shem still has time to make a legacy of his own at St Anthony's.
There was still time for a third goal, though, and lanky substitute Andrew Rullow did the honours, within five minutes of his entrance, as he prodded home from another incisive Allen cross.
Rullow celebrated with fingers to his lips at the two dozen Speyside supporters who made the trip to St Clair from the "Sister Isle."
As if the Tobagonians did not have a difficult enough evening without cheeky gestures from local schoolboys.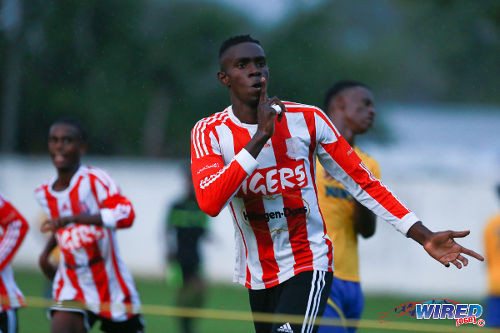 The Speyside outfit will have a chance for revenge on Wednesday afternoon when it hosts Naparima College at Roxborough.
Perhaps the Tobago team would be better prepared to handle a floating midfielder by then. If Woo Ling was a handful today, they may soon find out that Naparima's Jabari Mitchell is quite a terror himself.
(Teams)
St Anthony's College (4-2-3-1): 22.Oba Augustin (GK); 2.Jared Flament, 23.Mawasi Charles (captain), 4.Isaiah McIntyre, 18.Simon Joseph; 6.Leon Whyle, 7.Denzel Woods (15.Shem Clauzel 59); 23.Shakeem Patrick (11.Adriel Kerr 63), 14.Matthew Woo Ling, 8.Jules Lee (19.Andrew Rullow 75); 10.Kwesi Allen.
Unused substitutes: 1.Carlton Alfonso (GK), 5.Keston Herrera, 9.Darius Olliveira, 17.Raheem Borde.
Coach: Nigel Grosvenor
Speyside Secondary (4-4-2): 1.Kelliss Coker (GK); 6.Hasley Roberts, 11.Kensel Dates, 3.Ian Paul, 18.Duane Frank; 14.Malique Lewis (15.Declan Harris 71), 10.Sampson Caesar (captain), 17.Liche Edwards, 7.Marcus Caesar; 19.Kaleb Douglas (8.Kerri McDonald 54), 5.Brandon Benjamin.
Unused substitutes: 13.Simeon Skeete, 16.Shamari Elliot, 4.Ako John, 2.Rekeil Stewart, 22.Dwayne Alfred.
Coach: Dwayne Jack
BG T&T/First Citizens Premier Division Big Four
(Sat Oct 25)
St. Anthony's 3 (Kwesi Allen 44, Shem Clauzel 73, Andrew Rullow 79), Speyside Secondary 0 at Serpentine Road, St Clair;
San Juan North 0, Naparima College 2 (Shane Sandy 49, Akinola Gregory 81) at San Juan;
Upcoming fixtures
(Wed Oct 29)
Speyside Secondary vs Naparima College, 4.30 pm, Roxborough;
St Anthony's College  vs San Juan North, 3.45 pm, Westmoorings;
(Sat Nov 1)
San Juan North vs Speyside Secondary, 3.30 pm, San Juan;
Naparima College vs St Anthony's College, 3.30 pm, Lewis St, San Fernando.