At the final whistle yesterday evening, dozens of schoolboys stormed the field throwing anything they could find into the air and hugging their school's footballers, parents and teachers took turns waving a Naparima College flag while fireworks shot into the sky and exploded with colour and lights over the venue at Lewis Street, San Fernando.
Naparima College, Trinidad and Tobago's third oldest secondary school after St Mary's College and Queen's Royal College, is now the country's number one football school after an unforgettable 6-0 romp over Shiva Boys Hindu College in the final game of the inaugural SSFL Premier Division competition.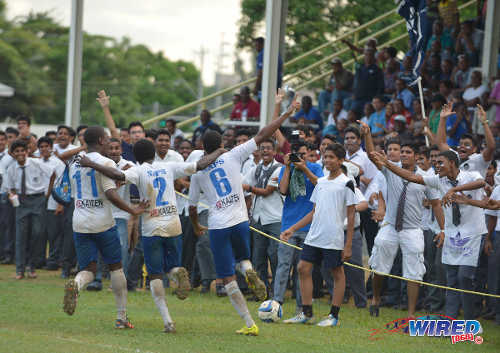 "This is the cream of the cream, the first Premier Division competition…" said Naparima principal Dr Michael Dowlatt. "This is the best (football) performance so far in the 120 year history of Naparima College."
Let's just say it was an evening for excess and hyperbole. How else could you explain the relentless battering of a Shiva outfit that had genuine ambitions of a Big Four place roughly two weeks ago?
Elsewhere in Westmoorings, early pace setter St Anthony's College ran out of steam in its closing league fixture as the "Tigers" were held 1-1 at home to lowly East Mucurapo Secondary. The point helped the Mucurapo players avoid finishing dead last as they leapfrogged Arima North Secondary on goal difference to 13th place in the 14-team table.

East Mucurapo, Arima North and Chaguanas North have all been relegated to the SSFL zonal divisions.
St Anthony's last-day slip saw the north zone school fall to third place as San Juan North edged St Augustine Secondary 2-1 at Bourg Mulattrasse to move into second.
But it was nothing compared to the party atmosphere in San Fernando as "Naps" raised the tempo and Shiva Boys, without captain Marvin Seuradge and talisman Levi Garcia, could not take the heat.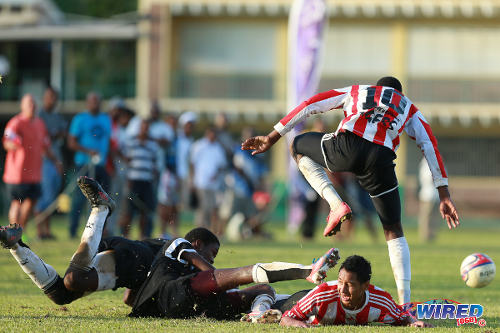 "Naps was a well organised, all-round team," said Shiva Boys coach and former "Strike Squad" defender Dexter Francis. "They played like champions. They wanted it more."
Naparima playmaker Jabari Mitchell lifted the Under-20 Caribbean Cup trophy with Trinidad and Tobago last month in front of thousands of supporters at the Hasely Crawford Stadium, Port of Spain.
It would be nice to hear how he compared his first international trophy with playing on a small, intimate venue surrounded by hundreds of screaming classmates, past pupils, relatives and supporters. Even on the adjoining Harris Street, there was barely standing room as well over 1,000 football fans flocked to the San Fernando venue to see history in the making.
And Naparima, steered by North East Stars coach Angus Eve, did not disappoint.
Mitchell opened the score summary with a crisp finish in the 31st minute while, seconds after the restarted, he assisted on his team's second item which was converted by his national under-20 teammate Nicholas Dillon.
Naparima's third national under-20 player, Martieon Watson, made it 3-0 in the 63rd minute and the floodgate opened as Naps scored another three goals in just over 15 minutes. Watson got another item from the penalty spot while midfielder Jared Dass also joined in on the fun and completed his double with a precise volley from the edge of the area in the 81st minute.
It meant Naparima's first national title since the school clinched the Big 5 in 2008.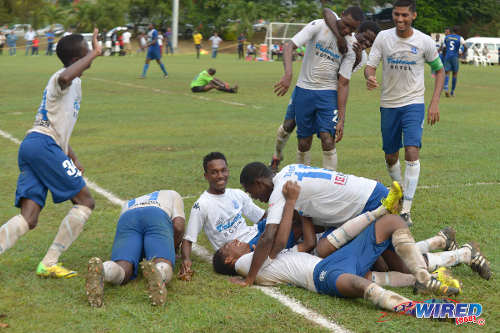 Team manager Percy Samlalsingh was especially proud of Naps' main contributors this evening. Mitchell, Dillon, Dass and midfielder Michael Basdeo, he explained, represented a golden generation of sorts.
"We won the national under-14 team in 2011 with this core of players," Samlalsingh told Wired868. "And then we won the national under-16 competition in 2012. We kept the team together and we are reaping the benefit of that work."
The Naparima student body tried to get some extra benefit too.
"Fri-day! Fri-day! Fri-day!" they chanted, as they spent the final ten minutes pleading for a school holiday.
Dr Dowlatt was not remotely interested and he offered a "special assembly" instead.
"These boys enjoy coming to school," said the Naparima Principal, with a smile. "They see coming to school as a reward."
Much has been made of Naparima's use of the 17-year-old Dillon, who is registered as a professional footballer with Pro League club, Central FC. But the likes of team captain Amritt Gildharry, an elegant and mobile central defender, suggest that it would be harsh to write Naparima's team off as footballers posing as students.
Gildharry, a Form Six student, would certainly interest any watching Pro League scouts. But he did not suggest that he was remotely interested in life as a professional footballer.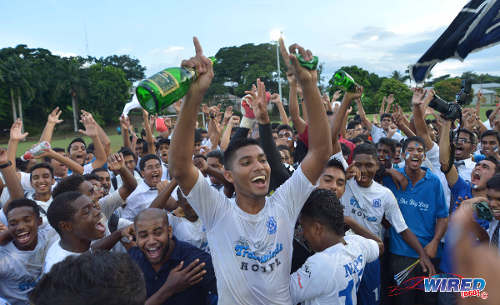 "I want to get a scholarship and go away and study," the Naps captain told Wired868. "I'm not too sure what career I want yet. But I know I want to go to university."
Presumably, Gildharry would not be too disappointed that there is no school holiday on the horizon.
In any case, Naparima's schoolboys should probably pace themselves. Their team is far from finished with Big 4 and Intercol titles still to contest.
"We are coming to win everything this year," said Samlalsingh.
It sure looked like it yesterday.
(Teams)
Naparima College: 25.Akeem Awong (GK); 2.Nicholas Thomas, 19.Stephon Smith, 4.Amritt Gildharry (captain), 3.Khris Stroud; 6.Martieon Watson, 12.Jarred Dass, 11.Shane Sandy (14.Aalon Minors); 34.Jabari Mitchell, 8.Michael Basdeo (29.Jeremiah Kezar); 20.Nicholas Dillon (17.Mitra Arjoon Jr).
Unused substitutes: 1.Darriel Kurjah (GK), 5.Kareem Lewis, 15.Jordan Samuel, 18.Ocean Gayah.
Coach: Angus Eve
Shiva Boys HC: 24.Denzil Smith (GK); 7.Simeon De Bourgh (2.Chris Vialva), 5.Kadeem Ashford, 17.Kyle Sylvester, 16.Jerry Ramdeo; 14.Isaiah Garcia, 6.Tyrel Emmanuel, 1.Adrian McLaren (80.Ronaldo Edwards), 11.Stefon Bain (18.Joshua Mitchell); 10.Levi Garcia, 4.Rodney Quinn, 9.Yohannes Richardson.
Unused substitutes: 22.Nicholson Gordon (GK), 13.Judah Garcia, 19.Tyrell Baptiste, 21.Lyndon Bonnett, 23.Malik Lewis, 90.Deon Guevara.
Coach: Dexter Francis
Referee: Nicholas Gloudon
SSFL Premier Division results
(Wed Oct 15)
Naparima College 6 (Jabari Mitchell 31, Nicholas Dillon 46, Martieon Watson 63, 77 pen, Jared Dass 71, 81), Shiva Boys HC 0 at Lewis St., San F'do;
San Juan North 2 (OG Romario Villafana 33, Josiah Trimmingham 80), St. Augustine Secondary (Moses Jaikeran 85) 3.45 pm, San Juan;
St. Anthony's College 1 (Kwesi Allen 68), East Mucurapo Secondary 1 (Jair Edwards 79) at St. Anthony's;
Chaguanas North Secondary 2, Trinity College East 2 at Chaguanas;
Presentation College (San F'do) 1 (Levon Bass), St. Benedict's College 1 (Kadeem Gittens) at Guaracara Park;
Fatima College 5 (Kyell Lancaster [2], Omari George, Marquise Hoyte, Jahreed Murray), Carapichima East 2 (Jeremy Trim, Justin Joseph) at Fatima;
St. Mary's College 3 (Aaron Skeene 2, 28, Marcus Mottley 63), Arima North 1 (Darren Charles 75 pen) at St. Mary's;